Events & Tickets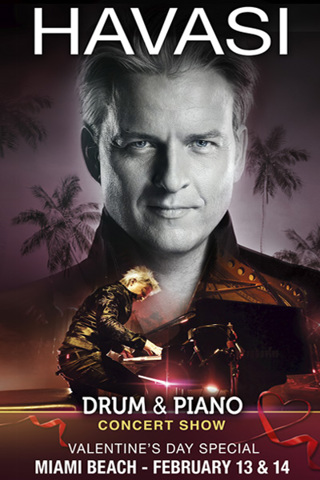 Guest Presenter
HAVASI - Drum & Piano Show
New World Center
Sunday, February 13, 2022 at 5:00 PM
Sunday, February 13, 2022 at 8:30 PM
Monday, February 14, 2022 at 8:30 PM
HAVASI in Miami 2022
Valentine's Day Special
Drum & Piano Concert Show
Following his hugely successful sold-out debut at the iconic Hard Rock Guitar Hotel, HAVASI comes back to Florida with special Valentine's Day performances on the 13th and 14th of February 2022, starting at 5:00 pm and 8:30 pm at the New World Center in the heart of Miami Beach. The show will feature a battle between the classical pianist and a wild rock drummer, something you've never seen before on stage. Don't miss the chance to experience this musical prodigy, the composer and pianist selling out arenas in Europe. 
Unlike Anything You've Ever Heard Before
The program is 100% original works by one of the most fascinating and versatile young composers of today, HAVASI. His innovative music is unlike anything you have heard before; fresh, passionate and entertaining at the same time.
The concerts in Miami will feature the world premiere of the brand new musical world of HAVASI's latest compositions, and also his most loved pieces in their original form, as they were composed for solo piano.
Expect to be surprised 
In this special concert, HAVASI aims to prove that, even today, a classical piano can deeply move and entertain any audience, while he reveals his secrets about the music that has captivated the hearts of so many people worldwide. 
Classical pianist vs. rock drummer
The concerts in Miami will also feature a special performance of a seemingly unlikely duo. The classical pianist and the rock drummer will appear together on the same stage, united in a shared desire to make great music across barriers of genre, playing to the same musical heartbeat. 
The Battle of Instruments
Their performance will be a collaboration and a duel – a spellbinding clash that creates musical sparks while also revealing the unexpected: the delicacy of the drum kit, the percussive power of the piano.
An Incredible Musical Journey
The show at the New World Center blends the depth and discipline of classical tradition with the sheer power of rock, and the spectacle of high-energy performance that engages all senses and transports audiences through an exhilarating musical journey. HAVASI carries the audience along on a fascinating voyage through constantly unfolding musical scenes. The different moods present the viewers with a memorably intense experience, like a ride on a rollercoaster of emotions, enhanced by 360 degree panoramic video experience designed specifically for this occasion. While HAVASI usually only performs in large stadiums, in this intimate concert he will be playing to an audience sitting virtually right next to him.
The Perfect Program for Valentine's Day
Have a great time in the heart of South Beach. Meet one of the most fascinating and versatile young composers of today, HAVASI. Experience Valentine's day special performance featuring the Battle of Instruments with a fantastic rock drummer at Miami's cultural landmark venue, the New World Center. Bring your valentine, family or friends and it's guaranteed you'll have a fantastic time!
Tickets no longer available online.
FOR YOUR SAFETY 
As of September 18, 2021, these are the guidelines that all guests at New World Symphony concerts must follow. These guidelines will apply to all members of your party before they are allowed to enter the New World Center and to any users of the tickets purchased by you.  Click here for additional information.
COVID REQUIREMENTS: 
We request that all guests are fully vaccinated against COVID-19 (at least two weeks after final dose) and provide proof of vaccination; i.e. original vaccination card, copy of vaccination card, or picture of vaccination card. Name on vaccination card must match name on ID. 

In lieu of proof of vaccination, we require proof of a negative COVID-19 diagnostic test result within 72-hours (including for unvaccinated children under 12 years of age). Name on test result must match name on ID. Results from self-test kits and test-at-home kits will not be accepted.

All guests may undergo a temperature screening upon entry into the building. 

Masks are required inside New World Center at all times, regardless of vaccination status. 
DAY OF EVENT 
Please arrive early for check-in process. 

Please bring your ID and proof of vaccination or negative test result. As noted above, the full name on your ID must match the name on your vaccination card or COVID test result. 

Please remember to bring a mask. 
By attending our events, you voluntarily accept responsibility for all risks related to exposure to COVID-19.
HAVASI, the composer and pianist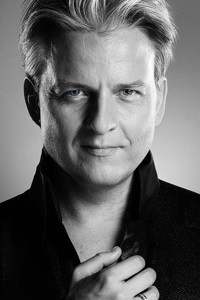 A graduate of the world-renowned Franz Liszt Academy of Music, with a deep knowledge of classical tradition, who is also seeking to make classical instruments relevant to the modern age.
He has performed his original compositions at some of the world's most prestigious concert halls, such as the Carnegie Hall in New York, the Barbican in London or the Sydney Opera House.
He is one of the rare contemporary composers with the rock star-like charisma that can sell out huge stadiums, like the Wiener Stadthalle, the Mercedes-Benz Arena in Berlin, the Tauron Arena in Krakow or the Wembley Arena in London…