Events & Tickets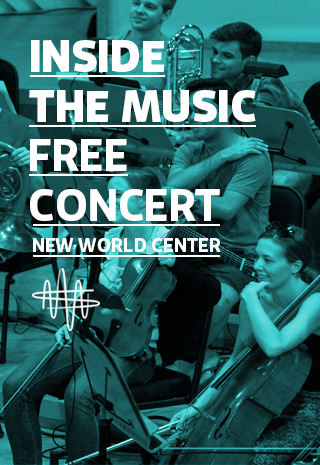 Free
INSIDE THE MUSIC: ARE YOU FEELING IT?
New World Center, SunTrust Pavilion
Tuesday, February 7 at 7:00 PM
Free, ticket required
This presentation explores the physical sensations and vibrations caused by music, and how different production mechanisms can blend and create new sounds together.
Join the Fellows for an intimate glimpse into their craft with these behind-the-scenes presentations on topics ranging from music appreciation to the historic contexts of composers and more. Audience members are encouraged to participate by asking questions and taking part in post-presentation discussions.
This event will also be live streamed on MUSAIC. Click here to watch live on February 7 at 7:00 PM. Use #MUSAIC on social media. 
Program
Ludwig van                  Septet in E-flat major, Op. 20 (1800)
Beethoven                      I. Adagio—Allegro con brio
(1770-1827)                  IV. Tema con variazioni: Andante 
                                    Ran Kampel, clarinet; Sean Maree, bassoon
                                    Russell Rybicki, horn; Natsuki Kumagai, violin
                                    Hannah Nicholas, viola; Ashton Lim, cello
                                    Drew Banzhaf, bass
Elliott Carter                Eight Etudes and a Fantasy for Woodwind
(1908-2012)                  Quartet (1950)
                                       Etude 7
                                       Etude 3                                   
                                    Masha Popova, flute; Kristin Kall, oboe
                                    Ran Kampel, clarinet; Sean Maree, bassoon
Wolfgang Amadeus     Trio in E-flat major, K. 498, "Kegelstatt" (1788)
Mozart                            I. Andante
(1756-1791)
                                    Ran Kampel, clarinet; Hannah Nicholas, viola
                                    John Wilson, piano
Ludwig van                  Septet in E-flat major, Op. 20 (1800)
Beethoven                      VI. Andante con moto alla marcia—Presto

Ran Kampel, clarinet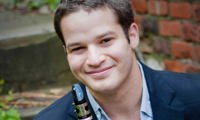 Israeli-born clarinetist Ran Kampel is a third-year Fellow at the New World Symphony. He has been a top prize winner of several international competitions and featured on radio and TV stations in Germany, Israel and the U.S. He appeared as a soloist with the New World Symphony and Colorado College Music Festival Orchestra. Before coming to NWS, he held the position of Interim Principal Clarinet with the Grand Rapids Symphony during the 2013-14 season. 
A versatile chamber musician, Mr. Kampel has collaborated with leading musicians such as Gilbert Kalish, Martin Chalifour, Roger Tapping, Lucy Shelton, Richard Killmer, Frank Morelli, William Purvis and Scott Yoo. During the summers, he has performed at Salzburger Festspiele, Schleswig-Holstein, Tanglewood, Yellow Barn, Lakes Area, Aspen, Norfolk, Colorado College and Sarasota music festivals. 
An advocate of bringing music into the community, Mr. Kampel enjoys presenting concerts that interact with a variety of audiences outside the concert hall. At the New World Center, he performs regularly on the Inside the Music, Solo Spotlight and Musicians' Forum concert series. He is also the co-artistic director of Sunset Chamberfest in Los Angeles. 
A clarinet pedagogue in high demand, Mr. Kampel has led master classes around the world, including at the Interlochen Arts Academy in Michigan, Academia Filarmónica de Medellín (AFMED) in Colombia and Givatyim Music Conservatory in Israel. In addition, he served as a Teaching Artist at low-income public schools in Los Angeles, teaching both clarinet and recorder classes. 
Mr. Kampel holds degrees with high honors from the Eastman School of Music and the University of Southern California Thornton School of Music. His primary teachers were Yehuda Gilad, Jon Manasse, Andrew Brown and Eva Wasserman-Margolis. Outside the concert hall, he enjoys cooking, skiing, hiking, playing tennis and soccer.