Events & Tickets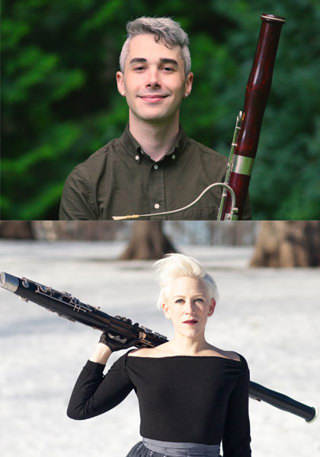 Special Event
INSIDE THE MUSIC: META-BASSOON
New World Center, SunTrust Pavilion
Tuesday, January 22 at 7:00 PM
Current NWS Bassoon Fellow Bee Ungar joins NWS alumna Rebekah Heller, Co-Artistic Director of the International Contemporary Ensemble (ICE) for a deep dive into new works for an unusual instrument. Explore repertoire by living composers who are women and/or folks of color, some of whom will remotely join the presentation. They'll also highlight ICE Commons -- an open, free database created by ICE, where composers can submit their works to be heard and potentially performed, and where performers anywhere in the world can look to hear or perform new repertoire. This is especially important in our world which creates barriers along the lines of privilege and pedigree, and ICE hopes that this open, crowd-sourced platform can help break down those walls.
Tickets no longer available online.
Program
Igor Stravinsky            Lied ohne Name for Two Bassoons (1917)
(1882-1971)     


Michele Abondano      Infinitely Ethereal for Solo Bassoon (2018)     
(b. 1981)          
                                      Bee Ungar     

Camila Agosto             Selective Hearing for Two Bassoons
(b. 1995)                       (2014; revised 2019)

Mario Diaz de Leon      Labrys for Bassoon and Electronics (2016)
(b. 1979)
                                      Rebekah Heller

Jessie Cox                   Earth for Two Bassoons (2016)
(b. 1995)

Felipe Lara                  Metafagote for Two Amplified Bassoons and
(b. 1979)                       Five Pre-Recorded Bassoons (2015)



Bee Ungar, bassoon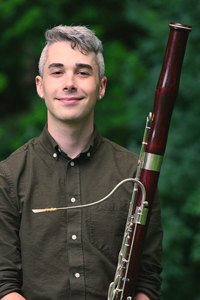 Bee Ungar, whose playing has been hailed as "powerful, full-bodied and gorgeous" by The Calgary Herald, is a currently a first-year Bassoon Fellow at the New World Symphony. He is also a substitute bassoonist with the Saint Paul Chamber Orchestra and has appeared with the New Jersey Symphony. He was formerly an Associate Member of the Civic Orchestra of Chicago and is an alumnus of the Carnegie Hall-based New York String Orchestra Seminar.
Mr. Ungar made his solo debut as an undergraduate with the Manhattan School of Music Chamber Sinfonia and conductor Tito Muñoz, having won first prize in the Manhattan School of Music's Eisenberg-Fried Concerto Competition. While pursuing graduate studies at the Royal Conservatory in Toronto, he won top prize at the Conservatory's annual concerto competition and performed as soloist in Koerner Hall with the Royal Conservatory Orchestra conducted by Johannes Debus. Mr. Ungar's summer residencies have included fellowships at the Sarasota Music Festival, Norfolk Chamber Music Festival, National Orchestral Institute, Bowdoin International Chamber Music Festival and Banff Centre. As a chamber musician, he has performed alongside Ransom Wilson, William Purvis, Stephen Taylor, Melvin Chen and the NYC-based wind quintet Windscape.
Mr. Ungar holds a bachelor of music degree and professional studies diploma from the Manhattan School of Music, and an artist diploma from the Glenn Gould School of the Royal Conservatory of Music, where he was generously supported by the Temerty Family Fellowship. His primary teachers were Frank Morelli, Principal Bassoon of the Orpheus Chamber Orchestra, and Kim Laskowski, Associate Principal Bassoon of the New York Philharmonic.
Holding firm to the belief that classical music belongs to everyone, Mr. Ungar is committed to working to ensure that socioeconomic circumstances are no bar to accessing the art form. He regularly gives free concerts in venues such as art galleries, meditation spaces, bookshops, soup kitchens, Brooklyn rooftops and elementary schools.
Rebekah Heller, bassoon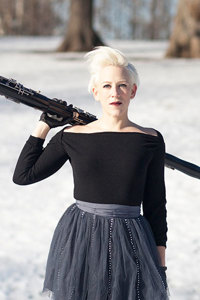 Praised for her "flair" and "deftly illuminated" performances by The New York Times, bassoonist Rebekah Heller is a uniquely dynamic solo and collaborative artist. Called "an impressive solo bassoonist" by The New Yorker, she is fiercely committed to expanding the modern repertoire for the bassoon. Her debut solo album of world premiere recordings (featuring five new pieces written with and for her), 100 names, was called "pensive and potent" by The New York Times and her newly-released second album, METAFAGOTE (also entirely made up of pieces created with and for her), is receiving wide acclaim.
As Artistic Director and bassoonist of the renowned International Contemporary Ensemble (ICE), Rebekah performs all over the world. Not only is she committed to advancing the music of our time, she is deeply engaged in working with younger musicians to continue the ICE-y legacy of fearless exploration and deep collaboration. She is also a committed advocate, through platforms like ICEcommons (a free, crowd-sourced index of newly composed music), for underrepresented voices and outrageous experimentation.
This season, Rebekah is looking forward to her solo debut with the New York Philharmonic, playing a piece composed by Ashey Fure under the baton of Jaap Van Zweden. She is also excited about ICE's 9th summer as artists-in-residence at the Mostly Mozart Festival and continuing relationships with Met-Live, Miller Theater, National Sawdust and many more exciting presenters in NYC and beyond.
A committed educator, Rebekah has led workshops and given lectures and masterclasses at the Oberlin Conservatory, the Peabody Institute, Brown University, the Manhattan School of Music, the University of Michigan and the University of Texas at Austin. She is also greatly looking forward to her second summer teaching, performing, and coaching at the Banff Centre's ICE-led summer program, Ensemble Evolution.
Before joining ICE in 2008, Rebekah served as Principal Bassoonist of the Jacksonville Symphony. 
Rebekah studied at the Oberlin Conservatory, the University of Texas at Austin, and was a member the New World Symphony and Chicago Civic Orchestra. She lives in NYC.