Events & Tickets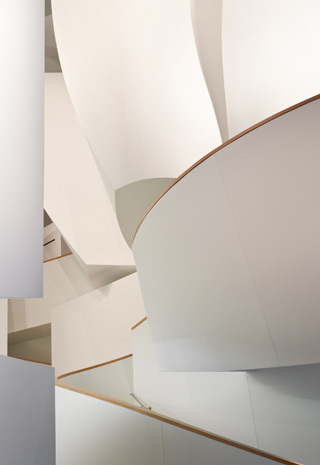 Chamber Music
INTIMATE VOICES
New World Center, Michael Tilson Thomas Performance Hall
Sunday, March 5 at 2:00 PM
Program
It's an afternoon of chamber music as the NWS Fellows perform works for strings and winds. Ernest Bloch infused his intense Piano Quintet with haunted agitation, believing that "art is the outlet of the mystical, emotional needs of the human spirit." Woodwinds have all the fun in Bohuslav Martinů's jovial Sextet that features a rapid flute dancing with the piano. Written at a time when his life was plagued with uncertainties, Jean Sibelius' String Quartet is at times relentless, resigned, hopeful and heart-wrenching.
Program
Ernest Bloch
(1880-1959)
Approx. Duration: 34 minutes

Quintet No. 1 for Piano and String Quartet (1921-23)

Agitato
Andante mistico
Allegro energico
Kathy Tai-Hsuan Lee, piano
Ludek Wojtkowski, violin I; Cynthia Burton, violin II
Helen Hess, viola; Michael Frigo, cello
Bohuslav Martinů
(1890-1959)
Approx. Duration: 15 minutes

Sextet in E-flat major for Piano and Winds, H. 174 (1929)

Preludium: Poco andante
Adagio
Scherzo: Allegro vivo (Divertimento I)
Blues (Divertimento II)
Finale
Kelly Zimba, flute; Adèle-Marie Buis, oboe
Ran Kampel, clarinet
Darren Hicks and Sean Maree, bassoon
Lora Tchekoratova, piano
Jean Sibelius
(1865-1957)
Approx. Duration: 33 minutes

Quartet in D minor for Strings, Op. 56, "Intimate Voices" (1908-09)

Andnate—Allegro molto moderato
Vivace
Adagio di molto
Allegretto (ma pesante)
Allegro
Sarah Peters, violin I; Natsuki Kumagai, violin II
Jesse Yukimura, viola; Ashton Lim, cello
Ernest Bloch
Quintet No. 1 for Piano and String Quartet (1921-23)

Approximate duration: 34 minutes
The Swiss-born composer Ernest Bloch spent his most productive years in the United States. Around the time he first moved to New York, in 1916, he became fascinated with expressing his Jewish faith and identity in music, in such works as Three Jewish Poems and Schelomo for cello and orchestra. He served as the first director of the Cleveland Institute of Music from 1920 to 1925, a period when he also took U.S. citizenship and composed his Piano Quintet No. 1.
The abstract genre of the piano quintet moved Bloch toward contemporary neoclassical trends and away from his earlier interest in program music, but still his musical language tapped into the Eastern European (Ashkenazi) Jewish tradition that had been so central to his musical identity. The quintet's opening Agitato movement weaves strands of imploring melody around shards of angular gestures, at times assigning the strings to play quarter-tone pitches (notes placed between the chromatic tones available on the piano) to ratchet up the emotional tension.
The tempo heading of the middle movement, Andante mistico, informs us from the outset that there is something mystical about this music that pulses past at a slow walking pace. In the final minutes, ghostly string tremolos and pale harmonies transport this quintet to its most mysterious realm.
The Allegro energico finale breaks the spell with a vigorous opening salvo. This intense movement is the longest and at times the most despairing of the quintet, but the final deliverance into a sweet major chord heals any lingering discord.
Additional Resources
Recording of the quintet, with sheet music on video
Liner notes from Hyperion Records
Bloch profile by the Milken Archive of Jewish Music
Bohuslav Martinů
Sextet in E-flat major for Piano and Winds, H. 174 (1929)

Approximate duration: 15 minutes
Bohuslav Martinů lived until the age of 12 in a small apartment atop a Bohemian church tower, where his father was responsible for ringing the bells. Martinů never shed the isolated, wide-angle perspective he developed in his youth, neither in his brief period of study at the Prague Conservatory (from which he was expelled) nor in his decades of exile in France, the United States, Italy and Switzerland. 
Martinů moved to Paris in 1923 to study with Albert Roussel, who exposed the Bohemian expatriate to France's music du jour: the bright and sharp-edged neoclassicism of Stravinsky and the younger Les Six composers, including Milhaud and Poulenc. The Sextet that Martinů composed in 1929 fits right in with that chic Parisian aesthetic; in fact it predates by three years one of Poulenc's signature works of chamber music, his own Sextet for Piano and Winds.
The tradition of chamber music for piano and winds stretched back to Mozart and Beethoven, who each wrote a quintet (leaving out the flute). Martinů substituted a second bassoon for the horn, and he took advantage of the smoother, more blended sound of his wind complement in the introductory section of the opening Preludium.
The Adagio second movement is especially austere. In the first phrases, songlike phrases from the clarinet and rolled piano chords suggest a shared path forward.
Instead, the piano and the winds split apart, with the piano only reappearing for the most sparing of interjections and accompaniments.
The sassy side of Martinů's neoclassicism comes to the fore in the central scherzo, a playful duet for flute and piano with hints of ragtime in its syncopated rhythms.
The American aspect is even more pronounced in the Blues movement (perhaps with a nod to Ravel, who included his own Blues rendition in the Violin Sonata from 1927).
The finale plays up its Classical references, even weaving the main theme into a brief fugue. 
Additional Resources
Martinů profile from publisher Boosey & Hawkes
Information on the church tower where Martinů grew up
Jean Sibelius
Quartet in D minor for Strings, Op. 56, "Intimate Voices" (1908-09)

Approximate duration: 33 minutes
Jean Sibelius may be best known for his symphonies, but his early musical life centered on chamber music. He was a self-taught violinist until he began lessons at age 15, and he spent his youth playing piano trios with his siblings and appearing as the second violinist in a local string quartet. Until his mid-20s, the vast bulk of his compositions were chamber music scores. Only in the 1890s, when Sibelius began to identify more as a composer than as a performer, did he set aside chamber music for the orchestral scores that cemented his reputation as the leader among Finland's young composers. 
By the turn of the 20th century, Sibelius was hailed as a hero for his Symphony No. 1 and especially for the patriotic tone poem Finlandia. These works gave voice to a burgeoning national identity and helped fuel the fight for Finnish independence from Russia. Sibelius circulated with leading intellectuals in Helsinki—drinking, smoking and spending far too much money all the while—until his concerned wife and friends intervened by suggesting a move to the country. The family built a remote estate, dubbed Ainola after Sibelius' wife, Aino, and Sibelius lived there from 1904 until his death 53 years later. 
In 1908, when Sibelius returned to chamber music with the String Quartet in D minor, it was at a point of transition for him musically and personally. The year started with a health scare that landed him in a hospital and he underwent a traumatic operation to remove a tumor from his throat. Sibelius' fear for his life was enough to scare him off drinking and smoking (for several years, at least), and it changed his musical outlook, driving him toward the sparse, reflective sound of his later works. Meanwhile he generated far less music than he had promised his publisher and his debts skyrocketed. 
Sibelius completed the String Quartet during a conducting trip through London and Paris in 1909, and he delivered the new manuscript to his publisher personally when he stopped through Berlin. The introspective quartet was unlikely to make a dent in Sibelius' financial predicament, but his personal affection for the score is clear in a letter he sent Aino, writing, "It turned out as something wonderful. The kind of thing that brings a smile to your lips at the hour of death." 
The quartet's nickname of "Voces intimae" (or "Intimate Voices") comes from an annotation Sibelius penciled into the score, within the central slow movement. The phrase has stuck as an apt description for the quartet as a whole, and it applies equally well to the entire chapter of music-making that extends through this work to Sibelius' Fourth Symphony and beyond. 
The quartet's intimate dialogue starts with the first violin and cello trading phrases in a brief Andante introduction, until the middle voices join in at the start of the fast body of the movement. 
The textures are transparent throughout, often combining voices in octaves, or moving all the parts in rhythmic lockstep. 
Once the first movement reaches its bold ending with thick chords and a final unison arrival, it links directly to the Vivace second movement, a study in tremolo bowing that serves as the quartet's scherzo. 
The Adagio di molto movement is the heart of the quartet's symmetrical scheme, beginning with a song-like melody from the first violin. 
About two minutes into the form, the three isolated chords in E minor—totally foreign to the prevailing key of F minor—mark the spot where Sibelius wrote "Voces intimae" in a friend's score. 
The fourth movement, cast in a heavy, three-beat pulse, continually chafes at the confines of its dance-like main theme as it escapes into slurred, swirly episodes. 
The Allegro finale delivers the most outspoken music of the quartet, especially the energetic passages in perpetual motion that rally toward a forceful conclusion. 
Additional Resources 
PDF score from the IMSLP Petrucci Music Library
Catalog and analysis of Sibelius' chamber music 
The story of Janacek's "Intimate Letters" Quartet from 1928, not to be confused with Sibelius' "Intimate Voices."
-- Copyright © 2017 Aaron Grad
Aaron Grad is a composer, guitarist and writer based in Seattle. Besides providing program notes for the New World Symphony, he has been the Orpheus Chamber Orchestra's program annotator since 2005 and also contributes notes to the Saint Paul Chamber Orchestra and Seattle Symphony.
Audio clips provided by Naxos of America, Inc.
Musicians of the New World Symphony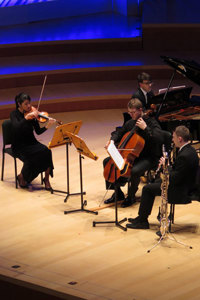 A laboratory for the way music is taught, presented and experienced, the New World Symphony consists of 87 young musicians who are granted fellowships lasting up to three years. The fellowship program offers in-depth exposure to traditional and modern repertoire, professional development training and personalized experiences working with leading guest conductors, soloists and visiting faculty. 
NWS Fellows take advantage of the innovative performance facilities and state-of-the art practice and ensemble rooms of the Frank Gehry-designed New World Center, the campus of the New World Symphony and home of the Knight New Media Center.
In the hopes of joining NWS, nearly 1,000 recent music school and conservatory graduates compete for available fellowships each year. The Fellows are selected for this highly competitive, prestigious opportunity based on their musical achievement and promise, as well as their passion for the future of classical music.