Events & Tickets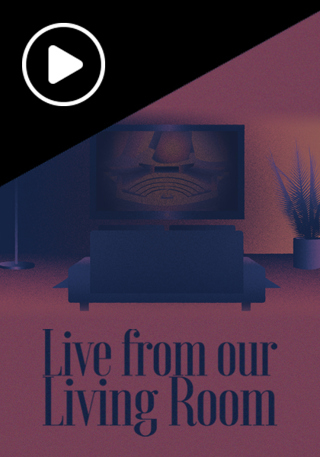 Online Event
Live from our Living Room
Online Event
Monday, March 22, 2021 at 7:00 PM ET
Facebook Live (@NewWorldSymphony)
Program
WAYS TO WATCH ON MAR. 22:
FACEBOOK LIVE    NEW WORLD SYMPHONY   

Live from our Living Room is back and coming to you now from the New World Center! This series that features NWS Fellows performing live, informal chamber music concerts began from their home in Miami Beach last March when the pandemic first struck. 
Each Live from our Living Room is streamed live and includes Fellow remarks and an opportunity to chat with the Fellows throughout the performances and ask any questions you may have. 
Program
Robert Schumann
(1810-1856)

Märchenbilder (Fairytale Pictures) for Viola and Piano, Op. 113 (1851)

Not fast
Lively
Quickly
Slow, with a melancholy expression
Jacquelyn O'Brien, viola
Thomas Steigerwald, piano
Three American Folk Hymn Settings for Two Violins (2001)

Prologue
"What Wondrous Love is This"
"In Lonely Mountain Ways"
"I Come With Joy"
Finale
Copyright © 2008 by Kenji Bunch Music Publishing (ASCAP). All Rights Reserved.
Sole Agent: Bill Holab Music. Used by Permission.
Sophia Bernitz, Katherine Kobylarz, violin
Anton Arensky
(1861-1906)

Quartet No. 2 in A minor for Strings, Op. 35 (1894)

Moderato
Variations on a theme by P. Tchaikovsky: Moderato
Finale: Andante sostenuto
Michael Rau, violin; Stephanie Block, viola
Amy Sunyoung Lee, Clare Bradford, cello
Sonata for Solo Cello (1955)

Fantasia
Tema pastorale con variazioni
Toccata
Sergei Prokofiev
(1891-1953)

Sonata for Solo Violin, Op. 115 (1947)

Moderato
Andante dolce: Tema con variazioni
Con brio: Allegro precipitato
Musicians of the New World Symphony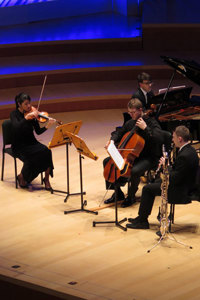 A laboratory for the way music is taught, presented and experienced, the New World Symphony consists of 87 young musicians who are granted fellowships lasting up to three years. The fellowship program offers in-depth exposure to traditional and modern repertoire, professional development training and personalized experiences working with leading guest conductors, soloists and visiting faculty. 
NWS Fellows take advantage of the innovative performance facilities and state-of-the art practice and ensemble rooms of the Frank Gehry-designed New World Center, the campus of the New World Symphony and home of the Knight New Media Center.
In the hopes of joining NWS, nearly 1,000 recent music school and conservatory graduates compete for available fellowships each year. The Fellows are selected for this highly competitive, prestigious opportunity based on their musical achievement and promise, as well as their passion for the future of classical music.