Events & Tickets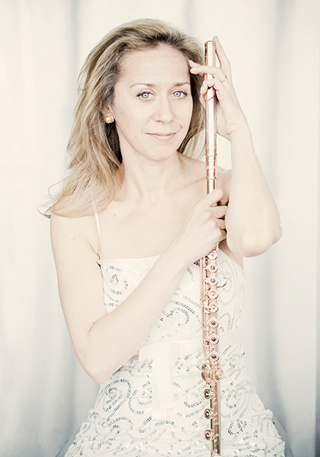 Guest Presenter
Marina Piccinini International Masterclasses Opening Gala Concert
New World Center, Truist Pavilion
Thursday, May 23 at 7:30 PM
Program
Marina Piccinini International Masterclasses Opening Gala Concert Features Marina Piccinini, flute and Meng Su, guitar
The 2019 Marina Piccinini International Master Class (MPIMC) kicks off its first season in residence at the New World Center with a gala performance featuring flutist Marina Piccinini and special guest guitarist Meng Su. The duo brings Bach to the stage with exciting works of Robert Beaser and Sergio Assad, along with some Tango fun from Astor Piazzolla.
MPIMC and the New World Symphony's 2019 season, "Beyond the Score: Expression through Interpretation™" runs from May 23-30, and brings together a select group of some of this country's rising flutists to study with Piccinini and guest artists. The MPIMC inspires self-discovery, discipline, and implements Kung Fu techniques to empower the artistic voice, which students learn about in daily masterclasses dedicated to exploring the flutes wide-ranging repertoire, which Piccinini is hailed for expanding, along with the intricacies of expression, breathing, focus, and navigating career.
Program
Sonata in E major for Flute and Guitar, BWV 1032
Mountain Songs for Flute and Guitar
Sun Wutong's Toccata for Solo Guitar
Histoire du Tango for Flute and Guitar
Marina Piccinini, flute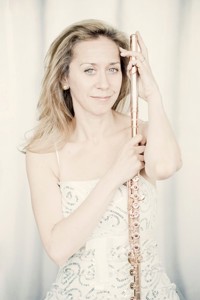 Hailed by Gramophone as "the Heifetz of the flute," Marina Piccinini is widely recognized across the world as a daring, dynamic artist with varied musical interests. She is internationally-acclaimed for her interpretive skills, intensely communicative performances, technical command, and powerfully magnetic stage presence, with a distinct and global perspective that informs her work as one of the most compelling advocates of both traditional and new works. Much sought after as a soloist, chamber musician, and recording artist, she has garnered special attention for her commitment to the music of our time and for expanding the repertoire of her instrument.
Growing up in a multi-national, multi-lingual household brimming with Italian, Brazilian, and Swiss cultural ties, and having resided in the far-flung locations of Sao Paulo, Zurich, Newfoundland, Toronto, New York City, and Vienna, the flutist brings the vibrant spirit of her rich heritage to all of her artistic endeavors. Ms. Piccinini's artistic tapestry is also woven with threads both musical and non-musical, ranging from her love of Bachian intricacies and her talents in the visual arts, to her dedication to kung fu and Buddhist thought. As a 36th-generation Shaolin Fighting Monk, she relishes an ideology that inspires self-discovery, discipline, finding joy, and having no limits – all of which she brings to her instrumental artistry.
Ms. Piccinini's repertoire is among the most diverse of today's preeminent artists. Collaborating with some of the foremost living composers, she has commissioned and premiered works by John Harbison, Lukas Foss, Michael Colgrass, Paquito D'Rivera, Matthew Hindson, Michael Torke, David Ludwig, and Roberto Sierra, among many others. These projects have taken her across multiple continents, including a tour of her most recently commissioned work, a flute concerto written for her by Pulitzer Prize–winning composer Aaron Jay Kernis, which she premiered with the London and Rochester Philharmonics, Chautauqua Symphony, and Detroit Symphony, and recorded for Naxos with the Peabody Institute Orchestra conducted by Leonard Slatkin.
Recent and upcoming season highlights include a return engagement with the London Philharmonic conducted by Dennis Russell Davies for a recording of Miguel Kertsman's Flute Concerto; the World Premiere of Kernis' Air for flute and orchestra with the Korean Chamber Orchestra conducted by Patrick Gallois at Seoul Arts Center; tours with Musicians from Marlboro, including concerts at Carnegie Hall, Philadelphia's Kimmel Center, The Smithsonian in DC, and Boston's Gardner Museum; collaborations with the Brentano Quartet, the Beijing Guitar Duo, and with Vienna Philharmonic Principal Harpist Anneleen Lenaerts at the Aspen Music Festival and for Mozart's Flute and Harp Concerto with conductor Bruno Weil and The Bruckner Orchester Linz, Austria and at the Moritzburg Festival in Dresden; a North American recital tour with pianist Andreas Haefliger at the Kennedy Center, Rockefeller University, Dallas's Nasher Sculpture Center, and in Akron, Ohio; and appearances with guitarist Meng Su in San Francisco's Herbst Theatre. Her trio, Tre Voci, appears at London's Wigmore Hall, premiering a new work written for it by Toshio Hosokawa, and in Mexico City, Philadelphia, Boston, Los Angeles and beyond.
Acclaimed for her "intent, glittering musicianship" (Sunday Times [London]), she is a familiar and much-admired figure at the world's foremost concert venues. She has appeared as soloist with the Boston, Hong Kong, Vienna, Vancouver, Tokyo, Saint Louis, Montreal, Toronto and National Symphonies, London and Rotterdam Philharmonics, and Ravenna Chamber Orchestra, and has worked with some of the world's most celebrated conductors, including Esa-Pekka Salonen, Seiji Ozawa, Kurt Masur, Pierre Boulez, Myung-whun Chung, Gianandrea Noseda, Jukka-Pekka Saraste, and Alan Gilbert. She has also performed with the Tokyo, Mendelssohn, and Takács Quartets, NEXUS percussion ensemble, and the Beijing and Brasil Guitar Duos. A regular partner of pianists Andreas Haefliger and Mitsuko Uchida, she is a longtime Resident Artist at the Marlboro Festival, and performed at Japan's Saito Kinen Festival at Ozawa's personal invitation.
A prodigious recording artist, she can be heard on the Avie, Claves, and ECM labels, including Tre Voci's debut CD of works by Tōru Takemitsu, Claude Debussy, and Sofia Gubaidulina; a DVD of Schoenberg's Pierrot Lunaire from the Salzburg Festival, along with an accompanying documentary entitled Solar Plexus of Modernism; Bach's complete flute sonatas and solo partitas with the Brasil Guitar Duo; the flute sonatas of Prokofiev and Franck with pianist Andreas Haefliger; and Belle Époque, with pianist Anne Epperson; sonatas by Bartók, Martinů, Schulhoff, Dohnányi, and Taktakishvili; and an acclaimed recording of her dazzling new arrangement of the Paganini Caprices (published by Schott Music).
Her intense commitment to education inspired her to create the Marina Piccinini International Masterclasses (MPIMC), which, after a decade at Baltimore's Peabody Institute, has recently moved to the New World Center in Miami, launching an exciting new partnership with the New World Symphony. She is currently on the faculty of the Peabody Institute of Johns Hopkins University in Baltimore, and was formerly Professor at the Hochschule für Musik, Theater und Medien in Hannover, Germany. She also regularly gives masterclasses worldwide in conjunction with her performances.
Ms. Piccinini was the first flutist to win the coveted Avery Fisher Career Grant. Her career was launched when she won First Prizes in the CBC Young Performers Competition in Canada and the Concert Artists Guild International Competition in New York City.
Marina Piccinini was born into a family of distinguished scientists. She studied with Jeanne Baxtresser and Aurèle Nicolet, and received her Bachelor's and Master's degrees from The Juilliard School, where she worked with the legendary Julius Baker. She lives with her family in Vienna and New York.
Meng Su, guitar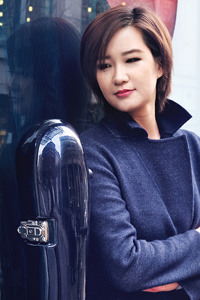 Multifaceted guitarist Meng Su is captivating audiences around the world with her stunning virtuosity and refined artistry. New York Concert Review called her performance "seemingly effortless and stunningly polished…. Add to that a beautiful – and fashionable! – stage presence, and she is poised to be in high demand" while Classical Guitar Magazine wrote that "she has already reached the status of a seasoned artist."
In addition to her busy solo career, Meng Su is an avid chamber musician who tours regularly in the Beijing Guitar Duo and as a soloist with orchestras. This season, Ms. Su will make her solo debut with China Philharmonic Orchestra in the Chinese premiere of Tan Dun's concerto Yi2; with the Mulhouse Symphony Orchestra in Rodrigo's Concierto de Aranjuez; and with the Adelaide Symphony with her duo partner Yameng Wang in Rodrigo's double concerto, Concierto Madrigal.
Meng Su formed the widely acclaimed Beijing Guitar Duo with Yameng Wang.  The duo received the "Solomon H. Snyder Award" in 2010 which launched their international career. This season, the Beijing Guitar Duo will perform in Copenhagen, Milwaukee, Houston, Dallas/Fort Worth, St. Louis, and they will tour Canada (Vancouver, Victoria, Edmonton, Calgary and Toronto) and Australia. As a soloist, Meng Su will perform in Hong Kong, Amsterdam, Baltimore, Minneapolis, Washington, D.C., Sarasota, Poznan (Poland), Iserlohn (Germany); and she will tour in Japan, with concerts in Kobe, Nagoya, and Tokyo.
Meng Su's performances and recordings have impressed the public with "an ability and artistry that exceeds her years." (Baltimore Sun) Her debut duo CD "Maracaípe" received a Latin Grammy nomination for the titled piece, which was dedicated to the Duo by renowned guitarist/composer Sergio Assad. Their second CD, "Bach to Tan Dun," a "must-listen" according to composer Tan Dun, has been widely noted for the world-premiere recording of his "Eight Memories in Watercolor." A recording in trio, "China West," with Maestro Barrueco and the Beijing Guitar Duo was released in May 2014 to critical acclaim. Meng Su's debut solo recording "Meng," released in 2016 was called "awe-inspiring" and "this year's finest debut by far" by Classical Guitar Magazine.
Born in Qingdao, China, Meng Su began studying the guitar at the age of 5 and showed her talents from an early age under the guidance of Prof. Chen Zhi at the Central Conservatory in Beijing. Meng Su has won first-prize in numerous international competitions around the world, the last one being in the prestigious Parkening International Guitar competition in 2015. She obtained a Master's Degree and an Artist Diploma with Maestro Manuel Barrueco at the Peabody Conservatory of the Johns Hopkins University.
Meng Su teaches at the Hong Kong Academy for the Performing Arts.