Events & Tickets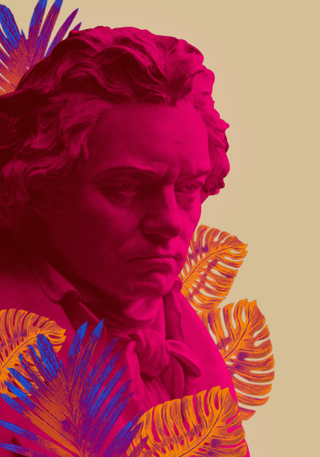 Orchestra Concert
Beethoven's Eroica
New World Center
Friday, February 11, 2022 at 7:30 PM
Saturday, February 12, 2022 at 7:30 PM
Program
Gemma New--Music Director of the Hamilton Philharmonic and Principal Guest Conductor of the Dallas Symphony--is taking the music world by storm. She makes her NWS debut with Ludwig van Beethoven's Third Symphony, a triumphant homage to heroism. Hailed as "the greatest single step made in the history of music" by historians, the piece marked Beethoven's emergence as an original master. Renowned violinist Christian Tetzlaff returns for Alban Berg's Concerto, what The New York Times christens as one of the greatest works of the 20th century. Leading the program is a sweeping overture by Samuel Coleridge-Taylor led by Conducting Fellow Chad Goodman.
-----
This concert is part of the Friday Evening and Saturday Evening Two series. Come be inspired at the New World Center! With either of these series, you'll enjoy blockbuster artists like MTT, Marin Alsop, Aaron Diehl, Christian Tetzlaff, Gil Shaham and orchestral master works like Rimsky-Korsakov's Scheherazade, Beethoven's Third Symphony and Mahler's Fifth Symphony. Subscriptions for the Friday series (3 concerts) begin at $90. Subscriptions to the Saturday Evening Two series (4 concerts) begin at $132. Click to explore the full subscriptions! 
COMPOSE YOUR OWN SUBSCRIPTION PACKAGE! 
Choose this plus two more concerts to customize your own subscription. It's the ultimate flexibility with all the subscriber benefits, including free exchanges when plans change! Call the NWS Box Office at 305.673.3331 to create your own series today. 
SUBSCRIBERS ENJOY THE BEST OF NWS! 
As an NWS Subscriber, you receive amazing benefits to enjoy throughout the season, including the best seats for the lowest prices and access to our incredibly talented Fellows. Click here to learn more! 
Program
Samuel Coleridge-Taylor
(1875-1912)
Approx. Duration: 11 minutes

Overture to The Song of Hiawatha, Op. 30  (1898-1900)

Alban Berg
(1885-1935)
Approx. Duration: 22 minutes

Concerto for Violin and Orchestra (1935)

Andante – Allegretto 
Allegro – Adagio
Ludwig van Beethoven
(1770-1827)
Approx. Duration: 47 minutes

Symphony No. 3 in E-flat major, Op. 55, "Eroica"  (1803)

Allegro con brio 
Marcia funebre: Adagio assai 
Scherzo: Allegro vivace 
Finale: Allegro molto
Samuel Coleridge-Taylor
Overture to

 

The Song of Hiawatha

, Op. 30
 

(1898-1900)


Approximate duration: 11 minutes

Samuel Coleridge-Taylor was the son of a Black father from Sierra Leone and a White mother from England. Although his name was a nod to the British poet Samuel Taylor Coleridge, it was an American poet who is most associated with Coleridge-Taylor's lasting fame: Henry Wadsworth Longfellow, author of the ballad poem The Song of Hiawatha from 1855.

In 1898, a year after Coleridge-Taylor completed his studies at London's Royal College of Music, the 23-year-old presented Hiawatha's Wedding Feast, a cantata for tenor, chorus and orchestra based on Longfellow's poem about ill-fated lovers from different tribes. It was such an overwhelming success that Coleridge-Taylor followed with The Death of Minnehaha and the Hiawatha Overture the next year. 1900 brought another installment, Hiawatha's Departure, along with the birth of Coleridge-Taylor's son—named Hiawatha, naturally. The fascination never waned, and one of his last works before he died in 1912 was a Hiawatha ballet.

Writing his initial Hiawatha works in the same decade as Antonín Dvořák's Symphony No. 9 ("From the New World"), Coleridge-Taylor was applying a 19th-century European sensibility to source material that had only the faintest connection to Indigenous music from North America. The pentatonic modes that nudge the Hiawatha Overture toward something resembling an Indigenous sound echo the types of "Indian" melodies found in printed songbooks of the era, adapted into Western musical notations. As such, Coleridge-Taylor's Hiawatha music was hardly authentic and is problematic through a contemporary lens, but those issues of identity and authenticity don't erase Coleridge-Taylor's self-evident mastery of tone painting in a late-Romantic mold—a talent he cultivated in the face of enormous discrimination, enough that he considered moving to the United States, where he had developed relationships with Black writers and intellectuals who were advocating for racial justice. Coleridge-Taylor ended up being a huge influence on the Black American composers of the next generation, and his Hiawatha legacy can now be seen as part of a broader thrust of musical inclusion during a transformative period in the history of the classical canon.

 
Alban Berg
Concerto for Violin and Orchestra

(1935)

Approximate duration: 22 minutes
Alban Berg was a self-taught composer until the age of 19, when he began studying with Arnold Schoenberg in his native Vienna. In the years to come, while Schoenberg stretched tonal harmony past its breaking point and ultimately found his way to the 12-tone technique as a way to reimpose order on the chaos of atonality, Berg followed each step of the way. Along with Schoenberg's other earliest student, Anton Webern, Berg formed the nucleus of what has been dubbed "The Second Viennese School," a title of honor that holds them up against the glory days of Haydn, Mozart and Beethoven in Vienna. Schoenberg was often cruel and belittling toward Berg, and the younger generations of avant-garde composers showed a marked preference for the hyper-concentrated music of Webern, but posterity has rewarded Berg for his musical sensibility that held on to vestiges of tonality and Romantic grandeur.
In what turned out to be the last year of his life, amid work on the orchestration of the opera Lulu that would never be completed, Berg reluctantly accepted a well-paying commission in 1935 to write a concerto for the Ukrainian-American violinist Louis Krasner. The project took on a new emotional resonance when Berg learned of the death of Manon Gropius, the daughter of the architect Walter Gropius and Alma Mahler (Gustav Mahler's widow). As a tribute to the 18-year-old aspiring actress felled after a year-long battle with polio, Berg dedicated his Concerto "to the memory of an angel."
Using Schoenberg's formula, Berg organized the Violin Concerto around a 12-tone row—a fixed series in which each of the 12 chromatic pitches appears once, in a set order. This Concerto's tone row is distinctive in that incorporates triads, the building blocks of tonal harmony. Segments of the row spell triads in G minor, D major, A minor and E major, such that the four root notes correspond to the tuning of a violin's four strings. Those open strings are the first tones played by the soloist.
The last segment of the tone row breaks the triadic sequence and instead rises up a whole-tone scale. Those final four pitches match J. S. Bach's harmonization of the chorale Es ist genug (It is Enough), a melody originally composed in 1662 by Rudolf Ahle and incorporated by Bach into the Cantata BWV 60. The chorale's lyrics match the elegiac nature of Berg's Concerto: "It is enough: Lord, if it pleases You, Then release me! My Jesus comes; Good night now, o world! I journey to heaven's house, I go there securely in peace, My great suffering remains behind. It is enough."
The Concerto is structured in two movements, each subdivided into two parts. The first movement begins as a portrait of Manon in a tender Andante tempo, and then it transitions to an agitated scherzo that includes a quotation of a Corinthian folk song from the Austrian Alps. (Berg's family had a country house there, and at the age of 17 he fathered an illegitimate daughter with a local kitchen maid, a memory that may have been reawakened by Manon's death.)
The second movement begins as a free-flowing Allegro, with cadenza-like violin statements accompanied by the orchestra. This section, with its harrowing aura of death, leads into the closing Adagio, which includes quotations of Bach's chorale.
Ludwig van Beethoven
Symphony No.

 

3 in E-flat major, Op. 55, "Eroica"
 

(1803)


Approximate duration: 47 minutes

After writing a monumental symphony that dwarfed his two previous efforts (and those of all composers who came before him), Ludwig van Beethoven gave the Symphony No. 3 in E-flat major the subtitle of "Bonaparte," honoring the military mastermind of Revolutionary France. But the composer's adulation turned to disgust in 1804, when he learned that Napoleon had crowned himself Emperor; according to the student who delivered the disturbing news, Ferdinand Ries, "Beethoven went to the table, seized the top of the title-page, tore it in half and threw it on the floor." When preparing the Symphony for publication in 1806, Beethoven re-titled it "Sinfonia eroica, composed to celebrate the memory of a great man." The unspecified "great man" may have been Prince Louis Ferdinand of Prussia, a patron's friend who died in 1806 fighting against Napoleon's army.

The defining motive of the "Eroica" Symphony's first movement is a rocking cello strain that trails into distant harmonies after four measures. As the development section closes, a horn makes a surprise entrance with a recapitulation of that same theme a few measures ahead of schedule—an effect so unexpected that even Beethoven's student Ries, upon hearing the Symphony for the first time, suspected the horn player of having lost count of the measures.

The Symphony's second movement, labeled a funeral march, sinks into a prolonged state of despair that might induce misery if not for its undeniable grace and beauty. A major-key interlude, providing respite, incorporates an arpeggiated accompaniment that recalls the gentle sway of the first movement. After returning to the minor key, the appearance of fugal counterpoint reinforces the profound, ceremonial atmosphere of the funeral march.

Out of this grief comes a giddy Scherzo, a symphonic construct that Beethoven popularized as an alternative to Haydn's slower, tamer minuets. A contrasting trio section features the three horns in vigorous hunting calls.

The finale, built as a theme and variations, incorporates material from the ballet The Creatures of Prometheus that Beethoven had also used in an earlier set of piano variations. A short but fiery introduction gives way to an unusual presentation of the theme, reduced to its bare skeleton.

This treatment makes perfect sense in terms of the Symphony's overall thrust, since the real heroism of the "Eroica" Symphony, one could argue, is its uncompromising quest to distill each musical gesture down to its essential core. In this way, Beethoven opened a new chapter in the history of the symphony, in which audiences, seeking more than entertainment, could expect to be stretched and challenged on physical, emotional and even spiritual levels.

– © 2021 Aaron Grad

Aaron Grad is a composer, guitarist and writer based in Seattle. Besides providing program notes for the New World Symphony, he has been the Orpheus Chamber Orchestra's program annotator since 2005 and also contributes notes to the Saint Paul Chamber Orchestra and Seattle Symphony.
Gemma New, conductor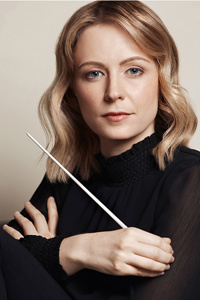 Sought after for her insightful interpretations and dynamic presence, New Zealand-born Gemma New is Music Director of the Hamilton Philharmonic Orchestra and Principal Guest Conductor of the Dallas Symphony. She is the recipient of the prestigious 2021 Sir George Solti Conducting Award.
In summer 2021, Ms. New led the New York Philharmonic's 29th Annual Memorial Day Concert at St. John the Divine in a free performance livestreamed to the public. She made debuts at the Hollywood Bowl with the Los Angeles Philharmonic and at the Aspen Music Festival and Grand Teton Music Festival. In Australasia, she debuted with the Sydney Symphony and led the New Zealand Symphony's Winter Festival.
Ms. New's 2021-22 season includes subscription appearances with the National Symphony, Montreal Symphony, Baltimore Symphony, St. Louis Symphony, Atlanta Symphony, Minnesota Orchestra and Kansas City Symphony. She makes debuts with WDR Symphony Orchestra Cologne, BBC Philharmonic, Hallé Orchestra, Netherlands Philharmonic Orchestra and Orchestre national d'Île-de-France. She will debut with the Los Angeles Opera for the West Coast Premiere of Kevin Puts' The Brightness of Light with soprano Renée Fleming and baritone Rod Gilfry.
The 2021-22 season marks Ms. New's third season as Principal Guest Conductor of the Dallas Symphony. She will lead three subscription programs plus a New Year's Eve concert in Dallas.
Ms. New recently completed a four-year position as Resident Conductor of the St. Louis Symphony. In her final season, she led its 2019-20 season-opening concerts and conducted a concert broadcast live with Chris Thile on the nationally syndicated variety show Live from Here.
A former Dudamel Conducting Fellow with the Los Angeles Philharmonic, Ms. New previously served as Associate Conductor of the New Jersey Symphony and was a 2018 Conducting Fellow at Tanglewood Music Center. She holds a master of music degree in orchestral conducting from the Peabody Institute in Baltimore, where she studied with Gustav Meier and Markand Thakar. She graduated with honors from the University of Canterbury in New Zealand with a bachelor of music degree in violin performance.
Christian Tetzlaff, violin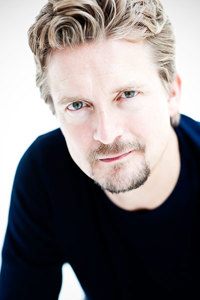 An artist known for his musical integrity, technical assurance and intelligent, compelling interpretations, Christian Tetzlaff has for many years been internationally recognized as one of the most sought-after violinists and exciting musicians on the classical music scene.
Concerts with Mr. Tetzlaff often turn into an illuminating experience as he views great works as narratives which reflect the composers' existential experiences. Suddenly, familiar works appear in a completely new light, as he perceives music as a language and his playing explores the limits of human feelings and expressiveness. He tries to fulfill the musical text as deeply as possible and as a violinist attempts to disappear behind the work—paradoxically making his interpretations very personal.
In addition, Mr. Tetzlaff frequently turns his attention to forgotten masterpieces such as Joseph Joachim's Violin Concerto or the Violin Concerto No. 22 by Giovanni Battista Viotti, a contemporary of Wolfgang Amadeus Mozart and Ludwig van Beethoven. To broaden his repertoire, he also commits himself to substantial new works such as Jörg Widmann's Violin Concerto, which he premiered in 2013. He has an unusually extensive repertoire and performs approximately 100 concerts each season.
Throughout his career, Mr. Tetzlaff has appeared with the world's leading orchestras collaborating with conductors including Sergiu Celibidache, Bernard Haitink, Lorin Maazel and Kurt Masur and more recently with Barbara Hannigan, Christoph von Dohnányi, Paavo Järvi, Vladimir Jurowski, Andris Nelsons, Sir Simon Rattle, Esa-Pekka Salonen and Michael Tilson Thomas, to name but a few.
Mr. Tetzlaff regularly appears with the orchestras of Chicago, Cleveland, Boston, Philadelphia, New York, Los Angeles, San Francisco and Toronto among many others, as well as with the major European ensembles including the Berlin and Vienna philharmonics, London Symphony and London Philharmonic, Leipzig Gewandhaus Orchestra, Dresden Staatskappelle and Royal Concertgebouw Orchestra in Amsterdam. He is also a guest at the world's most prominent summer music festivals, including Verbier, Salzburg, Tanglewood, Edinburgh, The Proms and New York's Mostly Mozart Festival.
In addition, Mr. Tetzlaff is regularly invited as an Artist-in-Residence to present his musical views over a longer period of time; past residencies include working with the Berlin Philharmonic, Seoul Philharmonic, Dresden Philharmonic and Carnegie Hall. In the 2021-22 season, he serves as Artist-in-Residence at London's Wigmore Hall, while his 2020-21 residency with the London Symphony will be rescheduled for the 2022-23 season.
Highlights of Mr. Tetzlaff's 2021-022 season include concerts with the Cleveland Orchestra, the San Francisco, Pittsburgh and Montreal symphonies, and the London Philharmonic, Deutsches Symphonie Orchester Berlin, NDR Radiophilharmonie and NDR Elbphilharmonie Orchestra. In 2021 he toured with the Konzerthausorchester Berlin under the baton of Christoph Eschenbach and presented all-Bach recitals in Houston and Los Angeles. He also performs duo recitals with pianist Lars Vogt at numerous European summer festivals, as well as duo recitals with pianist Leif Ove Andsnes in Berlin, Paris, London and Moscow.
Mr. Tetzlaff is also a dedicated chamber musician, and to this day, performing chamber music is as close to his heart as his work as a soloist with or without an orchestra. He founded the Tetzlaff Quartet in 1994 with violinist Elisabeth Kufferath, violist Hanna Weinmeister and his sister, cellist Tanja Tetzlaff, and each season he undertakes at least one extensive tour with the Quartet when they appear on the major recital and chamber music series throughout Europe and North America, as well as in Asia. During the 2021-22 season, the Tetzlaff Quartet returns to the U.S. for a tour which includes appearances in Princeton, Berkeley, Orange County, Miami and Carnegie Hall. He also regularly tours with as a trio with Ms. Tetzlaff and pianist Lars Vogt and both ensembles regularly record.
Mr. Tetzlaff has received numerous awards for his many recordings, including the Diapason d'or in 2018, Midem Classical Award in 2017 and the Preis Der Deutschen Schallplattenkritik in 2015. The Tetzlaff Quartet received a Diapason d'or in 2015 and one of the trio's recordings was nominated for a Grammy Award. Most recently, his recording of the Bartók Violin Concertos with the Helsinki Philharmonic and Hannu Lintu was chosen as the Gramophone Concerto Recording of the Year. Of special significance are his recordings of the unaccompanied Bach Sonatas and Partitas, works which he recorded for the third time in 2017 for Ondine and remain an integral part of his concert calendar. A new Ondine recording of the Beethoven and Sibelius Concertos with the Deutsches Symphonie-Orchester Berlin and Robin Ticciati was released in 2019, while the latest Quartet recording, also on the Ondine label, features the late Beethoven string quartets Op. 130/133 and op. 132.
Born in Hamburg in 1966 and now living in Berlin with his family, Mr. Tetzlaff did not begin intensive study of the violin until making his concert debut playing the Beethoven Violin Concerto at the age of 14. He attributes the way he learns and performs to his teacher at the conservatory in Lübeck, Uwe-Martin Haiberg, for whom musical interpretation was the key to violin technique, rather than the other way around.
Mr. Tetzlaff plays a violin by the German violin maker Peter Greiner and teaches regularly at the Kronberg Academy.
Chad Goodman, conductor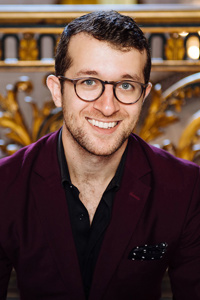 With a flair for inventive programming and a bold presence on stage and in the community, Chad Goodman has been praised for "bringing innovation to classical music" (Forbes).
As the Conducting Fellow of the New World Symphony, Mr. Goodman conducts on subscription, education, family and holiday programs. His program, "SPARK: How Composers Find Inspiration," blended captivating light design and videography with engaging audience participation to explore how a composition is created and brought to life by an orchestra.
Since 2018 Mr. Goodman has served as an Assistant Conductor to the San Francisco Symphony, assisting Esa-Pekka Salonen, Manfred Honeck, Daniel Harding, Pablo Heras-Casado, Simone Young and James Gaffigan among others.
As Founder and Artistic Director of Elevate Ensemble, Mr. Goodman's ambitious vision for concert programming resulted in the pairing of music from Bay Area composers with underappreciated gems of the 20th and 21st centuries. Under his leadership, Elevate Ensemble established a Composer-in-Residence program and commissioned fifteen works from Bay Area composers. Elevate collaborated with photographers, videographers, poets and culinary artists, bringing new music and vibrant multi-genre experiences to unique venues such as yoga studios, historic Victorian homes and art studio warehouses.
Mr. Goodman has previously served as Conducting Fellow of Festival Napa Valley, Music Director of the Contra Costa Chamber Orchestra, Conducting Fellow of the Atlantic Music Festival, and a rehearsal and cover conductor for the San Francisco Ballet.
In addition to his performing career, he teaches young musicians the business and entrepreneurial skills needed to successfully navigate the world as a working musician in his workshop "You Earned a Music Degree. Now What?"
Mr. Goodman holds a bachelor of music degree from the Eastman School of Music and a master of music degree from San Francisco State University. His mentors include Michael Tilson Thomas, Alasdair Neale, Cyrus Ginwala and Martin Seggelke.