Events & Tickets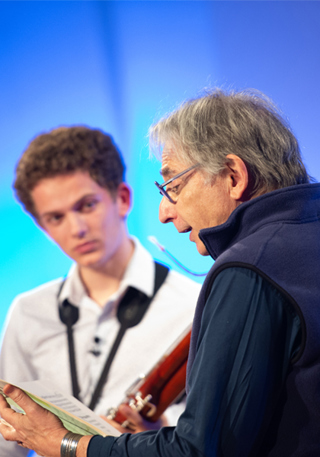 Free
MTT Town Hall Master Class
Online Event
Friday, April 30, 2021 at 7:30 PM
Streamed live on NWS website, Facebook and YouTube
Program
HOW TO WATCH ON APR. 30:
FACEBOOK LIVE    NEW WORLD SYMPHONY   

Join us for a celebration of talented young musicians from South Florida. MTT and NWS Conducting Fellow Chad Goodman will host a Town Hall Master Class featuring in-person and long-distance learning experiences, and four NWS alumni as guest panelists. The Town Hall Master Class is an NWS Connect event and will stream live online for free.
NWS thanks its 2020-21 donors.
Program
Concertino for Marimba (1940)

Stephan Bloch, marimba
Wesley Ducote, piano
Camille Saint-Saëns
(1835-1921)

Concerto No. 1 in A minor for Cello and Orchestra, Op. 33 (1872)

Allegro non troppo
Allegro con moto
Tempo primo
Johann Sebastian Bach
(1685-1750)

Suite No. 1 in G major for Solo Cello, BWV 1007  (1717-23)

Camille Saint-Saëns
(1835-1921)

Concerto No. 3 in B minor for Violin and Orchestra, Op. 61 (1879-80)

III. Molto moderato e maestoso
Sophia Molina, violin
Wesley Ducote, piano
Michael Tilson Thomas, host
Michael Tilson Thomas is Co-Founder and Artistic Director of the New World Symphony, America's Orchestral Academy; Music Director Laureate of the San Francisco Symphony; and Conductor Laureate of the London Symphony Orchestra. In addition to these posts, he maintains an active presence guest conducting with the major orchestras of Europe and the United States.
Born in Los Angeles, Mr. Tilson Thomas is the third generation of his family to follow an artistic career. His grandparents, Boris and Bessie Thomashefsky, were founding members of the Yiddish Theater in America. His father, Ted Thomas, was a producer in the Mercury Theater Company in New York before moving to Los Angeles where he worked in films and television. His mother, Roberta Thomas, was the head of research for Columbia Pictures.
Mr. Tilson Thomas began his formal studies at the University of Southern California, where he studied piano with John Crown, and conducting and composition with Ingolf Dahl. At age 19 he was named Music Director of the Young Musicians Foundation Debut Orchestra. During this same period, he was the pianist and conductor in master classes of Gregor Piatigorsky and Jascha Heifetz and worked with Stravinsky, Boulez, Stockhausen and Copland on premieres of their compositions at Los Angeles' Monday Evening Concerts.
In 1969, after winning the Koussevitzky Prize at Tanglewood, he was appointed Assistant Conductor of the Boston Symphony Orchestra. That year he also made his New York debut with the Boston Symphony and gained international recognition after replacing Music Director William Steinberg in mid-concert. He was later appointed Principal Guest Conductor of the Boston Symphony Orchestra where he remained until 1974. He was Music Director of the Buffalo Philharmonic from 1971 to 1979 and a Principal Guest Conductor of the Los Angeles Philharmonic from 1981 to 1985. His guest conducting includes appearances with the major orchestras of Europe and the United States.
Mr. Tilson Thomas is a two-time Carnegie Hall Perspectives artist, curating and conducting series at the hall from 2003 to 2005 and from 2018 to 2019. In the most recent series, he led Carnegie Hall's National Youth Orchestra of the United States of America both at the hall and on tour in Asia, opened the Carnegie Hall season over two evenings with the San Francisco Symphony, conducted two programs with the Vienna Philharmonic and finished with a pair of concerts leading the New World Symphony.
A winner of eleven Grammy Awards, Mr. Tilson Thomas appears on more than 120 recordings. His discography includes The Mahler Project, a collection of the composer's complete symphonies and works for voice and orchestra performed with the San Francisco Symphony, in addition to pioneering recordings of music by Charles Ives, Carl Ruggles, Steve Reich, John Cage, Ingolf Dahl, Morton Feldman, George Gershwin, John McLaughlin and Elvis Costello. His recordings span repertoire from Bach and Beethoven to Debussy and Stravinsky, and from Sarah Vaughan to Metallica.
His television work includes a series with the London Symphony Orchestra for BBC Television, broadcasts of the New York Philharmonic Young People's Concerts from 1971 to 1977 and numerous productions on PBS's Great Performances. With the San Francisco Symphony, he created a multi-tiered media project, Keeping Score, which includes a television series, web sites, and radio programs. He received a Peabody Award for his SFS Media radio series The MTT Files.
Mr. Tilson Thomas's compositions are published by G. Schirmer. In 1991, he and the New World Symphony were presented in a series of benefit concerts for UNICEF in the United States, featuring Audrey Hepburn as narrator of his work From the Diary of Anne Frank, which was commissioned by UNICEF. This piece has since been translated and performed in many languages worldwide. In August 1995, he led the Pacific Music Festival Orchestra in the premiere of his composition Shówa/Shoáh, commemorating the 50th anniversary of the bombing of Hiroshima. His vocal music includes settings of poetry by Walt Whitman and Emily Dickinson, which were premiered by Thomas Hampson and Renée Fleming, respectively. In 2016, Yuja Wang premiered his piano piece You Come Here Often?.
Mr. Tilson Thomas' song cycle Four Preludes on Playthings of the Wind, a setting of Carl Sandburg's poem, was premiered in 2016 by the New World Symphony, with Measha Brueggergosman as soloist. In 2019 the piece was recorded for Medici.tv at the New World Center and given its New York premiere as part of Mr. Tilson Thomas's second Carnegie Hall Perspectives series. His first Perspectives series also featured performances of his own compositions, including Island Music for four marimbas and percussion; Notturno for solo flute and strings, featuring soloist Paula Robison; and new settings of poems by Rainer Maria Rilke. In 2020, he led the San Francisco Symphony in the world premiere of his six-part song cycle Meditations on Rilke, and he subsequently conducted the work at the Cleveland Orchestra. Additional compositions include Street Song for brass instruments; Agnegram, an overture for orchestra; and Urban Legend, a concerto for contrabassoon that was premiered by the San Francisco Symphony. In June 2020, SFS Media released an album of works composed by Mr. Tilson Thomas, featuring live concert recordings of From the Diary of Anne Frank, narrated by mezzo-soprano Isabel Leonard, and Meditations on Rilke, sung by mezzo-soprano Sasha Cooke and bass-baritone Ryan McKinny.
Mr. Tilson Thomas is an Officier de l'Ordre des Arts et des Lettres of France, is a member of the American Academy of Arts and Sciences, was Musical America's Musician of the Year and Conductor of the Year, was Gramophone magazine's Artist of the Year and has been profiled on CBS's 60 Minutes and ABC's Nightline. He has been awarded the National Medal of Arts, has been inducted into the California Hall of Fame and the American Academy of Arts and Letters, and was a 2019 recipient of the Kennedy Center Honors.
Chad Goodman, host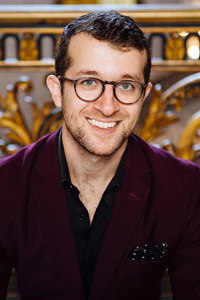 With a flair for inventive programming and a bold presence on stage and in the community, Chad Goodman has been praised for "bringing innovation to classical music" (Forbes).
As the Conducting Fellow of the New World Symphony, Mr. Goodman conducts on subscription, education, family and holiday programs. His program, "SPARK: How Composers Find Inspiration," blended captivating light design and videography with engaging audience participation to explore how a composition is created and brought to life by an orchestra.
Since 2018 Mr. Goodman has served as an Assistant Conductor to the San Francisco Symphony, assisting Esa-Pekka Salonen, Manfred Honeck, Daniel Harding, Pablo Heras-Casado, Simone Young and James Gaffigan among others.
As Founder and Artistic Director of Elevate Ensemble, Mr. Goodman's ambitious vision for concert programming resulted in the pairing of music from Bay Area composers with underappreciated gems of the 20th and 21st centuries. Under his leadership, Elevate Ensemble established a Composer-in-Residence program and commissioned fifteen works from Bay Area composers. Elevate collaborated with photographers, videographers, poets and culinary artists, bringing new music and vibrant multi-genre experiences to unique venues such as yoga studios, historic Victorian homes and art studio warehouses.
Mr. Goodman has previously served as Conducting Fellow of Festival Napa Valley, Music Director of the Contra Costa Chamber Orchestra, Conducting Fellow of the Atlantic Music Festival, and a rehearsal and cover conductor for the San Francisco Ballet.
In addition to his performing career, he teaches young musicians the business and entrepreneurial skills needed to successfully navigate the world as a working musician in his workshop "You Earned a Music Degree. Now What?"
Mr. Goodman holds a bachelor of music degree from the Eastman School of Music and a master of music degree from San Francisco State University. His mentors include Michael Tilson Thomas, Alasdair Neale, Cyrus Ginwala and Martin Seggelke.
Sergio Carreno, panelist and NWS alumnus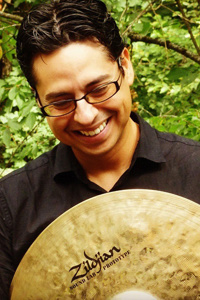 Sergio Carreno joined the Oregon Symphony as a member of the percussion section in 2012. Hailing from Miami, Florida, Sergio developed an eclectic musical taste which has led to collaboration with symphony orchestras, theater productions, dance companies, chamber music ensembles, and Latin, rock and jazz bands.
Sergio has performed with The Cleveland Orchestra, Pittsburgh Symphony, St. Paul Chamber Orchestra, and San Francisco Symphony, among others. He toured the U.S. several times with the Dallas Brass, and has appeared as a soloist with the Oregon Symphony and the New World Symphony. Sergio was a New World Symphony Fellow for four seasons under the direction of Michael Tilson Thomas, with whom he performed in Europe, South America, New York's Carnegie Hall, and on PBS Great Performances. He holds bachelor and master of music degrees from Carnegie Mellon University, a student of Timothy Adams Jr.  
Sergio is married to Oregon Symphony violinist Lisbeth Carreno, and together they enjoy trying to keep up with Portland's ever-growing food scene.   
Natsuki Kumagai, panelist and NWS alumna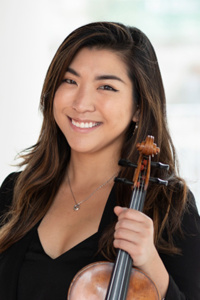 Natsuki Kumagai joined the Minnesota Orchestra second violin section in the 2017-18 season and won a position in the first violin section in 2019. Born and raised in Chicago, she has served in numerous concertmaster positions at orchestras including the New World Symphony, New York String Orchestra Seminar, and the Tanglewood Music Center Orchestra, where she was awarded the Jules C. Reiner Violin Prize. She was also a member of the Verbier Festival Orchestra. She is an active chamber musician, winning prizes at the Fischoff National Chamber Music Competition, Saint Paul Chamber Music Competition and Society of American Musicians Competition. She was a member of the New Fromm Players, the quartet-in-residence for contemporary music at the Tanglewood Institute, performing world and U.S. premieres of works by world-renowned composers Marc Neikrug and Joseph Phibbs.
Ms. Kumagai attended the New England Conservatory in Boston, where she studied with Boston Symphony Orchestra's concertmaster Malcolm Lowe. Her previous teachers include Almita and Roland Vamos and Marko Dreher at the Music Institute of Chicago's Academy program. She received her master's degree at the Juilliard School studying with Ida Kavafian and was the recipient of the H. & E. Kivekas Scholarship and the Irene Diamond Graduate Fellowship.
Si-Yan Darren Li, panelist and NWS alumnus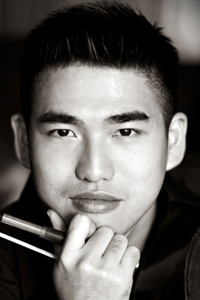 Cellist Si-Yan Darren Li made his professional debut at the age of nine and has since gone on to an international career as a recitalist, chamber musician and teacher. He has appeared in solo and chamber music performances at Carnegie Hall's Stern Auditorium, Weill Recital Hall, Alice Tully Hall, Merkin Hall, 92nd Street Y, Kennedy Center, Victoria Concert Hall in Singapore, Izumi Hall in Osaka, Suntory Hall in Tokyo and National Concert Hall in Taipei. Mr. Li has also performed in many renowned music festivals, including the Ravinia Festival, Kronberg Academy Cello Festival and Verbier Festival.
Mr. Li is a prizewinner in numerous prestigious competitions, including the Tchaikovsky International Competition in Moscow and Young Concert Artists International Auditions in New York. He is also a recipient of the American Masterpieces grant from the National Endowment for the Arts.
At CIM, Mr. Li teaches chamber music for the conservatory and for the Young Artist Program (YAP) in its preparatory division. 
Kenneth Thompkins, panelist and NWS alumnus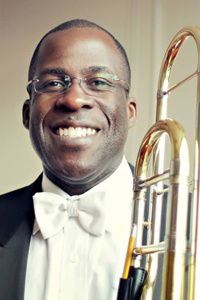 Kenneth Thompkins was appointed Principal Trombone of the Detroit Symphony Orchestra by Neeme Järvi. Prior to this appointment, he held positions in the Buffalo Philharmonic and the Florida Orchestra and performed with the New World Symphony under the direction of Michael Tilson Thomas. A former participant in the Detroit Symphony's African American Fellowship Program, he has been a mentor to several Orchestra Fellows over the years.
Kenneth has been invited to perform and conduct master classes at many music schools, including the Curtis Institute of Music, Mannes College, the University of Michigan, and Interlochen Arts Academy. An active chamber musician, Kenneth performs frequently in recital and is a member of Detroit Chamber Winds & Strings. He has performed concertos with both the Detroit Symphony Orchestra and New World Symphony.
Kenneth has toured Europe with the Los Angeles Philharmonic, and has also performed with the Toronto Symphony Orchestra, San Francisco Symphony, New York Philharmonic, and the Chicago Symphony Orchestra. He can be heard on recordings by Detroit Chamber Winds, the Los Angeles Philharmonic, and the Detroit Symphony Orchestra. His solo trombone recording; Sonatas, Songs and Spirituals features the music of Alec Wilder, Philip Wharton, Stephen A. Taylor and William Grant Still. Sonatas, Songs and Spirituals is the winner of The American Prize in Instrumental Performance, 2018-19. He has also contributed a chapter to The Brass Player's Cookbook: Creative Recipes for a Successful Performance.
Kenneth received his bachelor's degree from Northwestern University, where he studied with the late Frank Crisafulli of the Chicago Symphony, and a master of music degree from Temple University, where he studied with Eric Carlson of The Philadelphia Orchestra.
Aaron Abbey, trombone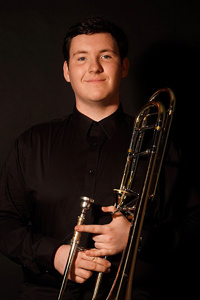 Aaron Abbey is a tenor trombone player enrolled at Dreyfoos School of the Arts. He has been playing trombone for four years. His achievements include having the ability to double on multiple instruments, including the euphonium, alto trombone and bass trombone; as well as being the Principal Trombonist of the Florida Music Educators Association All-State Orchestra two years in a row. Aaron has performed with the Dreyfoos Philharmonic Orchestra for two years. He currently studies with Professor Timothy Conner at the University of Miami's Frost School of Music.
Stephan Bloch, percussion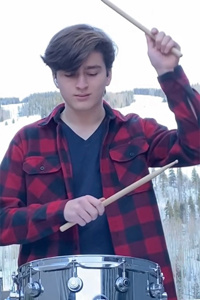 Stephan Bloch is a 16-year-old classically-trained percussionist. He comes from a Latino family who moved from Venezuela to Miami, Florida, in search of better opportunities. Music runs in his family's bloodline and it's always been by his side. He started studying general music at the age of four and moved to piano when he turned six.
Stephan is currently a sophomore studying at the New World School of the Arts High School and also privately studies with Karlyn Viña. He has performed with many ensembles, including the Greater Miami Youth Symphony, New World School of the Arts Symphony and Wind Ensemble, NYU's Sandbox Percussion Seminar Ensemble, and Michael Krop Senior High School Orchestra, Wind Ensemble and percussion ensemble. He has also performed many solo works for solo and ensemble festivals and has received superior scores for each performance.
Stephan is also fond of studying music theory. He has taken many advanced college courses specializing in music theory and composition and has even received the award
for best theory student in the class. He recently was accepted to attend the Juilliard Summer Percussion Seminar in July 2021. His goal is to keep studying music performance and composition at a conservatory. He will continue to share his and other's art in the form of music.
Jonathan Entenza, cello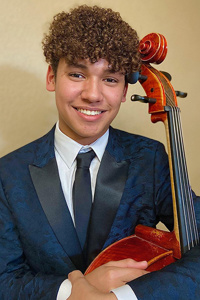 Jonathan Entenza is 15-year-old cellist from Miami, Florida. He began playing the cello in fourth grade in his elementary school's orchestra with Wells Cunningham, who has been his primary teacher. Jonathan grew up in a musical family; his sister Alyssa is a violinist and his father is a pianist. Jonathan is currently a freshman at Coral Reef Senior High School, and plans to pursue a career as a soloist. He has been selected as Principal Cellist of the Florida All-State Orchestra for three consecutive years. In 2018 he was third prize in the Alhambra Concerto Competition. Jonathan has also performed at annual cello recitals at the University of Miami and participated in last year's New World Symphony Side-By-Side Concert. Jonathan has been selected to participate in NYO2's summer orchestral program, where he will perform at the Adrienne Arsht Center and Carnegie Hall. Besides music, he loves playing video games and basketball.
Sophia Molina, violin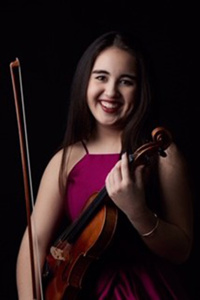 Sophia Molina is a young violinist from Miami, Florida. She started her musical journey at the age of four when she first saw a youth orchestra. With a growing passion for music, she managed to rapidly advance in her studies.
At age six she joined the Greater Miami Youth Symphony and for the following 10 years she moved through their four ensembles, winning the Concerto competitions for both Concert and Symphony orchestras. She had the opportunity to perform at Carnegie Hall as one of the winners of the American Protege International Concerto Competition and was selected as a finalist for From The Top. Additionally, she has garnered top prizes at several competitions, including Young Arts, New World School of the Arts Concerto Competition, Alhambra Orchestra Concerto Competition, MTNA Florida state concerto competition and several others.
In the summer of 2019, she performed again at Carnegie Hall, Royal Albert Hall and other venues across Europe as part of the National Youth Orchestra of the United States. The following summer, she attended the Heifetz International Music Institute and had the opportunity to study with many renowned musicians, including Ivan Chan, Mark Kaplan, Olga Kaler, Francesca de Pasquale and Elmar Oliveira.
Sophia is currently a private student of the renowned violinist and educator, Charles Castleman, and has attended the Castleman Quartet program over the past three years. She is a senior at the New World School of Arts (NWSA), where she studies with Huifang Chen and is currently the concertmaster of the NWSA High School Orchestra. Additionally, she also studies privately with violinist Miclen LaiPang, who currently resides in Germany.
In addition to her solo and orchestra performances, Sophia is passionate about chamber music and was involved with Miami Youth for Chamber Music. With her quartet, she plays at various community events. She is also a founding member of the Superpower of ME, a local non-profit that provides instruments and music scholarships for local students.