Events & Tickets
Special Event
By Ear: A Journey into Musical Perception
New World Center, Michael Tilson Thomas Performance Hall
Saturday, March 23, 2024 at 8:00 PM
Reserve your seats today and enjoy unbeatable savings by subscribing to New World Symphony's 2023-24 season.
This concert can also be added to any Compose Your Own (CYO) subscription series. Pick three or more performances you'd like to attend and receive all the perks and savings of being a New World Symphony subscriber.
Loading Concert Information
Program
Exciting program details coming soon!
Edwin Outwater, conductor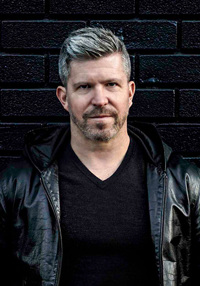 A truly visionary conductor, curator and producer, Edwin Outwater regularly works with the world's top orchestras, institutions and artists to reinvent the concert experience. His effortless ability to cross genres has led to collaborations with a wide range of artists, ranging from Metallica to Wynton Marsalis, Renée Fleming and Yo-Yo Ma. He is, in the words of his mentor Michael Tilson Thomas, "one of the most innovative conductors on the scene today."
Mr. Outwater is Music Director of the San Francisco Conservatory of Music, overseeing its ensembles, as well as shaping the artistic initiatives of this dynamic institution as a whole. He is also Music Director Laureate of the Kitchener-Waterloo Symphony, which he led from 2007-17, bringing the orchestra to international acclaim with tours and collaborative projects, and a critically praised recording From Here On Out.
Mr. Outwater's recent appearances include performances with New York Philharmonic; The Cleveland Orchestra; Chicago Symphony; Philadelphia Orchestra; the San Diego, Houston, Seattle and New World symphonies; as well as the Royal Philharmonic Orchestra in a multi-concert series opening the Steinmetz Hall in Florida. As a producer and musical advisor for the National Symphony's 50th Anniversary Concert at the Kennedy Center, he collaborated with a cast of artists including Common, Renée Fleming, Audra MacDonald and Christian McBride.
Last season, Mr. Outwater made his debut at the BBC Proms at the Royal Albert Hall in London with Cynthia Erivo and other international appearances included the Tokyo Metropolitan Orchestra, Tokyo Symphony, Kyoto Symphony, Nagoya Philharmonic, BBCNOW, Brussels Philharmonic, New Zealand Symphony, Adelaide Symphony, Malmö Symphony, Nordwestdeutsche Philharmonie, Mexico City Philharmonic, Orquesta Sinfónica de Xalapa, and Hong Kong Sinfonietta. In Canada, he has led the National Arts Centre Orchestra and the symphonies of Toronto, Calgary, Edmonton, Winnipeg and Victoria.
Since the 2021 Season, Mr. Outwater has been the main conductor for Stewart Copeland's 'Police Deranged for Orchestra' concerts conducting orchestras such as San Diego Symphony, Cleveland Orchestra, Atlanta Symphony, Milwaukee Symphony and Utah Symphony.
October 2022 saw Mr. Outwater premiere his newest production, Symphony of Terror!, with the Vancouver Symphony and co-host and collaborator Peaches Christ. Their festive collaboration Holiday Gaiety received its U.K. premiere in December 2022 and is also a recurring event with the San Francisco Symphony, featuring prominent guest stars from the world of drag, pop and musical theatre.
Mr. Outwater holds a long association with San Francisco Symphony. The 2021-22 season saw performances in their SoundBox Series, concert appearances with Boyz II Men and the world premiere of Get Happy!, a Judy Garland Centennial concert. Previously, Mr. Outwater was the San Francisco Symphony Resident Conductor, Director of Summer Concerts and Music Director of the San Francisco Symphony Youth Orchestra.
In 2022 Mr. Outwater was featured in several prominent recordings. He conducted the Chicago Symphony in the Sony Classical release of Mason Bates's Philharmonia Fantastique, which won a 2023 Grammy Award for Best Engineered Album, Classical. He was also Associate Conductor for the Sony Classical release A Gathering of Friends, with John Williams, Yo-Yo Ma and the New York Philharmonic. He features prominently in Metallica guitarist Kirk Hammett's solo debut EP, Portals, as co-songwriter, arranger, orchestrator and keyboardist.
A native of Santa Monica, California, Mr. Outwater graduated cum laude in English Literature from Harvard University, where he was music director of the Bach Society Orchestra and the a cappella group Harvard Din and Tonics, and wrote the music for the 145th annual production of the Hasty Pudding Theatricals. He received his degree in conducting from University of California, Santa Barbara, where he studied with Heiichiro Ohyama and Paul Polivnick, besides studying music theory and composition with John Stewart, Joel Feigin and Leonard Stein.
Indre Viskontas, presenter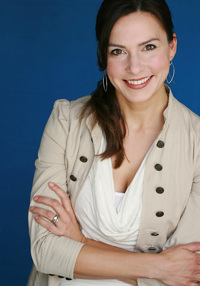 Combining a passion for music with scientific curiosity, Dr. Indre Viskontas works at the intersection of art and science. She has published more than 50 original papers and chapters related to the neural basis of memory and creativity. Her scientific work has been featured in Oliver Sacks' book Musicophilia, Nautilus, Nature: Science Careers, and Discover Magazine. She has also written for MotherJones.com, American Scientist, Vitriol Magazine and other publications. Her first book, How Music Can Make You Better, was published by Chronicle Books in 2019, and within a week was the best-selling music appreciation book on Amazon. She also serves as the Director of Communications for the Sound Health Network, an initiative promoting research and public awareness of the impact of music on health and well-being.
Viskontas often gives keynote talks for organizations as diverse as Genentech, Dallas Symphony, SXSW, TEDx and Ogilvy, along with frequent invited talks at conferences and academic institutions. Her 24-lecture course Essential Scientific Concepts was released by The Great Courses in 2014. Her second course, Brain Myths Exploded: Lessons from Neuroscience, based on a class she taught at USF, was released in early 2017 and hit #1 on the nonfiction bestseller list at Audible.com. Her third course, How Digital Technology Shapes Us was also based on a class she teaches at USF, and was released in 2020. Her forthcoming course, The Creative Brain, was released on the Wondrium platform in 2022. Viskontas's creative work includes stage directing opera. She is the Creative Director of Pasadena Opera, where she directed The Man Who Mistook his Wife for a Hat, a chamber opera based on the famous case study written by Oliver Sacks. Other directing credits include Katya Kabanova with West Edge Opera at Cal Shakes in Orinda in 2021.
Viskontas is also a sought-after science communicator. She co-hosted the six-episode docu-series Miracle Detectives on the Oprah Winfrey Network and has appeared on The Oprah Winfrey Show, major radio stations across the U.S., including several appearances on the NPR program City Arts & Lectures and The Sunday Edition on the CBC in Canada. In 2017 she co-hosted the web series Science in Progress for Tested.com and VRV. She is also the host of the popular science podcast Inquiring Minds, which has more than 13 million downloads. Her other podcast, Cadence: What Music Tells Us About the Mind was a Webby Award Honoree in 2021.