Events & Tickets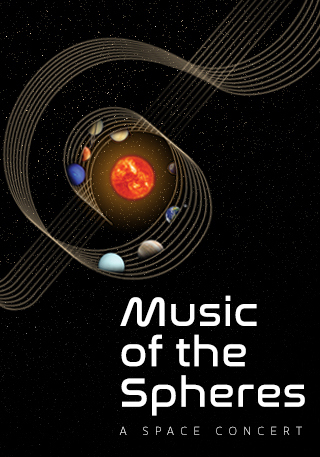 Special Event
MUSIC OF THE SPHERES: A SPACE CONCERT
New World Center, Michael Tilson Thomas Performance Hall
Friday, February 21 at 7:30 PM
Saturday, February 22 at 7:30 PM
Program
Join NWS for an extraordinary journey through the cosmos and into the unknown with special musical guests and scientists from NASA. With galactic imagery illuminating the performance hall, conductor Edwin Outwater leads an unforgettable voyage to Mars and Jupiter in Gustav Holst's The Planets, worlds beyond in John Williams' iconic film scores and much more. Grammy Award-winning composer and conductor Eric Whitacre will take the stage for his Deep Field, inspired by the world-famous Hubble Telescope. Through a new film by 59 Productions, it vividly portrays the wonders of the universe by pairing orchestra with chorus and audience, who join the performance by using an app.
** BEFORE THE CONCERT: To participate in Eric Whitacre's Deep Field, please download the free Deep Field app. Mr. Whitacre will deliver instructions on how to use the app from the stage. **
ACTIVITIES BY FROST SCIENCE
Pre-Concert and Intermission:
Astronaut Meet-and-Greet and Fingerprints of Light: SunTrust Pavilion
Meet Captain Winston Scott and see his collection of space artifacts. Discover how scientists use light to identify elemental compositions of faraway objects in space by using diffraction lenses to split up the light emitted from different gases in spectrum tubes. Winston Scott only available pre-concert. The pre-concert activities will close at 7:15 PM.
Star Constellations: The Clinton Family Fund Ensemble Room
Explore the cosmos and see night sky constellations come to life as Frost Science staff share the stories behind them with this pop-up planetarium experience.
Post-Concert:
Chat with Artists: Performance Hall
Conductors Edwin Outwater and Eric Whitacre and astronaut Winston Scott host a post-concert chat from the stage.
Star Constellations: The Clinton Family Fund Ensemble Room
Explore the cosmos and see night sky constellations come to life as Frost Science staff share the stories behind them with this pop-up planetarium experience.
Telescope Stargazing: Friday-SoundScape Park; Saturday-Rooftop Garden
Bring the far away beauty of celestial objects up close and experience the night sky as never before. Night sky telescope viewings are weather permitting.
Program
The Unanswered Question (1908; revised 1930-35)

The Creation, Hob. XXI:2 (1797-98)

The Planets, Op. 32 (1914-16)

I. Mars, the Bringer of War
IV. Jupiter, the Bringer of Jollity
III. Gemini in the Solar Wind
Guillaume Connesson
(b. 1970)

Cosmic Trilogy (1997-2007; revised 2009)

Asteroid 4179: Toutatis (2005)

Mr. Whitacre, conductor
MDC Kendall Chamber Singers
Film by 59 Productions

Suite from Close Encounters of the Third Kind (1978)

Suite from Star Wars (1977)

Music of the Spheres: A Space Concert
From Pythagoras in Ancient Greece to Johannes Kepler in 17th-century Germany, the most astute observers of the heavens have always sensed that the universe is in some sense a giant musical instrument, with orbiting bodies interacting to create planetary harmonies. It's no wonder then that space has held a special attraction for composers, who have found their own ways to translate those celestial sights and patterns into audible music.
This journey into space begins with a "cosmic drama," as it was described by its iconoclastic composer, Charles Ives (1874-1954). He completed The Unanswered Question in 1908, when he was also launching the insurance agency in Manhattan that made him a fortune and allowed him the freedom to compose according to his own rules. Time slows down with the first sustained chord, a major triad spread wide throughout the strings, and the harmonies continue to unfold in a steady string chorale, a layer Ives characterized as "The Silences of the Druids—who Know, See and Hear Nothing." Hovering in a different tempo and key, a lone trumpet poses "The Perennial Question of Existence," a pensive anthem of mystery and wonder. A reproachful quartet offers "The Invisible Answer," a dissonant and unstable retort that grows increasingly agitated with each response to the unwavering question.
Joseph Haydn (1732-1809) went to London for two lucrative visits in the early 1790s. While there he got to see firsthand the spectacle of Handel's English-language oratorios like Messiah and Israel in Egypt, and it spurred Haydn to create his own huge oratorio once he returned to Vienna. That idea bore fruit in 1798 as The Creation, using a German translation of an English libretto that combined biblical text with portions of Milton's Paradise Lost. (The translator matched the original text syllable for syllable, so ever since a London performance in 1800 it's been common to sing it in English.) The iconic moment of The Creation comes, appropriately, in the beginning, in an overture that represents chaos. The pungent dissonances and suspended harmonies in the key of C-minor prepare the first vocal number, a recitative and chorus that reaches a spine-tingling C-major chord right when it completes the immortal phrase, "And God said: Let there be Light, and there was Light."
Around the turn of the 20th century, Gustav Holst (1874-1934) helped end the dry spell in England that had plagued homegrown composers for 200 years. Beyond the English folksongs that fascinated his peers, Holst took inspiration from astrology and Sanskrit literature, and his great admiration for Wagner's mythmaking operas helped him learn how to create new worlds in his music. He also kept pace with younger rivals like Stravinsky and Schoenberg, opening his ears to new approaches to the orchestra. All those forces culminated in Holst's masterpiece, The Planets, composed in seven movements for orchestra between 1914 and 1916. The cycle begins with the menacing music of Mars, The Bringer of War, and it goes on to maximize the uplifting cheer of Jupiter, the Bringer of Jollity.
From his orchestral scores featuring samples triggered by laptop to his Grammy Award-winning opera about Steve Jobs, Mason Bates (b. 1977) has redefined the intersection of concert music and technology. Describing the orchestral suite he composed in 2009 for Michael Tilson Thomas and the San Francisco Symphony, Bates wrote, "Like the forgotten bands from the flipside of an old piece of vinyl, The B-Sides offers brief landings on a variety of peculiar planets, unified by a focus on fluorescent orchestral sonorities and the morphing rhythms of electronica." He designed the third movement, Gemini in the Solar Wind, as "a re-imagination of the first American spacewalk, using actual communication samples from the 1965 Gemini IV voyage provided by NASA. In this re-telling, clips of words, phrases, and static from the original are rearranged to show Ed White, seduced by the vastness and mystery of space, deliriously unhooking from the spacecraft to drift away blissfully."
Guillaume Connesson (b. 1970) is best known for his kaleidoscopic orchestral scores that extend the French orchestral tradition of Ravel, Messiaen and Dutilleux. He composed Aleph in 2007, placing it before two other star-themed orchestral works to form a larger orchestral cycle known as the Cosmic Trilogy. The explosive and lively music of Aleph represents the Big Bang, taking the form of "a great dance of life and energy at the infancy of the universe," as Connesson wrote in a program note. His title is both the first letter of the Hebrew alphabet and a mathematical symbol representing "the power of an infinite set."
After studying at the Sibelius Academy in her native Finland, Kaija Saariaho (b. 1952) settled in Paris, where experiments with cutting-edge music technology fueled her expansive, color-drenched scores. She composed Asteroid 4179: Toutatis in 2005 for the Berlin Philharmonic, basing her work on "the asteroid whose orbit passes closest to Earth," as she explained in a program note. "When reading more and then seeing pictures of it, I started to find its unusual shape and complex rotation interesting—different areas of it rotate at different speeds. … All these peculiarities, and the fact that Toutatis already has had many collisions with other heavenly objects, inspired me to write this small work."
Writing and conducting exquisitely beautiful music for choruses and orchestras around the world, Eric Whitacre (b. 1970) has achieved a level of devotion from his fans usually reserved for pop icons and movie stars. He composed Deep Field in 2015 for the Minnesota Orchestra, incorporating chorus and a smartphone app that allows for audience participation. As he wrote in a program note, "Deep Field was inspired by the world's most famous space observatory, the Hubble Space Telescope, and its greatest discovery—the iconic Deep Field image. Turning its gaze to a tiny and seemingly dark area of space (around one 24-millionth of the sky) and left for a 10-day long exposure, the Hubble Space Telescope revealed over 3,000 galaxies that had never previously been seen, each one composed of hundreds of billions of stars. The new film—Deep Field: The Impossible Magnitude of our Universe—illuminates the score by combining Hubble's stunning imagery, including never-seen-before galaxy fly-bys, with bespoke animations to create an immersive, unforgettable journey from planet Earth to the furthest edges of our universe."
When John Williams (b. 1932) was born, movies with sound had only been around for a few years, and Hollywood directors were just figuring out how composers could improve their films. The first stars of film scoring came from Europe, and many had started their careers writing big, dramatic operas using enormous orchestras. Working his way up in Hollywood after music school, Williams learned under those great European composers, and he went on to eclipse all of them to become the most successful film composer in history, at least by the measure of his 51 Oscar nominations.
In his third collaboration with director Steven Spielberg (following on the massive success of Jaws), Williams wrote the score for the 1977 sci-fi film Close Encounters of the Third Kind, providing music that captured the strangeness and wonder of UFOs arriving and communicating with humans, as heard in this orchestral suite.
Williams was also involved in an even bigger blockbuster in 1977: Star Wars. When Williams composed the iconic Main Title, he knew that it would be preceded by the classic 20th Century Fox Fanfare (the one that starts with the drums), and he fashioned a brassy theme that bridged the sonic might of a classic Hollywood orchestra with the wild futurism of George Lucas' film.
                                                                                                                                                      -- © 2020 Aaron Grad
Aaron Grad is a composer, guitarist and writer based in Seattle. Besides providing program notes for the New World Symphony, he has been the Orpheus Chamber Orchestra's program annotator since 2005 and also contributes notes to the Saint Paul Chamber Orchestra and Seattle Symphony.
Edwin Outwater, conductor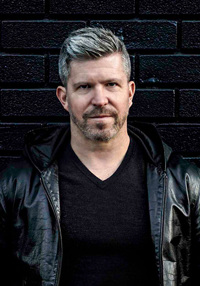 A truly visionary conductor, curator and producer, Edwin Outwater regularly works with the world's top orchestras, institutions and artists to reinvent the concert experience. His effortless ability to cross genres has led to collaborations with a wide range of artists, ranging from Metallica to Wynton Marsalis, Renée Fleming and Yo-Yo Ma. He is, in the words of his mentor Michael Tilson Thomas, "one of the most innovative conductors on the scene today."
Mr. Outwater is Music Director of the San Francisco Conservatory of Music, overseeing its ensembles, as well as shaping the artistic initiatives of this dynamic institution as a whole. He is also Music Director Laureate of the Kitchener-Waterloo Symphony, which he led from 2007-17, bringing the orchestra to international acclaim with tours and collaborative projects, and a critically praised recording From Here On Out.
Mr. Outwater's recent appearances include performances with New York Philharmonic; The Cleveland Orchestra; Chicago Symphony; Philadelphia Orchestra; the San Diego, Houston, Seattle and New World symphonies; as well as the Royal Philharmonic Orchestra in a multi-concert series opening the Steinmetz Hall in Florida. As a producer and musical advisor for the National Symphony's 50th Anniversary Concert at the Kennedy Center, he collaborated with a cast of artists including Common, Renée Fleming, Audra MacDonald and Christian McBride.
Last season, Mr. Outwater made his debut at the BBC Proms at the Royal Albert Hall in London with Cynthia Erivo and other international appearances included the Tokyo Metropolitan Orchestra, Tokyo Symphony, Kyoto Symphony, Nagoya Philharmonic, BBCNOW, Brussels Philharmonic, New Zealand Symphony, Adelaide Symphony, Malmö Symphony, Nordwestdeutsche Philharmonie, Mexico City Philharmonic, Orquesta Sinfónica de Xalapa, and Hong Kong Sinfonietta. In Canada, he has led the National Arts Centre Orchestra and the symphonies of Toronto, Calgary, Edmonton, Winnipeg and Victoria.
Since the 2021 Season, Mr. Outwater has been the main conductor for Stewart Copeland's 'Police Deranged for Orchestra' concerts conducting orchestras such as San Diego Symphony, Cleveland Orchestra, Atlanta Symphony, Milwaukee Symphony and Utah Symphony.
October 2022 saw Mr. Outwater premiere his newest production, Symphony of Terror!, with the Vancouver Symphony and co-host and collaborator Peaches Christ. Their festive collaboration Holiday Gaiety received its U.K. premiere in December 2022 and is also a recurring event with the San Francisco Symphony, featuring prominent guest stars from the world of drag, pop and musical theatre.
Mr. Outwater holds a long association with San Francisco Symphony. The 2021-22 season saw performances in their SoundBox Series, concert appearances with Boyz II Men and the world premiere of Get Happy!, a Judy Garland Centennial concert. Previously, Mr. Outwater was the San Francisco Symphony Resident Conductor, Director of Summer Concerts and Music Director of the San Francisco Symphony Youth Orchestra.
In 2022 Mr. Outwater was featured in several prominent recordings. He conducted the Chicago Symphony in the Sony Classical release of Mason Bates's Philharmonia Fantastique, which won a 2023 Grammy Award for Best Engineered Album, Classical. He was also Associate Conductor for the Sony Classical release A Gathering of Friends, with John Williams, Yo-Yo Ma and the New York Philharmonic. He features prominently in Metallica guitarist Kirk Hammett's solo debut EP, Portals, as co-songwriter, arranger, orchestrator and keyboardist.
A native of Santa Monica, California, Mr. Outwater graduated cum laude in English Literature from Harvard University, where he was music director of the Bach Society Orchestra and the a cappella group Harvard Din and Tonics, and wrote the music for the 145th annual production of the Hasty Pudding Theatricals. He received his degree in conducting from University of California, Santa Barbara, where he studied with Heiichiro Ohyama and Paul Polivnick, besides studying music theory and composition with John Stewart, Joel Feigin and Leonard Stein.
Eric Whitacre, conductor/composer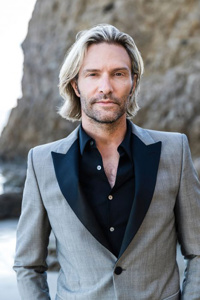 Grammy Award-winning composer and conductor Eric Whitacre is among today's most popular musicians. His works have been programmed worldwide by millions of amateur and professional performers, while his ground-breaking Virtual Choirs have united singers from over 120 different countries. Mr. Whitacre, a graduate of The Juilliard School, is presently Artist in Residence with the Los Angeles Master Chorale, following five years as Composer in Residence at the University of Cambridge, U.K.
As conductor of the Eric Whitacre Singers, Mr. Whitacre has released such chart-topping albums including Light and Gold and Water Night. In high demand as guest conductor, he has drawn capacity audiences to concerts with the Netherlands Radio Choir, London Symphony, Flemish Radio Choir and Minnesota Orchestra. His creative versatility shines through collaborations with legendary Hollywood composer Hans Zimmer and British pop icons Laura Mvula, Imogen Heap and Annie Lennox, and major classical commissions for, among others, the BBC Proms, Minnesota Orchestra, Berlin Radio Choir, The Tallis Scholars, Chanticleer, Los Angeles Master Chorale and The King's Singers.
A charismatic speaker, Mr. Whitacre has given keynote addresses for many Fortune 500 companies and global institutions, from Apple and Google to the World Economic Forum in Davos and the United Nations Speaker's Programme, while his two mainstage talks at the hugely influential TED conference in Long Beach, California received standing ovations. He reached new audiences in 2018 when his composition Deep Field became the foundation for a pioneering audiovisual collaboration between himself, NASA, the Space Telescope Science Institute, Music Productions and 59 Productions.
MDC Kendall Chamber Singers
The MDC Kendall Chamber Singers is the select choral ensemble at Miami Dade College, Kendall Campus. The ensemble is comprised of music majors and non-majors alike, and students are admitted by audition only. Concert programs throughout the year are designed to develop skilled and well-rounded choral singers who can perform a wide range of repertoire. Highlights of the 2019-20 season include Jeffrey Van's A Procession Winding Around Me in March 2020 and Gabriel Faure's Requiem in April 2020, which will be performed alongside the 90-voice community ensemble, Civic Chorale of Greater Miami. The MDC Kendall Chamber Singers, joined for this performance by invited alumni singers, is honored to sing with the New World Symphony.
MDC Kendall Chamber Singers
Misty Bermudez, director
Gabriel Alarcon
Zoe Azpurua
Michael Adam Barnes
Alvaro Bermudez
Mia Bermudez
Eunice Boye
Rey Camacho
Nicole Camejo
Jeniffer Davalos-Mayre
Diego Dominguez
Carolina Escamilla
Michael Fernandez
Valeria Fuguet
Brenden Gonzalez
Carlos Gonzalez
Genesis Guevara
Karl Gunther
Wendy Gunther
Kamarie Hudson
Carol Leon
Sophia London
Timothy Malik
Katherine Miller
Maria Jose Montero
Denzel Morales Molina
Breanne Moreno
Valentina Ojeda
Andres Osorio
Heather Osowiecki
Vanessa Palma
Daliner Peralta
Calypso Ponce
Daniel Rodriguez
Sebastian Rodriguez
Peter Rosa
Valerie Saad
Justin Santos
Kyle Sirkus
Sienna Sokolow
Mateo Suarez Serna
Joseph Talleda
Melissa Tavara
Kassandra Torres
Kimberly Valderrama
Gabriela Vicent
Isabella Villareal
Gabrielle Walden
Jamilee Wilson
Elizabeth Wright
Kishan Young
Sebastian Yustiz
Luke Zaiser
Winston E. Scott, astronaut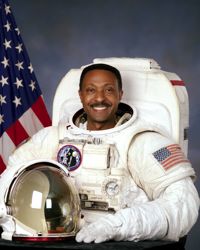 Winston E. Scott is a retired U. S. Navy Captain and aviator. He entered Naval Aviation Officers Candidate School in 1973 and completed flight training and was designated a naval aviator in 1974. He later earned his master of science degree in aeronautical engineering with avionics.
During his Navy career, Captain Scott served as a helicopter pilot with Helicopter Anti-Submarine Warfare Squadron Light Thirty-Three at NAS North Island, California, flying the SH-2F helicopter. He later served a tour of duty as a fighter pilot with Fighter Squadron Eighty-Four at NAS Oceana, Virginia flying the F-14 Tomcat fighter/interceptor. He subsequently served as a production test pilot and engineering director at the Naval Aviation Depot at NAS Jacksonville, Florida, as a research development test and evaluation (RDTE) pilot and Deputy Director of the Tactical Aircraft Systems Department in Warminster, Pennsylvania. As a RDTE pilot Captain Scott was current in the F-14 Tomcat, F/A-18 Hornet and A-7 Corsair aircraft. He has accumulated more than 7,000 hours of flight time in more than 25 different military and civilian aircraft and more than 200 shipboard landings. Captain Scott was an associate instructor of electrical engineering at Florida A&M University and Florida Community College at Jacksonville.
Captain Scott was selected to become an astronaut by NASA in 1992. Serving as a mission specialist, he logged over 24 days in space; including 3 spacewalks totaling over 19 hours.
After advising elected officials on matters related to space and aeronautics, semi-retired Capt. Scott currently serves as Senior Advisor to the President for External Relations at Florida Institute of Technology. He holds the rank of professor of aeronautics in the college of aeronautics and professor of music in the college of psychology and liberal arts. Captain Scott's book Reflections from Earth Orbit was published in 2005.