Events & Tickets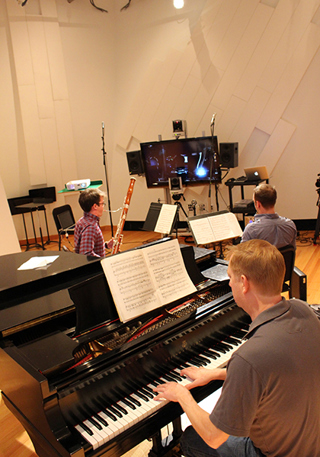 Guest Presenter
Network Performing Arts Production Workshop 2016
New World Center
Monday, March 21 at 12:00 PM -- Wednesday, March 23 at 1:00 PM
Network Performing Arts Production Workshop
March 21 – 23, 2016
New World Center
Miami Beach, Florida
nws.edu/NPAPW   #NPAPW
The Network Performing Arts Production Workshop is an annual three-day conference that allows academics, artists, technology professionals and arts administrators to discuss artistic endeavors that utilize advanced networking applications; learn about and use cutting-edge distance-education technology; and explore new ways of incorporating audio and visual technology in performances. This year's conference marks the 13th edition of the gathering, which has been sponsored by Internet2 and GÉANT and hosted by the New World Symphony (2003-2010, 2012, 2014, 2016), the Music Conservatory of Trieste, Italy (2009), IRCAM (2010), The Liceu in Barcelona (2011), the Universität für Musik und darstellende Kunst Wien (2013) and the Royal College of Music, London (2015). 
Program
Network Performing Arts Production Workshop Agenda
March 21 – 23, 2016
New World Center
Miami Beach, Florida
nws.edu/NPAPW   #NPAPW
Monday, March 21
12:00 – 1:00 PM               Registration Opens
Atrium
1:00 – 1:30 PM                 Welcome
Performance Hall

Speakers:
Ann Doyle, Primary Relationship Manager, Internet2
Sigita Jurkynaitė, Project Management Assistant, GÉANT
Howard Herring, Chief Executive Officer, New World Symphony
John Kieser, Executive Vice President and Provost, New World Symphony
1:30 – 2:30 PM                 The Network Room
Performance Hall

Speaker: Chris Chafe, Director of the Center for Computer Research in Music and Acoustics (CCRMA), Stanford University
Until now, "network room" has been an enclosed space only in metaphor, where for the connected inhabitants, the place is a network location to gather and interact (chat rooms, game rooms, etc.). We describe an actual network room for musical interactions in which plausible, room-like reverberation is spawned between endpoints of our network audio software. Each new user becomes a node in a mesh and all sounds entering the mesh are reverberated by the mesh. The medium in which these echoes exist is not, however, air but the Internet and the acoustical properties differ because of the medium's distinct "physical laws."
2:30 – 3:00 PM                 Coffee Break
Atrium
3:00 – 4:00 PM                 State of the Art
Performance Hall

Speaker: Claudio Allocchio, Advanced Applications Coordinator of GARR; LOLA project coordinator
Claudio Allocchio leads a historical walkthrough of artistic interaction via networks and gives an overview of the emerging trends and technologies featured throughout the workshop.
4:00 – 5:00 PM                 The Online Orchestra
Performance Hall

Speakers:
Ian Biscoe, Artist, Falmouth University
Dr. Michael Rofe, Course Coordinator, BA(Hons) Music, Falmouth University
Dr. Federico Reuben, Senior Lecturer in Music Technology, University of York
The Online Orchestra is a research project funded by the Arts and Humanities Research Council (AHRC). The objective is to use the internet to give children and amateur musicians who live in remote communities around the country the same opportunities to play in an orchestra as those who live in larger towns and cities. The Online Orchestra will allow people who live hundreds of miles apart to make music together for the first time. http://onlineorchestra.com
5:00 – 6:30 PM                 Cocktail Reception
Rooftop Terrace

Guests convene on the rooftop of the New World Center for beer, wine and light bites.
Tuesday, March 22
8:30 – 9:30 AM                 Breakfast
Atrium
9:30 – 10:30 AM               Near in the Distance
Performance Hall

Speaker: Renate Kreil, Arts and Culture, ACOnet
Near in the Distance 2 – an interactive music and dance performance – is the most recent collaboration by the MDW and ACOnet. This project saw musicians and dancers at various locations throughout the world connecting via high-speed audio and video links and interacting live. Artists in Barcelona, Prague, New York, Judenburg, Ljubljana or Vienna were forced to confront the challenge of accommodating or syncing with various delays inherent in the network. The stage experience blurred time and space, as well as physical presence and absence.
10:30 – 11:15 AM             The Infinite Bridge
Performance Hall

Speakers:
Mike Ladoucer, Composer
Aurélien Krieger, London-based Interaction Designer, Media Art Producer, Educator
Following the successful debut of the Infintie Bridge at NPAPW 2015, composer Mike Ladoucer and visual artist Aurélien Krieger share the experience and challenges of creating the groundbreaking work. The theatrical piece includes three sites in its execution, blending musical cultures and blurring the lines of traditional performance.
11:00 – 11:30 AM             Coffee Break
Atrium
11:30 AM – 12:30 PM     Ultragrid and the 4K Gateway
Performance Hall

Speaker: Sven Ubik, Senior Researcher, CESNET
Enjoy a live demonstration of CESNET's 4K Gateway – a device capable of streaming up to 4K uncompressed video with multichannel audio. Learn of recent developments with the versatile Ultragrid software platform, the first 4K streaming application capable of using consumer AV technology. Enjoy a live demonstration and performance between NWS Fellows and an organist in Prague, Czech Republic. 
12:30 – 1:30 PM               Lunch Break
Atrium
1:30 – 2:30 PM                 The LOLA Triangle
SunTrust Pavilion

Speaker: Claudio Allocchio, Advanced Applications Coordinator of GARR;  LOLA project coordinator
It's not the Bermuda Triangle; it's the LOLA Triangle. Get the latest news about the multi-site evolution of LOLA, and start booking your tickets for the inauguration flight. Project coordinator Claudio Allocchio shares recent updates and developments on the horizon.
2:30 – 3:00 PM                 Coffee Break
Atrium
3:00 – 4:00 PM                 Fostering International Collaborations
SunTrust Pavilion
                                            
Speakers:
Maria Isabel Gandía Carriedo, Head of Communications, CSUC
Emma Smith, Technical Specialist, JISC
Justin Trieger, Director of Distance Learning and New Media, New World Symphony
Ann Doyle, Primary Relationship Manager, Internet2
Tania Lisboa, Research Fellow in Performance Science and Videoconferencing Programme Manager, Royal College of Music
Greg Howe, Director of Distance Learning, Cleveland Institute of Music
Christianne Orto, Founding Director of Digital Learning Program, Manhattan School of Music
Faridah Noor Mohd Noor, Chair eCulture (APAN) and DCHH (MYREN), University of Malaya
A roundtable discussion about the challenges and opportunities offered through international collaborations, led by representatives from some of the more notable players in the distance learning and collaborative online performance arena. Hosted by Internet2's Community Engagement Manager, Ann Doyle.
4:30 – 7:30 PM                 Program Break
7:30 – 8:30 PM                 Bridge to Everywhere / CENICtivity: Jazz Expressed Across Networks/Magic City vs Motor City: Internet2 Freestyle
Performance Hall
Speakers:
Ian Biscoe, Artist, Falmouth University
Jana Bitterova, Dancer
Brigid Baker, Director, 6th Street Dance Studio
Mount Allen, Director of Operations, SF Jazz
Enjoy two performance pieces to cap off the day of programs, beginning with a telepresence theatre work that examines the cultural ties formed by immigrants between their adopted home and their place of origin; the links that are established virtually between these places and peoples through the Internet.  Physical actors in Miami are joined by multiple remote actors in several countries.
The second performance features a three-site Jazz jam of Mary Lou Williams' Scorpio in C with members of the SFJAZZ High School All-Stars( in San Francisco), pianist Geri Allen from the University of Pittsburgh (at University of California-Davis) and Stanford Educator and technologist, Chris Chafe on Cello (in Miami).The performance highlights three networked Yamaha Disklaviers; one at each site, and the use of JackTrip and UltraGrid.
The third piece is an improvisatory exploration of two dominant urban dance styles, break dancing and the jit, between dance troupes hailing from the cities in which those styles were defined. Witness the dynamic dance dialogue between Miami and Detroit via Internet2 with support from musicians of the Detroit Symphony Orchestra, Wayne State University and the New World Symphony Fellows.
*Magic City vs Motor City is made possible by the generous support of Wayne State University, Hardcore Detroit and CutTime Productions.
9:00 – 10:30 PM               Workshop Reception
Gather with fellow attendees and presenters at an offsite location for dinner and drinks.
Wednesday, March 23
8:30 – 9:30 AM                 Breakfast
Atrium
9:30 – 10:15 AM               Your TV is Too Slow
SunTrust Pavilion

Speaker: Dan Nichols, Faculty, NIU School of Music
LOLA is an incredible tool, but your display, be it a flat screen TV, computer monitor or projector, may be holding you back. Discover which display technologies offer the fastest display-latency and why it is such a crucial factor for low-latency video conferencing applications.
10:15 – 11:00 AM             Lightning Talks
SunTrust Pavilion

Speakers:
Jesper Andersen, Associate Professor and Head of Tonmeister Studies, Royal Danish Academy of Music
Maria Isabel Gandía Carriedo, Head of Communications, CSUC
Matt Parkin, Digital Content Production and Studio Services, Royal College of Music
A collective brainstorm with workshop presenters and attendees including quick presentations of the Creative Ring, a new experimental community offering a networking space for artists, creative talents and stakeholders working in the Creative industries, and the Digital Conservatoire, a new initiative by the Royal College of Music, London.
11:00 – 11:30 AM             Coffee Break
Atrium
11:30 AM – 12:30 PM     Community Outreach over the Network
SunTrust Pavilion

Speakers:
Greg Howe, Director of Distance Learning, Cleveland Institute of Music
Cassidy Fitzpatrick, Director of Community Engagement, New World Symphony
Christianne Orto, Founding Director of Digital Learning Program, Manhattan School of Music
The Cleveland Institute of Music has one of the largest, video-conferencing based, community engagement programs in the country, with up to 500 sessions in a single academic year. Learn why community engagement has become such a priority for CIM and how it trains its students to be effective communicators in the medium.  Manhattan School of Music will offer an overview of their community engagement program "Music Bridges" as well as "Digital Scholars Program," developed to empower graduate students to design, create and deliver content to classrooms worldwide, and will highlight recent initiatives to reach more schools and community organizations for music instruction over advanced networks. Cassidy Fitzpatrick, NWS Director of Community Engagement, will discuss how distance learning technology is integrated into NWS' Community Engagement programs such as NWS Connect and the Medellín Exchange, as well as the potential for more integration in the future.
12:30 – 1:00 PM               Thank You and Wrap Up
SunTrust Pavilion

Speakers:
Ann Doyle, Primary Relationship Manager, Internet2
Sigita Jurkynaitė, Project Management Assistant, GÉANT
Howard Herring, Chief Executive Officer, New World Symphony
John Kieser, Executive Vice President and Provost, New World Symphony
2016 NPAPW Speakers
Ann Doyle
Ann Doyle is the primary relationship manager for Internet2's midwest and east coast university members, assessing the needs of institutions to inform Internet2's mission and goals. She founded and continues to lead Internet2's cultural initiatives working with U.S. and international partners utilizing advanced networks for collaborative live performances, master classes, and remote auditions in the performing arts. Ann has a Master's degree in Higher Education Administration from the University of Michigan.
Sigita Jurkynaitė
Sigita Jurkynaitė is a Project Management Assistant at the Amsterdam office of GÉANT - formerly TERENA - which she joined in 2014. Since then, together with GÉANT Project Development Officers, Sigita worked on a variety of projects in different areas, including security, AAI and coordination of Network Performing Arts Production Workshops in Europe. Sigita has a BA Music Technology degree from the University of Bedfordshire and BA Liberal Arts and Sciences, majoring in Film and Literature studies, from the Amsterdam University College. She completed part of her second degree at the University of Toronto, focusing on Slavic languages and culture.
Howard Herring
Howard Herring is a native of Oklahoma, a pianist by training, and now President and CEO of the New World Symphony. In 1986, he became executive director of the Caramoor Music Festival, leading that institution through the establishment of an endowment and the creation of two programs; Rising Stars/Caramoor Virtuosi and Bel Canto at Caramoor. He assumed leadership at the New World Symphony in 2001 with the charge of revitalizing the institution's national and international profile. In January 2011, New World Symphony opened a new musical laboratory designed by Frank Gehry, on time and on budget. The program-driven building was designed to explore digital technology, establishing the New World Symphony as a major new crossroads of Western musical thought.
John Kieser
John Kieser directs the New World Symphony's Musician Advancement program, working closely with Artistic Director Michael Tilson Thomas in the planning and implementation of its Fellows' musical and professional development, the creation of online educational and experimental programming, and crafting and strengthening relationships within the orchestral and educational communities at-large.
Chris Chafe
Chris Chafe is a composer, improvisor, and cellist, developing much of his music alongside computer-based research. He is Director of Stanford University's Center for Computer Research in Music and Acoustics (CCRMA). At IRCAM (Paris) and The Banff Centre (Alberta), he pursued methods for digital synthesis, music performance and real-time internet collaboration. An active performer either on the net or physically present, his music reaches audiences in dozens of countries and sometimes at novel venues.
Claudio Allocchio
Claudio Allocchio is the Chief Security and Policy Officer for GARR, the Italian research and education network, where he is responsible for innovation and advanced applications development and deployment. He is the project lead for LOLA, the ground-breaking application that allows for synchronous performance over the network.
Ian Biscoe
Ian Biscoe is a producer, artist, entrepreneur and engineer with degrees in architecture and landscape architecture.  He is currently studying for a PhD in cognitive environments. Prior to establishing his art and academic practices he founded a number of international companies in the fields of process control, aerospace, mobile communications and entertainment. Ian is interested in the examination and representation of natural and created space, especially that which is remote, intangible and unknown in the immediate. His explorations of the boundaries of physical, virtual and augmented realities are conducted using a range of media, in performance and installation, working with collaborators from the disciplines of science, theatre, dance and music.
Dr. Michael Rofe
Michael is the course coordinator for BA(Hons) Music at Falmouth University, where he teaches aspects of theory, history, composition and performance. He also teaches on the BA(Hons) Creative Music Technology and BA(Hons) Popular Music courses. Michael is currently principal investigator for The Online Orchestra, a project that asks how we can use burgeoning network technologies and creative approaches to composition to give people in remote communities access to the recognised benefits of ensemble music making. The project is funded by the AHRC's Connected Communities and Design highlight, and is being run in collaboration with Bristol University, the Philharmonia Orchestra and the Cornwall Music Education Hub. Michael's background is in music theory and analysis, and he specialises in writing about music. He is particularly interested in contemporary music, musical energetics, Russian music, music and time, and temporal proportion in music; he has additional interests in popular music and music technology. Michael has professional connections with researchers and musical archives in the UK, USA, Russian, Finland, Germany and France. He has also worked on a number of collaborative projects with Yamaha. Having completed a PhD on the music of Dmitri Shostakovich at the University of York, Michael went on to lecture at York St John University before taking up his current post at Falmouth University. He has also worked as a freelance researcher for Classic FM and Canterbury Christ Church University.
Dr. Federico Reuben
Federico Reuben is a composer, sound artist and live electronics performer. His research interests include studio-based, acoustic and mixed composition; live electronic performance; improvisation; sound art; music computing and interactivity; cross-arts collaboration; contemporary music studies; music aesthetics; and critical/contextual studies of digital and sound culture.
His work has been presented, performed and broadcast worldwide and featured at leading music and art festivals. He has written instrumental, vocal and mixed media compositions for ensembles and soloists including Ensemble MAE, Ensemble Klang, Mark Knoop, Loré Lixenberg, Rei Nakamura, RIAM Percussion Ensemble, Roentgen Connection, Sarah Nicolls, and Piano Circus. As a sound artist he has experience with sound and multimedia installations, internet-based work, interactive and multimedia performances, live coding, generative systems, live art, and cross-arts collaborations. He is also active as a laptop improviser and has played with improvisers such as Phil Minton, John Edwards, Tony Marsh, Steve Noble, Ingrid Laubrock, Alexander Hawkins, the London Improvisers Orchestra, Dominic Lash, Javier Carmona and Aleksander Kolkowski.
He is also a co-founder of squib-box, an artist-led organisation and netlabel that promotes avant-garde music and interdisciplinary performance. With squib-box, he has organised and performed at live events around the world with a variety of leading musicians, artists and performers from a range of disciplines. 
Renate Kreil
Renate worked for the ORF (Austrian Broadcast)  and EMI Austria in the field of marketing. She has a diploma in Economic Journalism from the Salzburg Academy on Media and Global Change. She was employed as head of PR and marketing in the largest agency for artists and media production in Austria and was responsible for their tour arrangements and PR in German-speaking countries. This work also involved organising various press conferences, events and festivals. Later she worked for the Vienna City Council's PR agency and was responsible for communicating the daily agendas (political, scientific, environmental, medical issues) to CEE countries. As a PR freelancer she has worked in recent years for many different cultural institutions in Austria and Germany, and as a producer at the Moscow TV channel "3 Channel Moskovia", from where she was invited to work at the Ostankino Telecenter Moscow. In 2011 she accepted a position as a free consultant for the Austrian National Research Network "ACOnet", concerning combining the cultural scene with scientific networking.  In 2015 she was project leader of the the  multi-site-performance net:art | near in the distance 2 within the festivities of 20 years Internet in Austria and 650 years University of Vienna.
Mike Ladouceur
Mike Ladouceur is a New York raised, London based composer working both on and off the screen in new and interactive media. He has been active in Film Composition, working with 4 Elements Music, A. Scorzi LLC., and McCartney Works as well as many up and coming directors. Outside of film he has collaborated with multiple choreographers including Michael J. Clark and Isabel Umali. Mike has had music in all mediums performed and recorded on 3 continents. He is currently pursuing a Master's degree in Composition for Screen at the Royal College of Music in London, UK. There he is also writing music in conjunction with interactive electronics and developing an original theater show for 2015.
Aurélien Krieger
Aurélien Krieger is a London-based interaction designer, media art producer and educator. His work explores how digital culture can engage with physical spaces and sensorial human experiences : interactive media installations, scenography, live performances, education and cultural events. Driven by a critical approach of digital technologies within creative workflows, his practice uses digital environments as expressive languages to support collaborative and multi-disciplinary works. Aurélien connects skills and ideas to make innovative art & design projects happen and support a contemporary dialogue between the creators and the audience.
Sven Ubik
Sven Ubik received his MSc and Dr in Computer Science from the Czech Technical University. He is currently a senior researcher in CESNET and the head of the research group Technologies for network applications. He has created a Network Visualization Lab in collaboration with the Czech Technical University. His research interests include novel applications for hardware accelerated video processing, 3D models, digital representation and distance access to culture heritage, distance collaboration, and optical networks.
Maria Isabel Gandía Carriedo
Maria Isabel Gandía Carriedo is the Communications Manager at CSUC, responsible for the management of the Catalan research and education network (Anella Científica) and the Catalonia Internet Exchange (CATNIX). She has collaborated in the organization of several multisite performances and master classes from Barcelona, where she took part in the design and deployment of the network for the Opera Oberta course and has participated, as an organizer, speaker or program committee member in several editions of the Network and Performing Arts Production Workshop.
Emma Smith
Emma Smith is Jisc's Video Projects Coordinator, within the Applications and Video Development Team. Emma is the project manager for a variety of projects within the Arts and Humanities and streaming area, and chairs the UK's Arts and Humanities Special Interest Group. Emma is also a skilled hand at coordinating live and streamed video events. Before joining Jisc, Emma studied for a postgraduate qualification in Multimedia Design at the Southampton Solent University.
Justin Trieger
Justin Trieger is a composer, multi-instrumentalist and experienced recording engineer. After formal training in the Music Technology department of the Steinhardt School of Education at New York University, Justin relocated to Miami Beach, FL where he now manages all of the collaborative, internet-based projects of the New World Symphony as the Director of Distance Learning and New Media.
Tania Lisboa
Tania Lisboa joined the Royal College of Music in September 2001 as a Research Associate and was appointed Research Fellow in Performance Science in 2008. Following her MA in performance studies at City University London, her doctoral research at Sheffield University employed longitudinal studies with young cellists to investigate the relationship between musical understanding and a multi-modal approach to teaching and learning. Her current research focuses on the investigation of musical movement and practice strategies. Since 2003, Tania has managed the RCM's videoconferencing programme. Recent activities in this area include links with international conservatoires and universities in the USA, Europe and Asia.
Greg Howe
Greg Howe is the Director of Distance Learning at the Cleveland Insititute of Music where he overseas a variety of educational and community outreach programs that leverage advanced networks.
Christianne Orto
Christianne Orto is the founding director of the Manhattan School of Music's internationally renowned digital learning program reaching 7500+ learners annually in 39 states and 23 countries. She is an experienced developer of strategic partnerships with leading educational, government, cultural and technology partners worldwide, as well as a higher education leader who is a passionate advocate for digital learning, collaboration and the importance of culture in education.
Faridah Noor Binti Mohd Noor
Faridah Noor Binti Mohd Noor is an Associate Professor at the Department of English Language, Faculty of Languages and Linguistics and the Director of University of Malaya's Centre for Civilizational Dialogue.  She teaches and publishes on her research interests in intercultural communication, ethnolinguistics, TESOL and academic discourse.  As the Chair of both the eCulture Working Group of Asia-Pacific Advanced Network (APAN) and Digital Cultural Heritage and Humanities (DCHH) of the Malaysian Research and Education Network (MYREN), she works on bridging the cultural gap through eCulture and cyber performances.
Jana Bitterova
Jana Bitterova is a dance artist, improviser, creative movement facilitator and shiatsu practitioner. Originally from Prague, she is currentely living in Cornwall and working within a Traineeship at the Dance department of Falmouth University .She completed her Master degree in Pedagogy of Contemporary Dance at Academy of Performing Arts in Bratislava in Slovakia, where she studied in conducting under ones of the main personalities and funders of Slovak contemporary dance Anka Sedlačková (also Body-Mind Centering Practitioner) and Marta Poláková (also Laban Movement Analyst).
Brigid Baker
Brigid Baker is the director of 6th Street Dance Studio, a non-profit studio and progressive contemporary dance company WholeProject located in Little Havana. She holds a BFA in Dance from SUNY College at Purchase, New York. Baker produces choreography for and directs WholeProject which is known for its full hand-crafted environments assembled by the dancers during performance. All elements, sets and costumes in her work are recycled and repurposed and she also creates environmental installations.
Dan Nichols
Multi-wind specialist Dan Nichols joined the NIU School of Music Faculty in 2008 after finishing his master's degree at NIU. Mr. Nichols choreographed the School of Music's inaugural Internet 2 musical telepresence session with the Arctic Region Supercomputing Center as a graduate student and has since streamlined and enhanced the school's multimedia and educational web presence through a variety of traditional and cutting edge applications. The NIU School of Music, under Mr. Nichols' guidance, specializes in the use of Access Grid, DVTS, H.323 hardware and software solutions, LOLA, ConferenceXP, JackTrip and UltraGrid.
Jesper Andersen
Jesper Andersen has as a producer, engineer and pianist, recorded arround 60 CDs and produced music for radio, TV, theatre, installation and performance. He has been working as music-engineer/producer at the Danish Radio and taught at Rythmic Conservatory of Music and Danish Technical University. He has been a guest lecturer at Aalborg University, Royal College of Music London, Chopin Academy, University of Miami, Shanghai Conservatory, Cleveland Institute of Music, Northwestern University, and Yale University and also works extensively with the development of instrumental distance learning at RDAM.
Matt Parkin
Matt Parkin is a creative leader, enabler and innovator, with a broad mix of management, strategic and operational skills gained over 20 years working in radio, television, music production, digital media and live events. Matt is currently responsible for digital content production and studio services at the Royal College of Music, including digital strategy, technical advice and consultancy across the organisation.
Cassidy Fitzpatrick
Since November 2014, Cassidy Fitzpatrick has served as New World Symphony's Director of Community Engagement.  In this capacity, she coordinates the outreach activities of the Symphony and its Fellows, as well as building relationships with partner institutions and the South Florida community.  Ms. Fitzpatrick joined NWS in 2013 as Assistant to the Dean and Community Engagement Manager.  Previously, she served as Artistic Administrator for Florida Grand Opera where she was responsible for overseeing artistic operations and administering the Young Artist Studio for the company, and as an associate in the Artistic and Development departments at Boston Lyric Opera.  Prior to entering the arts world, Ms. Fitzpatrick was a paralegal in the Insurance and Financial Services Division of the Massachusetts Attorney General's Office, where she assisted in winning two of the largest civil settlements ever secured by the Commonwealth, in cases arising out of the Subprime Mortgage Crisis.  In recognition of her contribution to this effort, she was awarded the Attorney General's Thomas F. Reilly Award for outstanding performance in 2010.  She holds a B.A. in History and Music from Amherst College and is pursuing an MBA with the University of Florida.