Events & Tickets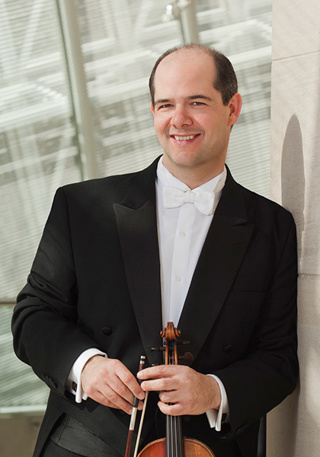 Chamber Music
NEW IMPRESSIONISTS AND OLD MASTERS
New World Center
Sunday, December 17 at 2:00 PM
Program
Alexander Kerr, Concertmaster of the Dallas Symphony, joins the Fellows for an afternoon of musical storms. Father of the Symphony Joseph Haydn instills humor throughout his brooding 80th Symphony, especially in the boisterous, drunken finale. Wolfgang Amadeus Mozart saved the key of G minor for his most intense works, including this popular Quartet whose virtuosic parts were at first deemed too demanding. Paul Chihara creates a musical arbor with Willow, Willow, a soliloquy for amplified bass flute that floats over a tapestry of percussion. This unique work later employs a tuba to haunt "like the ghost of Hamlet's father." Finnish contemporary icon Einojuhani Rautavaara invites the winds to a playful romp in his Octet.
Program
Einojuhani Rautavaara
(1928-2016)
Approx. Duration: 15 minutes

Allegro Molto
Largo
Prestissimo
Johanna Gruskin, flute
James Riggs, oboe                         
Zach Manzi, clarinet
Darren Hicks, bassoon
Roy Femenella, David Raschella, horn
Aaron Norlund, trumpet
Lisa Stoneham, trombone
Wolfgang Amadeus Mozart
(1756-1791)
Approx. Duration: 25 minutes

Quartet No. 1 in G minor for Piano and Strings, K. 478 (1785)

Dean Zhang, piano; Peiming Lin, violin
Kurt Tseng, viola; Jennifer Choi, cello
Paul Chihara
(b. 1938)
Approx. Duration: 10 minutes

Masha Popova, amplified bass flute
Jarrett McCourt, tuba
Andrew Johnson, Erich Rieppel
Joseph Kelly, percussion
Franz Joseph Haydn
(1732-1809)
Approx. Duration: 23 minutes

Symphony No. 80 in D minor, Hob. I:80 (1784)

Allegro spiritoso
Adagio
Menuetto
Finale: Presto
Alexander Kerr, concertmaster/leader
Masha Popova, flute
James Riggs, Kristin Kall, oboe
Brenton Foster, Francisco Joubert, bassoon
Dominic Brancazio, Priscilla Rinehart, horn
Sodam Lim, Hye Jin Koh, Kenneth Liao,
Sarah Peters, Christopher Robinson, violin I
Cynthia Burton, Dillon Welch,
Christen Greer, Margeaux Maloney,
Ludek Wojtkowski, Yada Lee, violin II
Erica Gailing, Jarrett Threadgill,
Daniel Fellows, Andrew François, viola
Meredith Bates, Blake-Anthony Johnson, Drew Comstock,
Ian Greenberg, cello
Jonathan Reed, Mary Reed, bass
Einojuhani Rautavaara
Octet for Winds (1962)

Approximate duration: 15 minutes
The Finnish composer Einojuhani Rautavaara faced the daunting task of finding his own voice in a country overshadowed by the legendary Jean Sibelius. After studying musicology at the University of Helsinki, Rautavaara broke out as a composer in 1954 when his piece A Requiem in Our Time for brass and percussion won an international competition. Sibelius himself took note, selecting Rautavaara for a scholarship to study at The Juilliard School in New York. For two years there under the tutelage of Roger Sessions, as well as summers at Tanglewood with Aaron Copland, Rautavaara expanded his musical palette and his worldview. (Decades later, he reported that living in Manhattan "taught much more about life to me than all those teachers about music.")
In the early 1960s, Rautavaara experimented with the approach that had come to dominate musical academia: serial (or 12-tone) composition. As opposed to the highly structured and abstracted efforts of composers like Boulez and Stockhausen, Rautavaara applied serial techniques in ways that preserved lyricism and even aspects of tonality.
The Wind Octet, from 1962, shows Rautavaara's rich language being filtered through the organizing principle of 12-tone composition. In the fast opening movement, familiar gestures and intervals stick out as memorable markers. Expressive articulations (i.e. notes that are short, long, accented, smooth, etc.) help to enunciate the conversational exchanges, and crisp contrasts in the dynamics and orchestration maintain the utmost transparency, recalling the clean textures and genial affect of Classical-era Serenades.
The chorale harmonies of the central Largo invoke a church-like resonance. Along with dry, sporadic pecks from the bassoon that come and go like an apparition of a walking bass, the entire movement has the feeling of a Baroque aria refracted through a mysterious prism. 
The Prestissimo finale brings the Octet's most extroverted music. The split nature of the ensemble—four woodwinds and four brass—is exploited for maximal variety and character in fast-moving discourse.
Additional Resources
Rautavaara page from publisher Boosey & Hawkes
New York Times obituary from 2016
Recordings of Movement I, Movement II and Movement III
Wolfgang Amadeus Mozart
Quartet No. 1 in G minor for Piano and Strings, K. 478 (1785)

Approximate duration: 25 minutes
Leaving behind the security of a steady but stifling position in his hometown of Salzburg, Mozart arrived in Vienna in 1781 to try his luck as a freelance musician. One way he generated income was by producing concerts and selling subscriptions; it was on these popular concerts that he debuted many of his compositions involving piano, including 11 new piano concertos completed in just 25 months, between February 1784 and March 1786. In the realm of opera, Mozart happily broke a four-year dry spell when he introduced The Marriage of Figaro on May 1, 1786. These years also saw Mozart's increasing involvement in the realm of music composed expressly for publishing, including a commission for three piano quartets initiated by Franz Anton Hoffmeister in 1785.
Mozart's First Piano Quartet, the work in G minor cataloged as K. 478, missed the mark. Publications of such compositions were marketed toward amateur players for home use, and Mozart's score was far too demanding, leading Hoffmeister to cancel the contract. In the Allegro first movement, running 16th notes in that fast tempo demand dexterity from all the players, but the pressure is greatest on the pianist, whose role at times resembles that of a soloist in the concerto. The gesture of rapid scales even carries over into the placid middle movement, which juxtaposes simple melodies with churning, multi-layered accompaniments. The finale, set in a cheerful G major instead of the stormy G minor of the opening, introduces a principal theme littered with chromatic alterations, like a musical tongue twister.
Additional Resources
PDF score from the IMSLP Petrucci Music Library
Video of live performance
Foreword and manuscript facsimiles from International Mozart Foundation
Paul Chihara
Willow, Willow (1968)

Approximate duration: 10 minutes
Although best known for his many scores for film and television, the Japanese-American composer Paul Chihara began his career on an impressive academic trajectory, with a doctorate from Cornell University, studies with Nadia Boulanger and Gunther Schuller, and a position teaching electronic music at UCLA. In Willow, Willow, Chihara used electronic effects borrowed from the toolkit of popular music (specifically a "multi-vider" octave pedal for the bass flute and an "echoplex" tape delay for the vibraphone). Other details, like the flute's subtle pitch bends, echo traditional Japanese music played on the shakuhachi, a bamboo flute. This early work from Chihara's pre-Hollywood period shows him to be a composer with broad tastes, sensitive ears and a theatrical feel for space and timing—qualities that have continued to serve him well in both concert music and film scoring.
Reflecting on this work from almost 40 years ago, Chihara recalled, "Willow, Willow was composed and premiered at the Tanglewood Music Festival during the summer of 1968 and subsequently performed in Tokyo during Roger Reynolds' Crosstalk Series later that year. It is the fourth in the series of tone pictures inspired by trees I composed from 1966 to 1971 in New York and Japan. It is basically a soliloquy for amplified bass flute with percussion tapestry surrounding it. It is a lonely piece, with very little direct interaction among the parts, except in the fourth section, called Rock Dance. The tuba, like the ghost of Hamlet's father, haunts the music and comments on it (sometimes with music, sometimes with words), but remains detached and aloof throughout."
Additional Resources
Recording of Willow, Willow
Operating manual for the 1967 Conn Multi-vider, the saxophone effect used on bass flute
Profile on Chihara from publisher G. Schirmer
Franz Joseph Haydn
Symphony No. 80 in D minor, Hob. I:80 (1784)

Approximate duration: 23 minutes
Haydn's opportunities to profit from his music broadened in 1779, when he negotiated a new contract with the Esterházy family that permitted him to publish scores more freely. He cashed in on his popularity around Europe, and he was not above selling the same work to various local firms, a lucrative if not entirely scrupulous practice. The three symphonies Haydn composed in November of 1784 appear to have been tailored to the publishing market, and he found outlets for them in Vienna, Paris, London, Berlin and Amsterdam.
The Symphony No. 80, one of Haydn's 10 symphonies in a minor key, does not exhibit the same angst as, say, the "Lamentation" or "Tragic" symphonies from his earlier Sturm und Drang ("storm and stress") phase. In fact, it is remarkable how little this minor-key work actually dwells in the minor mode. The opening movement only spends about its first 15 seconds (as well as the repetitions of that passage) in a convincingly turbulent D minor. The rest of the movement trades mainly in major sonorities, including a cheeky theme, set to oom-pah-pah accompaniment, which has the last word in D major.
The Adagio exudes warmth and beauty in the cozy key of B-flat major, and its few minor touches have a regal bearing, signaling profundity rather than emotional turmoil. Only the brief Menuetto begins and ends in the Symphony's home key, with a detour to D major for the contrasting trio section.
The finale makes its optimistic intentions clear from the start, repeating the note F-sharp (the major third in the key of D) three times, canceling out the F-natural that darkened the earlier D-minor chord. This movement has some of Haydn's most devilish syncopations, and yet they are not the jarring, punch-in-the-gut surprises he sometimes unleashed, but rather invitations to expect the unexpected.
Additional Resources
PDF score from the IMSLP Petrucci Music Library              
Recording of the Symphony No. 80

-- Copyright © 2017 Aaron Grad
Aaron Grad is a composer, guitarist and writer based in Seattle. Besides providing program notes for the New World Symphony, he has been the Orpheus Chamber Orchestra's program annotator since 2005 and also contributes notes to the Saint Paul Chamber Orchestra and Seattle Symphony.
Alexander Kerr, violin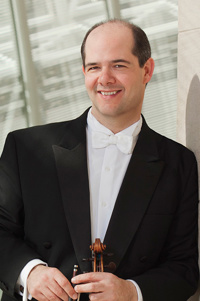 Alexander Kerr's expressive and charismatic style has made him one of the most accomplished and versatile violinists on the international music scene today. In 1996 at the age of 26, Mr. Kerr was appointed to the prestigious position of Concertmaster of the Royal Concertgebouw Orchestra in Amsterdam. After nine successful years at that post, he left in 2006 to assume the endowed Linda and Jack Gill Chair in Music as Professor of Violin at the Indiana University Jacobs School of Music. In addition to his teaching responsibilities in Bloomington, he maintains a busy concert schedule appearing with orchestras and in recital and chamber music performances throughout the U.S., Asia and Europe. In 2008 he began his tenure as Principal Guest Concertmaster of the Indianapolis Symphony and in 2011 assumed his role as Concertmaster of the Dallas Symphony. 
Regarded by the press as a masterful virtuoso with an elegant, old-world sound, Mr. Kerr has appeared as soloist with major orchestras throughout the United States and Europe, working with such renowned conductors as Mariss Jansons, Riccardo Chailly, Peter Oundjian, Donald Runnicles, Robert Spano, Alan Gilbert, Jaap van Zweden and David Zinman. 
An active chamber musician, Mr. Kerr has collaborated with Martha Argerich, Leif Ove Andsnes, Emanuel Ax, Joshua Bell, Yefim Bronfman, Edgar Meyer, Truls Mørk, Menahem Pressler, Vadim Repin, Alisa Weilerstein, Kim Kashkashian and Maxim Vengerov in performances at festivals in Aspen, Santa Fe, Caramoor, La Jolla, Stavanger, and throughout Spain, Portugal, Turkey, Switzerland, Austria and the Netherlands. He has recently launched a collaboration with cellist Eric Kim and the Dorothy Richard Starling Foundation showcasing the enormous wealth of talent at the Indiana University Jacobs School of Music. The Starling Chamber Players, a mixture of faculty and students, will tour chamber music venues throughout the nation. 
Mr. Kerr's recordings include the Dvořák Piano Quintet with Sarah Chang and Leif Ove Andsnes on the EMI label, music by Dutch composer Julius Röntgen on the NM Classics label and the Shostakovich Romance on a series of discs including Violin Adagios and Evening Adagios released by Decca. A live DVD and CD recording of Strauss' Ein Heldenleben with Mr. Kerr, the RCO and Mariss Jansons was released in 2005 on the RCO's own label, RCOLive! 
Raised in Alexandria, Virginia, Mr. Kerr began his studies at age seven with members of the National Symphony. He went on to study with Sally Thomas at The Juilliard School and with Aaron Rosand at the Curtis Institute of Music, where he received his bachelor of music degree in 1992.