Events & Tickets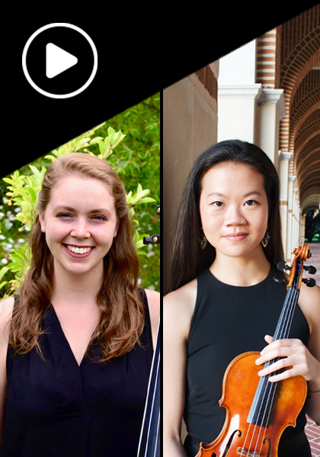 Online Event
NWS Inside: Behind the Scenes of NWS Applications
Online Event
Tuesday, February 22, 2022 at 7:00 PM Eastern
** Online Event exclusively for NWS Inside members **
It's Audition Season! Have you ever wondered how talented musicians across the globe come to the New World Symphony? What does it take to be named a Fellow? How many apply each season? First-year Fellows Natalie Lee (violin) and Lindsey Orcutt (bass) offer a behind-the-scenes look at NWS's extensive application and audition process and how it differs from (and how it is similar to) professional orchestral auditions.  
This live event is exclusive to NWS Insiders. Click here to become a founding member of NWS Inside.  
RSVP to nwsinside@nws.edu by Monday, February 21 at 5:00 PM ET. Instructions on how to join will be sent to the email address associated with your NWS Inside account on February 22. 
Natalie Lee, NWS Violin Fellow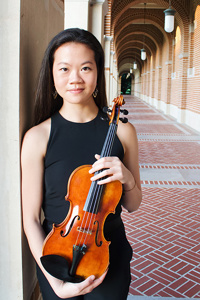 Natalie Lee is a first-year Violin Fellow at the New World Symphony. She previously served as concertmaster of the Civic Orchestra of Chicago for two seasons, where she worked with conductors such as Riccardo Muti, Christoph Eschenbach and Nicholas Kraemer. She has also participated in the New York String Seminar, Chautauqua Music Festival and the Aspen Music Festival and School.
An avid chamber musician, Ms. Lee has worked closely with members of the Vermeer and Dover string quartets. As a member of Quartet Ami, she won first prize at the WDAV Young Chamber Musicians competition and the Dover String Quartet Competition at Northwestern University, leading to residencies in Charlotte, North Carolina and Mineral Point, Wisconsin. Most recently, she has performed with the Houston-based Kinetic Ensemble.
Ms. Lee's love for traveling and performing has brought her to 27 different countries, participating in festivals such as the Pacific Music Festival, Orford Music and AIMS in Graz. She also spent a summer performing across the Mediterranean as a member of Lincoln Center Stage, the resident piano quintet onboard Holland America's MS Oosterdam.
Ms. Lee received her master's degree from the Shepherd School of Music at Rice University as a student of Kathleen Winker. She received a bachelor of arts degree in psychology and a bachelor of music degree in violin and from Northwestern University, where she studied with Almita Vamos and Shmuel Ashkenasi. Other primary teachers include Dmitri Berlinsky, Sylvia Rosenberg and David Halen.
Outside of music, Ms. Lee practices Ashtanga yoga and is a 500-hour certified yoga teacher. She is passionate about musicians' health and wellness and sharing the benefits that yoga can bring to one's life. In her free time, she also enjoys hiking, running and baking.
Lindsey Orcutt, NWS Bass Fellow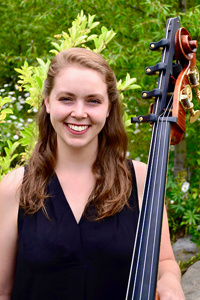 Lindsey Orcutt is a first-year Bass Fellow at the New World Symphony. Prior to joining NWS, she was based in Chicago where she performed as a member of the Civic Orchestra of Chicago and maintained an active freelance career. Additionally, she has appeared as a substitute musician with the Lyric Opera of Chicago, Madison Symphony and Kalamazoo Symphony.
Ms. Orcutt has spent her recent summers at the Verbier Festival, performing as a member of the Verbier Festival Orchestra under the baton of notable conductors such as Valery Gergiev, Fabio Luisi, Manfred Honeck, Lahav Shani and Hannu Lintu. Previous summers were spent at Aspen Music Festival and School, Orford Music, and Domaine Forget International Music and Dance Academy.
Originally from Ellicott City, Maryland, Ms. Orcutt was fortunate to work with renowned bass pedagogue George Vance from a young age. His methodology has inspired countless teachers around the world and helped to instill in her a love of teaching. She has maintained a private bass studio and worked as a mentor for young bassists throughout Chicago during her time with the Civic Orchestra of Chicago.
Ms. Orcutt received her bachelor's degree from Ithaca College, where she studied with Nicholas Walker, and her master's degree from Northwestern University, where she studied with Andrew Raciti. Other primary teachers include Ira Gold and Shawn Conley.
Outside of music, she enjoys trying new recipes inspired by The Great British Bake-Off and exploring new cities through their local craft beer scene.