Events & Tickets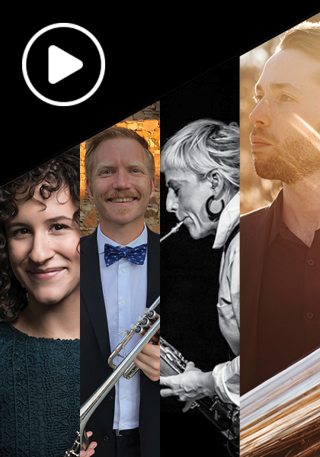 Online Event
NWS Inside: New World, New Paths – An Alumni Panel
Online Event
Tuesday, March 15, 2022 at 7:00 PM ET
NWS Insiders are invited to an exclusive panel discussion with four NWS alumni who embarked on diverse career paths after their time at NWS. From orchestral musicians, recording artists and educators to paralegals, crisis intervention volunteers and artistic directors, Adèle-Marie Buis (oboe, 2015-18), Rebekah Heller (bassoon, 2005-08), Jarrett McCourt (tuba, 2015-18) and Travis Peterson (trumpet, 2010-12) embody what it means to be a 21st-century musician. They will share what they are doing now, the part NWS played in their career journey and some of their favorite fellowship memories.  
This live event is exclusive to NWS Insiders. Click here to become a founding member of NWS Inside.   
RSVP to nwsinside@nws.edu by Monday, March 14 at 5:00 PM ET. Instructions on how to join will be sent to the email address associated with your NWS Inside account on March 15. 
Adèle-Marie Buis, oboe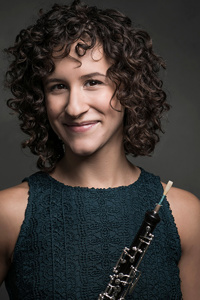 Active freelance oboe and English horn musician Adèle-Marie Buis is originally from the Chicagoland area. A regular musician with the Nu Deco Ensemble, she has also recently appeared with the St. Louis Symphony and National Symphony. She has played in ensembles accompanying The Who and Nas, and toured Japan with the New York Symphonic Ensemble.
Ms. Buis is an alumna of the New World Symphony (2015-2018) and a graduate of DePaul University (B.M.) and the New England Conservatory of Music (M.M.). Her primary teachers have included Eugene Izotov, Principal Oboe of the San Francisco Symphony, and John Ferrillo, Principal Oboe of the Boston Symphony.
Currently based in Chicago, Ms. Buis enjoys a diverse career in addition to freelancing, including working as a paralegal at one of Chicago's preeminent law firms advising nonprofits.
Rebekah Heller, bassoon
Rebekah Heller is an artist whose work aims to expand the sonic possibilities of her instrument and the field at large. Called "an impressive solo bassoonist" by The New Yorker, she made her solo debut with the New York Philharmonic in 2018. She has two critically acclaimed solo albums of music written for and with her, and has been featured on dozens of celebrated collaborative recordings.
Dedicated to exploration, experimentation and a robust collaborative practice, Ms. Heller has been a member of the International Contemporary Ensemble since 2008, serving as Artistic Director of that group from 2018-20. This work saw her in close collaboration with exciting new compositional voices, premiering hundreds of new compositions on stages large and small across the globe.
A dedicated pedagogue, Ms. Heller has been on the faculty of the Mannes School of Music at The New School since 2019, and in 2021 became co-chair of the wind department. She has given master classes at The Juilliard School, Oberlin Conservatory, Manhattan School of Music, New World Symphony and many other prestigious institutions.
Before moving to New York, Ms. Heller served as Principal Bassoonist of the Jacksonville Symphony. She is a proud alum of the New World Symphony, where she served from 2005-08. More info at rebekahheller.com.
Jarrett McCourt, tuba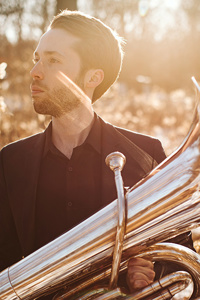 Named one of Canada's "hottest 30 classical musicians under 30," Jarrett McCourt currently performs as Principal Tuba with the Ann Arbor Symphony and is on faculty at the University of Memphis. His playing has been called "magnificent" by the Palm Beach Daily News and "warm, romantic and seamless" by the South Florida Classical Review. He has performed with a number of different high-level ensembles, including the Chicago Symphony, Detroit Symphony, Montreal Symphony, National Arts Centre Orchestra and Canadian Brass.
Mr. McCourt has won several international competitions, including the New World Symphony Concerto Competition, Marta Hidy Competition for Brass in Toronto and concerto competitions across Canada and the U.S. Most notably, he won the top prize in the brass category of the Montreal Symphony's Standard Life Competition in 2014, becoming the first tubist to do so in the competition's 75-year history. Additionally, he was a finalist in the XVI Tchaikovsky Competition (the inaugural year for brass participants) in St. Petersburg, Russia, and the only North American tubist to participate in the live rounds.
Mr. McCourt has been a guest on popular music-themed podcasts including The Brass Junkies and That's Not Spit It's Condensation, speaking largely about ways to improve one's mental health as a musician in the 21st century. In his spare time, he works for the Crisis Text Line, a global not-for-profit organization providing free crisis intervention and suicide prevention via SMS message. Mr. McCourt has also visited several colleges, universities and summer festivals to speak about mental health and suicide prevention, including the University of Akron, University of Kentucky, Northwestern University, University of Manitoba, University of Windsor, New World Symphony and Pokorny Low Brass Seminar. He is also a certified yoga instructor and firmly believes in the positive effect of mindfulness on one's life. With any remaining spare time, he operates a branding business offering web design and social media services to musicians.
Mr. McCourt earned a bachelor of music (tuba performance) degree and a bachelor of arts degree in philosophy from University of Western Ontario in 2013 and two master's degrees (one in tuba performance and the other in chamber music) at the University of Michigan in 2015. His principal teachers have been Brent Adams, Fritz Kaenzig, Craig Knox, Warren Deck and Gene Pokorny. Mr. McCourt is a Miraphone and Warbuton Artist.
Travis Peterson, trumpet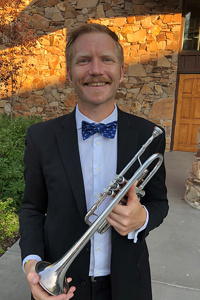 Travis Peterson joined the Utah Symphony as Principal Trumpet in 2013. He grew up on a dairy farm outside of the central Minnesota town of Milaca. He started playing trumpet at the age of 10 and joined the school band and jazz band. While in high school and during his first years in college, he was also a member of the drum and bugle corps, The Madison Scouts. After high school, he went on to study music education at the Jacobs School of Music at Indiana University (IU), where he studied with Edmund Cord. After finishing his degree at IU, he went on to receive his graduate diploma in performance from The New England Conservatory. He studied with Ben Wright and Tom Rolfs, both of the Boston Symphony. He is a proud alumnus of the New World Symphony, where he was a Fellow for three years under the direction of Michael Tilson Thomas from 2010-2012. He attributes his time there as a seminal moment in his growth into the musician he is today.
Mr. Peterson has performed with the Tanglewood Music Center Orchestra, National Repertory Orchestra, Spoleto U.S.A. Festival Orchestra, Artosphere Festival Orchestra, Opera North, Grant Park Orchestra in Chicago and the Mainly Mozart Festival in San Diego. He can regularly be seen performing with the String's Festival in Steamboat Springs during the summer under the direction of Michael Sachs, Principal Trumpet of the Cleveland Orchestra. During the summer he also performs with the Lakes Area Music Festival in Brainerd, MN.
Mr. Peterson has performed several times with the Boston Symphony, including their 2015 European Tour. He has also performed as Guest Principal Trumpet with the San Francisco Symphony, as Guest Associate Principal Trumpet with the Philadelphia Orchestra, and Guest Principal Trumpet of ROCO in Houston. He serves as adjunct professor of trumpet at the University of  Utah and enjoys working with his students. He has enjoyed curating chamber performances in SLC at the Cathedral of the Madeleine and in his hometown for his childhood community. Mr. Peterson is happily married to the love of his life and enjoys time with their two dogs Finn (Australian Shepherd) and Millie (Minnie Aussie-doodle). In his spare time, he enjoys making brioche donuts and other baked goods.