Events & Tickets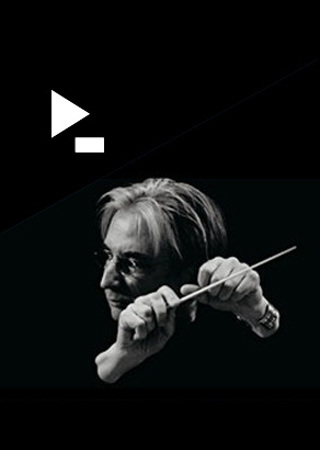 Idagio
NWS on IDAGIO: Berlioz's Harold in Italy Reimagined
New World Center
IDAGIO Live Stream: Friday, August 21, 2020 at 2:00 PM EDT; enjoy until 2:00 PM EDT on Sunday, August 23, 2020 (48 hours)
Program
Sponsored by:


The New World Symphony and its Artistic Director and Co-Founder Michael Tilson Thomas present a reimagined Harold in Italy. Grammy Award-winning composer Steven Mackey's take on Hector Berlioz' beloved concerto-symphony hybrid depicts Harold in a new light, elaborating on Berlioz' colorful themes and adding a new cadenza. Performing as a soloist is acclaimed violist Tabea Zimmermann, as part of the New World Symphony's October 2019 Viola Visions festival. This performance from October 19, 2019 marked the world premiere of the NWS commission.
Clicking this link will take you to IDAGIO's website, where tickets are available for purchase from Eventbrite. You will need to create an IDAGIO account to purchase. NWS does not own or operate these platforms and is not responsible or liable for the services offered.
This performance was produced in the New World Symphony's Knight New Media Center. Knight Foundation and New World Symphony: Reimagining Classical Music in the Digital Age.
Viola Visions was supported in part by Art Mentor Foundation Lucerne; NWS's Fund for New Ventures -- The Fund provides artistic risk capital to fund innovative new programs, projects, productions and experiments at their earliest stage of development. The Fund is supported in part by: The Clinton Family Fund | Bruce and Martha Clinton, Kleh Family Foundation | Mr. and Mrs. Bill Kleh, and the Helena Rubinstein Philanthropic Fund at the Miami Foundation | Diane and Robert Moss; Carnival Corporation; Yamaha; Miami-Dade County with the support of the Miami-Dade County Department of Cultural Affairs and the Cultural Affairs Council, the Miami-Dade County Mayor and Board of County Commissioners; City of Miami Beach and the Agatston Center.
Get Tickets
Clicking this link will take you to IDAGIO's website, where tickets are available for purchase from Eventbrite. You will need to create an IDAGIO account to purchase. NWS does not own or operate these platforms and is not responsible or liable for the services offered.
Program
Hector Berlioz / Steven Mackey
(1806-1869 / b. 1956)
Approx. Duration: 50 minutes minutes

Harold in Italy (1834/2019; world premiere of NWS commission)

Harold in the Mountains. Scenes of Melancholy, Happiness and Joy
March of the Pilgrims Singing the Evening Prayer
Serenade of an Abruzzi Mountain-Dweller to his Mistress
Orgy of Brigands. Memories of Scenes Past
Hector Berlioz / Steven Mackey
Harold in Italy (1834/2019; world premiere of NWS commission)

Approximate duration: 50 minutes minutes
As a teenager, Berlioz took flute and guitar lessons and taught himself the rudiments of composition and music theory, but at his father's insistence he trained to become a doctor. It was only after four years of medical school, once Berlioz was thoroughly disgusted by "dirty hospital orderlies, dreadful dissecting-room attendants, hideous corpses, the screams of patients, [and] the groans and rattling breath of the dying," that he abandoned medicine and took up music.
Berlioz eventually enrolled at the Paris Conservatory, where he became known as an outsider and iconoclast—a reputation that was confirmed by his shocking Symphonie fantastique from 1830, which led to his expulsion. That same year, he won the coveted Prix de Rome with a conventional cantata that demonstrated more restraint than his previous entries, and in 1831 he reluctantly left Paris to commence the Italian residency granted to prizewinners. He lived in Rome for more than a year, although he ventured out as often as he could. As he later wrote, "Rome is the most stupid and prosaic city I know: It is no place for anyone with head or heart."
Although the Rome of his day held little interest for Berlioz, a romanticized notion of Italy, especially as expressed through literature, became an ongoing font of inspiration and led to his "dramatic symphony" modeled after Romeo and Juliet (set in Verona) and the opera Benvenuto Cellini, which depicted an artist of the Italian Renaissance. His first work in that vein was Harold in Italy, composed in 1834 and based loosely on the narrative poem Childe Harold's Pilgrimage by Lord Byron.
The impetus to compose Harold in Italy came at the request of superstar violin virtuoso Niccolò Paganini, who wanted to showcase his formidable technique and his Stradivarius viola. Instead of a viola concerto, Berlioz constructed Harold in Italy as a four-movement symphony featuring the viola as a musical protagonist. Paganini was less than pleased with the viola's limited role and the long stretches of silence in the solo part, and he refused to perform it. Paganini was able to see a performance of it some years later and was even inspired enough to give Berlioz a sizable check to fund future projects.
The new version heard here, combining an expanded solo part with the original orchestral music, brings the work closer to what Paganini might have been hoping for. This hybrid score was the brainchild of Michael Tilson Thomas, and he entrusted its execution to a longtime collaborator, the composer Steven Mackey. (See their notes for more details on the inspiration and process.)
This Italian journey begins, according to Berlioz' movement title, with "Harold in the Mountains. Scenes of Melancholy, Happiness and Joy." After the somber orchestral introduction, the viola (accompanied by harp) introduces the simple melody that recurs throughout the work to signify Harold.
For the second movement, "March of the Pilgrims Singing the Evening Prayer," the viola appears as an outside observer, rehashing a version of the same unifying melody (in its own slower pace) as the pilgrims shuffle past. This pattern repeats in the third movement, "Serenade of an Abruzzi Mountain-Dweller to his Mistress," with Harold serving as a witness to the pastoral love scene.
A new cadenza written by Mackey sets up the finale, which begins by recapping memories from the preceding movements, until the scene moves to an "Orgy of Brigands." Mackey's augmentations to the score come in this section, allowing the soloist to partake in the fracas instead of observing it from afar.
— © 2019 Aaron Grad
Aaron Grad is a composer, guitarist and writer based in Seattle. Besides providing program notes for the New World Symphony, he has been the Orpheus Chamber Orchestra's program annotator since 2005 and also contributes notes to the Saint Paul Chamber Orchestra and Seattle Symphony.
A NOTE FROM MICHAEL TILSON THOMAS
I first performed Harold in Italy with Joseph de Pasquale and The Philadelphia Orchestra some 40 years ago, and it has remained one of my favorite pieces. Since then, I've harbored the wish that the collaboration between Berlioz and Paganini might have really worked, and that the viola part would have been more virtuosic, allowing the soloist to become a true protagonist as well as observer of the shifting scenes. The last movement particularly suggests many opportunities for the viola to assume a larger role. Steven Mackey is the perfect person to fulfill this dream. His imaginative instrumental writing as well as the no-holds-barred exuberance of his music reminds me of the spirit of Berlioz. Steven and I worked together as if we were creating a new Broadway show; he being the composer, me being the director. It is our hope that this newly expanded version will bring new excitement to—and win many new friends for—this wonderful piece.
A NOTE FROM STEVEN MACKEY
Elaborating Harold in Italy turned out to be a fascinating project. I had to plug into the piece in a deeper way than I would just by studying the score of the piece and I was fortunate to have MTT's help.
It was fun to talk with MTT about the viola, Harold, those wild Brigands and the dramatic scenario that connects them. For a stretch, I would share my work and get his thoughts daily.
In retrospect I understand that MTT's aim was to help me find the slot between being too restrained or too free; the place between an academic exercise to accurately fill in the blanks on the one hand and writing an independent modern piece on the other.
The feel of the process evolved dramatically over the course of my work on the project. At first it seemed like I was trying to be a good student and get an A+ in MUS206: Tonal Syntax, which is a course I frequently teach at Princeton University. By the end I felt like I was composing. I did find a space where Berlioz and I could intersect and where I could let my intuitions fly a little bit.
Michael Tilson Thomas, conductor
Michael Tilson Thomas is Co-Founder and Artistic Director of the New World Symphony, America's Orchestral Academy; Music Director of the San Francisco Symphony; and Conductor Laureate of the London Symphony Orchestra. In addition to these posts, he maintains an active presence guest conducting with the major orchestras of Europe and the United States.
Born in Los Angeles, Mr. Tilson Thomas is the third generation of his family to follow an artistic career. His grandparents, Boris and Bessie Thomashefsky, were founding members of the Yiddish Theater in America. His father, Ted Thomas, was a producer in the Mercury Theater Company in New York before moving to Los Angeles where he worked in films and television. His mother, Roberta Thomas, was the head of research for Columbia Pictures.
Mr. Tilson Thomas began his formal studies at the University of Southern California where he studied piano with John Crown and conducting and composition with Ingolf Dahl. At age 19 he was named Music Director of the Young Musicians Foundation Debut Orchestra. He worked with Stravinsky, Boulez, Stockhausen and Copland on premieres of their compositions at Los Angeles' Monday Evening Concerts. During this same period he was the pianist and conductor for Gregor Piatigorsky and Jascha Heifetz.
In 1969, after winning the Koussevitzky Prize at Tanglewood, he was appointed Assistant Conductor of the Boston Symphony Orchestra. That year he also made his New York debut with the Boston Symphony and gained international recognition after replacing Music Director William Steinberg in mid-concert. He was later appointed Principal Guest Conductor of the Boston Symphony Orchestra where he remained until 1974. He was Music Director of the Buffalo Philharmonic from 1971 to 1979 and a Principal Guest Conductor of the Los Angeles Philharmonic from 1981 to 1985. His guest conducting includes appearances with the major orchestras of Europe and the United States.
His recorded repertoire of more than 120 discs includes works by composers such as Bach, Beethoven, Mahler, Prokofiev and Stravinsky as well as his pioneering work with the music of Charles Ives, Carl Ruggles, Steve Reich, John Cage, Ingolf Dahl, Morton Feldman, George Gershwin, John McLaughlin and Elvis Costello. He also recorded the complete orchestral works of Gustav Mahler with the San Francisco Symphony.
Mr. Tilson Thomas' television work includes a series with the London Symphony Orchestra for BBC Television, the television broadcasts of the New York Philharmonic Young People's Concerts from 1971 to 1977 and numerous productions on PBS' Great Performances. Mr. Tilson Thomas and the San Francisco Symphony produced a multi-tiered media project, Keeping Score, which includes a television series, web sites, radio programs and programs in schools.
In 1990 Mr. Tilson Thomas and the New World Symphony were presented in a series of benefit concerts for UNICEF in the United States, featuring Audrey Hepburn as narrator of From the Diary of Anne Frank, composed by Mr. Tilson Thomas and commissioned by UNICEF. This piece has since been translated and performed in many languages worldwide. In August 1995 he led the Pacific Music Festival Orchestra in the premiere of his composition Showa/Shoah, commemorating the 50th anniversary of the bombing of Hiroshima. Thomas Hampson premiered his settings of poetry by Walt Whitman, Renée Fleming premiered his settings of the poetry of Emily Dickinson and the San Francisco Symphony premiered his concerto for contrabassoon entitled Urban Legend. As a Carnegie Hall Perspectives Artist from 2003 to 2005, he had an evening devoted to his own compositions which included Island Music for four marimbas and percussion, Notturno for solo flute and strings and a new setting of poems by Rainer Maria Rilke. Other compositions include Street Song for brass instruments and Agnegram, an overture for orchestra.
Among his many honors and awards, Mr. Tilson Thomas is a Chevalier dans l'ordre des Arts et des Lettres of France, was Musical America's Musician of the Year and Conductor of the Year, Gramophone Magazine's Artist of the Year and has been profiled on CBS's 60 Minutes and ABC's Nightline. He has won 11 Grammy Awards for his recordings. In 2008 he received the Peabody Award for his radio series for SFS Media, The MTT Files. In 2010 President Obama awarded him the National Medal of Arts, the highest award given to artists by the United States Government.
Tabea Zimmermann, viola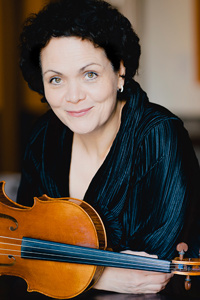 For many years, Tabea Zimmermann has been regarded as one of the most renowned musicians of our time. Audiences and fellow musicians value her charismatic personality and deep musical understanding. Arguably the finest violist in the world today, she owes her success not only to her exceptional talent, but also to the support of her parents, thorough training by excellent teachers, a tireless enthusiasm to communicate her understanding and love of music to her audience and an uncompromisingly high quality standard.
As a soloist Ms. Zimmermann regularly works with the most distinguished orchestras worldwide such as the Berlin Philharmonic, Orchestre de Paris, London Symphony, Israel Philharmonic and the Czech Philharmonic. Following residencies in Weimar, Luxembourg, Hamburg and with the Bamberg Symphony, she was artist-in-residence with the Ensemble Resonanz from 2013-15, and continues this close collaboration. In the 2015-16 season, she was artist-in-residence of the Frankfurt Museums-Gesellschaft.
Ms. Zimmermann kicked off the 2018-19 season with the Swedish Chamber Orchestra at the BBC Proms. Further highlights of the current season include her concerts with the Helsinki Philharmonic Orchestra under Susanna Mälkki, the Radio Filharmonisch Orkest under Markus Stenz and at the Philharmonie de Paris with Les Siècles under Francois-Xavier Roth. On a tour of Asia, she will perform Mantovani's Double Concerto together with Antoine Tamestit and the Tokyo Metropolitan Symphony, and appear with the Seoul Philharmonic Orchestra in York Höller's new Concerto for Viola and Orchestra, which she premiered in 2018 with the Gürzenich Orchestra Cologne under François-Xavier Roth.
The Arcanto Quartet, in which Ms. Zimmermann performs with violinists Antje Weithaas and Daniel Sepec and cellist Jean-Guihen Queyras, has provided a special focus for her chamber music activities. On the label Harmonia Mundi, they have released CDs of works by Bartók, Brahms, Ravel, Dutilleux, Debussy, Schubert and Mozart.
Ms. Zimmermann has inspired numerous composers to write for the viola and has introduced many new works into the standard concert and chamber music repertoire. In 1994 she gave the highly successful world premiere of the Sonata for Solo Viola by György Ligeti, a work composed especially for her. The subsequent premieres of this work in London, New York, Paris, Jerusalem, Amsterdam and Japan attracted great critical and public acclaim. In recent seasons, Ms. Zimmermann has premiered Recicanto for Viola and Orchestra by Heinz Holliger, the viola concerto Über die Linie IV by Wolfgang Rihm, Monh by George Lentz, Notte di pasqua by Frank Michael Beyer, a double concerto by Bruno Mantovani with Antoine Tamestit, and Filz by Enno Poppe with Ensemble Resonanz. She played the premiere of Michael Jarrell's Viola Concerto at Festival Musica Strasbourg 2017 with the Orchestre National des Pays de la Loire under Pascal Rophé; and subsequent performances with the Vienna Symphony under Ingo Metzmacher, the Orchestre de la Suisse Romande under Pascal Rophé and the Konzerthaus Orchestra Berlin under Mario Venzago.
To mark Hindemith's anniversary in 2013, Ms. Zimmermann released a highly acclaimed complete recording of the composer's works for viola on myrios classics. Following the success of her recording of solo works by Reger and Bach with myrios classics in 2009 – for which she received an Echo Klassik prize as Instrumentalist of the Year – she has released three albums with pianists Kirill Gerstein and Thomas Hoppe. Ms. Zimmerman's artistry is documented on approximately 50 CDs for labels such as EMI, Teldec and Deutsche Grammophon. A live recording of her performance on Beethoven's own viola at the Beethovenhaus Bonn, accompanied by Hartmut Höll, was released by Ars Musici.
Ms. Zimmermann has received several national and international awards for her outstanding artistic achievements. These include the Federal Cross of Merit, Frankfurter Musikpreis, Hessischer Kulturpreis, Rheingau Musikpreis, International Prize Accademia Musicale Chigiana in Sienna, the Paul-Hindemith-Prize from the city of Hanau and most recently as Artist of the Year by the ICMA International Classical Music Awards 2017. She is a foundation board member of the Hindemith Foundation in Blonay (Switzerland) as well as ambassador for the German Foundation for Children's Hospices. In 2013 she was appointed chairwoman of the board of the Beethoven-Haus Bonn. Under her aegis, the Beethoven-Woche Bonn has taken place every year since January 2015.
Ms. Zimmermann began learning the viola at the age of three, and two years later began playing the piano. She studied with Ulrich Koch at the Musikhochschule Freiburg and subsequently with Sandor Vegh at the Mozarteum Salzburg. Following her studies, she received several awards at international competitions, amongst them first prizes at the 1982 Geneva International Competition and the 1984 Budapest International Competition. As a result of winning the 1983 Maurice Vieux Competition in Paris, she received a viola by the contemporary maker Etienne Vatelot, on which she has been performing ever since. From 1987 to 2000, she regularly gave concerts in Düsseldorf, Jerusalem and Luxembourg with the late David Shallon, father of her two sons Yuval and Jonathan. Ms. Zimmermann has held teaching posts at the Musikhochschule Saarbrücken and Hochschule für Musik Frankfurt. Since 2002 she has been a professor at the Hochschule für Musik 'Hanns Eisler' in Berlin, where she now lives with her three children.
Steven Mackey, composer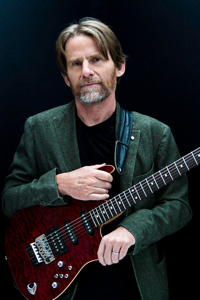 Bright in coloring, ecstatic in inventiveness, lively and profound, Steven Mackey's music spins the tendrils of his improvisatory riffs into large-scale works of grooving, dramatic coherence.
As a teenager growing up in Northern California obsessed with blues-rock guitar, Mr. Mackey was in search of the "right wrong notes," those heart-wrenching moments that imbue the music with new, unexpected momentum. Today, his pieces play with that tension of being inside or outside of the harmony and flow forward shimmering with prismatic detail.
Mr. Mackey's signature early works merged his academic training with the free-spirited physicality of his mother-tongue rock guitar music: Troubadour Songs (1991) and Physical Property (1992) for string quartet and electric guitar; and Banana/Dump Truck (1995), an electrified-cello concerto. Later works explored his deepening fascination in transformation and movement of sound through time: Dreamhouse (2003), a rich work for voices and ensemble was nominated for four Grammy Awards; A Beautiful Passing (2008) for violin and orchestra on the passing of his mother; and Slide (2011), a Grammy Award–winning music theater piece.
Today, Mr. Mackey writes for chamber ensemble, orchestra, dance and opera—commissioned by the greatest orchestras around the world. He has served as professor of music at Princeton University for the past 35 years, and has won several awards from the American Academy of Arts and Letters, a Guggenheim Fellowship and a Kennedy Center Friedheim Award. He continues to explore an ever-widening world of timbres befitting a complex, 21st-century culture, while always striving to make music that unites the head and heart, that is visceral, that gets us moving. More information at stevenmackey.com.
New World Symphony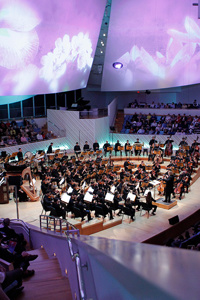 The New World Symphony, America's Orchestral Academy (NWS), prepares graduates of music programs for leadership roles in professional orchestras and ensembles. Since its co-founding 1987 by Artistic Director Michael Tilson Thomas and Lin and Ted Arison, NWS has helped launch the careers of more than 1,150 alumni worldwide. 
A laboratory for the way music is taught, presented and experienced, the New World Symphony consists of 87 young musicians who are granted fellowships lasting up to three years. The fellowship program offers in-depth exposure to traditional and modern repertoire, professional development training and personalized experiences working with leading guest conductors, soloists and visiting faculty. Relationships with these artists are extended through NWS's extensive distance learning via the internet.
NWS Fellows take advantage of the innovative performance facilities and state-of-the art practice and ensemble rooms of the Frank Gehry-designed New World Center, the campus of the New World Symphony and home of the Knight New Media Center.
In the hopes of joining NWS, more than 1,500 recent music school and conservatory graduates compete for about 35 available fellowships each year. The Fellows are selected for this highly competitive, prestigious opportunity based on their musical achievement and promise, as well as their passion for the future of classical music.