Events & Tickets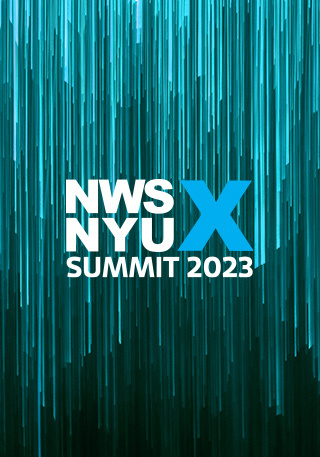 Special Event
NWS x NYU Summit 2023
Online Event
Monday, March 13 - Tuesday, March 14, 2023
1:00 - 4:45 PM EDT - via Zoom
Sponsored by:

We invite you to the first NWS x NYU Summit on March 13-14, 2023 as we envision the fearless future of orchestral musicians and their careers. 
Beginning in 2021, the NYU NEA Research Lab led by Dr. S. Alex Ruthmann, Dr. Bruce Carter and Dr. Tanya Kalmanovitch partnered with the New World Symphony (NWS) to research methods and practices of sustainable entrepreneurship and innovation in the classical music ecosystem in the United States.
Our partnership takes root in a field that's evolving in the context of a global pandemic. The initial study zooms in on the impact of current NWS Fellows participating in the NWS BLUE (Build, Learn, Understand and Experiment) program—but the implications reach far beyond.
This Summit is supported in part by the National Endowment for the Arts Research Labs program.
Join us in debating and discussing the real world challenges of supporting musicians in a rapidly changing world. Topics include:
The NYU NEA Research Lab's initial research findings on NWS BLUE
Beyond artistic excellence: Inventing, building and sustaining orchestral and classical music careers today
How funders can pilot change by building more meaningful partnerships with organizations and musicians
Emerging best practices in musician entrepreneurship training in the U.S.
Challenges and successes: How 30 years of NWS alumni are building and sustaining careers in today's uncertain landscape
Strategies for skill building across the lifespan: Supporting professional development from pre-career through late-in-life
Setting a multi-year research agenda and initiating a research network
The NWS x NYU Summit will provide extended opportunities for open discussion and dialogue as we build research partnerships for our future work.
This NEA Research Lab is supported in part by an award from the National Endowment for the Arts (Award#: 1879471-38-C-21) from its Research Labs program, specifically under their priority area on Arts, Entrepreneurship and Innovation. 
NWS BLUE is made possible with support from the Maxine and Stuart Frankel Foundation and NWS's Fund for New Ventures.
The opinions expressed in this material are those of the author(s) and do not represent the views of the National Endowment for the Arts. The National Endowment for the Arts does not guarantee the accuracy or completeness of the information included in this material and is not responsible for any consequence of its use.
DAY 1

 

 

 

 

3/13/2023 

1:00 - 1:45 PM ET 

Opening Plenary  

Introducing the NYU NEA Research Lab and New World Symphony (NWS) partnership: Understanding the tradition of innovation and leadership at NWS and evolution of the NWS BLUE (Build, Learn, Understand, Experiment) entrepreneurship program 

Cassidy Fitzpatrick Carlson, Howard Herring, Heather Osowiecki 

3/13/2023 

2:00 - 2:45 PM ET 

NWS Alumni Panel 

Conversations with NWS Alumni across 30 years of fellowship: building and sustaining careers in music 

New World Symphony Alumni: Nicole Abissi, Chava Appiah, Doyle Armbrust  

Moderator: Jarrett McCourt 

3/13/2023 

3:00 - 3:45 PM ET 

Donor/Patron Panel 

Open discussion with NWS donors sharing their perspectives on funding programs that support emerging professional musicians, and charting the future for sustainable careers in music 

Sarah Arison, Clive Chang, Howard Herring, Margy Steinberg   

Moderator: Bruce Carter 

3/13/2023 

4:00 - 4:45 PM ET 

Educating Musicians Across the Lifespan Panel 

 

Open conversation with educational leaders about the skills beyond artistic excellence that are needed for sustainable careers in music: when and how are these skills best taught?  

John-Morgan Bush, Darla Hanley, Stanford Thompson, Peter Witte 

Moderator: Alex Ruthmann 

DAY 2 

 

 

 

 

3/14/2023 

1:00 - 1:45 PM ET 

Entrepreneurial Leadership Career Programs Panel

Open conversation about  emerging best practices and challenges for leadership and entrepreneurship training programs in music: what role might research play in creating more effective programs? 

Alain Barker, Drew X. Coles, Tanya Maggi, Nathaniel Zeisler 

Moderator: Tanya Kalmanovitch 

3/14/2023 

2:00 - 2:45 PM ET 

Open Q&A: Fellow-led open discussion 

Current NWS Fellows share their perspectives on sustainable career preparation: barriers and opportunities 

Current NWS Fellows: Thea Humphries, Luis Salazar, Seth Van Embden 

Moderator: Tanya Kalmanovitch 

3/14/2023 

3:00 - 4:45 PM ET 

NWS BLUE Research Study Presentation and Creation of Research Network 

The NYU NEA Research Lab team presents highlights, key findings, and insights from their year-long research study of the BLUE program at the New World Symphony. Report followed by facilitated small group discussions to develop the broader research network and agenda necessary to answer ambitious research questions to better guide institutions and musicians charting sustainable careers of the future. 

Bruce Carter, Tanya Kalmanovitch, Alex Ruthmann 

3/14/2023 

7:00 - 8:00 PM ET 

NWS BLUE concert livestream 

NWS Fellow-led 

Ye Jin Min, project team leader