Events & Tickets
Special Event
Carnegie Hall's NYO2
New World Center
Saturday, July 30, 2022 at 7:30 PM
Program
Carnegie Hall's NYO2 makes its anticipated return to New World Center for an exclusive one-night-only event—the orchestra's only public performance before its finale at Carnegie Hall on August 1. 
Under the baton of conductor Mei-Ann Chen, the ensemble will open its concert with a performance of Jessie Montgomery's Soul Force. Its title drawn from Dr. Martin Luther King's "I Have a Dream" speech, the work blends elements of popular African-American musical styles, including big-band jazz, funk, hip-hop and R+B. Jazz pianist Aaron Diehl performs a new edition of George Gershwin's Concerto in F—a perfect fusion of classical, popular and jazz styles. Shortly after fleeing a war-ravaged Europe for America, Rachmaninoff composed his expansive Symphonic Dances. Sprinkling in influences from his new home, he included a nostalgic solo for saxophone and a lurching waltz before its ominous finale. This tour de force would be Rachmaninoff's final composition, himself claiming "it must have been my last spark."
NYO2's 2018 season and six-day residency in Miami marked the start of a new partnership between New World Symphony and Carnegie Hall, which has current and former NWS Fellows mentoring and performing side-by-side with participating NYO2 students from across the country, including many from South Florida.   
Comprising a "remarkable array of talent" (The New York Times), NYO2 is an orchestral training program for talented young players ages 14–17 with a focus on recruiting musicians from communities underrepresented in classical music. 
Click here for more information on NYO2.
NYO2 is a program of Carnegie Hall's Weill Music Institute.
Loading Concert Information
Program
Jessie Montgomery
(b. 1981)
Approx. Duration: 8 minutes

Soul Force for Orchestra (2015)

George Gershwin
(1898-1937)
Edited by Timothy D. Freeze
Approx. Duration: 30 minutes

Concerto in F major for Piano and Orchestra (1925)

Allegro  
Adagio – Andante con moto 
Allegro agitato 
Sergei Rachmaninoff
(1873-1943)
Approx. Duration: 35 minutes

Symphonic Dances, Op. 45 (1940)

Non allegro
Andante con moto (Tempo di valse)
Lento assai—Allegro vivace
Mei-Ann Chen, conductor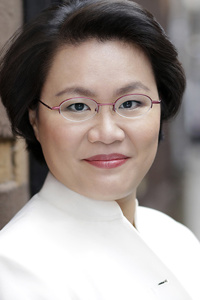 Innovation, imagination, passion and dynamism are the hallmarks of Taiwanese-American conductor Mei-Ann Chen. Music Director of the MacArthur Award-winning Chicago Sinfonietta since 2011, Ms. Chen is Austria's Recreation Grosses Orchester Graz Chief Conductor, a post she was named to in fall 2021 after two seasons as the orchestra's first-ever Principal Guest Conductor (making her the first female Asian conductor to hold this position with an Austrian orchestra). Ms. Chen also has served as Artistic Director & Conductor for the National Taiwan Symphony Orchestra Summer Festival 2016 - 2021 and as the first-ever Artistic Partner of Houston's ROCO (River Oaks Chamber Orchestra).  A sought-after guest conductor acclaimed for infusing orchestras with energy, enthusiasm, high-level music-making and galvanizing audiences and communities alike, Ms. Chen is known as a compelling communicator. She has appeared with distinguished orchestras throughout the Americas, Europe, Taiwan, the United Kingdom and Scandinavia, and continues to expand her relationships with orchestras worldwide (over 110 orchestras to date). Recent highlights include debuts with the New York Philharmonic, Austria's Tonkünstler in Vienna's Musikverein and engagements with Finland's Helsinki Philahrmonic, Ireland's Ulster Orchestra, Sweden's Norrlandsosper, Norwegian Radio Orchestra and Taiwan Philharmonic. Ms. Chen also served on the jury for the prestigious Malko Competition in 2021. Honors and awards include being named one of Musical America's 2015 Top 30 Influencers; 2012 Helen M. Thompson Award from the League of American Orchestras; winner, 2007 Taki Concordia Fellowship founded by Marin Alsop; 2005 First Prize Winner of the Malko Competition (first woman to win in the history of the competition) and ASCAP awards for innovative programming.
Aaron Diehl, piano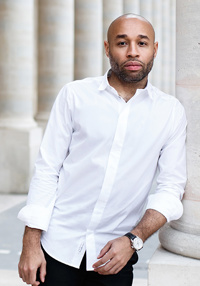 Pianist and composer Aaron Diehl mystifies listeners with his layered artistry. At once temporal and ethereal, his expression transforms the piano into an orchestral vessel in the spirit of beloved predecessors Ahmad Jamal, Erroll Garner and Jelly Roll Morton. Following three critically-acclaimed leader albums on Mack Avenue Records — and live appearances at historic venues from Jazz at Lincoln Center and The Village Vanguard to New York Philharmonic and the Philharmonie de Paris — the American Pianist Association's 2011 Cole Porter fellow now focuses his attention on what it means to be present within himself. His forthcoming solo record promises an expansion of that exploration in a setting at once unbound and intimate.
Mr. Diehl conjures three-dimensional expansion of melody, counterpoint and movement through time. Rather than choose one sound or another, he invites listeners into the chambered whole of his artistry. Born in Columbus, Ohio, he traveled to New York in 2003, following his success as a finalist in JALC's Essentially Ellington competition and a subsequent European tour with Wynton Marsalis. His love affair with rub and tension prompted a years-long immersion in distinctive repertoire from Monk and Ravel to Gershwin and William Grant Still. Among other towering figures, Still in particular inspires Mr. Diehl's ongoing curation of Black American composers in his own performance programming, unveiled this past fall at 92nd St. Y.
Mr. Diehl has enjoyed artistic associations with Wynton Marsalis, Benny Golson, Jimmy Heath, Buster Williams, Branford Marsalis, Wycliffe Gordon, Philip Glass and multi-Grammy Award-winning artist Cecile McLorin Salvant. He recently appeared with the New York Philharmonic and The Cleveland Orchestra as featured soloist.
Mr. Diehl holds a bachelor of music degree in jazz studies from The Juilliard School. A licensed pilot, when he's not at the studio or on the road, he's likely in the air. Follow both his earthbound and aerial exploits via Instagram at @aaronjdiehl.
2022 NYO2 Members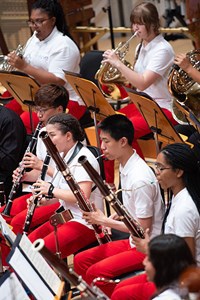 Violin
+ Robert Aguila, Miami, FL
Antonio Avilés Figueroa, Toa Baja, PR
Sarah Biesack, Melbourne, FL
+ Ayi Ekhaese, Sugar Land, TX
Kai Freeman, Haddonfield, NJ
Brandon Garza, San Antonio, TX
Loren Gigi, San Francisco, CA
+ Airi Ito, Elk Grove Village, IL
+ Kaitlyn Kaminuma, Chelmsford, MA
Lisa Kazami, Hoffman Estates, IL
Ashley Kim, Anchorage, AK
Christy Kim, Mason, OH
Hanah Kim, Harker Heights, TX
+ Jaden Minjae Kim, Irvine, CA
Kate Sunny Kim, Marietta, GA
Olivia Oh, Fort Lee, NJ
Jaehyun Park, Oakland Gardens, NY
Sean Qin, Short Hills, NJ
Angelina Santana-Herrera, Miami, FL
Sydney Schneider, Birmingham, AL
Krystal Sun, Closter, NJ
Virgilio Vázquez Vázquez, Guaynabo, PR
Kyle Yang, Diamond Bar, CA
Nicholas Yoo, Ramsey, NJ
Viola
◊ Branden Cabrera, Miami, FL
Ian Chen, Plano, TX
Luke D'Silva, Portland, OR
Cuewon Kim, Vestavia Hills, AL
Juhee Kim, Palisades Park, NJ
+ Michelle Koo, Palo Alto, CA
+ T'Yara Lesueur, San Diego, CA
+ Audrey Lim, Reno, NV
Spencer Quarles, Los Angeles, CA
John David Sharp II, Lowell, AR
Cello
+ Sophie Deng, Stillwater, OK
Huisun Hong, Pleasanton, CA
Natalie Kwok, Fullerton, CA
Celina Lim, Honolulu, HI
Carlos Morales, San Diego, CA
Daniel Yim, San Jose, CA
+ Daniel Yoon, San Jose, CA
Jiin Yun, Irvine, CA
Bass
+ Anderson Bernal, Potomac, MD
Ella Marchetti, Tampa, FL
Tendekai Mawokomatanda, Atlanta, GA
Eleanor Ohm, Bethesda, MD
Nathan Puopolo, Fresno, CA
Simon Vazquez-Carr, Durham, NC
+ Bianca Wilson, Annapolis, MD
Flute
Julin Cheung, Philadelphia, PA
Sadie Goodman, South Salem, NY
Parv Gosai, Ashburn, VA
Oboe
Zachary Allen, Skokie, IL
Alyson Goodwin, Hoover, AL
David Kwon, Diamond Bar, CA
Clarinet
Tiffany Chang, Ridgewood, NJ
Santiago Del Curto, Queens, NY
Barak Dosunmu, Moorestown, NJ
Alto Saxophone
Caden Helmer, Blue Springs, MO
Bassoon
Jackson Bernal, Potomac, MD
Adam Tang, Exeter, NH
Cassandra Valenti, Las Vegas, NV
Horn
Paxson Amy, Conway, AR
Neha Bharadwaj, Irving, TX
Seth Corlew, Jacksonville, FL
Hayden Joyce, Middlebury, IN
Ryan Mash, Durham, NC
Trumpet
Diogo Muggiati-Feldman, New York, NY
Mia Nardi, McKinney, TX
Rafael E. Rodriguez Matos, Bayamón, PR
Jack Shimon, Colorado Springs, CO
Trombone
Edwin Osorio, Ann Arbor, MI
TJ Shistle, Jacksonville, FL
Bass Trombone
Calleigh Riordan, Dyer, IN
Tuba
Michael Toben, Sioux City, IA
Timpani and Percussion
Charles "C.J." Butera, Missouri City, TX
Sophia Luong, Des Plaines, IL
+ Kevin Reyes Vega, Chicago, IL
Wanye Williams, Chicago, IL
Jonathan Yuen, Fremont, CA
Harp
Sophia Jho, Pittsburgh, PA
+ Prior NYO2 member
◊ Member of NWS's 2021 Side-by-Side Ensemble
NWS Fellows and Alumni - 2022 NYO2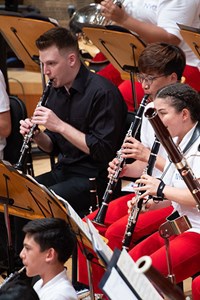 Violin
Sophia Bernitz
Luis Salazar
Viola
Peter Ayuso
Cello
Vivian Chang
Bass
Eric Windmeier
Clarinet
Julianna Darby
Horn
Denise Tryon, Associate Professor of Horn, University of Cincinnati College-Conservatory of Music
Trumpet
Billy Hunter, Jr., Principal Trumpet, Metropolitan Opera Orchestra
Morgen Low
Tuba
Andrew Abel
Craig Knox, Principal Tuba, Pittsburgh Symphony
Percussion
Marc Damoulakis, Principal Percussion, The Cleveland Orchestra