Events & Tickets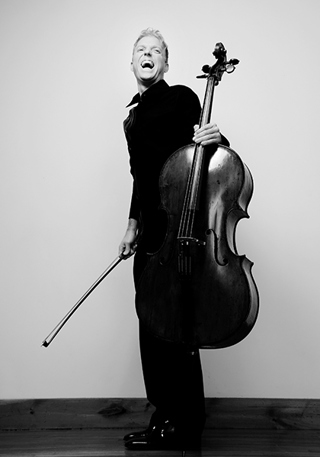 Chamber Music
PERCUSSION CONSORT: IT IS TIME
New World Center
Sunday, March 19 at 7:00 PM
Program
Join the Percussion Fellows as they musically examine pain, torment and the persistence of time. Tan Dun reflects on a 13th-century Chinese drama of injustice in his Elegy: Snow in June. Spotlighting the incredible Joseph Johnson, Principal Cellist of the Toronto Symphony, this series of haunting variations "sings of pity and purity, beauty and darkness, and is a lament for victims everywhere." Time is ticking away in Steven Mackey's explosive percussion quartet, where each performer gets his own mini-concerto on everything from a rocking drum set to spellbinding steel drums. Inspired by Latin drumming to bouncing balls, Mackey seeks to "speed, slow, weep, celebrate and mourn our perceptions of time."
Program
Tan Dun
(b. 1957)
Approx. Duration: 22 minutes

Elegy: Snow in June (1991)

Michael Linville, conductor
Joseph Johnson, cello
Michael Jarrett, Stephen Kehner
Daniel Morris, Erich Rieppel, percussion
Steven Mackey
(b. 1956)
Approx. Duration: 42 minutes

It is Time for Percussion Quartet (2010)

Metronome
Steel Drums
Marimba
Drums
Epilogue
Michael Jarrett, Stephen Kehner
Daniel Morris, Doug Perry, percussion
Tan Dun
Elegy: Snow in June (1991)

Approximate duration: 22 minutes
As a child in China's rural Hunan province, Tan Dun decided that he wanted to be a shaman. He went on to play violin in a Peking opera troupe, and he studied at top conservatories in Beijing and New York, but his compositions continually blurred lines between performance and ritual. "My religion is music," he once proclaimed; "It's the only belief in which I can embrace the beauty of all other cultures."
Tan composed Elegy: Snow in June in 1991, just five years after he arrived in New York. This early score for cello and four percussionists demonstrates the core qualities that have made its composer an international star: the mystical blend of Eastern and Western aesthetics, the fanciful diversity of sounds, and the storyteller's knack for drama and pacing that have also made Tan such a successful opera and film composer.
"The image of 'Snow in June'," Tan wrote in a program note, "comes from the 13th-century Chinese drama by Kuan Han-Ching; in it a young woman, Dou Eh, is executed for crimes she did not commit. Even nature cries out for her innocence: her blood does not fall to earth, but flies upward; a heavy snow falls in June; and a drought descends for three years." The composition is structured as a set of free variations, without a specific correspondence to the story, but like the original fable this elegy "sings of pity and purity, beauty and darkness, and is a lament for victims everywhere."
Tan's experience playing violin in traditional Chinese music seeps into the cello part, as in the long, loping slides between pitches. In the percussion arsenal, besides typical pitched and non-pitched instruments, the four players introduce unconventional sound sources like rocks struck together and paper being torn. Other familiar sounds, like the whistles a referee might use, take on new meaning within a brutal, pounding melee. One of Tan's early inspirations was John Cage, and it is clear from Snow in June how much Tan gleaned from the man who pioneered the art of "found" percussion instruments and who reframed the classical concert hall as ritual space.
Additional Resources
Video of live performance
Information and online score from publisher G. Schirmer
Profile of Tan by music journalist Frank Oteri
Steven Mackey
It is Time for Percussion Quartet (2010)

Approximate duration: 42 minutes
Steven Mackey grew up in northern California playing guitar in rock bands. He shelved his guitar for a decade when his focus shifted to composition, but his true voice really emerged when he began to incorporate the sound and energy of rock music into his concert scores, many of which have incorporated prominent guitar or percussion components.
When the group Sō Percussion premiered Mackey's It Is Time at Carnegie Hall in 2010, it was the culmination of a year-and-a-half of close collaboration. As Mackey wrote in a program note, "It Is Time marshals the virtuosity of the individual members of Sō Percussion to speed, slow, warp, celebrate and mourn our perceptions of time. Each of the four sections of the piece is a mini-concerto for one of the players."
Mackey's initial inspiration came from his young son, and from his own experience of being an "older father" (in his 50s). "I felt," he wrote, "for the first time in my life, saddened by the immutability of time and the finite limits to how much of It I will be able to spend with my young family. It Is Time fantasizes that we might have agency with respect to time."
Mackey's collaborative process for the piece began with asking the members of Sō which instruments they each wanted to feature. Eric Beach recalled, "I still have the list of instruments that I suggested to Steve. For each one I wrote a little description and recorded myself playing it for about a minute. He used almost all of them: glass bottle, china cymbal/hi hat, Estey children's organ, frame drum, metronome, Noah bells and small bells." These instruments are featured in the opening movement, "Metronome," which begins with the steady click of a wind-up metronome and the more disorienting polyrhythms struck by performers, ironically, on the body of a metronome.
The second movement, "Steel Drums," focuses on a favorite instrument of Sō member Josh Quillen. Mackey's treatment of this traditional Calypso instrument from Trinidad and Tobago, which he had never written for before, required especially close collaboration. "Along the way," Quillen wrote, "I expected to have to tell Steve that things needed to be re-written so they would flow better, but his thoughtful obsession about what he was writing kept me from having to do that. He had diagrams of my instruments at home so he could slowly 'play' every note he was writing. If he could play it slow, then in his mind, I could play it fast. Well, it worked! It kicked me in the pants, but it worked."
Mackey explained that an excerpt from the poem "Time is Time" by the African poet Isaac Maliya inspired a recurring motive heard at the start of the second movement. "The first stanza—'Time sits / Time stands / Time is time'—suggested a terse melody that became a dominant lyrical element in the piece," Mackey wrote. "It is first unveiled in the "Steel Drums" movement but shards of it permeate much of the music."
For certain passages, Mackey required one of the pans to be tuned a quarter-tone sharp, creating a fantastical, microtonal spectrum unlike anything ever heard in the steel drum repertoire.
Featuring the chosen instrument of Adam Sliwinski, the third movement, "Marimba," plays most directly to the "immutability of time" and the accompanying sadness Mackey wrote of. As Sliwinski recounted, "By the time Eric's and Josh's movement were sketched out, Steve realized that the piece was taking on epic proportions, and its story was turning darker. The first time he told me where the marimba movement was going, it was by way of apology. His meditation on the concept of time had lead him to a more melancholic place, where exhilaration at the thought of controlling and harnessing time also revealed its indifference and inevitability."
"I was thrilled that Steve would throw this kind of challenge at himself in a percussion piece," Sliwinski continued. "To be honest, my favorite moments in Sō's work happen when a composer finds these spaces for introspection: sometimes elegiac, often conflicted. Each one seems to take the creator by surprise." The conflict here plays out in the disconnect between the supple, resonant tone of the marimba and the cold, uncompromising clicking of egg timers, wind-up toys and the fascinating "Newton's cradle," that row of suspended metal balls knocking back and forth in a steady pendulum action.
In fourth movement, "Drums," written to feature Jason Treuting on drum set, Mackey was not just working with a sound palette he had known since his first garage bands; he was composing for a longtime improvisation partner and the drummer of his own band, Big Farm. "In the many improvisations and little pieces Steve and I made together," Treuting wrote, "we often explored the limits of how malleable groove can be, especially in duo situations. But in the case of a quartet, where a larger group is tasked with bending and warping together, a common reference is needed."
One reference source becomes the metronome click that was the bedrock of the first movement, except here the stand on which it rests is tilted, such that the mechanical action produces a warped, uneven pulse.
A short epilogue reunites steel drums, marimba and drum set in a subdued groove that supports an otherworldly melody bowed on a musical saw. The relationship to time remains unresolved as the last metallic vibrations decay to silence.
Additional Resources
The members of Sō Percussion each wrote an essay on their collaboration with Steven Mackey, describing the process for each movement in detail: Part I; Part II; Part III; Part IV. 
Video of live performance by Sō Percussion, showing video and staging elements by Mark DeChiazza that add another layer to the work's meaning.
-- Copyright © 2017 Aaron Grad
Aaron Grad is a composer, guitarist and writer based in Seattle. Besides providing program notes for the New World Symphony, he has been the Orpheus Chamber Orchestra's program annotator since 2005 and also contributes notes to the Saint Paul Chamber Orchestra and Seattle Symphony.
Audio clips provided by Naxos of America, Inc. 
Michael Linville, conductor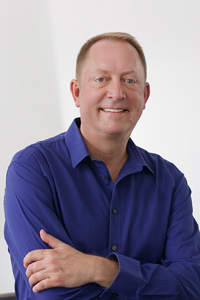 Michael Linville enjoys a varied career as pianist, percussionist, harpist, conductor, educator and arranger. The Dean of Chamber Music and Fellow Development at the New World Symphony, Mr. Linville programs and coaches much of its extensive non-orchestral performance activities. Additionally, he is the conductor and coordinator of the New World Percussion Consort and acts as curator of MUSAIC, the New World Symphony's website of educational videos featuring outstanding artists and educators in classical music.
Mr. Linville first came to the New World Symphony in 1993 as its Piano Fellow. In 1997 he was invited to join the Symphony's administrative staff and has served in several capacities, including Director of Admissions and Dean of Musicians. As a performer, Mr. Linville has appeared with NWS, the symphonies of San Francisco and Honolulu, the Florida Orchestra and the former Florida Philharmonic. Since 1993 he has been a member of the Breckenridge Music Festival in Colorado, performing concerts as pianist, percussionist and conductor during the summer season and in chamber music and educational projects during the winter. In 2016 he was named an Artistic Partner of the Festival, co-curating its chamber music series with violinist Kate Hatmaker.
Joseph Johnson, cello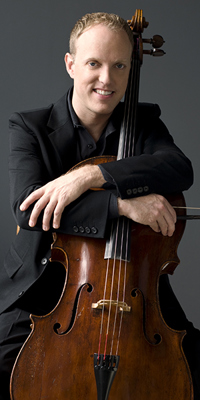 Joseph Johnson has been heard throughout the world as a soloist, chamber musician and educator. His festival appearances include performances in all classical genres at the American festivals of Santa Fe, Bach Dancing and Dynamite Society, Bard, Cactus Pear, Grand Teton and Music in the Vineyards as well as the Pacific Music Festival in Sapporo, Japan and the Virtuosi Festival in Brazil.
Highlights of Mr. Johnson's 2016-17 season include concerto performances of the Schumann Cello Concerto with the Toronto Symphony and the North American premiere of Marc-André Dalbavie's Cello Concerto with the Esprit Orchestra in November. Other solo appearances include Tan Dun's Elegy: Snow in June with the New World Symphony, Brahms' Double Concerto in Toronto with the North York Concert Orchestra and the Dvořák Concerto at the Lakes Area Festival in August. Mr. Johnson just made his Edmonton Symphony solo debut with a performance of the Brahms Double Concerto, as well as Miguel del Aguila's Concierto en Tango, of which Mr. Johnson performed the Canadian premiere with the Toronto Symphony. Recital appearances this year include performances at the Faculty of Music Walter Hall series at the University of Toronto, the Chatter series in Albuquerque, Placitas Artist Series, Santa Fe Chamber Music Festival, Music in the Vineyards in Napa, Toronto Summer Music Program, Mountain View Music in Calgary, Noon Concert series at the Canadian Opera Company and the Chamber Players series in Toronto. Mr. Johnson recently celebrated the release of his album with pianist Victor Asuncion featuring the Rachmaninoff and Shostakovich sonatas. He also completed a special recording project with the G. Schirmer Instrumental Library: The Cello Collection. Published in three volumes by Hal Leonard and featuring companion recordings by Mr. Johnson, this project presents cello literature appropriate for recitals and contests, and is available online and from major music retailers worldwide.
In 2012 Mr. Johnson performed the North American premiere of the Cello Concerto Grosso by Peter Eötvös with the Toronto Symphony, a co-commission with the Berlin Philharmonic. He recently performed Don Quixote with Sir Andrew Davis and the Toronto Symphony, as well as with Victor Yampolsky and the Northwestern University Symphony; performed the Barber Cello Concerto with the Cincinnati Chamber Orchestra; and performed multiple concerts in the summer of 2016 at the Santa Fe Chamber Music Festival. Mr. Johnson is a founding member of the XIA Quartet.
Principal cellist of the Toronto Symphony since the 2009-10 season, Mr. Johnson previously held the same position with the Milwaukee Symphony. He also serves as principal cellist of the Santa Fe Opera, and during the 2008-09 season, was acting principal cellist of the Honolulu Symphony. Prior to his Milwaukee appointment, Mr. Johnson was a member of the Minnesota Orchestra cello section for 11 years, during which time he performed numerous chamber music works during the orchestra's Sommerfest, both as cellist and pianist. He was a founding member of both the Prospect Park Players and the Minneapolis Quartet, the latter of which was honored with The McKnight Foundation Award in 2005.
A gifted and inspiring teacher, Mr. Johnson is Assistant Professor of Cello at the University of Toronto, as well as the cello coach for the Toronto Youth Symphony.  He has conducted numerous master classes for a wide range of institutions and ensembles, including the New World Symphony, Shepherd School of Music at Rice University, Eastman School of Music, Manhattan School of Music, Northwestern University and the youth orchestras of the Milwaukee, Minneapolis, Chicago and Toronto symphonies, as well as at The Glenn Gould School of The Royal Conservatory of Music in Toronto.
A graduate of the Eastman School of Music, Mr. Johnson earned his master's degree from Northwestern University. Awards and honors include a performer's certificate from the Eastman School of Music and first prize from the American String Teachers Association National Solo Competition.
Mr. Johnson performs on a magnificent cello by Paolo Castillo, made in Genoa in 1780. He uses Jarger Superior brand strings.