Events & Tickets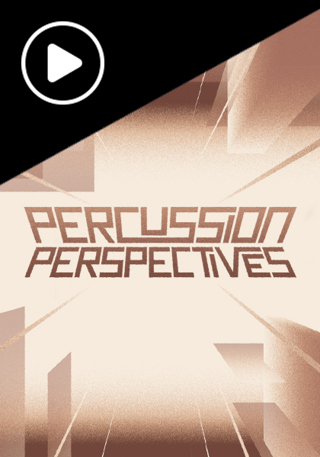 Special Event
Percussion Perspectives: Global Beats
Online Event
Saturday, April 24, 2021 at 7:30 PM ET
Program
Sponsored by:


NWS concludes its exploration of the world of percussion with this special performance featuring tabla master Zakir Hussain performing the world premiere of his own work. NWS alumnus Alex Orfaly's Danzón Luna will also receive its world premiere. This performance is part of NWS's season-long festival Percussion Perspectives.
Zakir Hussain's performance is sponsored in part by a gift from The Tandon Family Foundation.
NWS thanks its 2020-21 donors.
Program
Lou Harrison
(1917-2003)
Approx. Duration: 16 minutes

Charlie Rosmarin, Nathan Coffman,
Marcelina Suchocka, Kevin Ritenauer, percussion
Alex Orfaly
(b. 1974)
Approx. Duration: 8 minutes

Danzón Luna (2021; world premiere of NWS commission)

Matthew Kibort, timpani
Charlie Rosmarin, Kevin Ritenauer, 
Marcelina Suchocka, Nathan Coffman,
Michael Linville, percussion
Eric Windmeier, bass; Phoebe Powell, harp
Thomas Steigerwald, piano
Steve Reich
(b. 1936)
Approx. Duration: 17 minutes

Drumming, Part I for Four Percussion (1970-71)

Kevin Ritenauer, Charlie Rosmarin,
Marcelina Suchocka, Hannah Gallamore, percussion
Zakir Hussain
(b. 1951)
Arranged by Neelamjit Dhillon
Approx. Duration: 14 minutes

Chalan No. 1 in D (2021; world premiere of NWS commission)

Zakir Hussain, tabla
Kevin Ritenauer, Charlie Rosmarin,
Marcelina Suchocka, Matthew Kibort
Nathan Coffman, percussion
Lou Harrison
Fifth Simfony (1939)

Approximate duration: 16 minutes
The modern history of the percussion ensemble centers on the confluence of three maverick composers from the West Coast. The elder statesman was Henry Cowell, who wrote pioneering works for percussion while he was incarcerated in California's San Quentin State Prison. His two chief disciples were John Cage and Lou Harrison, who mounted groundbreaking percussion concerts in Seattle, where Cage worked as a rehearsal pianist for dance classes, and San Francisco, where Harrison lived.
In one of his first works for percussion ensemble, completed as a 21-year-old in 1939, Harrison chose the somewhat subversive title Fifth Simfony. The fact that he labeled it his "fifth" even though he had completed no prior symphony (or "simfony") must be seen as Harrison thumbing his nose at Beethoven's most iconic composition. Harrison and company were consciously turning away from the hierarchical system of musical interplay that Beethoven epitomized, leaning instead into an Asian sensibility that was less attached to forcing sounds into fixed relationships, or even recognizable pitches. In that sense, Harrison's "simfony"—using a bastardized spelling of his own invention—was honoring the idea of a symphony in its most literal and basic sense, as derived from Greek words that mean "sounding together."
Harrison's three movements have a crisp and recognizable architecture, following the old fast-slow-fast pattern of the Italian sinfonia (overture) that predated the mature symphony. There is no doubt that the four percussionists are sounding together in meaningful ways, even in the complete absence of identifiable pitches, and this proof-of-concept helped to establish the percussion ensemble as a viable and permanent addition to the concert music landscape.
Alex Orfaly
Danzón Luna (2021; world premiere of NWS commission)

Approximate duration: 8 minutes
Alex Orfaly, a Bay Area based percussionist and composer, has an active performance career, having played with numerous Bay Area orchestras in recent years including the San Francisco Symphony. An alumnus of the New World Symphony (NWS), he served as Timpani Fellow from 2002 to 2006. He has performed with orchestras worldwide, including the Tuscon Symphony, The Cleveland Orchestra, Los Angeles Philharmonic, Palau de Les Arts in Spain, and currently serves as Principal Timpanist for the Sun Valley Symphony in Idaho, where he has played since 2007. As a composer, Mr. Orfaly has a growing body of pieces to his credit, many featuring percussion. His Concerto for Brass and Percussion was premiered by NWS in 2004 and in 2012 NWS also commissioned his Divertissement No. 2, a kind of miniature concerto for timpani (playing an impressive 15 kettledrums) accompanied by brass and wind ensemble, along with a wide array of percussion instruments. Mr. Orfaly's most ambitious piece to date might be his dramatic 2017 work Breaking Light for Five Percussionists and Orchestra, written for the Sun Valley Symphony, which involves many dozens of percussion instruments ranging from Chinese gongs to Taiko drums to an empty propane tank.
Mr. Orfaly composed Danzón Luna for the New World Symphony specifically to feature its current Timpani Fellow, Matthew Kibort, occupying Mr. Orfaly's old position with the Symphony. In discussions about the commission, NWS Artistic Director Michael Tilson Thomas suggested a piece with a Latin flavor to it, and Mr. Orfaly explains,
When he said "Latin" two things popped into my head: a Latin percussion section of Guiro, Maracas, Claves and Bongos and, the open string tuning of a guitar, which lead me to want to include a harp in the piece. After that I wanted to create a Latin-inspired ensemble so the piano, vibes and bass all seemed to fit very naturally.
The title of the piece has a double meaning. In literal translation, the title suggests a Moon Dance. But Mr. Orfaly also has composed the piece as a tribute to his beloved black standard poodle named Luna, who passed away last year. The animated spirit of the music evokes Luna's fun-loving nature, which Mr. Orfaly also captured in an earlier work, his 2011 The Mean Man's March, based on the human and canine social complexities of the dog park.
A sustained and mysterious introduction ending with a rising chain of perfect fourths leads to the first rhythmic groove of Danzón Luna, beginning with a kind of modified clave rhythm given by the piano. Mr. Orfaly has the pianist mute the strings inside the piano for greater percussive effect. The Latin percussion instruments are layered on top of this ostinato, joined by a quick moving pentatonic pattern in the timpani. The timpani eventually picks up the syncopated rhythm of the piano introducing a jagged rising melody that is irresistibly catchy and will form the basis for the rest of the piece. After a metrically dynamic duet passage with the bongos and timpani, the texture begins to gradually build until a sudden drop exposing an unusual harp trill that sets the tone for a contrasting groove. Mr. Orfaly establishes yet another groove when the meter shifts from 4/4 to 3/4 in the most texturally dense section of the piece. Another sudden drop has the bongos and other Latin instruments lead the timpani towards its brief cadenza, based on the earlier metrically shifting passage. The final portion of the piece, marked "Jubilant," brings back all of the main material of the piece in a culminating splash.
Danzón Luna's composer profile and program note provided by Alex Orflay.
Steve Reich
Drumming, Part I for Four Percussion (1970-71)

Approximate duration: 17 minutes
While supporting himself as a taxi driver in San Francisco in the 1960s, Steve Reich experimented with compositional techniques based on tape loops and repetitive cycles, helping to give rise to a transformative new style that has been dubbed "minimalism." After a landmark series of tape pieces, he created one of his first significant works for acoustic instruments, Piano Phase, in which two pianists play repeating patterns that gradually fall out of sync with each other.
Following a life-changing visit to Ghana, Reich's experiments with phasing culminated in Drumming from 1970-71, a work of unprecedented scope that foreshadowed his large ensemble masterpieces from later in the decade, including Music for 18 Musicians. In Part I, a single measure of rhythmic material provides all the raw material needed to elaborate a continuous structure for four pairs of tuned bongos that can stretch to 20 minutes. As the players slip into different rhythmic alignments, the tonal differences between the high and low bongos create the perception of a shape-shifting melody that disintegrates and re-emerges time and again.
Zakir Hussain
Chalan No. 1 in D (2021; world premiere of NWS commission)

Approximate duration: 14 minutes
Chalan is a term in Indian music used to describe the improvised development of the characteristics of both a raag and a rhythm cycle. It also points to the salient feature (or face) of a raag known as pakkad. Every raag has a few landmark phrases with which the audience is familiar and, when arranged in the right order with improvisations spaced in between, the artist is able to draw the face of a raag. This process in a nutshell is known as chalan.
In the Indian rhythm repertoire, a tabla player sparsely uses some familiar patterns to draw a grid of a chosen rhythm cycle with a point identified from where the artist would slide right back into the grid. This said improvisation could be of one round of the rhythm cycle or as many as the performer chooses at the time, thus laying down a course to traverse through spontaneously. The length of the improvisation is similar to that of a jazz soloist taking one round around the course (changes) or as many as appropriate at that time. In this process, there is similarity between Indian music and Jazz.
Chalan No. 1 in D is laid out in the rhythm cycle (taal) of 16 beats; the name of this rhythm cycle is teentaal.  In a solo rhythm performance in the Indian system, there is usually either sarangi (bowed) or harmonium used as instrumental accompaniment, known as nagma or lehra. The instrumental musician plays a composed melody of the same length as the rhythm cycle (taal) metronomically (like a bass line), keeping time for the tabla player and the audience. This is being performed here by the mallets; they also at points melodically amplify the patterns, thus signaling the arrival of the downbeat (the sum, first beat of the cycle).
The rest of the ensemble, after establishing the cycle with theka (the signature rhythm melody of 16) and reciting it for the benefit of the audience, uses various components of tabla repertoire like peshkar, to lay down the grid, and kaida (pre-composed theme) on which to improvise. They follow this up with gat and paran (fixed compositions).  The tradition is to first recite these compositions to highlight their poetic beauty and grammar and then perform them, as the ensemble does here. Tihai (a phrase repeated three or nine times with or without space in between each repetition) is a frequently occurring feature used to arrive at the first beat of the cycle (the sum).  The ensemble, after establishing the theka and peshkar theme then introduces various tihai's before moving on to a kaida.
                – Zakir Hussain
-- © 2021 Aaron Grad
Aaron Grad is a composer, guitarist and writer based in Seattle. Besides providing program notes for the New World Symphony, he has been the Orpheus Chamber Orchestra's program annotator since 2005 and also contributes notes to the Saint Paul Chamber Orchestra and Seattle Symphony.
Michael Linville, conductor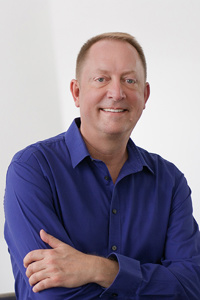 Michael Linville enjoys a varied career as pianist, percussionist, harpist, conductor, educator and arranger. The Dean of Chamber Music and Fellow Development at the New World Symphony, Mr. Linville programs and coaches much of its extensive non-orchestral performance activities. Additionally, he is the conductor and coordinator of the New World Percussion Consort and acts as curator of MUSAIC, the New World Symphony's website of educational videos featuring outstanding artists and educators in classical music.
Mr. Linville first came to the New World Symphony in 1993 as its Piano Fellow. In 1997 he was invited to join the Symphony's administrative staff and has served in several capacities, including Director of Admissions and Dean of Musicians. As a performer, Mr. Linville has appeared with NWS, the symphonies of San Francisco and Honolulu, the Florida Orchestra and the former Florida Philharmonic. Since 1993 he has been a member of the Breckenridge Music Festival in Colorado, performing concerts as pianist, percussionist and conductor during the summer season and in chamber music and educational projects during the winter. In 2016 he was named an Artistic Partner of the Festival, co-curating its chamber music series with violinist Kate Hatmaker.
Zakir Hussain, tabla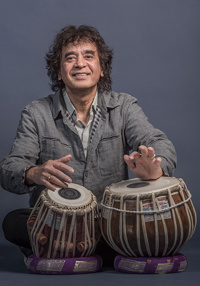 The pre-eminent classical tabla virtuoso of our time, Zakir Hussain is appreciated both in the field of percussion and in the music world at large as an international phenomenon and one of the world's most esteemed and influential musicians. The foremost disciple of his father, the legendary Ustad Allarakha, Mr. Hussain was a child prodigy who began his professional career at the age of 12, accompanying India's greatest classical musicians and dancers and touring internationally with great success by the age of 18. His brilliant accompaniment, solo performance and genre-defying collaborations, including his pioneering work to develop a dialogue between North and South Indian musicians, have elevated the status of his instrument both in India and globally—work begun a generation earlier by his father—bringing the tabla into a new dimension of renown and appreciation.
Widely considered a chief architect of the contemporary world music movement, Mr. Hussain's contribution has been unique, with many historic and groundbreaking collaborations, including Shakti, Remember Shakti, Masters of Percussion, Planet Drum and Global Drum Project with Mickey Hart; Tabla Beat Science, Sangam with Charles Lloyd and Eric Harland; CrossCurrents with Dave Holland and Chris Potter; in trio with Béla Fleck and Edgar Meyer and in quartet with Herbie Hancock.
As a composer, Mr. Hussain has scored music for numerous feature films, major events and productions. He has composed three concertos, and his third, the first-ever concerto for tabla and orchestra, was premiered in India in 2015 by the Symphony Orchestra of India, premiered in Europe and the U.K. in 2016 and in the U.S. in 2017 by the National Symphony at the Kennedy Center. A Grammy Award winner, Mr. Hussain is the recipient of countless awards and honors, including Padma Bhushan, Sangeet Natak Akademi Award, the U.S.'s National Heritage Fellowship and Officier in France's Order of Arts and Letters. Voted "Best Percussionist" by both the Downbeat Critics' Poll and Modern Drummer's Reader's Poll over several years including 2020, he was honored in 2018 by the Montreal Jazz Festival with their Antonio Carlos Jobim Award. In 2019 he was named a Sangeet Natak Akademi Fellow and received two honorary doctorates, one from Berklee College of Music and the other from Indira Kala Sangit University in Khairagarh, India.
As an educator, Mr. Hussain conducts many workshops and lectures each year, has been in residence at Princeton University and Stanford University, and, in 2015, was appointed Regents Lecturer at University of California, Berkeley. His yearly workshop in the San Francisco Bay Area, conducted for the past 30 years, has become a widely anticipated event for performers and serious students of tabla. He is the founder and president of Moment Records, an independent record label presenting rare live recordings of Indian classical music and world music. He was resident artistic director at SFJAZZ from 2013 until 2016, and was honored with SFJAZZ's Lifetime Achievement Award in 2017, in recognition of his "unparalleled contribution to the world of music."
Matthew Kibort, Timpani Fellow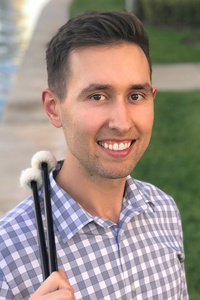 Matthew Kibort is a second-year Timpani Fellow at the New World Symphony. He is also the Principal Timpanist of the Glimmerglass Festival Orchestra. Prior moving to Miami Beach, Mr. Kibort worked in Chicago, his hometown, as an active performer and educator. While there, he was a regular substitute timpanist with the Lyric Opera of Chicago and previously held the position of Principal Timpanist with the Civic Orchestra of Chicago.
Mr. Kibort has also performed with the Milwaukee Symphony and Grand Rapids Symphony. During the summers, he has been the timpani fellow with the National Repertory Orchestra and a percussion fellow at the Texas Music Festival. He has also been a guest timpanist with the South Bend Symphony, Rockford Symphony and Southwest Michigan Symphony.
As an educator, Mr. Kibort taught private lessons in Chicago and has taught at the New Music School, People's Music School, Merit School of Music, and was a percussion ensemble instructor at Amos Alonzo Stagg High School in Illinois.
Mr. Kibort has received his bachelor of music degree from Roosevelt University, where he studied with Vadim Karpinos and Edward Harrison. He has also studied at DePaul University with NWS alumni David Herbert and Eric Millstein.