Events & Tickets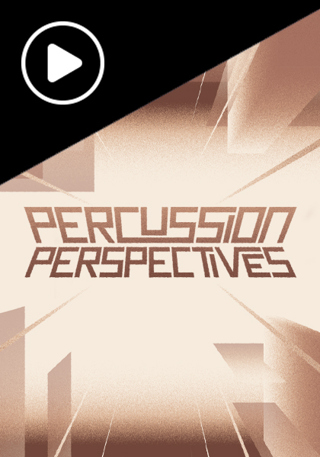 Online Event
Percussion Perspectives: Latin Grooves
Online Event
Saturday, April 10, 2021 at 7:30 PM ET
Program
Sponsored by:


NWS continues its exploration of the world of percussion with this special performance featuring Latin composers and traditions. 
Program
Ileana Perez Velázquez
(b. 1964)
Approx. Duration: 12 minutes

Un ser encantado, aguas saladas, y piedras infinitas (1996)

Sobre un ser encantado
Sobre aguas saladas
Tiempo de catedrales y piedras infinitas
Llamado a los cuatro vientos
Michael Linville, conductor
Kevin Ritenauer, Charlie Rosmarin, percussion
Wesley Ducote, Thomas Steigerwald, piano
Étienne Perruchon
(1958-2019)
Approx. Duration: 8 minutes

Cinq Danses Dogoriennes (2005)

Amy Sunyoung Lee, cello
Matthew Kibort, timpani
Claudia Calderón
(b. 1959)
Approx. Duration: 16 minutes

Albores for Four Percussion (1999)

Magmas
Variaciones Sobre El Como Maya
Prismas
Rajesh Prasad*, Kevin Ritenauer, Charlie Rosmarin, Marcelina Suchocka, percussion
Ney Rosauro
(b. 1952)
Approx. Duration: 7 minutes

Mitos Brasileiros for Percussion Quartet (c. 1990)

III. Saci Pererê
V. Mula sem Cabeça
Rajesh Prasad*, Kevin Ritenauer, Charlie Rosmarin, Marcelina Suchocka, percussion

* NWS alumnus
Ileana Perez Velázquez
Un ser 

encantado

, 

aguas

 

sal

a

das

, y 

piedras

 

infinitas

(1996)

Approximate duration: 12 minutes
After winning national prizes for student compositions, Ileana Perez Velázquez left her native Cuba to continue her education in the United States. She followed a master's degree in electroacoustic music from Dartmouth College with a doctorate of musical arts from Indiana University, during which time she wrote this chamber music score. She has taught composition since 2000 at Williams College, and her extensive chamber music catalog has been performed throughout the Americas.
Un ser encantado, aguas saladas y piedras infinitas (An enchanted being, salty waters, and infinite stones) adopts the same scoring found in Bartók's seminal Sonata for Two Pianos and Percussion. The enduring popularity of that unconventional work has made it into a staple of new music, with composers of successive generations finding new possibilities in the marriage of two percussionists and two pianos—which are in a sense percussion instruments themselves, with the keys activating felt hammers to hit the strings.
As Velázquez explained in a program note, "The first movement, Sobre un ser encantado (About an Enchanted Being), has a lyrical character, which is interrupted by sudden percussive and syncopated patterns derived from Cuban urban popular music. The second movement, Sobre aguas saladas (About Salty Waters), refers to the movement of the ocean waves. The third movement, Tiempo de catedrales y piedras infinitas (Time of Cathedrals and Infinite Stones) has a melody with regular rhythmic values, which develops into increasingly dissonant chord streams. Their lyrical character thus becomes shaded by a metallic timbre conveyed by the selected percussion instruments. The last movement, Llamado a los cuatro vientos (Call to the Four Winds) has rhythmic patterns that evoke Cuban music."
Étienne Perruchon
Cinq 

Danses

 

Dogoriennes

(2005)

Approximate duration: 8 minutes
The French composer Étienne Perruchon will be remembered as the mouthpiece of a different country, Dogora—an imaginary nation in central Europe that he first conceived for a collaborative theater work in 1996. He went on to write a whole landscape of music in a range of formats to communicate the songs, dances and language of the made-up Dogorian people. In 2005 he arranged five of his dance tunes for the combination of cello and timpani (plus temple blocks), dedicating the score to his son, the timpani player for the Orchestre Philharmonique de Radio France. Part of the charm of this Dogorian world is how it skates on the edge of plausibility, with resemblances to Bulgaria's dizzying polyrhythms and Hungarian folk modes that conflict with typical major and minor scales, as heard in the first and last selections. In the mournful middle movement, a singing cello melody and throbbing timpani accompaniment show how these two instruments of the concert hall can convey an earthy, intimate sound that really does seem like it could have been heard in a faraway village.
Claudia Calderón
Albores for Four Percussion (1999)

Approximate duration: 16 minutes
Born in Colombia and now a longtime resident of Venezuela, the composer and pianist Claudia Calderón has specialized in exploring the folk traditions of those two neighboring countries, from the Caribbean coast up to some of the highest mountains in the Americas. One of her mentors during her time studying in Europe was György Sándor, the Hungarian pianist who trained under Béla Bartók and Zoltán Kodály, and her approach to ethnomusicology and original composition reflects the efforts those pioneers made to honor and internalize local art forms.
In her percussion quartet Albores (Dawn) from 1999, Calderón combines some of the most ancient indigenous instruments, like conch shells and wooden sticks (palitos), with the arsenal of modern concert percussion. As slaveholding countries, Venezuela and Colombia were meeting grounds for African and Caribbean sounds, like how the marímbula (a box with metal tines that fills a bass role) descended from the African mbira or thumb piano—sounds that intertwine in this score. For all the history behind the sounds and rhythmic patterns, Calderón combines and juxtaposes them in ways that are personal and original, sometimes creating composite textures that are almost jazzy in their rich harmonic blends, and other times evoking the trancelike repetitions of American minimalism, a style itself rooted in African percussion.
Ney Rosauro
Mitos Brasileiros for Percussion Quartet (c. 1990)

Approximate duration: 7 minutes
Ney Rosauro was a gigging guitarist in Brasília when he began his undergraduate studies in composing and conducting. He took up a number of new instruments during his time at school, eventually finding his way to percussion at the age of 24, and from that point on he dedicated himself to playing, teaching and writing for the full spectrum of percussion instruments. A scholarship allowed him to study in Germany, and he went on to receive a doctorate degree from the University of Miami, where he eventually became Director of Percussion Studies.
Rosauro composed Mitos Brasileiros (Brazilian Myths) for the Percussion Art Quartett in Würzburg, Germany, where he spent those pivotal years in the 1980s studying classical percussion. "The five movements depict different mythological beings from Brazilian folklore," he wrote in a program note starting with Curupira, "one of the most popular and fantastic inhabitants of the Brazilian jungle, represented by a dwarf with red hair and inverted feet, having his toes behind him." The fantastical movements, full of theatrical gestures and unconventional instruments, also encounter Iara ("a kind of Brazilian mermaid"), Saci Pererê (an impish trickster), Uirapuru ("the wonder of the forests and protector of the birds"), and finally Mula sem Cabeça (a headless mule, the form taken by "the priest's lover during a Friday night full moon").
-- © 2021 Aaron Grad
Aaron Grad is a composer, guitarist and writer based in Seattle. Besides providing program notes for the New World Symphony, he has been the Orpheus Chamber Orchestra's program annotator since 2005 and also contributes notes to the Saint Paul Chamber Orchestra and Seattle Symphony.
Michael Linville, conductor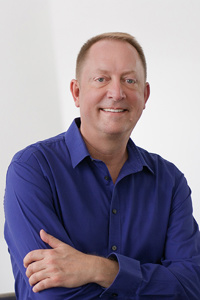 Michael Linville enjoys a varied career as pianist, percussionist, harpist, conductor, educator and arranger. The Dean of Chamber Music and Fellow Development at the New World Symphony, Mr. Linville programs and coaches much of its extensive non-orchestral performance activities. Additionally, he is the conductor and coordinator of the New World Percussion Consort and acts as curator of MUSAIC, the New World Symphony's website of educational videos featuring outstanding artists and educators in classical music.
Mr. Linville first came to the New World Symphony in 1993 as its Piano Fellow. In 1997 he was invited to join the Symphony's administrative staff and has served in several capacities, including Director of Admissions and Dean of Musicians. As a performer, Mr. Linville has appeared with NWS, the symphonies of San Francisco and Honolulu, the Florida Orchestra and the former Florida Philharmonic. Since 1993 he has been a member of the Breckenridge Music Festival in Colorado, performing concerts as pianist, percussionist and conductor during the summer season and in chamber music and educational projects during the winter. In 2016 he was named an Artistic Partner of the Festival, co-curating its chamber music series with violinist Kate Hatmaker.