Events & Tickets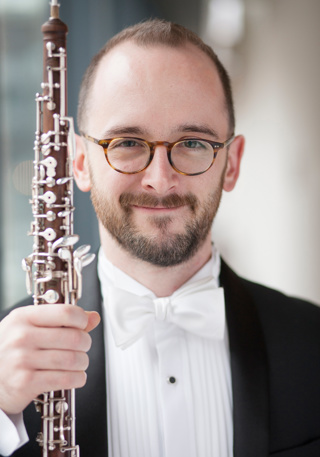 Free
PRE-SEASON BRASS AND WOODWIND ENSEMBLE CONCERT
New World Center
Friday, September 13 at 7:30 PM
Program
The New World Symphony's 32nd season begins with a luminous spotlight on our Brass and Woodwind Fellows. Heralding the fresh start is conductor and NWS alumnus Joseph Peters, who leads exuberant fanfares for brass by Giovanni Gabrieli. Woodwinds bring a playful air to the celebration with Charles Gounod's whimsical Petite symphonie. Brass and Percussion Fellows return to show us how to play it cool, mambo and dream of tomorrow with a vivacious suite from Leonard Bernstein's beloved West Side Story.  
Program
Giovanni Gabrieli
(1554-1612)
Arranged by Timothy Higgins
Approx. Duration: 20 minutes

Suite for Brass (c. 1590-1612)

Magnificat à 17
Canzon per sonar duodecimi toni
Benedicam dominum
Canzon per sonar septimi toni No. 1
Magnificat à 12
Canzon in echo duodecimi toni à 10
Charles Gounod
(1818-1893)
Approx. Duration: 20 minutes

Petite symphonie for Wind Instruments (1885)

Adagio et Allegretto
Andante cantabile
Scherzo
Finale
Leonard Bernstein
(1918-1990)
Arranged by Eric Crees
Approx. Duration: 20 minutes

Suite from West Side Story for Brass Ensemble (1957)

Prologue
Something's Coming
Mambo
Cha-Cha – Scherzo
America
Cool – Fugue
Somewhere
Giovanni Gabrieli
Suite for Brass (c. 1590-1612)

Approximate duration: 20 minutes
Starting in 1585, Giovanni Gabrieli directed music at St. Mark's Basilica in Venice, where his uncle Andrea had previously served as the organist. The large, reverberant cathedral, completed before the year 1100, posed particular acoustical challenges for composers because its two choir lofts faced each other from a distance far enough apart to make it nearly impossible to perform complex music in unison. Instead the local composers developed a strategy of writing in an antiphonal style, with two separate ensembles playing off each other. Gabrieli was a key figure in extending this antiphonal style beyond choir music to also include instrumental ensembles, and his efforts helped usher in the Baroque era and all its ornate forms of counterpoint.
In 1597 Gabrieli published Sacrae symphoniae, a groundbreaking collection of vocal and instrumental music, and a posthumous second volume followed in 1615. This performance features selections from both volumes, arranged for modern brass instruments by Timothy Higgins, Principal Trombone of the San Francisco Symphony.
The Magnificat à 17 was originally a vocal composition, written for four separate choruses; here the 17 individual parts are distributed among 4 trumpets, 3 flugelhorns (essentially bugles with valves, playing in the same range as trumpets but having a darker tone), 3 horns and 7 trombones. This arrangement of the Canzon per sonar duodecimi toni uses trumpets to render two florid solo parts, which probably would have been played by violins in Gabrieli's time. The smooth and lyrical Benedicam dominum was originally a sacred motet for two five-voice choirs. Next comes another of Gabrieli's antiphonal compositions for instruments, the Canzon per sonar septimi toni No. 1, followed by another choral transcription, the Magnificat à 12, based on the same Latin text as before but this time set for three choirs, each with four parts. The "echo" aspect speaks for itself in a final instrumental selection, the Canzon in echo duodecimi toni à 10.
Charles Gounod
Petite symphonie for Wind Instruments (1885)

Approximate duration: 20 minutes
Through his 12 operas, including an 1859 setting of Faust that remains a cornerstone of the repertoire, Charles-François Gounod modeled a path forward for French musicians that transcended the heavy influence of Germany and Richard Wagner. Gounod's efforts paved the way for the likes of Paul Taffanel, who spearheaded the influential "French school" of flute playing during his long career as a performer and teacher. One of Taffanel's projects was to found the Modern Society of Wind Instruments, putting a contemporary French spin on the type of small wind ensemble that Austrian aristocrats adored in Mozart's day. It was for this group that Gounod composed his final work for a small instrumental ensemble, the Petite symphonie from 1885.
Gounod's compact wind symphony borrows key traits from the Classical style of Haydn and Mozart, including a slow introduction that prefaces the airy Allegretto portion of the first movement. The slow movement, to be played "at a walking pace" and "songlike," recalls the singing Andantes perfected by Mozart. The flute is the star of this aria without words, but in true operatic fashion there are conversational asides that bring in other instrumental soloists.
With its jaunty rhythms and prominent horn calls, the Scherzo echoes Haydn's hunt-inspired romps, while the pure leaps and contrapuntal threads in the closing movement channel Mozart's symphonic finales, especially the radiant Symphony No. 41. As is so often true with Gounod, it all adds up to an authentic French sound, even if it is resting on the shoulders of his German-speaking predecessors.
Leonard Bernstein
Suite from West Side Story for Brass Ensemble (1957)

Approximate duration: 20 minutes
The idea for Leonard Bernstein's West Side Story first came from choreographer Jerome Robbins, who suggested making a contemporary adaptation of Shakespeare's Romeo and Juliet. The initial concept centered on Jews and Catholics on Manhattan's Lower East Side, and playwright Arthur Laurents drafted a scenario he called East Side Story. Later the Jews were recast as Puerto Ricans, and the setting shifted from Manhattan's Jewish tenements of the east to the Hispanic neighborhoods of the west. When Bernstein couldn't secure his preferred lyricists, the Broadway veterans Comden and Green, it cleared space for a promising new talent, the young Stephen Sondheim.
The jazzy licks and Latin dances of Bernstein's score have had a long life in the concert hall, ever since the composer worked with assistants to create the Symphonic Dances from West Side Story in 1961. In this instrumental Suite arranged by the British trombonist Eric Crees, brass and percussion play up the elements that Bernstein borrowed from that era's big bands, a sound reflected in the sizzling cross-rhythms of "Something's Coming" and the punchy brawl of "Mambo," capping a dance-off between the rival gangs. In "America," Bernstein exploited a rhythmic rub between groups of three beats and two beats, a staple of Afro-Caribbean dance music. This suite closes with the show's great ballad, "Somewhere," a hymn to the possibility of a happy ending.
-- © 2019 Aaron Grad
Aaron Grad is a composer, guitarist and writer based in Seattle. Besides providing program notes for the New World Symphony, he has been the Orpheus Chamber Orchestra's program annotator since 2005 and also contributes notes to the Saint Paul Chamber Orchestra and Seattle Symphony.
Joseph Peters, conductor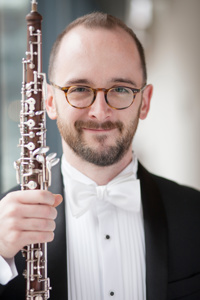 Joseph Peters, Associate Principal Oboe and English horn with the North Carolina Symphony, previously held Principal Oboe chairs with the Minnesota Orchestra and Buffalo Philharmonic Orchestra. He has performed as guest principal with the Baltimore Symphony and The Florida Orchestra, and has also played with the Saint Paul Chamber Orchestra, Marlboro Music Festival, Oregon Bach Festival, Lakes Area Music Festival, National Repertory Orchestra and National Orchestral Institute. For three years he was a Fellow of the New World Symphony.
Mr. Peters first played with the Minnesota Orchestra at age 18, performing Mozart's Oboe Concerto, and he has also appeared as a soloist with the Detroit Symphony, New World Symphony and Metropolitan Symphony, as well as the Greater Twin Cities Youth Symphonies, of which he is an alumnus.
Also active as a conductor, Mr. Peters conducts the Taneycomo Festival Orchestra in Branson, Missouri. He was music director of the SUNY Buffalo State Philharmonia Orchestra and the Saybrook College Orchestra of Yale University. He has led a variety of programs at the New World Symphony, including a collaboration with the Miami City Ballet, and he recently conducted a performance of Henze's Kammermusik 1958 at Marlboro Music Festival. His conducting mentors include Michael Tilson Thomas, James Patrick Miller and Toshiyuki Shimada.
Mr. Peters, who has long been committed to teaching, was the oboe and conducting instructor at the SoBe Institute of the Arts, and he conducted side-by-side concerts for New World Symphony's MusicLab program. An advocate of contemporary music, he premiered Aaron Jay Kernis' On Distant Shores with New York's RIOULT Dance Company, and he has been involved in numerous other premieres by composers including Jocelyn Hagen, Polina Nazaykinskaya and Samuel Carl Adams.
Mr. Peters received a bachelor's degree in music from the University of Minnesota and a master's degree in music from Yale University. His teachers include John Snow, Stephen Taylor, Julie Madura and Marilyn Zupnik.