Events & Tickets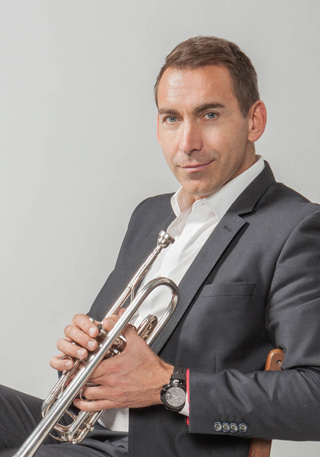 Free
PRE-SEASON BRASS ENSEMBLE CONCERT: OPENING FANFARE
New World Center
New and returning Brass Fellows take the stage to herald another fantastic year with fanfares, dances and a hint of jazz. Conductor Ian Bousfield, former Principal Trombone of the Vienna Philharmonic, leads the way with Principal Trumpet of the Montreal Symphony Paul Merkelo (NWS 1991-92), who shines in J.S. Bach's bright, virtuosic Concerto. Malcolm Arnold's Fanfare is a fitting start to the season, while Mark-Anthony Turnage's Set To is a jazz-inspired tour de force. Brass Fellows then transform into feuding families and star-crossed lovers for Sergei Prokofiev's take on a Shakespeare classic.
Tickets no longer available online.
Program
Malcolm Arnold
(1921-2006)
Approx. Duration: 2 minutes

Fanfare for a Festival (1955)

Mark-Anthony Turnage
(b. 1960)
Approx. Duration: 8 minutes

Set To for Brass Ensemble (1992-93)

Johann Sebastian Bach
(1685-1750)
Arranged by Fernand Ruelle
Approx. Duration: 9 minutes

Concerto in D major after Antonio Vivaldi Violin Concerto, BWV 972 (1713)

Sergei Prokofiev
(1891-1953)
Arranged by Andreas Tarkman
Approx. Duration: 41 minutes

Suite from Romeo and Juliet, Op. 64 (1938)

Arrival of the Guests
The Street Awakens
Morning Dance
Romeo at Friar Laurence's
Dance of the Girls with Lilies
Interlude
Juliet with the Nurse
Dance of the Knights
Juliet Takes the Potion
Mercutio
The Duel
Death of Tybalt
Death of Juliet
Malcolm Arnold
Fanfare for a Festival (1955)

Approximate duration: 2 minutes
In his late 20s Malcolm Arnold stepped away from his position as Principal Trumpet of the London Philharmonic Orchestra so he could concentrate on writing his own music. He went on to compose nine symphonies, more than 20
concertos and 132 film scores, including his Oscar-winning music for The Bridge on the River Kwai (1957).
Arnold's trumpet background served him well in the many fanfares, flourishes, marches, suites and other festive works he composed for brass, including the Fanfare for a Festival, composed in 1955 for the Hastings Festival in England. This short fanfare fulfills its ceremonial function with bright, noble bursts redolent of military music. It also manages in its two-minute span to develop one grand, heroic theme worthy of the silver screen.
Mark-Anthony Turnage
Set To for Brass Ensemble (1992-93)

Approximate duration: 8 minutes
The British composer Mark-Anthony Turnage has built a thriving international career out of his daring and inclusive approach to music. With the encouragement of Hans Werner Henze (a mentor he first encountered at the Tanglewood Festival in Massachusetts), Turnage presented his first opera, Greek, in 1988. Music for the theater has remained a specialty of his—including the 2010 opera Anna Nicole, based on the salacious life story of Anna Nicole Smith—while his many works for orchestras and smaller ensembles bring his distinctive attitude to the concert stage.
Turnage composed Set To for the London Brass to perform at the Aldeburgh Proms in 1993. He later declared that the "piece always felt as if it was bursting out at the seams," and indeed the eight minutes of music for a 10-piece brass ensemble seems impossibly saturated and resonant. Turnage eventually expanded it into a single-movement trombone concerto titled Another Set To, and then he went even bigger by incorporating it into three-movement concerto called Yet Another Set To. In the original form for brass ensemble, Set To shows off Turnage's embrace of bluesy licks and tight harmonies associated with "big band" jazz.
Johann Sebastian Bach
Concerto in D major after Antonio Vivaldi Violin Concerto, BWV 972 (1713)

Approximate duration: 9 minutes
Bach was a 26-year-old church organist in Weimar, Germany, when an Amsterdam publisher released a landmark collection: Vivaldi's L'estro armonico (The Harmonic Inspiration), a set of 12 concertos. Born in Venice just seven years before Bach, Antonio Vivaldi (1678-1741) mastered the solo concerto style that had become a specialty of northern Italy. He was not the first composer to work in that genre, but his innovative and colorful examples spread rapidly throughout Europe, setting a template for the concerto that persists to this day. Vivaldi's influence on Bach was enormous, as evidenced by the concertos that appeared in the wake of L'estro armonico. 
In 1713, when Bach undertook a process of transcribing existing concertos so that they could be played on organ or harpsichord, he included six works by Vivaldi, three of which had appeared in L'estro armonico. The work that Vivaldi had just published as a Violin Concerto (Op. 3, No. 9; also cataloged as RV 520) thus became Bach's Concerto in D after Vivaldi, BWV 972. 
A German organist, Klemens Schnorr, brought Bach's transcription one step closer to Vivaldi's original when he split out the solo part in an arrangement for trumpet and organ—an edition that has become a cherished part of the trumpet repertoire in recent decades. Adding another layer of adaptation, the Belgian composer and cornet player Fernand Ruelle (b. 1921) created the ensemble arrangement heard here. 
After all these transformations, Vivaldi's old Concerto for violin and strings is reborn as a Concerto for trumpet and brass ensemble, but one that retains a slight patina from the fingerprints of Bach and the others who touched it. Three short movements demonstrate Vivaldi's broad spectrum of expression in the concerto format, starting with the bright and ceremonial Allegro, continuing through the luminous pulsing of the central Larghetto, and concluding with the dance-like lilt of the finale. 
Sergei Prokofiev
Suite from Romeo and Juliet, Op. 64 (1938)

Approximate duration: 41 minutes
Prokofiev abandoned his homeland and his burgeoning career when he fled Russia in the wake of the October Revolution of 1917. He tried to restart his life in the United States, but he couldn't replicate the professional path of a touring composer-pianist as modeled by his older compatriot, Rachmaninoff. Prokofiev thought France might be more fertile ground, but there he was overshadowed by another Russian in exile, Stravinsky, and a clique of young composers who exemplified the brittle, ironic detachment favored in 1920s Europe.
As he embraced a style of "new simplicity," Prokofiev found that his most sympathetic audience was the one he had abandoned a decade earlier. Beginning in 1927, a series of successful concert tours and state-sponsored commissions convinced him to resettle in the Soviet Union, taking up permanent residency in Moscow in 1936.
A major factor in Prokofiev's re-entry into Soviet life was Romeo and Juliet. He agreed in 1934 to create his first full-length ballet, and he worked with a stage director to devise a scenario based on Shakespeare's tragedy. The original deal with the Kirov Theater in Leningrad fell apart amid a political shakeup, and the ballet fizzled again after the Bolshoi Theater in Moscow took over the project, leaving Prokofiev with a finished but unperformable masterwork that only reached the stage in 1940, after heavy revisions. Prokofiev still elected to stay in the Soviet Union, and he spent the rest of his life navigating the dangerous currents of cultural life under Joseph Stalin, until the two men died on the very same day in 1953.
The German composer and arranger Andreas Tarkmann created this substantial Romeo and Juliet Suite for brass and percussion in 1991. The proceedings begin with music from the grand ball in Act I, when a minuet welcomes the Arrival of the Guests at the Capulet mansion. We jump back to the ballet's opening scene as The Street Awakens and blooms into a Morning Dance, depicting the lively market preparations as a new day dawns in Verona.
The sweet and intimate sound of Romeo at Friar Laurence's accompanies the scene in Act II that culminates in a secret wedding between Romeo and Juliet. The Dance of the Girls with Lilies comes from Act III; the air of trepidation in the music hints at the forthcoming discovery of Juliet, apparently dead by suicide.
The Interlude from Act I is scene change music to follow a pronouncement by the prince of Verona, which accounts for its royal, heralding tone. The conspiratorial whispers of the Nurse portray the character who acts as a messenger for Juliet in Act II, delivering a message to Romeo.
A dance from the Act I ballroom scene has become a favorite highlight from the ballet: the Dance of the Knights, in which the ceremonial strutting barely conceals the underlying violence and power of the Capulet men who perpetuate Verona's bloody feud.
The following movement comes in the form of an Aubade, a morning song, taken from the tense morning in Act III in which Juliet Takes the Potion, sending her into a coma-like state. There is less foreshadowing in the dance of Mercutio, Romeo's rambunctious friend who is about to be slain by Tybalt. This sequence culminates in The Duel and Death of Tybalt at the hands of Romeo, ending Act II in gory tragedy.
In this Suite and in the ballet as a whole, the Death of Juliet serves as a haunting epilogue, with the lovers reunited in suicide.
-- Copyright © 2017 Aaron Grad
Aaron Grad is a composer, guitarist and writer based in Seattle. Besides providing program notes for the New World Symphony, he has been the Orpheus Chamber Orchestra's program annotator since 2005
Ian Bousfield, conductor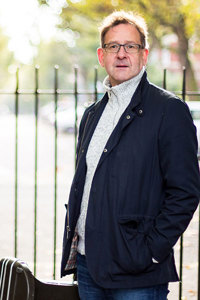 Born in York, England in 1964, Ian Bousfield is one of the most influential and successful trombonists of our time. From a very early age he played in English style brass bands at the highest level, something that instilled an incredibly developed sense of ensemble playing which was to serve him well in his later career as an orchestral player. With the Yorkshire Imperial Band he won the British Open, National and Yorkshire championships.
Mr. Bousfield's orchestral career seemed inevitable after having won the London Symphony Music Scholarship at age 15 and serving with the newly formed European Communities Youth Orchestra under Claudio Abbado. After five years in the Hallé Orchestra he became Principal Trombone of the London Symphony in 1988 at the age of 23. This was very much a golden age for the LSO brass section, containing many now legendary names. The great sense of teamwork at the highest level is something that he now feels he can pass on to colleagues and younger players. This was also the age of the CD; often the orchestra would make one new CD every week, so his playing is heard on hundreds of recordings, including many film soundtracks like Star Wars: Episode I and Braveheart.
It came as something of a surprise to many when, in 2000, Mr. Bousfield took and won the audition to become Solo Trombone with the Vienna Philharmonic and the Vienna State Opera, a job which he held until 2012. This was a time particularly close to his heart, "it was wall-to-wall music, 24/7." As an orchestral player he played for the world's greatest conductors, and it was the admiration of their art that led him to begin conducting himself.
As a soloist, Mr. Bousfield has played with many orchestras and brass bands, highlights of which were with the LSO and the Vienna Philharmonic under Riccardo Muti, Michael Tilson Thomas, Kent Nagano, Sir Neville Marriner, Ion Marin and Tadaaki Otaka. He has appeared as soloist with the most famous brass bands, as well as the U.S. Marine Band and Kosei Winds in Japan. He has many solo recordings to his name from EMI, Chandos, Camerata and Doyen.
Eventually it was time to concentrate on another great passion–pedagogy. Having been professor at the Royal Academy of Music in London since 1992, Mr. Bousfield concentrated more on building his class when he moved to the Hochschule der Künste in Bern, Switzerland. Despite many offers from all corners of the world, Switzerland was the right fit for his new life. His students are now amongst the most successful in the world, sitting in the greatest orchestras, and 2014 saw Michael Buchanan win the first prize in the renowned ARD Competition in Munich. Recent projects for Mr. Bousfield have included appearing as conductor and soloist with the brass sections of the New World Symphony, Bern Symphony, Sonderborg Symphony and Norlands Symphony.
Mr. Bousfield plays on the Getzen "4147 Ian Bousfield" trombone. He also has his own highly successful range of mouthpieces on the market, as well as a substantial book on trombone playing, Unlocking the Trombone Code. He was recipient of the International Trombone Association Lifetime Award in 2012.
Paul Merkelo, trumpet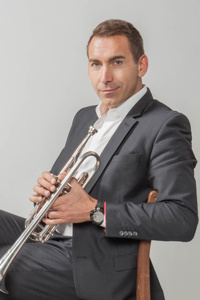 Renowned as one of the finest trumpet players of his generation, Paul Merkelo is recognized for his "pure technical prowess'' (Rochester Democrat and Chronicle) as well as his "unusual lyrical gifts'' (Gramophone). Principal Trumpet with the Orchestre symphonique de Montréal (OSM) since 1995, Mr. Merkelo is regularly praised by the Montreal press as "a spectacular soloist… a most impressive master of his instrument'' (Montreal Gazette), a "great virtuoso… dazzling'' (La Presse). He has been featured frequently with the OSM, including tours to South America and Lincoln Center in New York, as well as with orchestras and in recital throughout the United States, Canada, Russia, China, Japan, Portugal, Brazil, Venezuela, Peru, France and Thailand.
In 1999 Mr. Merkelo was appointed Canadian musical ambassador to China for the inauguration of the Montreal Park in Shanghai, and as soloist with the Shanghai Broadcast Orchestra in a national telecast. He made his New York debut at Lincoln Center with the New World Symphony and Michael Tilson Thomas in 1998. He has also worked with conductors Leonard Bernstein, Charles Dutoit, Lorin Maazel, Sir Georg Solti and Valery Gergiev.
Mr. Merkelo's first solo recording, A Simple Song, was ranked number one in Quebec's classical recording chart in 2000. In 2004 Analekta released a highly-praised second CD, Baroque Transcriptions, which was nominated by ADISQ for Best Classical Album of the Year.
Mr. Merkelo was previously Principal Trumpet with the Rochester Philharmonic and New Orleans Symphony, and gained early orchestral experience as an extra with the New York Philharmonic and Pittsburgh Symphony.
Mr. Merkelo attended the University of Illinois and Eastman School of Music, where he was awarded the Speth Scholarship for Outstanding Orchestral Musician. He is on the faculty at the Music Academy of the West in Santa Barbara and McGill University. He is on the board of directors for the Youth Orchestra of the Americas (Canada), and is the founder of the Paul Merkelo scholarship.