Events & Tickets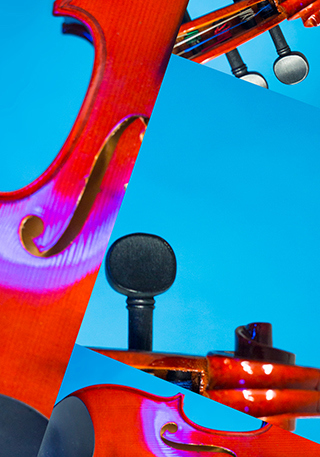 Free
Pre-Season Concert: String Serenades
New World Center, Michael Tilson Thomas Performance Hall
Saturday, September 17, 2022 at 7:30 PM
Program
New World Symphony's 35th season begins with a luminous spotlight on its String Fellows. In a program overflowing with a spirit of optimism, Steven Copes—renowned Concertmaster of the St. Paul Chamber Orchestra for over two decades – leads as both conductor and performer. Antonín Dvořák blends serenity and enthusiasm in his Serenade for Strings. Gabriela Ortiz pays tribute to Mexico's rich traditions in the exuberant La Calaca (The Skull), while Karl Amadeus Hartmann offers an expression of hope from a war-torn Europe.
Tickets no longer available online.
Program
Gabriela Ortiz
(b. 1964)
Approx. Duration: 9 minutes

Altar de Muertos for Strings (1997)

Karl Amadeus Hartmann
(1905-1963)
Approx. Duration: 19 minutes

Concerto funebre for Violin and Strings (1939; revised 1959)

Introduction: Largo
Adagio
Allegro di molto
Chorale: Slow march
Steven Copes, solo violin
Antonín Dvořák
(1841-1904)
Approx. Duration: 27 minutes

Serenade in E major for String Orchestra, Op. 22 (1875)

Moderato
Tempo di valse
Scherzo: Vivace
Larghetto
Finale: Allegro vivace
Gabriela Ortiz
Altar de Muertos
for Strings

(1997)


Approximate duration: 9 minutes

Recognized for her creative works that seamlessly merge the arts with issues of social justice, mass migration and multiculturality, Mexican composer Gabriela Ortiz's music is performed by prestigious ensembles around the world. She writes: "I fell in love with music once I understood that sounds have souls, and it is through them that one may speak of oneself."

Today's program features "La Calaca," the fourth part of Altar de Muertos, which was written in 1997 for the Kronos Quartet and dedicated to the memory of those close to them. Inspired by the variety of traditions that shape the Mexican Day of the Dead festival, the musical ideas in Altar de Muertos portray elements of both reality and magic. A calaca is a figurine of a human skeleton wearing colorful clothing and decorated with marigold flowers. Tracing their origins to Mayan imagery, calacas are generally portrayed celebrating a joyous afterlife by dancing and playing musical instruments. "La Calaca" is full of exuberant and driving rhythmic vitality and haunting melodies. At the end of the movement, Ortiz quotes a spirited melody of Huichol origin from the State of Nayarit, Mexico. This animated tune is first heard as a second violin solo before being passed to the other instruments.  

      – © Dr. Paula Maust
Karl Amadeus Hartmann
Concerto funebre
for Violin and Strings

(1939; revised 1959)


Approximate duration: 19 minutes

Many of German composer Karl Amadeus Hartmann's works were tremendously influenced by the political upheavals in Europe during the first half of the 20th century. He protested the Nazi regime by refusing to allow his compositions to be performed in Germany during World War II, and his Miserae for the victims of the Dachau Concentration Camp was famous in neighboring countries.

Hartmann's Concerto funebre (Funereal Concerto) for solo violin and string orchestra was written in 1939 and revised in 1959. Despite the dangers of wartime travel, Hartmann was able to go from his Munich home to Switzerland for the piece's 1940 premiere by the St. Gallen Chamber Orchestra. He wrote that the piece depicts both "the intellectual and spiritual hopelessness of the period" and "an expression of hope." Concerto funebre is in four movements, the first and last of which are chorales. The second movement contains slow-moving, dark sonorities paired with ominous melodies. Relentless rhythms propel the third movement forward, but the motion is periodically interrupted with silence and ethereal solos. The final movement is based on "Immortal Victims," which originated as a mourning song for the victims of the 1905 Russian Revolution. 

      – © Dr. Paula Maust
Antonín Dvořák
Serenade in E major for String Orchestra, Op. 22

(1875)


Approximate duration: 27 minutes

Antonín Dvořák was born in Nelahozeve, near Prague, and was a musical genius who could play the organ, violin and viola.

Dvořák's music has a distinctive Slavic flavor, and he is considered one of the more prominent nationalistic composers of his native land. His Serenade for Strings was written in 1875, and it was rumored that he wrote it in 12 days.

There are five movements in this Serenade. The work begins with a lovely melody in the cellos, which gradually transforms into a dance-like middle section, before it returns to conclude the movement. The second movement is a waltz with a trio middle section and once again, the return of the waltz brings the movement to an end. The Scherzo is a very lively and energetic movement that keeps listeners on their toes. The main theme of the Larghetto is idyllic and mellow, and the theme of the third movement reappears throughout this movement. A powerful Finale concludes the Serenade with themes from previous movements taking turns in their recurrences.

   – Adapted from notes by E. D. Fahn


Dr. Paula Maust is an Assistant Professor of Music Theory at the Peabody Institute of the Johns Hopkins University and the creator of the website Expanding the Music Theory Canon, an extensive collection of music theory examples by historical women and/or people of color. A book based on the website is forthcoming from SUNY Press, and she has also published articles in Women & Music and The Journal of the International Alliance for Women in Music. As a harpsichordist and organist, she conducts Baroque opera from the keyboard, most recently directing a program of opera scenes by early modern women at Peabody. 
Gabriela Ortiz (b. 1964)
Altar de Muertos for Strings (1997)
   IV. La Calaca
Karl Amadeus Hartmann (1905-1963)              
Concerto funebre for Violin and Strings (1939; revised 1959)
   Introduction: Largo
   Adagio
   Allegro di molto
   Chorale: Slow march
Antonín Dvořák (1841-1904)                                
Serenade in E major for String Orchestra, Op. 22 (1875)
   Moderato
   Tempo di valse
   Scherzo: Vivace
   Larghetto
   Finale: Allegro vivace
-----
Gabriela Ortiz
Mvt. IV (La Calaca) from Altar de Muertos for Strings (1997)
Duración aproximada: 9 minutes
Reconocida por sus obras creativas que fusionan a la perfección las artes con temas de justicia social, migración masiva y multiculturalidad, la música de la compositora mexicana Gabriela Ortiz es interpretada por prestigiosas agrupaciones de todo el mundo. Ella escribe: "Me enamoré de la música una vez que entendí que los sonidos tienen alma, y es a través de ellos que uno puede hablar de sí mismo".
El programa de hoy presenta "La Calaca", la cuarta parte de Altar de Muertos, que fue escrita en 1997 para el Cuarteto Kronos y dedicada a la memoria de sus allegados. Inspiradas en la variedad de tradiciones que conforman la festividad mexicana del Día de Muertos, las ideas musicales de Altar de Muertos retratan elementos tanto de la realidad como de la magia. Una calaca es una figurilla de un esqueleto humano que viste ropa colorida y está decorada con flores de caléndula. Con sus orígenes en las imágenes mayas, las calacas generalmente se representan celebrando una vida feliz en el más allá, bailando y tocando instrumentos musicales. "La Calaca" está llena de una vitalidad rítmica exuberante y de melodías inquietantes. Al final del movimiento, Ortiz evoca una animada melodía de origen huichol del estado de Nayarit, México. Esta vivaz melodía se escucha primero como un solo del segundo violín antes de pasar a los demás instrumentos.
– © Dr. Paula Maust
Karl Amadeus Hartmann
Concerto funebre for Violin and Strings (1939; revised 1959)
Duración aproximada: 19 minutes
Muchas de las obras del compositor alemán Karl Amadeus Hartmann estuvieron grandemente influenciadas por las revueltas políticas en Europa durante la primera mitad del siglo XX. Protestó contra el régimen Nazi negándose a permitir que sus composiciones fueran interpretadas en Alemania durante la Segunda Guerra Mundial, y su Miserae dedicada a las víctimas del campo de concentración de Dachau se hizo famosa en países vecinos.
El Concerto funebre (Concierto fúnebre) de Hartmann para violín solo y orquesta de cuerdas fue escrito en 1939 y actualizado en 1959. A pesar de los peligros de viajar en tiempos de guerra, Hartmann pudo ir desde su casa en Munich hasta Suiza para el estreno de la pieza en 1940 interpretada por la Orquesta de Cámara de St. Gallen. Escribió que la pieza nos muestra tanto la "decepción intelectual y espiritual de la época" como "una expresión de esperanza". Concerto funebre consta de cuatro movimientos, de los cuales el primero y el último son corales. El segundo movimiento contiene sonoridades oscuras y lentas, combinadas con melodías amenazantes. Ritmos implacables impulsan hacia adelante el tercer movimiento, pero es interrumpido periódicamente con silencios y solos etéreos. El movimiento final está basado en "Víctimas Inmortales", la cual se originó como una canción de duelo por las víctimas de la Revolución rusa de 1905.
– © Dr. Paula Maust
Antonín Dvořák
Serenade in E major for String Orchestra, Op. 22 (1875)
Duración aproximada: 27 minutes
Antonín Dvořák nació en Nelahozeve, cerca de Praga, y fue un genio musical que tocaba el órgano, el violín y la viola.
La música de Dvořák posee una sonoridad eslávica distintiva, y es considerado uno de los compositores nacionalistas más prominentes de su tierra natal. Su Serenata para cuerdas fue escrita en 1875, y se rumoreaba que la escribió en 12 días.
La Serenata tiene cinco movimientos. La obra comienza con una bella melodía en los violonchelos, que gradualmente se transforma en una sección intermedia parecida a una danza, antes de regresar para concluir el movimiento. El segundo movimiento es un vals con un trío en la sección central y una vez más, el retorno del vals lleva el movimiento a su final. El Scherzo es un movimiento vivo y enérgico que mantiene a los oyentes en puntas de pies. La melodía principal del Larghetto es dulce e idílica, y el tema del Scherzo reaparece a lo largo de este movimiento. Un poderoso Finale concluye la Serenata con temas recurrentes de los movimientos anteriores.
   – Adapted from notes by E. D. Fahn
Dr. Paula Maust es Profesora Asistente de Teoría Musical en el Instituto Peabody de la Universidad John Hopkins y creadora del sitio web Expanding the Music Theory Canon, una extensa colección de ejemplos de teoría musical escritos por mujeres históricas y/o personas de color. Un libro basado en el sitio web será publicado próximamente por SUNY Press, y también ha publicado artículos en Women & Music y The Journal of the International Alliance for Women in Music. Como clavecinista y organista dirige ópera barroca desde el teclado, y más recientemente dirigió un programa de escenas de ópera de mujeres modernas en Peabody.
Translation by Maria Paulina García
Steven Copes, leader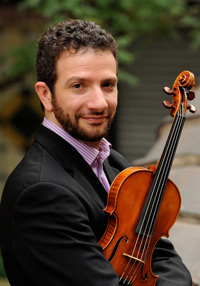 Violinist Steven Copes leads a diverse and enthusiastic musical life as a soloist, chamber musician and orchestral leader. He joined the Saint Paul Chamber Orchestra (SPCO) as Concertmaster in 1998, and since then has led the SPCO from the first chair in many highly acclaimed, eclectic programs. He appears frequently as soloist with the SPCO, having performed concertos by J.S. Bach, Beethoven, Berg, Brahms, Hartmann, Hindemith, Kirchner, Korngold, Lutosławski, Martin, Mendelssohn, Mozart, Piazzolla, Prokofiev, Schnittke and Weill. In addition, he has performed as soloist with the Philharmonia Orchestra of London, Colorado Symphony, Pro Arte Chamber Orchestra in Boston, Sao Paolo State Symphony, Orlando Philharmonic, The Knights and Mexico City Philharmonic.

A frequent guest concertmaster/leader, Mr. Copes has recorded and toured extensively throughout Europe and Asia with the Chamber Orchestra of Europe, Budapest Festival Orchestra and Mahler Chamber Orchestra, and has performed in the same capacity with the Baltimore Symphony, Cincinnati Symphony, Halle Orchestra, Houston Symphony, London Philharmonic, Pittsburgh Symphony, Royal Concertgebouw Orchestra and San Francisco Symphony under conductors such as Haitink, Temirkanov, I. Fischer, Masur, Nézet-Séguin, Harding, Jurowski, Nelsons, Tilson Thomas, Elder and Morlot.

A dedicated teacher as well, Mr. Copes has taught and coached at the Banff Centre in Canada, Curtis Institute of Music Summerfest, New World Symphony, Colorado College Summer Festival, East Carolina University, University of South Carolina, (Columbia), National Orchestral Institute in Maryland, Western Michigan University, Indiana University, University of Minnesota, University of Texas at Austin, Roosevelt University in Chicago and Orford Academy in Quebec.

A native of Los Angeles, Mr. Copes holds degrees from the Curtis Institute of Music and The Juilliard School, and his main teachers include Robert Lipsett, Aaron Rosand, Robert Mann and Felix Galimir for chamber music. He performs on violins made in 2014 by Brooklyn maker Samuel Zygmuntowicz, patterned after the 'Kreutzer' Stradivarius of 1727, as well as an interpretation of J. Guarneri made in 2020, also by Zygmuntowicz.