Events & Tickets
Free
PRE-SEASON STRING ORCHESTRA CONCERT: MUSIC OF THE NIGHT
New World Center
Saturday, September 15 at 7:30 PM
Program
NWS string Fellows and dynamo conductor Eric Jacobsen capture nocturnal musings, from the eerie to the serene. The heart-pumping adrenaline radiating from contemporary American icon John Adams' Shaker Loops makes it one of his most popular works. Channeling Wagner and Brahms, Arnold Schoenberg's revolutionary pictorial gem reveals musical secrets in a series of chromatic confessions. Luigi Boccherini—Italy's version of Haydn—transports audiences to the vibrant streets of Madrid, complete with tolling church bells, whispered prayers, military drum rolls and cellists as beggars, playing their instruments like guitars.
Program
Luigi Boccherini
(1743-1805)
Arranged by Eric Jacobsen/The Knights
Approx. Duration: 9 minutes minutes

Procession of the Military Night Watch in Madrid, Op, 30, No. 6 (1780)

Introduction
Minuetto: Allegretto
Largo assai, senza rigor di Battuta – Allegro
Passacalle: Allegro vivo
Ritirata: Maestoso
John Adams
(b. 1947)
Approx. Duration: 26 minutes

Shaker Loops (1978; 1983 string orchestra version)

Shaking and Trembling
Hymning Slews
Loops and Verses
A Final Shaking
Arnold Schoenberg
(1874-1951)
Approx. Duration: 30 minutes

Transfigured Night, Op. 4 (1899; 1943 string orchestra version)

Luigi Boccherini
Procession of the Military Night Watch in Madrid, Op, 30, No. 6 (1780)

Approximate duration: 9 minutes minutes
Before Luigi Boccherini established a reputation as a composer, the Italian cello virtuoso enjoyed a successful career performing in Vienna, Paris and other musical capitals. A stint playing Italian operas in Spain brought him to the attention of the Spanish king's younger brother, Don Luis, which led to Boccherini's first steady position as a court composer in 1770.
Don Luis was an avid musician who participated in his own string quartet. When Boccherini began to join them as a second cellist, it led him to write in the format he is now best known for: a string quintet made up of two violins, viola and two cellos. From his base in Madrid, where he lived for the rest of his life, Boccherini wrote over a hundred quintets in that format, plus several hundred other works of chamber music. 
Procession of the Military Night Watch in Madrid—originally one of these quintets—comes with a colorful program. It engages in quite specific scene painting, starting with the tolling of church bells and the rat-a-tat rhythms of a snare drum, like soldiers marching through a town square. With the cellists imitating the sound of a guitar, a hearty minuet represents the dancing and singing of blind beggars. There is a humble, prayerful invocation of the Rosary, and then another dancing movement with guitar-like strums places the melody in the tenor range of the first cello part. The final section marks the retreat of the night watch, again using rapid tremolo bowing to represent the military drums.
John Adams
Shaker Loops (1978; 1983 string orchestra version)

Approximate duration: 26 minutes
Shaker Loops, born out of the large-scale minimalism developed by Steve Reich and Philip Glass in the 1970s, was a breakthrough work for the young John Adams. In its initial form, it was a string quartet titled Wavemaker; as Adams explained in a program note, "I gradually developed a scheme for composing that was partly indebted to the repetitive procedures of minimalism and partly an outgrowth of my interest in waveforms." Unsatisfied with his first attempt, he expanded the score into a string septet (and ultimately string orchestra) and changed the title to Shaker Loops. In his program note, Adams writes:
The "loops" idea was a technique from the era of tape music where small lengths of prerecorded tape attached end to end could repeat melodic or rhythmic figures ad infinitum. (Steve Reich's It's Gonna Rain is the paradigm of this technique.) The Shakers got into the act partly as a pun on the musical term "to shake," meaning either to make a tremolo with the bow across the string or else to trill rapidly from one note to another.
The flip side of the pun was suggested by my own childhood memories of growing up not far from a defunct Shaker colony near Canterbury, New Hampshire. Although, as has since been pointed out to me, the term "Shaker" itself is derogatory, it nevertheless summons up the vision of these otherwise pious and industrious souls caught up in the ecstatic frenzy of a dance that culminated in an epiphany of physical and spiritual transcendence. This dynamic, almost electrically charged element, so out of place in the orderly mechanistic universe of minimalism, gave the music its raison d'être and ultimately led to the full realization of the piece.
Arnold Schoenberg
Transfigured Night, Op. 4 (1899; 1943 string orchestra version)

Approximate duration: 30 minutes
Arnold Schoenberg was born in the musical paradise of Vienna, but he found his voice far away from the usual conservatories and concert halls. After taking up the violin at eight, he began composing and arranging music to play with his friends. To help support his family, he left school as a teenager to work as a bank clerk, and the closest he ever came to composition lessons was getting pointers from Alexander von Zemlinsky, a composer and conductor who directed an amateur orchestra that Schoenberg joined.
Zemlinsky helped Schoenberg get an early string quartet performed, but he had no such luck with Transfigured Night, his pioneering string sextet from 1899. Schoenberg drafted the work in just three weeks, during a summer vacation with Zemlinsky and his sister Mathilde (who would later become Schoenberg's first wife). It took Schoenberg three years to secure a first performance of Transfigured Night, and another three years to get it published as his Opus 4. By then he had already attracted a roster of his own private students, including Webern and Berg—the core of what we now call the "Second Viennese School." Schoenberg eventually led his followers into the wilds of atonality and the strictures of 12-tone composition, altering the course of 20th-century music and earning a thorny reputation that is long overdue for reappraisal.
The greatest innovation of Transfigured Night was to apply the idea of program music, as found in the tone poems of Liszt and Strauss, to a chamber ensemble. Schoenberg's original scoring for two violins, two violas and two cellos matched a format pioneered by Brahms, in whose hands the string sextet became a vehicle for so-called "absolute" music with a Classical orientation. Instead of opting for the usual four-movement structure, Schoenberg created one continuous work that molded its five sections to follow the poem Verklärte Nacht (Transfigured Night) by Richard Dehmel. An English translation of the poem by Scheonberg scholar Walter Frisch reads:
Two people walk through the bare, cold woods; the moon runs along; they gaze at it. The moon runs over tall oaks. No little cloud dulls the heavenly light, into which the black points reach. A woman's voice speaks:
I bear a child, and not by you. I walk in sin alongside you. I have gone seriously astray. I believed no longer in good fortune, yet still had a great longing for a full life, for a mother's happiness and duty; then I became reckless. Horrorstricken, I let myself be taken by a stranger and even blessed myself for it. Now life has taken its revenge: now I have met you, oh, you.
She walks with a clumsy gait. She gazes upward; the moon runs along. Her somber glance drowns in the light. A man's voice speaks:
The child that you conceived, let it be no burden to your soul. Oh, look, how the moon's sheen enwraps the universe! There is a radiance about everything; you drift along with me on a cold sea, yet a special warmth glimmers from you in me, from me in you. It will transfigure the little stranger; you will bear it for me, from me; you have brought the radiance into me, you have made me a child myself.
He holds her around her strong hips. Their breath mingles in the air. Two people walk through the high, clear night.
In Transfigured Night, the musical storytelling relies on the skillful manipulation of tonal harmony over the course of one long journey from minor to major. Supported by a nervous drone, the first section sets the course by plodding down the minor scale in lopsided, dotted rhythms. This stepping pattern becomes a familiar point of reference, returning in different forms to remind us of the couple and their fateful walk together.
The second section correlates to the second stanza of the poem, in which the woman "confesses that she is bearing the child of another man." The music becomes agitated, smeared with rising chromatics, until the third section
intervenes with music of a simpler and more somber character, linked to the poem's middle narrative stanza.
The third section ends on a minor chord, setting up the crucial moment: With a decisive pivot to a major chord, a cello melody gives voice to the man's wish that his companion should carry no guilt. A lustrous violin solo brightens the night, just as "the moon's sheen enwraps the universe."
The final section forms a tranquil coda in D major, basking in love's warmth that "will transfigure the little stranger." The stepping theme returns with new optimism, and shimmering arpeggios offer a parting view of wonderous
moonlight.
-- Copyright © 2018 Aaron Grad
Aaron Grad is a composer, guitarist and writer based in Seattle. Besides providing program notes for the New World Symphony, he has been the Orpheus Chamber Orchestra's program annotator since 2005 and also contributes notes to the Saint Paul Chamber Orchestra and Seattle Symphony.
Eric Jacobsen, conductor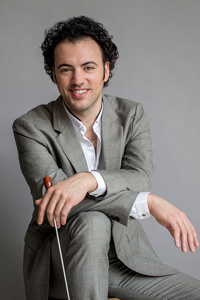 Hailed by The New York Times as "an interpretive dynamo," conductor and cellist Eric Jacobsen has built a reputation for engaging audiences with innovative and collaborative programming. 
Mr. Jacobsen is Co-Artistic Director, conductor and cellist of The Knights, the adventurous orchestra founded with his brother, violinist Colin Jacobsen, to foster the intimacy and camaraderie of chamber music on the orchestral stage. As conductor, Mr. Jacobsen has led the "consistently inventive, infectiously engaged indie ensemble" (The New York Times) at such venues as Central Park's Naumburg Orchestral Concerts, BRIC Celebrate Brooklyn! Festival, (Le) Poisson Rouge, 92nd Street Y, Carnegie Hall and Lincoln Center, the summer music festivals at Tanglewood, Ravinia and Ojai, and international venues such as the National Gallery of Dublin, Dresden Musikfestspiele, Cologne Philharmonie, Düsseldorf Tonhalle and Vienna Musikverein. In its spring 2017 European tour, Mr. Jacobsen conducted The Knights in the new Hamburg Elbphilharmonie and completed a week-long residency with them at the Easter Festival (Festival de Pâques) in Aix-en-Provence. Recent collaborators include violinist Itzhak Perlman, singers Dawn Upshaw, Susan Graham and Nicholas Phan, and pianists Emanuel Ax and Jean-Yves Thibaudet. Under Mr. Jacobsen's baton, The Knights have developed an extensive recording collection, which includes the ground beneath our feet, the ensemble's first release for Warner Classics.
Mr. Jacobsen serves as Music Director for the Orlando Philharmonic and Greater Bridgeport Symphony, and as Artistic Partner with the Northwest Sinfonietta. At the close of a successful second season with the Orlando Philharmonic, he began to pioneer the orchestra's programming and community engagement in new and exciting directions. A particularly well-received Magic Flute led to the programming of two opera productions in the 2016-17 season with directors Alison Moritz and Mary Birnbaum. The "charming and funny" (Orlando Sentinel) production of Bernstein's Candide will be remounted and toured with The Knights in the 2018-19 season. Mr. Jacobsen is also in demand as a guest conductor and led Camerata Bern in the first European performance of Mark O'Connor's American Seasons, with the composer as soloist. He has conducted the symphony orchestras of Baltimore, Detroit, Alabama, as well as the New World Symphony, St. Paul Chamber Orchestra, ProMusica Chamber Orchestra in Columbus and Deutsche Philharmonie Merck.
A dedicated chamber musician, Mr. Jacobsen is a member of Yo-Yo Ma's Silk Road Project, participating in residencies and performances at the Art Institute of Chicago, Hollywood Bowl and across the U.S., as well as in Azerbaijan, China, Hong Kong, Japan, Malaysia and Switzerland. In addition, as a founding member of the genre-defying string quartet Brooklyn Rider—dubbed "one of the wonders of contemporary music" (Los Angeles Times)—he has taken part in a wealth of world premieres and toured extensively in North America and Europe, and is credited with helping to ensure "the future of classical music in America" (Los Angeles Times). 
In December 2012 Mr. Jacobsen and his brother Colin were selected from among the nation's top visual, performing, media and literary artists to receive a prestigious United States Artists Fellowship. He splits his time between New York and Orlando. He is married to singer-songwriter Aoife O'Donovan and recently became a parent.