Events & Tickets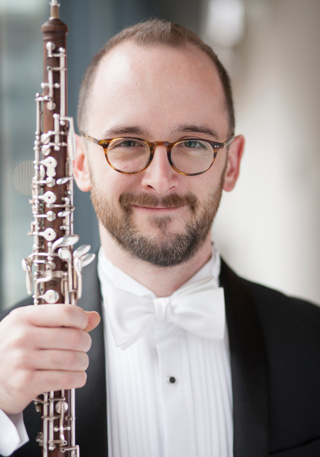 Free
PRE-SEASON WOODWIND ENSEMBLE CONCERT: SWEET SERENADES
New World Center
Sunday, September 16 at 2:00 PM
Program
Grab your passports for an afternoon of around-the-world wind music led by Joseph Peters, Associate Principal Oboe of the North Carolina Symphony (NWS 2011-14). Antonín Dvořák's refreshing Serenade pays homage to Mozart, lifting spirits to new heights with its fanciful and free melodies. Known as Romania's greatest musical celebrity, George Enescu infuses his double wind quintet with an infectious humor and light-heartedness. Adam Schoenberg creates a companion piece to Barber's famed Summer Music quintet with his Winter Music, a fantasy world depicting the magically-warm winters of California. Exotic folk tunes take the spotlight in Russian Mikhail Ippolitov-Ivanov's rich tribute to the Georgian region.
Program
Georges Enescu
(1881-1955)
Approx. Duration: 19 minutes

Dixtour for Winds, Op. 14 (1906)

Gently moving
Moderately
Lively, but not too fast
Adam Schoenberg
(b. 1980)
Approx. Duration: 7 minutes

Winter Music for Woodwind Quintet (2012)

Mikhail Ippolitov-Ivanov
(1859-1935)
Approx. Duration: 5 minutes

An Evening in Georgia, Op. 71 (c. 1935)

Antonín Dvořák
(1841-1904)
Approx. Duration: 23 minutes

Serenade in D minor for Wind Instruments, Op. 44 (1878)

Moderato quasi marcia
Menuetto – Trio
Andante con moto
Finale: Allegro molto
Georges Enescu
Dixtour for Winds, Op. 14 (1906)

Approximate duration: 19 minutes
The Romanian composer Georges Enescu was a child prodigy who began playing violin at the age of four. His conservatory training in Vienna and Paris gave him a cosmopolitan perspective, and he developed a compositional voice steeped in the traditions of his French teachers Massenet and Fauré. He maintained a presence in Romania (at least until the Communist takeover forced a permanent exile), and he did much of his composing there during summer holidays, but the majority of his public life centered on his concertizing and conducting in and around Paris. He left a small but exquisite body of music, totaling just 33 works with opus numbers.
Enescu composed the Dixtuor (the French term for a ten-piece ensemble) in 1906, and it was premiered that same year in Paris by the Société moderne d'instruments à vent. That modern wind ensemble was founded and directed, respectively, by the two biggest names in French flute pedagogy—Georges Barrère and Paul Taffanel—and their work with Enescu and other contemporary composers sparked a woodwind renaissance that continues to this day.
Like Enescu's earlier Octet for Strings, the Dixtour uses matched pairs of instruments to create a broad and rich sound palette. Instead of a second oboe, an English horn adds an expressive alto color to the ensemble, a solo sound featured in several exposed passages in the first movement. To begin the second movement, an "expressive and sad" melody delivered by the oboe and English horn in octaves hints at Enescu's Romanian heritage. Throughout all three movements, imaginative groupings and chord voicings weave the ensemble into a cohesive unit, downplaying the separateness of the different woodwinds and instead emphasizing their shared power as an ensemble.
Adam Schoenberg
Winter Music for Woodwind Quintet (2012)

Approximate duration: 7 minutes
The young American Adam Schoenberg is not the first composer with that surname to adopt Los Angeles as his home city. He is in fact unrelated to Arnold Schoenberg, both in terms of bloodline and musical sensibility, as demonstrated by his inclusive and tuneful style of composition. He wrote the following description of Winter Music, composed in 2012 for the Quintet of the Americas. 
Barber's Summer Music proved to be the main source of inspiration, as I have always considered his woodwind quintet to be one of the best ever written for the medium. He was a true American composer who, along with Ives, Gershwin, Copland and Bernstein, helped define the sound of American classical music. I have always felt connected to these composers, so I wanted to write a quintet that feels American in spirit. The theme that the Quintet of the Americas proposed to me was our universe, with images of galaxies, planets, and stars. With this in mind, I thought about what it would be like to be on another planet. This led me to think about my New England roots, and how I am now living in Los Angeles and experiencing my first winter. Combining all of these thoughts, images and experiences into one artistic idea, I have come up with Winter Music: a companion piece to the first part of Barber's Summer Music, and my idea of life on a single planet in one of the 170 billion galaxies located millions of light-years away from earth. That is, a fantasy world somehow paralleling and reflecting my first winter in Los Angeles: magically-warm, fairytale-like, whimsical, light, airy and full of love.
Mikhail Ippolitov-Ivanov
An Evening in Georgia, Op. 71 (c. 1935)

Approximate duration: 5 minutes
Mikhail Ippolitov-Ivanov came of age in Saint Petersburg in the heyday of the Russian nationalist composers known as "The Mighty Five," including Rimsky-Korsakov, who taught Ippolitov-Ivanov composition and orchestration at the Saint Petersburg Conservatory. After teaching for a decade in Tbilisi, Georgia, Ippolitov-Ivanov joined the faculty of the Moscow Conservatory, where he remained a steadfast link to tradition as Russia entered the Soviet era.
That formative period spent in Georgia—situated in the Caucasus region that links Russia and Turkey—left a profound imprint of Ippolitov-Ivanov's musical language. He composed "An Evening in Georgia," a nostalgic work for a quintet of woodwinds and piano or harp, sometime in his final years, channeling the rich folk music of a land where European, Asian and Middle Eastern traditions have commingled for millennia. The oboe, naturally enough, has a prominent role, evoking its double-reed ancestors that originated in Iran and Turkey.
Antonín Dvořák
Serenade in D minor for Wind Instruments, Op. 44 (1878)

Approximate duration: 23 minutes
Antonín Dvořák was born in a small Bohemian village, where his father was the local butcher and innkeeper and also an amateur zither player. As a young man, Dvořák's musical career involved him in all manner of music-making in Prague: He accompanied church services from the organ, played viola in a dance band and in the local opera orchestra, taught piano lessons, and kept up his composing on the side. He might have spent the rest of his life as a cash-strapped freelance musician had it not been for the intervention of a most influential champion, Johannes Brahms. On Brahms' recommendation the publisher Simrock commissioned Dvořák in 1878, and the resulting Slavonic Dances catapulted the Czech composer onto the international stage. 
In that same breakthrough year, Dvořák composed the Serenade for Winds, a successor to his Serenade for Strings from 1875. As of a century earlier, the Serenade tended to consist of light-hearted (and often forgettable) music to be performed outdoors during evening gatherings. Mozart elevated the functional Serenade into an art form, and nineteenth-century composers kept the genre alive, crafting "night music" in loose suites of varied movements. 
In his scoring of the Wind Serenade, Dvořák called for a contrabassoon ad libitum (it could be a difficult instrument to procure at the time) and he also included cello and bass to anchor the low end. The work opens with march-like music, a fitting tribute to the outdoor origins of the wind ensemble, which traditionally entered and exited a performance playing a march. The minuet that follows is full of playful echoes and melodic counterlines, making the most of a quick descending motive in the outer sections and an even quicker shaking gesture in the contrasting trio section. 
The third movement, marked Andante con moto (At a walking pace, with motion), rolls out beautiful, patient melodies over a lively accompaniment. Operating in the middle ground for most of the movement, the three horns almost steal the show with their infectious offbeats and regal commentaries. The finale features the most overtly "Slavonic" music of the Serenade, showing off Dvořák's calling card in the early stages of his international career. A momentary return to the opening march music rounds out the form of the Serenade and clears the way for a joyous culmination in D major. 
-- Copyright © 2017 Aaron Grad
Aaron Grad is a composer, guitarist and writer based in Seattle. Besides providing program notes for the New World Symphony, he has been the Orpheus Chamber Orchestra's program annotator since 2005 and also contributes notes to the Saint Paul Chamber Orchestra and Seattle Symphony.
Joseph Peters, conductor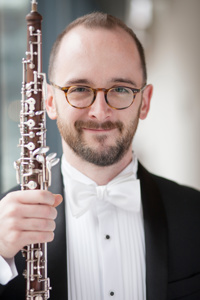 Joseph Peters, Associate Principal Oboe and English horn with the North Carolina Symphony, previously held Principal Oboe chairs with the Minnesota Orchestra and Buffalo Philharmonic Orchestra. He has performed as guest principal with the Baltimore Symphony and The Florida Orchestra, and has also played with the Saint Paul Chamber Orchestra, Marlboro Music Festival, Oregon Bach Festival, Lakes Area Music Festival, National Repertory Orchestra and National Orchestral Institute. For three years he was a Fellow of the New World Symphony.
Mr. Peters first played with the Minnesota Orchestra at age 18, performing Mozart's Oboe Concerto, and he has also appeared as a soloist with the Detroit Symphony, New World Symphony and Metropolitan Symphony, as well as the Greater Twin Cities Youth Symphonies, of which he is an alumnus.
Also active as a conductor, Mr. Peters conducts the Taneycomo Festival Orchestra in Branson, Missouri. He was music director of the SUNY Buffalo State Philharmonia Orchestra and the Saybrook College Orchestra of Yale University. He has led a variety of programs at the New World Symphony, including a collaboration with the Miami City Ballet, and he recently conducted a performance of Henze's Kammermusik 1958 at Marlboro Music Festival. His conducting mentors include Michael Tilson Thomas, James Patrick Miller and Toshiyuki Shimada.
Mr. Peters, who has long been committed to teaching, was the oboe and conducting instructor at the SoBe Institute of the Arts, and he conducted side-by-side concerts for New World Symphony's MusicLab program. An advocate of contemporary music, he premiered Aaron Jay Kernis' On Distant Shores with New York's RIOULT Dance Company, and he has been involved in numerous other premieres by composers including Jocelyn Hagen, Polina Nazaykinskaya and Samuel Carl Adams.
Mr. Peters received a bachelor's degree in music from the University of Minnesota and a master's degree in music from Yale University. His teachers include John Snow, Stephen Taylor, Julie Madura and Marilyn Zupnik.