Events & Tickets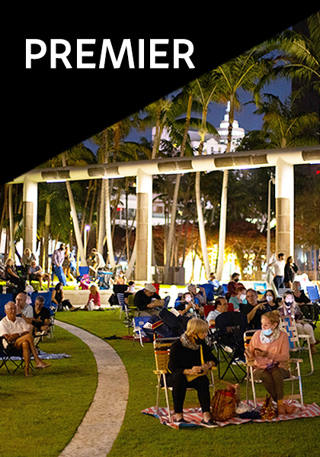 Special Event
Premier Encore WALLCAST® Concert: MTT and Trifonov
SoundScape Park
Friday, April 9, 2021 at 8:00 PM
Program
NWS celebrates 10 years of WALLCAST® concerts with this Encore series featuring performance highlights from NWS's previous seasons. NWS originally performed this concert on October 12, 2019.  
Since winning the Grand Prix prize at the International Tchaikovsky Competition and being awarded Gramophone's 2016 Artist of the Year, pianist Daniil Trifonov has catapulted to global fame as "without question the most astounding pianist of our age" (The Times). Trifonov makes his NWS debut alongside MTT, performing fellow Russian pianist Alexander Scriabin's only Concerto. Hector Berlioz's dramatic symphony is a stirring portrayal of Shakespeare's tragic love story. Conducting Fellow Chad Goodman takes the New World Center podium for the first time for Ludwig van Beethoven's Egmont Overture.
This is a Premier Encore WALLCAST® Concert, available for current subscribers at the Vivace and Allegro levels. Subscribers may RSVP for two tickets as part of their subscription benefits. (Package limits apply to Allegro subscribers.) For additional event tickets, click here.
Document your WALLCAST® concert experience using #WALLCAST on social media!
Mobile Program: Text WALLCAST to 50155 and receive a link to the mobile program.
Event Safety Protocols 
The April 9 Premier Encore WALLCAST® Concert is a seated event in SoundScape Park. NWS will provide all ticketholders with a chair in a designated seating area that is socially distanced from others. Seating opens at 6:00 PM. Please arrive with your complete party to guarantee seating together.
Masks are required unless when actively eating or drinking, or when in your designated seating area. Blankets, food and drink are allowed. Tables, carts and other large items are prohibited in the seating area.
Restrooms are available in the south-east corner of SoundScape Park. The New World Center will be closed.
Program
Ludwig van Beethoven
(1770-1827)
Approx. Duration: 9 minutes

Overture to Egmont, Op. 84 (1809-10)

Alexander Scriabin
(1871-1915)
Approx. Duration: 28 minutes

Concerto in F-sharp minor for Piano and Orchestra, Op. 20 (1896)

Allegro
Andante
Allegro moderato
Hector Berlioz
(1803-1869)
Approx. Duration: 45 minutes

Selections from Romeo and Juliet, Dramatic Symphony, Op. 17 (1839)

Introduction
Love Scene
Queen Mab Scherzo
Romeo Alone – Festivities at Capulet's
Ludwig van Beethoven
Overture to Egmont, Op. 84 (1809-10)

Approximate duration: 9 minutes
Beethoven longed to be an opera composer, and yet it proved to be the most frustrating aspect of his career. In the period when his only opera, Leonore, sat dormant—it was soon revised for the second time and reintroduced as Fidelio—Beethoven agreed to provide incidental music for an 1810 revival of Egmont, a play by Johann Wolfgang von Goethe. The drama, set in the 16th century, followed the tribulations of the Count of Egmont, who was convicted of treason and executed after he protested the Spanish occupation in his native Flanders. It was timely fare for Vienna, still reeling from the French occupation in 1809, and it gave Beethoven a chance to vent some of his resentment toward Napoleon while advancing his prospects in Vienna's theater scene.
The Overture to Egmont begins with a severe introduction in the key of F minor, its slow and deliberate phrases punctuated by stout chords. A pulsing accompaniment ratchets up the tension, and then the strings pivot to the fast body of the Overture, reusing a rising and falling motive to unify the two sections. The minor-key drama gives way at the end to major-key triumph in an accelerated tempo, with piccolo, trumpets and timpani reinforcing the militaristic tone.
Alexander Scriabin
Concerto in F-sharp minor for Piano and Orchestra, Op. 20 (1896)

Approximate duration: 28 minutes
The Piano Concerto that Alexander Scriabin drafted at the age of 24 (a task that only took a matter of days) represented a fascinating detour in the career of this most mystifying Russian composer. After studying alongside Rachmaninoff at the Moscow Conservatory, Scriabin got his professional start writing and performing solo piano music indebted to Chopin and Liszt. A Russian publisher took Scriabin under his wing, arranging for his Paris recital debut and instigating the creation of the Concerto, but the temperamental young composer was a nightmare to work with, perpetually missing deadlines, overspending against his advance payments, and burning bridges with influential colleagues like Rimsky-Korsakov, who was called in to help with the Concerto when Scriabin foundered in his first attempt at orchestration.
Scriabin eventually finished the score and performed it in Moscow and elsewhere, but ultimately he was not fated to ride original concertos to international stardom like his old classmate Rachmaninoff. Instead Scriabin became increasingly mystical in his philosophical outlook and radical in his musical approach, as heard in the final piano sonatas and the esoteric symphonic works that occupied the latter portion of his short, strained life. And yet Scriabin always stood by his youthful and relatively conservative Concerto, keeping it in his repertoire to the end and never rehashing the intuitive orchestration even after he honed his symphonic voice.
The Concerto uses the traditional sonata form for its first movement, but the material has none of the heroism found in model piano concertos from Beethoven to Tchaikovsky. With its lyrical first theme, abundant rubato (in which tempos flex freely) and petite dimensions that make it shorter than both movements that follow, this Allegro statement is uncommonly poetic within the tradition of formal concertos.
After muted strings introduce the gentle theme of the slow movement, the piano begins a diverse series of variations, starting with effervescent arpeggios that encircle the solo clarinet's innocent restatement of the melody.
The opening music of the finale, with its dancing pulse in a three-beat meter, recalls Chopin and his signature polonaises. The contrasting material is the real showstopper, though, exhibiting a soaring lyricism to rival Rachmaninoff and delivering this Concerto out of the tension of F-sharp minor and into the radiance of F-sharp major. Scriabin was one of those rare individuals who experienced the world with synesthesia—a cross-wiring of the senses that, in his case, gave each musical key its own distinct visual hue—such that the ending key of this Concerto appeared to him as bright blue.
Hector Berlioz
Selections from Romeo and Juliet, Dramatic Symphony, Op. 17 (1839)

Approximate duration: 45 minutes
The French composer Hector Berlioz became fascinated with Shakespeare in 1827, when a British troupe performed Hamlet and Romeo and Juliet in Paris. Despite knowing barely any English, Berlioz found the plays captivating—especially the contributions of a beautiful Irish actress, Harriet Smithson, who played the roles of Ophelia and Juliet. (His obsession with Smithson fueled the Symphonie fantastique in 1830, and they later ended up in a brief, stormy marriage.)
Berlioz was a talented writer himself with a passion for literature that often bubbled over into his music, and he was eager to engage with Shakespeare in some way. The opportunity came in 1838, when the aging superstar violinist Niccolò Paganini offered Berlioz a gift of 20,000 francs—enough to pay off his debts and clear space for a substantial composition. He decided to create a choral symphony, following the model of Beethoven's Ninth Symphony, but Berlioz added a twist by incorporating Romeo and Juliet to accentuate the dramatic elements of the symphony, just as his Symphonie fantastique had taken the programmatic concept of Beethoven's Sixth Symphony to a new degree of theatricality.
In a preface to the score, Berlioz illuminated his approach to the choral symphony. While two choruses represent the rival Montague and Capulet families, and three soloists sing minor roles, the central relationship between Romeo and Juliet unfolds in the orchestra, rather than voices. As he explained, "The very sublimity of this love made its depiction so dangerous for the composer that he needed to allow his imagination a freedom which the literal meaning of the words sung would have denied him. Hence the resort to instrumental language, a language which is richer, more varied, less finite, and through its very imprecision incomparably more powerful in such a situation."
This Suite begins with the symphony's introduction, representing, according to Berlioz' annotations, "Combat—Tumult—Intervention of the prince." A contrapuntal opening captures the skirmish between the rival families, and stentorian brass instruments herald the peacemaking prince of Verona. Later that night, "In the garden of the Capulets, serene and deserted," comes the story's central love scene, blooming patiently in warm orchestral hues. Part II of the Symphony ends with a mischievous Scherzo, based on Mercutio's description of the fairy queen Mab.
Jumping back to the beginning of Part II, a forlorn unison line depicts Romeo Alone. The music brightens with "distant sounds from the concert and the ball," until it reaches the festive flair of the "Great banquet at the Capulets," where the disguised Romeo falls for Juliet.
— Copyright © 2019 Aaron Grad
Aaron Grad is a composer, guitarist and writer based in Seattle. Besides providing program notes for the New World Symphony, he has been the Orpheus Chamber Orchestra's program annotator since 2005 and also contributes notes to the Saint Paul Chamber Orchestra and Seattle Symphony.
Michael Tilson Thomas, conductor
Michael Tilson Thomas is Co-Founder and Artistic Director Laureate of the New World Symphony, America's Orchestral Academy; Music Director Laureate of the San Francisco Symphony; and Conductor Laureate of the London Symphony Orchestra. In addition to these posts, he maintains an active presence guest conducting with the major orchestras of Europe and the United States.
Born in Los Angeles, Mr. Tilson Thomas is the third generation of his family to follow an artistic career. His grandparents, Boris and Bessie Thomashefsky, were founding members of the Yiddish Theater in America. His father, Ted Thomas, was a producer in the Mercury Theater Company in New York before moving to Los Angeles where he worked in films and television. His mother, Roberta Thomas, was the head of research for Columbia Pictures.
Mr. Tilson Thomas began his formal studies at the University of Southern California, where he studied piano with John Crown, and conducting and composition with Ingolf Dahl. At age 19 he was named Music Director of the Young Musicians Foundation Debut Orchestra. During this same period, he was the pianist and conductor in master classes of Gregor Piatigorsky and Jascha Heifetz and worked with Stravinsky, Boulez, Stockhausen and Copland on premieres of their compositions at Los Angeles' Monday Evening Concerts.
In 1969, after winning the Koussevitzky Prize at Tanglewood, he was appointed Assistant Conductor of the Boston Symphony Orchestra. That year he also made his New York debut with the Boston Symphony and gained international recognition after replacing Music Director William Steinberg in mid-concert. He was later appointed Principal Guest Conductor of the Boston Symphony Orchestra where he remained until 1974. He was Music Director of the Buffalo Philharmonic from 1971 to 1979 and a Principal Guest Conductor of the Los Angeles Philharmonic from 1981 to 1985. His guest conducting includes appearances with the major orchestras of Europe and the United States.
Mr. Tilson Thomas is a two-time Carnegie Hall Perspectives artist, curating and conducting series at the hall from 2003 to 2005 and from 2018 to 2019. In the most recent series, he led Carnegie Hall's National Youth Orchestra of the United States of America both at the hall and on tour in Asia, opened the Carnegie Hall season over two evenings with the San Francisco Symphony, conducted two programs with the Vienna Philharmonic and finished with a pair of concerts leading the New World Symphony.
A winner of eleven Grammy Awards, Mr. Tilson Thomas appears on more than 120 recordings. His discography includes The Mahler Project, a collection of the composer's complete symphonies and works for voice and orchestra performed with the San Francisco Symphony, in addition to pioneering recordings of music by Charles Ives, Carl Ruggles, Steve Reich, John Cage, Ingolf Dahl, Morton Feldman, George Gershwin, John McLaughlin and Elvis Costello. His recordings span repertoire from Bach and Beethoven to Debussy and Stravinsky, and from Sarah Vaughan to Metallica.
His television work includes a series with the London Symphony Orchestra for BBC Television, broadcasts of the New York Philharmonic Young People's Concerts from 1971 to 1977 and numerous productions on PBS's Great Performances. With the San Francisco Symphony, he created a multi-tiered media project, Keeping Score, which includes a television series, web sites, and radio programs. He received a Peabody Award for his SFS Media radio series The MTT Files.
Mr. Tilson Thomas's compositions are published by G. Schirmer. In 1991, he and the New World Symphony were presented in a series of benefit concerts for UNICEF in the United States, featuring Audrey Hepburn as narrator of his work From the Diary of Anne Frank, which was commissioned by UNICEF. This piece has since been translated and performed in many languages worldwide. In August 1995, he led the Pacific Music Festival Orchestra in the premiere of his composition Shówa/Shoáh, commemorating the 50th anniversary of the bombing of Hiroshima. His vocal music includes settings of poetry by Walt Whitman and Emily Dickinson, which were premiered by Thomas Hampson and Renée Fleming, respectively. In 2016, Yuja Wang premiered his piano piece You Come Here Often?.
Mr. Tilson Thomas' song cycle Four Preludes on Playthings of the Wind, a setting of Carl Sandburg's poem, was premiered in 2016 by the New World Symphony, with Measha Brueggergosman as soloist. In 2019 the piece was recorded for Medici.tv at the New World Center and given its New York premiere as part of Mr. Tilson Thomas's second Carnegie Hall Perspectives series. His first Perspectives series also featured performances of his own compositions, including Island Music for four marimbas and percussion; Notturno for solo flute and strings, featuring soloist Paula Robison; and new settings of poems by Rainer Maria Rilke. In 2020, he led the San Francisco Symphony in the world premiere of his six-part song cycle Meditations on Rilke, and he subsequently conducted the work at the Cleveland Orchestra. Additional compositions include Street Song for brass instruments; Agnegram, an overture for orchestra; and Urban Legend, a concerto for contrabassoon that was premiered by the San Francisco Symphony. In June 2020, SFS Media released an album of works composed by Mr. Tilson Thomas, featuring live concert recordings of From the Diary of Anne Frank, narrated by mezzo-soprano Isabel Leonard, and Meditations on Rilke, sung by mezzo-soprano Sasha Cooke and bass-baritone Ryan McKinny.
Mr. Tilson Thomas is an Officier de l'Ordre des Arts et des Lettres of France, is a member of the American Academy of Arts and Sciences, was Musical America's Musician of the Year and Conductor of the Year, was Gramophone magazine's Artist of the Year and has been profiled on CBS's 60 Minutes and ABC's Nightline. He has been awarded the National Medal of Arts, has been inducted into the California Hall of Fame and the American Academy of Arts and Letters, and was a 2019 recipient of the Kennedy Center Honors.
Daniil Trifonov, piano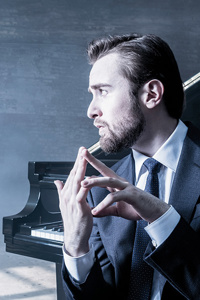 Russian pianist Daniil Trifonov (dan-EEL TREE-fon-ov), Musical America's 2019 Artist of the Year, has made a spectacular ascent in the classical world as a solo artist, concerto collaborator, chamber musician and composer. An exclusive Deutsche Grammophon artist, he recently added a first Grammy Award to his string of honors, winning Best Instrumental Solo Album of 2018 for his Liszt collection, Transcendental. The Times (London) calls him "without question the most astounding pianist of our age."
This fall brings the Deutsche Grammophon release of Mr. Trifonov's Destination Rachmaninov: Arrival, following Destination Rachmaninov: Departure and the Grammy-nominated Rachmaninov: Variations, both also recorded with The Philadelphia Orchestra and Yannick Nézet-Séguin. As 2019-20 Artist-in-Residence of the New York Philharmonic, Mr. Trifonov joins the orchestra for concertos in New York and Europe, and gives the New York premiere of his own Piano Quintet. His upcoming highlights also include collaborations with The Philadelphia Orchestra, Los Angeles Philharmonic, New World Symphony and San Francisco Symphony; Bach-themed solo recitals in New York, Chicago, Boston and Europe; and a return to Carnegie Hall with fellow pianist Sergei Babayan.
Mr. Trifonov recently undertook four major season-long residencies: at New York's Carnegie Hall and Vienna's Musikverein, and with the London Symphony and Berlin Philharmonic. Other recent highlights include launching the New York Philharmonic's 2018-19 season, headlining the gala finale of the Chicago Symphony's 125th anniversary celebrations, and collaborating with such preeminent ensembles as The Cleveland Orchestra, Boston Symphony, Philadelphia Orchestra, Munich Philharmonic, Bavarian Radio Symphony, London Philharmonic and Royal Concertgebouw Orchestra. He regularly gives solo recitals at venues including Carnegie Hall, The Kennedy Center, Boston's Celebrity Series, London's Barbican and Royal Festival Hall, Paris' Théâtre des Champs Élysées and Salle Pleyel, Brussels' Palais des Beaux-Arts, Amsterdam's Concertgebouw, Berlin's Philharmonie, Zurich's Tonhalle, Vienna's Musikverein, Barcelona's Palau de la Música, Tokyo's Suntory Hall and Opera City, the Seoul Arts Center and Melbourne's Recital Centre.
In 2010-11 Mr. Trifonov took First Prize in Tel Aviv's Rubinstein Competition, Third Prize in Warsaw's Chopin Competition and First Prize and Grand Prix in Moscow's Tchaikovsky Competition. Having won Italy's Franco Abbiati Prize for Best Instrumental Soloist in 2013, three years later he was named Gramophone's Artist of the Year. Born in Nizhny Novgorod in 1991, he attended Moscow's Gnessin School of Music, before pursuing piano and composition at the Cleveland Institute of Music.
Chad Goodman, conductor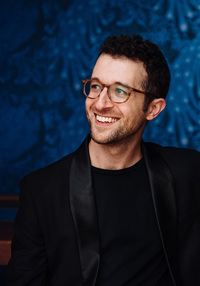 With a flair for inventive programming and a bold presence on stage and in the community, Chad Goodman has been praised for "bringing innovation to classical music" (Forbes).
As the Conducting Fellow of the New World Symphony, Mr. Goodman conducts on subscription, education, family and holiday programs. His program, "SPARK: How Composers Find Inspiration," blended captivating light design and videography with engaging audience participation to explore how a composition is created and brought to life by an orchestra.
Since 2018 Mr. Goodman has served as an Assistant Conductor to the San Francisco Symphony, assisting Esa-Pekka Salonen, Manfred Honeck, Daniel Harding, Pablo Heras-Casado, Simone Young and James Gaffigan among others.
Mr. Goodman's 2022-23 Season will include debut appearances with the Elgin Symphony, Baton Rouge Symphony, Greensboro Symphony and San Francisco Chamber Orchestra.
As Founder and Artistic Director of Elevate Ensemble, Mr. Goodman's ambitious vision for concert programming resulted in the pairing of music from Bay Area composers with underappreciated gems of the 20th and 21st centuries. Under his leadership, Elevate Ensemble established a Composer-in-Residence program and commissioned fifteen works from Bay Area composers. Elevate collaborated with photographers, videographers, poets and culinary artists, bringing new music and vibrant multi-genre experiences to unique venues such as yoga studios, historic Victorian homes and art studio warehouses.
Mr. Goodman has previously served as Conducting Fellow of Festival Napa Valley, Music Director of the Contra Costa Chamber Orchestra, Conducting Fellow of the Atlantic Music Festival, and a rehearsal and cover conductor for the San Francisco Ballet.
In addition to his performing career, he teaches young musicians the business and entrepreneurial skills needed to successfully navigate the world as a working musician in his workshop "You Earned a Music Degree. Now What?"
Mr. Goodman holds a bachelor of music degree from the Eastman School of Music and a master of music degree from San Francisco State University. His mentors include Michael Tilson Thomas, Alasdair Neale, Cyrus Ginwala and Martin Seggelke.