Events & Tickets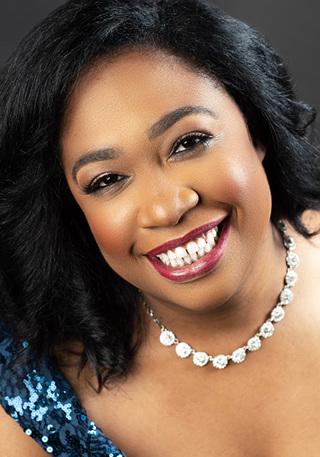 Orchestra Concert
Price + Beethoven
Adrienne Arsht Center
Saturday, March 11, 2023 at 8:00 PM
Program
Renowned guest conductor David Robertson leads an unforgettable one-night-only performance alongside celebrated pianist and fan favorite Michelle Cann. A champion of composer Florence Price, Cann presents the South Florida premiere of Price's Concerto, an evocative work that has Cann leading the "rollicking, ragtime-infused melodies with the red-hot glee of a honky-tonk pianist" (The Philadelphia Inquirer/Chicago Classical Review). Despite being tormented by his impending hearing loss, Ludwig van Beethoven infused his Second Symphony with vigor. "This Symphony is smiling throughout," Berlioz claimed of Beethoven's most jovial symphony. The boisterous Dances of Galánta celebrates the Hungarian folk and gypsy musical traditions of Zoltán Kodály's childhood.
---
This concert is part of the NWS's series at the Adrienne Arsht Center. Artistic Director Laureate Michael Tilson Thomas and NWS Fellows welcome world-renowned guest artists for a series of star-studded, one-night-only events at downtown Miami's grand concert hall. Subscriptions for this 3-concert series begin at just $36 ($12/concert). Click here to explore the full subscription! 
COMPOSE YOUR OWN SUBSCRIPTION PACKAGE! 
Want to try a little of everything? Customize your own subscription of three or more concerts to exercise full creative freedom while enjoying all the flexibility and perks of being a New World Symphony subscriber. Click here to build your CYO subscription or call the Box Office at 305.673.3331 to compose your series today.  
SUBSCRIBERS ENJOY THE BEST OF NWS! 
As an NWS Subscriber, you receive amazing benefits to enjoy throughout the season, including the best seats for the lowest prices and access to our incredibly talented Fellows. Click here to learn more! 
Tickets no longer available online.
Program
Zoltán Kodály
(1882-1967 )
Approx. Duration: 16 minutes

Florence Price
(1887-1953)
Approx. Duration: 18 minutes

Concerto in D minor in One Movement for Piano and Orchestra (c. 1933)

Ludwig van Beethoven
(1770-1827 )
Approx. Duration: 36 minutes

Symphony No. 2 in D major, Op. 36 
(1800-02)

Adagio molto – Allegro con brio 
Larghetto 
Scherzo: Allegro 
Allegro molto
Zoltán Kodály
Dances of

Gal

á

nta

(1933)

Approximate duration: 16 minutes
Zoltan Kodaly achieved eminence as a composer, ethnomusicologist and educator, drawing on Magyar folk music as an inspiration in each of those fields. While studying at the Budapest Academy of Music, he grew increasingly fascinated by the traditional music of Hungary. After polishing his compositional skills through a post-graduate scholarship in Paris, Kodaly returned to Budapest, where he taught at his alma mater, wrote music criticism for newspapers and magazines (including important analyses of works by his compatriot and lifelong friend Bela Bartok), edited and published folksong collections, and continued to compose. He joined Bartok in organizing trips around the countryside to collect folksongs. Wrote Bartok: "If I were to name the composer whose works are the most perfect embodiment of the Hungarian spirit, I would answer, Kodaly. His work proves his faith in the Hungarian spirit."
The best known of Kodaly's works, at least outside Hungary, are his orchestral scores, such shimmering displays of melody and color as the Dances of Galanta. The immediate roots of this work might be traced to 1927, when Kodaly wrote a piano suite called Dances of Marosszek, celebrating a section of Transylvania he had visited while growing up. He orchestrated that work in 1930, and he seems to have viewed Dances of Galanta as a sequel. He provided the following comment about the piece, phrased rather curiously in the third person:
Galanta is a small Hungarian market town known to travelers between Vienna and Budapest. The composer passed seven years of his childhood there. At that time there existed a famous Gypsy band that has since disappeared. This was the first "orchestral" sonority that came to the ears of the child. The forebears of these Gypsies were already known more than a hundred years ago. About 1800 some books of Hungarian dances were published in Vienna, one of which contained music "after several Gypsies from Galanta." They have preserved the old traditions. In order to keep it alive, the composer has taken his principal themes from these old publications.
Its five movements offer various manifestations of the traditional Hungarian verbunkos style, in which slow figures alternate with fast ones and swagger gives way to irresistible foot-stomping. The clarinet assumes a particularly prominent part, reflecting the role of the single-reed tarogato in Hungarian folk music. This, however, is no mere folksong recital; instead, everything is filtered through Kodaly's colorful brand of brilliantly orchestrated modernism.
Florence Price
Concerto in D minor in One Movement for Piano and Orchestra

(c. 1933)


Approximate duration: 18 minutes

Florence Price, a remarkable Black composer of the late 1920s through the early 1950s, graduated from high school in Little Rock at the age of 14. After studying piano, organ and composition at New England Conservatory in Boston, she taught at colleges in Arkansas, Indiana and Atlanta before returning to Little Rock. She traveled occasionally to Chicago for musical enrichment, including to study at the American Conservatory and the Chicago Musical College. When racism skyrocketed in 1920s Arkansas, she moved in 1927 to Chicago, where she made her home for the rest of her life. The publisher G. Schirmer began issuing her songs, piano pieces and pedagogical works around 1928. Near the end of her life, conductor John Barbirolli asked her to write a suite for strings for his Halle Orchestra in Manchester, England. Plans ensued for a European tour, but she died of a stroke before she could go.

In 1933 Frederick Stock led the Chicago Symphony in her Symphony No. 1, at the Century of Progress International Exposition, marking the first time any major American orchestra played a symphonic work by an African American woman. Later that year (which was also the year of Kodaly's Dances of Galanta), Stock responded enthusiastically to her mention of the piano concerto she was writing, but his hope to program it came to naught. Price herself was the pianist at the premiere, in the Chicago Musical College's 1934 commencement concert. "Equal in length to some symphonies," wrote a reviewer in the Chicago Tribune, "the Concerto, aside from its technical perfections, disclosed a thematic substance rich in syncopated and spiritual colors."

The piece is divided into three contrasting sections, their structures truncated when compared to most full-scale concertos—hence the title Piano Concerto in One Movement. The first part (Andantino) opens with foretastes (from brass and woodwinds) of the first section's principal theme, after which the piano launches into a written-out cadenza with a Lisztian flavor—although the European composer Price more consistently evokes is Dvořák. Oboe is prominent in the lyrical second section (Adagio cantabile), interacting with the piano in a way that may allude to the call-and-response procedures of some spirituals. After this rapt expanse, a short Andantino serves as transition to the third section, Allegretto. Though not so identified in the score, this is a Juba, a vigorous, syncopated 19th-century dance type Price used repeatedly, as in her First, Third and Fourth symphonies.
Ludwig van Beethoven
Symphony No.

2 in D major, Op. 36

 


(1800-02)

Approximate duration: 36 minutes
Beethoven's mercurial Second Symphony was premiered on a program, on April 5, 1803 at the Theater an der Wien in Vienna, that also included a performance of his First Symphony, his Piano Concerto No. 3 and his oratorio Christ on the Mount of Olives. It was one of those interminable programs that period audiences seem to have endured with patience, curiosity and Sitzfleisch. Beethoven's pupil Ferdinand Ries was summoned to the master's apartment at five in the morning on the day of the concert and found the composer in bed, writing out trombone parts. The program had yet to be rehearsed for the first time, despite the amount of music to be played and the fact that much of it was new and complex. "The rehearsal began at eight o'clock in the morning," Ries recounted. "It was a terrible rehearsal, and at half past two everybody was exhausted and more or less dissatisfied." He continued:
Prince Carl Lichnowsky [its dedicatee], who attended the rehearsal from the beginning, had sent for bread and butter, cold meat and wine, in large baskets. He pleasantly asked all to help themselves, and this was done with both hands, the result being that good nature was restored again. Then the Prince requested that the oratorio be rehearsed once more from the beginning, so that it might go well in the evening and Beethoven's first work in this genre be worthily presented. And so the rehearsal began again. The concert began at six o'clock, but was so long that a few pieces were not performed.
Critics were reserved in their response. The Zeitung fur die Elegante Welt found it wanting in comparison to Beethoven's First Symphony, its report expressing the opinion "that the First Symphony is better than the later one because it is developed with a lightness and is less forced, while in the Second the striving for the new and surprising is already more apparent. However, it is obvious that both are not lacking in surprising and brilliant passages of beauty." The critic was certainly right about the Second Symphony's "striving for the new." The piece is often highly dramatic, from the long, searching, slow introduction of the opening movement, rich in harmonic surprises and cunning contrasts of orchestration, through to the outsize coda of the finale, which even comes to a halt and creeps on in considerable mystery before concluding in rambunctious fashion.
– © James M. Keller
James M. Keller is the longtime Program Annotator of the San Francisco Symphony and was formerly Program Annotator of the New York Philharmonic and a staff writer-editor at The New Yorker. The author of Chamber Music: A Listener's Guide (Oxford University Press), he is writing a sequel volume about piano music for the same publisher. 
Program
Zoltán Kodály
(1882-1967 )


Florence Price
(1887-1953)


Concerto en Re menor en Un Movimiento para Piano y Orquesta (c. 1933)
Ludwig van Beethoven
(1770-1827 )


Sinfonía No. 2 en Re mayor, Op. 36
(1800-02)
Adagio molto – Allegro con brio 
Larghetto 
Scherzo: Allegro 
Allegro molto
Zoltán Kodály
Danzas de Galánta (1933)

Duración aproximada: 16 minutos
Zoltan Kodaly alcanzó la eminencia como compositor, etnomusicólogo y educador, siempre inspirado por la música folclórica magiar. Mientras estudiaba en la Academia de Música de Budapest, su fascinación por la música tradicional húngara creció cada vez más. Después de pulir sus habilidades como compositor durante una beca de posgrado en París, Kodaly regresó a Budapest, donde impartió clases en su alma mater, escribió críticas musicales para periódicos y revistas (incluyendo importantes análisis de obras escritas por su compatriota y amigo de toda la vida Bela Bartok), editó y publicó colecciones de canciones folclóricas y continuó componiendo. Kodaly se unió a  Bartok en la organización de viajes por el campo para recopilar canciones populares. Bartok escribió: "Si tuviera que nombrar el compositor cuyas obras son la más perfecta representación del espíritu húngaro, respondería, Kodaly. Su trabajo demuestra su fe en el espíritu húngaro." 
Las obras más conocidas de Kodaly, al menos fuera de Hungría, son sus partituras orquestales, un resplandeciente despliegue de melodía y color como las Danzas de Galánta. Las raíces inmediatas de esta obra se remontan a 1927, cuando Kodaly escribió una suite para piano llamada Danzas de Marosszek, inspirado en una parte de Transilvania que había visitado de niño. Orquestó esa obra en 1930, y al parecer, consideró las Danzas de Galánta como una continuación. Kodaly hizo el siguiente comentario sobre la pieza, escrito curiosamente en tercera persona: 
Galanta es un pequeño pueblo comercial conocido por los viajeros entre Viena y Budapest. El compositor pasó allí siete años de su infancia. En aquel tiempo, existía en el pueblo una famosa banda gitana que ya ha desaparecido. Esta fue la primera sonoridad "orquestal" que llegó a los oídos del niño. Los predecesores de estos gitanos eran conocidos desde hace más de 100 años. Alrededor de los 1800, algunos libros de danzas húngaras fueron publicados en Viena, uno de los cuales contenía música "de varios gitanos de Galanta." Ellos habían preservado las viejas tradiciones. Para mantenerlas vivas, el compositor tomó sus temas principales de estas publicaciones antiguas. 
Sus cinco movimientos nos brindan diversas manifestaciones del estilo tradicional húngaro verbunko, en el cual se alternan figuraciones rítmicas lentas y rápidas, y el contoneo le da paso a un irresistible zapateado. El clarinete juega un papel particularmente prominente, asumiendo el rol del tárogató de una sola caña en la música popular húngara. Sin embargo, este no es un simple  recital de canciones folclóricas-populares; en cambio, todo se aprecia a través de la colorida marca de modernismo brillantemente orquestado de Zoltan Kodaly.
Florence Price
Concerto en Re menor en Un Movimiento para Piano y Orquesta

(c. 1933)


Duración aproximada: 18 minutos

Florence Price, una extraordinaria compositora afroamericana de finales de los 1920 hasta principios de los 1950, se graduó de la preparatoria en Little Rock a la edad de 14 años. Luego de haber estudiado piano, órgano y composición en el New England Conservatory de Boston, fue profesora en varias universidades de Arkansas, Indiana y Atlanta antes de regresar a Little Rock. Viajó ocasionalmente a Chicago para enriquecimiento musical, lo cual incluyó estudios en el American Conservatory y el Chicago Musical College. Cuando el racismo se disparó en Arkansas en la década del 20, Price se mudó a Chicago en 1927, ciudad que se convirtió en su hogar por el resto de su vida. La casa editorial G. Schirmer comenzó a publicar sus canciones, piezas para piano y trabajos pedagógicos alrededor de 1928. Cerca del final de su vida, el director de orquesta John Barbirolli le pidió escribir una suite para cuerdas para su Halle Orchestra en Manchester, Inglaterra. Se hicieron planes para un tour por Europa, pero Price murió de un derrame cerebral antes de que fuera posible. 

En 1933 Frederick Stock dirigió la Sinfónica de Chicago en su Sinfonía No. 1, durante  la Century of Progress International Exposition (Exposición Internacional Un Siglo de Progreso), marcando la primera vez que una importante orquesta estadounidense interpretaba una obra sinfónica de una compositora afroamericana. Más tarde ese año (el cual también fue el año de las Danzas de Galanta de Kodaly), Stock respondió con entusiasmo cuando Price mencionó el concierto para piano que estaba escribiendo, pero su esperanza de programarlo se redujo a cero. La misma Price fue la pianista en el estreno, en el concierto de graduación de 1934 del Chicago Musical College. "Igual en duración a varias sinfonías," escribió un crítico en el Chicago Tribune, "el Concerto, aparte de su perfección técnica, reveló una sustancia temática rica en colores sincopados y espirituales." 

La pieza está dividida en tres secciones contrastantes, sus estructuras truncadas cuando se compara con la mayoría de los conciertos a gran escala, de ahí el título Concerto para Piano en Un Movimiento. La primera parte (Andantino) comienza con muestras (de los vientos madera y metal) del tema principal de la primera sección, después de lo cual el piano se lanza a una cadenza escrita con un sabor lizstiano, aunque el compositor europeo que Price evoca con más frecuencia es Dvořák. El oboe se destaca en la lírica segunda sección (Adagio cantabile), interactuando con el piano de una manera que alude al call-and-response de algunos spirituals. Después de esta extasiada expansión, un breve Andantino sirve de transición a la tercera sección, Allegretto. Aunque no está indicado en la partitura, se trata de una Juba, un tipo de danza del siglo XIX de carácter vigoroso y sincopado que Price usó repetidamente, como en su Primera, Tercera y Cuarta sinfonías.
Ludwig van Beethoven
Sinfonía No. 2 en Re mayor, Op. 36

(1800-02)


Duración aproximada: 36 minutos

La volátil Sinfonía No. 2 de Beethoven se estrenó el 5 de abril de 1803 en el Theater an der Wien de Viena, en un programa que también incluyó la interpretación de su Primera Sinfonía, su Concerto para Piano No.3 y su oratorio Cristo en el Monte de los Olivos. Fue uno de esos interminables programas que el público de la época parecía soportar con paciencia, curiosidad y Sitzfleisch. Ferdinand Ries, el alumno de Beethoven, fue convocado al apartamento del maestro a las cinco de la mañana el día del concierto y encontró al compositor en la cama, escribiendo partes de trombón. El programa aún no había sido ensayado por primera vez, a pesar de la cantidad de música que se tocaría y el hecho de que una gran parte de ella era nueva y compleja.

"El ensayo comenzó a las ocho de la mañana ," recuerda Ries. "Fue un ensayo terrible, y a las dos y treinta todos estaban exhaustos e insatisfechos." Ries continuó: 

El Príncipe Carl Lichnowsky (a quien estaba dedicado el concierto), el cual asistió al ensayo desde el principio, había enviado por pan y mantequilla, carnes y vino, en grandes canastas. Él le pidió a todos que se sirvieran, y esto fue hecho con ambas manos, y tuvo como resultado que todos recobraran el buen humor. Entonces el Príncipe pidió que el oratorio fuera ensayado una vez más desde el principio, para que saliera bien en la noche y que la primera obra de Beethoven en este género fuera presentada con calidad. Y así comenzó el ensayo nuevamente.  El concierto empezó  a las seis en punto, pero fue tan largo que algunas de las obras no fueron presentadas. 

Los críticos fueron reservados en su respuesta. El Zeitung fur die Elegante Welt la encontró deficiente en comparación con la Primera Sinfonía de Beethoven, expresando su opinión de que "la Primera Sinfonía es mejor que la Segunda porque se desarrolla con ligereza y es menos forzada, mientras que en la Segunda el esfuerzo por lo nuevo y sorprendente es más aparente. Sin embargo, es obvio que ambas no carecen de pasajes de brillante y sorprendente belleza." El crítico estaba en lo cierto acerca del "esfuerzo por lo nuevo" de la Segunda Sinfonía. La obra es altamente dramática, desde la larga, escrutadora, lenta introducción del primer movimiento, rica en sorpresas armónicas y astutos contrastes de orquestación, hasta la enorme coda del finale, la cual hace una pausa y continúa con gran misterio antes de concluir de una manera rimbombante.

– © James M. Keller

James M. Keller ha sido escritor de programas de la Sinfónica de San Francisco por largo tiempo y anteriormente realizó el mismo trabajo para la Filarmónica de Nueva York, donde también fue miembro y editor del staff de redacción de la revista The New Yorker. El autor del libro: Chamber Music: A Listener's Guide (Música de Cámara: Guía para un oyente) publicado por la Editorial Oxford University Press, actualmente está escribiendo un segundo volumen sobre música para piano para la misma editorial.

Translated by Maria Paulina García
David Robertson, conductor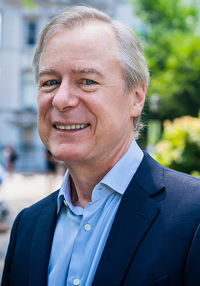 David Robertson – conductor, artist, thinker, and American musical visionary – occupies some of the most prominent platforms, internationally, in opera, orchestral music and new music.
In the 2021-22 season, Mr. Robertson made his Rome Opera debut conducting Janáček's Káťa Kabanová, and, building upon his prolific association with The Metropolitan Opera, conducted encore performances of the lauded 2019 production of The Gershwins' Porgy and Bess, for which his musical leadership was honored at the 63rd Grammy Awards, Best Opera Recording.  His breathtaking range of Met Opera endeavors include the celebrated 2018 production of Così fan tutte, set in 1950s Coney Island, and since his 1996 Met debut, The Makropulos Case, the Met premiere of John Adams' The Death of Klinghoffer, revival of Janáček's Jenůfa, premiere production of Nico Muhly's Two Boys, and many favorites. Mr. Robertson conducts projects at the world's most prestigious opera houses.
In 2018 Mr. Robertson completed his transformative 13-year tenure as Music Director of the St. Louis Symphony Orchestra, creating fruitful relationships with a spectrum of artists, and solidifying its status as among the nation's most innovative. He garnered a 2014 Grammy Award, Best Orchestral Performance, for John Adams' City Noir (Nonesuch), with two final SLSO collaborations released in 2019: Wynton Marsalis' Swing Symphony with the Jazz at Lincoln Center Orchestra (Blue Engine), and Mozart Piano Concertos with Orli Shaham (Canaray Classics). As Mr. Robertson's 2019 valedictory season as Chief Conductor and Artistic Director of the Sydney Symphony culminated, he joined the Tianjin Juilliard Advisory Council, guiding Juilliard's young Chinese campus, complementing his role as Director of Conducting Studies, Distinguished Visiting Faculty of The Juilliard School, New York.
Mr. Robertson appears regularly in Europe with the Royal Concertgebouw Orchestra, Czech Philharmonic, Wiener Symphoniker, Staatskapelle Dresden, and in London, Paris, Munich and more.  In addition to his longstanding relationship with the New York Philharmonic, frequent North American musical destinations include Boston, Philadelphia, Houston and Seattle. He conducts the New Japan Philharmonic, China NCPA Orchestra, and, in 2022, debuts with the São Paulo State Symphony.  Mr. Robertson has served in numerous artistic leadership positions: with the Orchestre National de Lyon; the Ensemble intercontemporain as a protégé of Pierre Boulez; Principal Guest Conductor, BBC Symphony Orchestra. He has been a Carnegie Hall Perspectives Artist, where he has conducted The Met Orchestra, Lucerne Festival Orchestra, SLSO, The Juilliard Orchestra and Carnegie Hall's National Youth Orchestra of the USA. 
In 2010 Mr. Robertson became a Chevalier de l'Ordre des Arts et des Lettres of France and is the recipient of numerous artistic awards. Beyond Juilliard, he is devoted to supporting young musicians and works with teaching festivals from Aspen to Lucerne. In 2020 he helped form the international digital electric guitar ensemble Another Night on Earth. Born in Santa Monica, California, Mr. Robertson was educated at London's Royal Academy of Music. He is married to pianist Orli Shaham and lives in New York.
Michelle Cann, piano
"A compelling, sparkling virtuoso" (Boston Music Intelligencer), pianist Michelle Cann made her orchestral debut at age 14 and has since performed as a soloist with numerous orchestras including The Philadelphia Orchestra, Cleveland Orchestra, Cincinnati Symphony and New Jersey Symphony.
A champion of the music of Florence Price, Ms. Cann performed the New York City premiere of the composer's Piano Concerto in One Movement with The Dream Unfinished Orchestra in 2016 and the Philadelphia premiere with The Philadelphia Orchestra in February 2021, which The Philadelphia Inquirer called "exquisite."
Highlights of Ms. Cann's 2021–22 season include debut performances with the Atlanta, Detroit and St. Louis symphonies, as well as her Canadian concert debut with the National Arts Centre Orchestra in Ottawa. She also receives the 2022 Sphinx Medal of Excellence, the highest honor bestowed by the Sphinx Organization, and the 2022 Andrew Wolf Chamber Music Award. Embracing a dual role as both performer and pedagogue, Ms. Cann's season includes teaching residencies at the Gilmore International Keyboard Festival and the National Conference of the Music Teachers National Association.
Ms. Cann regularly appears in solo and chamber recitals throughout the U.S., China and South Korea. Notable venues include the National Centre for the Performing Arts (Beijing), the John F. Kennedy Center for the Performing Arts (Washington, D.C.), Walt Disney Concert Hall (Los Angeles) and the Barbican (London). She has also appeared as cohost and collaborative pianist with NPR's From the Top.
An award winner at top international competitions, Ms. Cann served as the Cincinnati Symphony's MAC Music Innovator in 2019 in recognition of her role as an African-American classical musician who embodies artistry, innovation and a commitment to education and community engagement.
Ms. Cann studied at the Cleveland Institute of Music and Curtis Institute of Music, where she holds the inaugural Eleanor Sokoloff Chair in Piano Studies.
Chad Goodman, conductor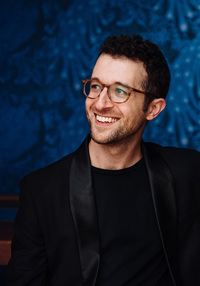 With a flair for inventive programming and a bold presence on stage and in the community, Chad Goodman has been praised for "bringing innovation to classical music" (Forbes).
As the Conducting Fellow of the New World Symphony, Mr. Goodman conducts on subscription, education, family and holiday programs. His program, "SPARK: How Composers Find Inspiration," blended captivating light design and videography with engaging audience participation to explore how a composition is created and brought to life by an orchestra.
Since 2018 Mr. Goodman has served as an Assistant Conductor to the San Francisco Symphony, assisting Esa-Pekka Salonen, Manfred Honeck, Daniel Harding, Pablo Heras-Casado, Simone Young and James Gaffigan among others.
Mr. Goodman's 2022-23 Season will include debut appearances with the Elgin Symphony, Baton Rouge Symphony, Greensboro Symphony and San Francisco Chamber Orchestra.
As Founder and Artistic Director of Elevate Ensemble, Mr. Goodman's ambitious vision for concert programming resulted in the pairing of music from Bay Area composers with underappreciated gems of the 20th and 21st centuries. Under his leadership, Elevate Ensemble established a Composer-in-Residence program and commissioned fifteen works from Bay Area composers. Elevate collaborated with photographers, videographers, poets and culinary artists, bringing new music and vibrant multi-genre experiences to unique venues such as yoga studios, historic Victorian homes and art studio warehouses.
Mr. Goodman has previously served as Conducting Fellow of Festival Napa Valley, Music Director of the Contra Costa Chamber Orchestra, Conducting Fellow of the Atlantic Music Festival, and a rehearsal and cover conductor for the San Francisco Ballet.
In addition to his performing career, he teaches young musicians the business and entrepreneurial skills needed to successfully navigate the world as a working musician in his workshop "You Earned a Music Degree. Now What?"
Mr. Goodman holds a bachelor of music degree from the Eastman School of Music and a master of music degree from San Francisco State University. His mentors include Michael Tilson Thomas, Alasdair Neale, Cyrus Ginwala and Martin Seggelke.