Events & Tickets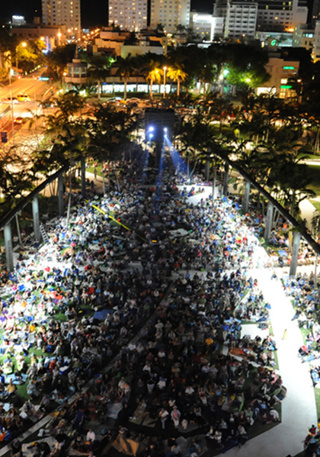 WALLCAST® Concert
PROJECT 305
SoundScape Park
Saturday, October 21 at 7:30 PM
Performances by Community Artists
Hearne/Kane: World Premiere of Project 305 (NWS commission)
Go Team Miami—together we did it! Gather in SoundScape Park for #Project305, a community celebration culminating in the world premiere of Miami in Movements, the crowd-sourced symphony and film you and fellow Miamians helped create by sharing over 1,050 reflections on life in our community. The performance will also feature performances by local artists Picadillo, The Barry Bucaneiros and a special gospel choir with vocalists from three local choirs, under the direction of Dr. Nelson Hall.
Start the celebration early with free tours of the New World Center, pre-concert chats with the Project 305 artistic team and live performances by local artists SoundScape Park before the concert.
5:00 - 6:15 PM Tours of New World Center & Interactive VR Exhibits (space is limited; first-come, first-served)
5:45 PM Performances in SoundScape Park by Miami Music Project and Young Musicians Unite
6:15 PM Citi Pre-Concert Chat
7:30 PM WALLCAST® Concert featuring the World Premiere of Miami in Movements
Schedule of Project 305 events subject to change. In the event of inclement weather, Citi will distribute a limited number of ponchos (first-come, first-served) throughout SoundScape Park.
Join the WALLCAST® Concert Club, Presented by Citi, to receive the latest updates on Project 305!
WALLCAST® concerts are free. No tickets required. Document your WALLCAST® concert experience using #Project305, #WALLCAST and #citimiami on social media!
What's a WALLCAST® concert? Click here to get a taste of the WALLCAST® concert experience!
LEARN MORE: To learn more about Project 305 and view all submissions, visit www.project305.org.
WEATHER: In the event of inclement weather, the WALLCAST® concert featuring Project 305 will be shown at a later date to be announced.
WALLCAST® Concert Club, Presented by Citi: Click here to learn about the free WALLCAST® Concert Club. Join today!
This concert is sponsored in part by Micky and Madeleine Arison Family Foundation and William Strong.
Program
PICADILLO
Héctor Agüero, director/keyboard; Sol Ruiz, voice/ukulele
Rey Rodríguez, voice/electric guitar
Alejandro Sierra, trumpet; Manuel Orza, bass
Alexis Arce, drums
THE BARRY BUCANEIROS
Dr. Brian Potts, director
Adriano Borba, *Derrick Brown, *Luis Fontes, *Joseph Greenfield
Richard Hargett, Carlos Jimenes, *Paola Montenegro
*Leonardo Scimonelli, *Aminatta Sillah, *Esdras Tatoute,
* denotes Barry University student
GOSPEL CHOIR
Dr. Nelson Hall, director
Vocalists from Miami Temple Seventh-day Adventist Church,
Florida Memorial University
and Church of the Open Door
    I N T E R M I S S I O N
THE NEW WORLD SYMPHONY
Michael Tilson Thomas, conductor
George Gershwin (1898-1937)
Cuban Overture (1932)
Ted Hearne (b. 1982) and Jonathan David Kane (b. 1984)
Miami in Movements (2017; world premiere of NWS commission)
Out of the swamp….
The Neighborhood Game
Pocket here, pocket there
Closer than family
Ode to that Miami bass
A canary in the coal mine
Michael Tilson Thomas, conductor
Michael Tilson Thomas is Co-Founder and Artistic Director Laureate of the New World Symphony, America's Orchestral Academy; Music Director Laureate of the San Francisco Symphony; and Conductor Laureate of the London Symphony Orchestra. In addition to these posts, he maintains an active presence guest conducting with the major orchestras of Europe and the United States.
Born in Los Angeles, Mr. Tilson Thomas is the third generation of his family to follow an artistic career. His grandparents, Boris and Bessie Thomashefsky, were founding members of the Yiddish Theater in America. His father, Ted Thomas, was a producer in the Mercury Theater Company in New York before moving to Los Angeles where he worked in films and television. His mother, Roberta Thomas, was the head of research for Columbia Pictures.
Mr. Tilson Thomas began his formal studies at the University of Southern California, where he studied piano with John Crown, and conducting and composition with Ingolf Dahl. At age 19 he was named Music Director of the Young Musicians Foundation Debut Orchestra. During this same period, he was the pianist and conductor in master classes of Gregor Piatigorsky and Jascha Heifetz and worked with Stravinsky, Boulez, Stockhausen and Copland on premieres of their compositions at Los Angeles' Monday Evening Concerts.
In 1969, after winning the Koussevitzky Prize at Tanglewood, he was appointed Assistant Conductor of the Boston Symphony Orchestra. That year he also made his New York debut with the Boston Symphony and gained international recognition after replacing Music Director William Steinberg in mid-concert. He was later appointed Principal Guest Conductor of the Boston Symphony Orchestra where he remained until 1974. He was Music Director of the Buffalo Philharmonic from 1971 to 1979 and a Principal Guest Conductor of the Los Angeles Philharmonic from 1981 to 1985. His guest conducting includes appearances with the major orchestras of Europe and the United States.
Mr. Tilson Thomas is a two-time Carnegie Hall Perspectives artist, curating and conducting series at the hall from 2003 to 2005 and from 2018 to 2019. In the most recent series, he led Carnegie Hall's National Youth Orchestra of the United States of America both at the hall and on tour in Asia, opened the Carnegie Hall season over two evenings with the San Francisco Symphony, conducted two programs with the Vienna Philharmonic and finished with a pair of concerts leading the New World Symphony.
A winner of eleven Grammy Awards, Mr. Tilson Thomas appears on more than 120 recordings. His discography includes The Mahler Project, a collection of the composer's complete symphonies and works for voice and orchestra performed with the San Francisco Symphony, in addition to pioneering recordings of music by Charles Ives, Carl Ruggles, Steve Reich, John Cage, Ingolf Dahl, Morton Feldman, George Gershwin, John McLaughlin and Elvis Costello. His recordings span repertoire from Bach and Beethoven to Debussy and Stravinsky, and from Sarah Vaughan to Metallica.
His television work includes a series with the London Symphony Orchestra for BBC Television, broadcasts of the New York Philharmonic Young People's Concerts from 1971 to 1977 and numerous productions on PBS's Great Performances. With the San Francisco Symphony, he created a multi-tiered media project, Keeping Score, which includes a television series, web sites, and radio programs. He received a Peabody Award for his SFS Media radio series The MTT Files.
Mr. Tilson Thomas's compositions are published by G. Schirmer. In 1991, he and the New World Symphony were presented in a series of benefit concerts for UNICEF in the United States, featuring Audrey Hepburn as narrator of his work From the Diary of Anne Frank, which was commissioned by UNICEF. This piece has since been translated and performed in many languages worldwide. In August 1995, he led the Pacific Music Festival Orchestra in the premiere of his composition Shówa/Shoáh, commemorating the 50th anniversary of the bombing of Hiroshima. His vocal music includes settings of poetry by Walt Whitman and Emily Dickinson, which were premiered by Thomas Hampson and Renée Fleming, respectively. In 2016, Yuja Wang premiered his piano piece You Come Here Often?.
Mr. Tilson Thomas' song cycle Four Preludes on Playthings of the Wind, a setting of Carl Sandburg's poem, was premiered in 2016 by the New World Symphony, with Measha Brueggergosman as soloist. In 2019 the piece was recorded for Medici.tv at the New World Center and given its New York premiere as part of Mr. Tilson Thomas's second Carnegie Hall Perspectives series. His first Perspectives series also featured performances of his own compositions, including Island Music for four marimbas and percussion; Notturno for solo flute and strings, featuring soloist Paula Robison; and new settings of poems by Rainer Maria Rilke. In 2020, he led the San Francisco Symphony in the world premiere of his six-part song cycle Meditations on Rilke, and he subsequently conducted the work at the Cleveland Orchestra. Additional compositions include Street Song for brass instruments; Agnegram, an overture for orchestra; and Urban Legend, a concerto for contrabassoon that was premiered by the San Francisco Symphony. In June 2020, SFS Media released an album of works composed by Mr. Tilson Thomas, featuring live concert recordings of From the Diary of Anne Frank, narrated by mezzo-soprano Isabel Leonard, and Meditations on Rilke, sung by mezzo-soprano Sasha Cooke and bass-baritone Ryan McKinny.
Mr. Tilson Thomas is an Officier de l'Ordre des Arts et des Lettres of France, is a member of the American Academy of Arts and Sciences, was Musical America's Musician of the Year and Conductor of the Year, was Gramophone magazine's Artist of the Year and has been profiled on CBS's 60 Minutes and ABC's Nightline. He has been awarded the National Medal of Arts, has been inducted into the California Hall of Fame and the American Academy of Arts and Letters, and was a 2019 recipient of the Kennedy Center Honors.
Ted Hearne, composer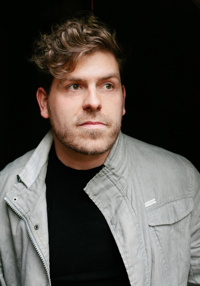 Ted Hearne is a composer, singer and bandleader noted for his "pan-stylistic freedom" (Pitchfork), "wildness of spirit" and "fresh and muscular" music (The New York Times), who "writes with such technical assurance and imaginative scope" (San Francisco Chronicle).
The New York Times included Mr. Hearne's oratorio The Source on its list of the best classical vocal performances of 2014, and (along with The New Yorker and The Nation) the best albums of 2015. Alex Ross wrote in The New Yorker "Hearne's piece holds up as a complex mirror image of an information-saturated, mass-surveillance world and remains staggering in its impact." Pitchfork called The Source "some of the most expressive socially engaged music in recent memory—from any genre." Law of Mosaics, Mr. Hearne's 30-minute piece for string orchestra, was recently performed by the Chicago Symphony and San Francisco Symphony, and the recording of it was named by The New Yorker's Alex Ross as one of the most notable albums of 2014. His newest album, Sound from the Bench, featuring Philadelphia's acclaimed choir The Crossing and released this year on Cantaloupe Music, was praised in The New Yorker: "Hearne has forged a fierce and timely grace."
Mr. Hearne performs with Philip White as the vocal-electronics duo R WE WHO R WE, belongs to the composer collective Sleeping Giant, and recent collaborations have paired him with legendary musician Erykah Badu. An active recording artist, his albums Katrina Ballads, The Source and Outlanders are available on New Amsterdam Records.

Mr. Hearne is the recipient of the Gaudeamus Prize and the New Voices Residency from Boosey & Hawkes. He recently joined the composition faculty at the University of Southern California. Recent and upcoming works include commissions from the San Francisco Symphony, eighth blackbird, A Far Cry, Ensemble Dal Niente, Roomful of Teeth and an evening-length work written in collaboration with poet/performer Saul Williams for the Los Angeles Philharmonic. For more information, visit www.tedhearne.com.
Jonathan David Kane, filmmaker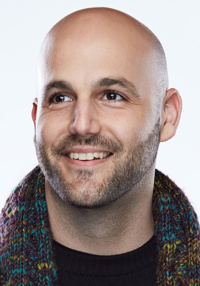 Jonathan David Kane is an artist and filmmaker from Miami. His work as a film director, producer, editor and cinematographer has screened at festivals and museums worldwide, including Toronto International, Sundance, SXSW, Rotterdam, Clermont-Ferrand, Sheffield Doc Fest, the Centre for Contemporary Arts in Glasgow, Contemporary Arts Center New Orleans, the Brooklyn Museum, the Museum of Modern Art in New York and CERN in Geneva. His 2015 documentary film Papa Machete "boasts lush cinematography" (OkayAfrica) and "resembles a graceful dance" (NPR). The film was recently released digitally via National Geographic and on The Atlantic Selects. 
In 2017 Mr. Kane collaborated with visual artist Michele Oka Doner on a four-channel video installation entitled Mysterium Alive, as part of Oka Doner's Mysterium exhibition at the University of Miami's Lowe Art Museum. He also joined forces with filmmaker and choreographer Yara Travieso to produce La Medea—a reimagining of Euripides' legendary Greek tragedy Medea as a Latin disco pop variety show—which premiered at PS122's COIL 2017 in Brooklyn, New York. La Medea was directed, performed, filmed, edited and streamed to audiences in real time. The resulting experimental film went on to screen with live musical accompaniment at the Dance on Camera Festival at Lincoln Center and the 34th Miami Film Festival. 
Mr. Kane has previously worked with the New World Symphony and Michael Tilson Thomas on the creation of several experimental performance films documenting Making the Right Choices: A John Cage Centennial Celebration. He is a winner of the Haskell Wexler Cinematography Award, a Knight Arts Challenge grant recipient, an alumni of the Berlinale Talents program and a co-founder of Miami's Borscht Corporation.
Picadillo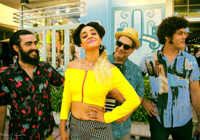 Picadillo is a Latin alternative music group that fuses vintage Cuban music, guaracha and son with rock, blues and elements of New Orleans jazz.  The band was formed in Madrid by Cuban musicians Héctor Agüero Lauten, Rey Rodríguez, José González and Sol Ruiz.  Its first album, Las Cosas de la Vida led the band to sign with Warner Chappell Publishing and to performing internationally in Cuba, the U.S., Canada and Europe. 

The band's two lead singers, Ms. Ruiz and Mr. Rodriguez, mention Dr. John, Benny Moré and Billie Holiday as their influences.  Mr. Rodriguez was born in Cuba, while Ms. Ruiz—born in Miami to Cuban parents—lived in New Orleans for several years. 

The band's name (pronounced peeka-deeyo) was inspired by a Latin-American dish that mixes many flavorful ingredients, reflecting the way in which the band blends different styles of music.  

Picadillo's sophomore album, released in 2016, is entitled El Manicomio and features rare traditional instruments such as the tres, the marimbula and the órgano oriental.
The Barry Bucaneiros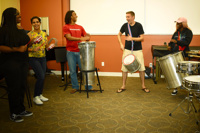 The Barry Bucaneiros are an explosive, carioca-style, student-based bloco modeled after those found in Rio de Janeiro. Founded at Barry University in 2013, the group uses the traditional instrumentation of an escola de samba, but in a more compact format. Blocos, like the Bucaneiros, can vary in size from five to 50 drummers, but unlike their larger escola de samba counterparts (which may have upwards of 350 drummers per group) a bloco is not obligated to stick to the escola's thematic anthem, or enredo, and as such is a fertile setting for musical experimentation.
The group's director, Brian Potts, is both a Miami resident and an active member of the Rio de Janeiro musical community. The inspiration for the Bucaneiros is a result of his close collaboration with Gabriel Policarpo, with whom he founded PRD Mais, a supergroup of up-and-coming percussionists living in Rio de Janeiro. Their new album Rittenhouse will soon be released on Snarky Puppy's label, GroundUP Music. In addition to this work, Mr. Policarpo also runs a student-based bloco called Batuquebato, in which he uses the traditional samba school instrumentation to play not only samba, but a wide variety of grooves from both the Afro-Brazilian lexicon and various styles from around the world.
Like Batuquebato, the Bucaneiros' performances are unscripted and guided by the director's musical taste and command of a vocabulary of drum calls and hand signals developed and refined in rehearsals. There is no sheet music—all of the music you hear was developed and arranged by the group. The students reflect Barry University's diverse population and bring with them influences and styles that become fodder for the group's act, so while the ensemble's roots are based in samba, they also play forró, maracatu, calypso, hip-hop, North Mississippi drum and fife--and whatever else makes people dance!
Gospel Choir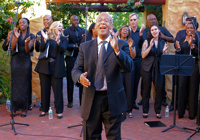 Tonight's choir consists of members of Miami Temple Seventh-day Adventist Church, Church of the Open Door and students from Florida Memorial University, whose vocal program specializes in the oral musical traditions of the African Diaspora. Leading the choir is Dr. Nelson Hall, a Cuban native and University of Miami graduate, who serves as Assistant Professor of Music and Director of the Church Music Program at Florida Memorial University, and Music Minister of Church of the Open Door.
Dr. Hall's continuing commitment to the music of the African Diaspora is a distinguishing point in his career. He has established a deep connection with African-American and Latin composers, and counts among his profound musical inspirations musicians such as conductor and composer Maestro Alfredo Munar and internationally acclaimed choral conductors Dr. Lee Kjelson and Dr. André Thomas.