Events & Tickets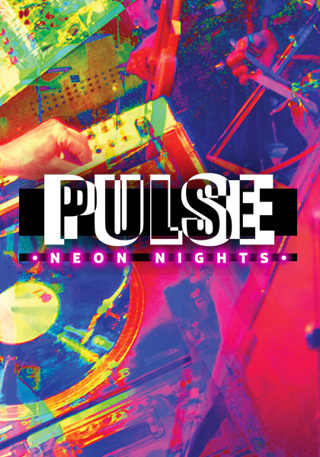 Special Event
PULSE: NEON NIGHTS
New World Center
Friday, November 17 at 9:00 PM
Grab your friends and head over to New World Center in South Beach for our unveiling of the newest lounge-meets-orchestra collab: New World Symphony and local DJs Dude Skywalker featuring world premieres of works for orchestra and DJ by Sam Hyken.
The spotlight's never too bright for our DJs and select orchestra members, who will show off their immense solo talents in this one-night-only event. Get up close and dance alongside the performers, or arrive early to grab a seat and immerse yourself in our late-night lounge vibe.
Get Your Glow On, Wear Your Neon Colors!
#NWSPulse
* Friends of NWS members with tickets to Pulse are invited to the special pre-concert cocktail on the rooftop of the New World Center, with complimentary cocktails and light bites. To join, visit nws.edu/friends.
Tickets no longer available online.
Program
DJ SET 1: FEATURING DJs DUDE SKYWALKER
Concluding with Bonvenon, an original work by Sam Hyken created in collaboration with Dude Skywalker.
ORCHESTRA SET 1:
DMITRI SHOSTAKOVICH                              Festive Overture, Op. 96 (1954)
(1906-1975)                                        
JOHANN NEPOMUK HUMMEL                  Trumpet Concerto in E-flat major, S. 49 (1803)
(1778-1837)                                                        III. Rondo
                                                                           Mr. Grisez
MAURICE RAVEL                                            Tzigane (1924)
(1875-1937)
                                                                           Mr. Lee
GEORGE ENESCU                                           Romanian Rhapsody No. 1 in A major, Op. 11 (1901)
(1881-1955)                                                    
DJ SET 2: FEATURING DJs DUDE SKYWALKER
Together with NWS Fellows Elizabeth Oka (viola), Masha Popova (flute), Ansel Norris (trumpet) and Joseph Peterson (trombone), and concluding with Pocket Square, an original work by Sam Hyken created in collaboration with Dude Skywalker.
ORCHESTRA SET 2:
JULES PEGRAM                                              Neon Nights (2011)
(b. 1991)                            
CARL MARIA VON WEBER                           Clarinet Concerto No. 1 in F minor, Op. 73 (1811)
(1786-1826)                                                       III. Rondo
                                                                           Mr. Parrette                        
PIOTR ILYICH TCHAIKOVSKY                       Piano Concerto No.1 in B-flat minor, Op. 23 (1874-75)
(1840-1893)                                                       III. Allegro con fuoco
                                                                           Mr. Zhang
IGOR STRAVINSKY                                        Finale from The Firebird (1910; revised 1919)
(1882-1971)       
SAM HYKEN                                                    Sky Walker for DJs and Orchestra (2017; world
(b. 1981)                                                          premiere of NWS commission)

                                                                           Dude Skywalker
CLOSING SET: FEATURING DUDE SKYWALKER
PROGRAM NOTES FOR ORCHESTRA SETS
ORCHESTRA SET 1:
DMITRI SHOSTAKOVICH
Festive Overture, Op. 96 (1954)
Shostakovich composed the Festive Overture in a three-day burst in 1954, just in time for an anniversary celebration of the October Revolution. The work is unabashed Soviet propaganda, with elements borrowed from a beloved overture by Glinka, the first great hero in Russian music. A bold fanfare begins the Overture and returns near the end, establishing a bright and ceremonial tone.
JOHANN NEPOMUK HUMMEL
Mvt. III from Trumpet Concerto in E-flat major (1803)
A child prodigy from a musical family, the seven-year-old Hummel made such an impression on his piano teacher that he was invited to move in with the family. (That teacher was Mozart.) After touring Europe for five dazzling years, Hummel returned to Vienna, where he found himself locked in a fierce rivalry and on-again-off-again friendship with the only pianist of comparable talent. (Beethoven, of course.) When Hummel needed a steady job in his early 20s, all it took was a word from a supportive older composer to his longtime employer. (That would be Haydn and the fantastically wealthy Esterházy family). This is all to say that Hummel was a musician who earned the respect of his most esteemed colleagues, and one who would probably be better known if he hadn't been surrounded by such trailblazers. 
One work that does stand out is Hummel's Trumpet Concerto in E-flat major, composed for the New Year's festivities in 1804 at the Esterházy palace. The soloist, Anton Weidinger, had pioneered a trumpet with keys (a forerunner to modern valves), allowing Hummel to develop smooth, lyrical melodies that would have been impossible on earlier, bugle-like instruments.
MAURICE RAVEL
Tzigane (1924)
Ravel wrote Tzigane, his homage to "Gypsy" music, after a 1924 encounter with the Hungarian violinist Jelly d'Arányi. Rather than mimicking authentic musical practices of the Roma people—to use today's preferred term for that ethnic minority with a rich history in and around Hungary—Ravel invented his own "Gypsy" attitude of fantasy and mystery, continuing a tradition embraced by Haydn ("Gypsy" Rondo), Brahms (Hungarian Dances), Bizet (Carmen), Sarasate (Zigeunerweisen) and so many other outsiders who romanticized Hungary and the "Gypsy" ethos. 
The violin opens with a massive cadenza, until the orchestra finally enters after about four minutes, led by vertiginous harp arpeggios that encircle the trembling solo line. The violin plays the work's primary melody over a droning accompaniment colored by harp and cello harmonics, and a solo clarinet answers with serpentine, Eastern-inflected figures. Pizzicato (plucking) executed with the left hand and ethereal harmonics enrich the violin's fantastical palette of sound.
GEORGE ENESCU
Romanian Rhapsody No. 1 in A major, Op. 11 (1901)
George Enescu was a child prodigy who began playing violin at the age of four and composing at five, prompting his family to send him from Romania to Vienna for a world-class musical education. At 14 he enrolled at the Paris Conservatory, where he studied with Massenet and Fauré. He established a successful career in Paris as a violinist and conductor, but he returned often to Romania, where he did most of his composing during summer holidays (at least until the Communist takeover forced him into permanent exile).
Following the model of Liszt's Hungarian Rhapsodies, Enescu composed two Romanian Rhapsodies in 1901. The First Rhapsody in particular became a crowd favorite, and this festive music written before his 20th birthday shaped the public's perception of Enescu for the rest of his career.
ORCHESTRA SET 2:
JULES PEGRAM
Neon Nights (2011)
Jules Pegram, now a doctoral candidate at the University of Michigan, was an undergraduate at the University of Southern California when he wrote his first work for orchestra, Neon Nights. "I have always been enamored by the hot, vivid glow of neon lights," Pegram explained in a program note, "particularly those found in Las Vegas and in the South Beach neighborhood of Miami. The dazzlingly bright element neon, often housed in a variety of colorful, quirky-shaped tubes, proved to be an irresistible subject for a musical composition."
CARL MARIA VON WEBER
Mvt. III from Clarinet Concerto No. 1 in F minor, Op. 73 (1811)
Carl Maria von Weber, born into the theater business, mounted fanciful opera productions in his native German that finally broke the stranglehold of Italian opera. Until his first big success with Der Freischütz in 1821, Weber struggled to hold a good job. He was dismissed from Stuttgart in 1810 over a corruption scandal, and then he traveled for the next three years, including a stop in Mannheim, Germany, where he met clarinetist Heinrich Baermann. When they reunited in Munich several months later, Weber produced a Concerto for the clarinetist to play with the court orchestra. It turned out to be a lucrative encounter, with Weber fielding many requests from the orchestra members for new concertos of their own.
Weber had the advantage of composing for a new 12-key clarinet that Baermann had obtained, a more nimble model than the 5-key models that were common in Mozart's day. Darting arpeggios and smooth phrases in the cheeky finale make the most of an instrument that goes high and low, loud and soft, and sweet and salty like no other.
PIOTR ILYICH TCHAIKOVSKY
Mvt. III from Piano Concerto No.1 in B-flat minor, Op. 23 (1874-75)
The Piano Concerto Tchaikovsky composed during the winter of 1874-75 was his first work for soloist and orchestra. He was not a virtuoso pianist himself, so he arranged to show the score to Nikolai Rubinstein, the most eminent conductor and pianist in Moscow, and a fellow faculty member at the Moscow Conservatory. Years later, Tchaikovsky summarized Rubinstein's blunt feedback in a letter: "My Concerto, it turned out, was worthless and unplayable."
Tchaikovsky wasn't always the most self-confident composer, but this time he stood his ground, vowing to "publish the work exactly as it stands." To secure a first performance, Tchaikovsky went outside Rubinstein's circle and solicited the famous German conductor and pianist Hans von Bülow, who loved the work and asked for a set of parts that he could take with him on tour. That's how this landmark Russian Concerto first reached the public in Boston, in October of 1875. The finale played here takes the contours of its rugged theme from a Ukrainian folksong.
IGOR STRAVINSKY
Finale from The Firebird (1910; revised 1919)
For the 1910 Paris season of the Ballets Russes, the impresario Serge Diaghilev wanted to present something spectacular and distinctly Russian. He already had a vivid concept drawn from Russian folklore, a brilliant choreographer (Michael Fokine), and a dream team of Russian dancers and other contributors—but no composer, after his first choice fell through at the last minute. So Diaghilev took a chance on an unknown 27-year-old, Igor Stravinsky, whose only credentials to that point were a few years of lessons with Nikolai Rimsky-Korsakov, a couple of short orchestral pieces, and some orchestrations contributed to an earlier Diaghilev ballet. Stravinsky dove into the project in the spring of 1910, writing most of the music in Saint Petersburg, before he traveled to Paris for the June 25 premiere, the first performance of his music outside of Russia. The Firebird was a huge success, paving the way for Stravinsky's even more radical follow-ups with the Ballets Russes: Petrushka and The Rite of Spring.
By the end of The Firebird, a valiant prince—aided by the mythical firebird—has defeated the infernal King Kashchei, freeing the captive princesses. The ballet's finale serves as an epilogue, as all the characters awaken from a magical slumber and partake in "general rejoicing."
SAM HYKEN
Sky Walker for DJs and Orchestra (2017; world premiere of NWS commission)
Sky Walker was created using a series of audio samples taken from different electronic productions created by Miami-based DJ duo Dude Skywalker.
The work is in five parts, with the slow introduction serving to introduce its two main motifs. The subsequent sections, which maintain a steady tempo of 123 beats per minute, develop these motifs through various sonic environments. Dance styles explored in Sky Walker include both deep and progressive house and techno music. As in the minimalist stylizes of John Adams, Steve Reich and Philip Glass, each new section is connected by an idea carried over from the previous one.
It is my hope that the work can live equally in both the concert hall and the nightclub.
The New World Symphony commissioned Sky Walker for Pulse. This performance marks its world premiere.
                           -- Sam Hyken
-- Copyright © 2017 Aaron Grad 
Aaron Grad is a composer, guitarist and writer based in Seattle. Besides providing program notes for the New World Symphony, he has been the Orpheus Chamber Orchestra's program annotator since 2005 and also contributes notes to the Saint Paul Chamber Orchestra and Seattle Symphony.