Events & Tickets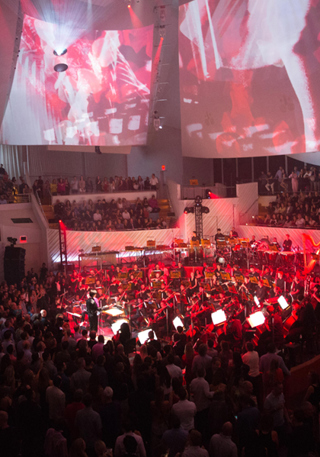 Special Event
PULSE: WHITE OUT AT NEW WORLD SYMPHONY
New World Center
Friday, February 1 at 9:00 PM
It's a special WHITE OUT edition of Pulse: Late Night at the New World Symphony! 
Back by popular demand, wear all white and embrace the evening's innovative musical experience and aesthetic as the New World Center transforms into a late-night lounge with club-style lighting and video. DJ Le Spam makes his anticipated return, trading sets with Fellows performing jazz by Duke Ellington, Benny Goodman, Shostakovich, Gershwin, and world premieres by NWS alumnus Sam Hyken for DJ and orchestra!
Your Pulse ticket comes with a free subscription to The New Tropic, Miami's essential newsletter.
AFTER PARTY DETAILS
This is one night you won't want to end! So, keep the party going at Hyde Beach at the SLS Hotel (1701 Collins Ave). Pulse ticketholders will have free admission and drink specials from midnight to 2:00 AM, courtesy of the SLS Hotel!
FRIENDS OF NWS
* Friends of NWS members with tickets to Pulse are invited to the special pre-concert cocktail on the rooftop of the New World Center, with complimentary cocktails and light bites. To join, visit nws.edu/friends.
COMPOSE YOUR OWN SUBSCRIPTION PACKAGE!
Choose this plus two more concerts to customize your own subscription. It's the ultimate flexibility with all the subscriber benefits, including free exchanges when plans change! Click or call the NWS Box Office at 305.673.3331 to create your own series today.
Loading Concert Information
Program
Featuring a world premiere for DJ and Orchestra by Sam Hyken and music by Duke Ellington, Benny Goodman, John Williams, Shostakovich, Gershwin, Prokofiev, John Adams and more!
Dean Whiteside, conductor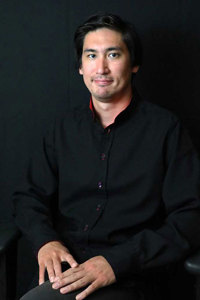 Dean Whiteside was born in New York City and trained in Vienna at the University of Music and Performing Arts. He is in his third season as the New World Symphony's Conducting Fellow, where he leads a variety of performances and serves as assistant to Artistic Director Michael Tilson Thomas. Mr. Whiteside is founder and director of the Nashville Sinfonietta, hailed by The Tennessean as "a virtuoso band." He opened the Blair School of Music's 2013-14 season directing a multimedia realization of Haydn's Seven Last Words of Our Savior on the Cross called "innovative" by The Tennessean and "deeply meditative and satisfyingly original" by ArtsNash. 
Mr. Whiteside's European debut came in 2011 after winning the Jorma Panula Blue Danube Masterclass and Competition. He has conducted orchestras such as the Boston Symphony, Danish National Symphony, Jacksonville Symphony, Juilliard Orchestra, Opéra Orchestre National Montpellier, Orlando Philharmonic, Polish Baltic Philharmonic, Sibiu Philharmonic, Tonhalle Orchestra Zurich, Tokyo Philharmonic, Wiener Kammerorchester and Zagreb Philharmonic, as well as the Vanderbilt Orchestra on a five-city tour of China. He has served as Cover Conductor to the Dallas Symphony and San Francisco Symphony.
Mr. Whiteside is the winner of the American Prize in Conducting and received second prize and the Zagreb Philharmonic Orchestra Award at the Sixth International Competition of Young Conductors Lovro von Matačić. Other awards include the 2017 Mahler Conducting Fellowship, Bruno Walter Memorial Foundation Conducting Scholarship, Croatian Composers' Society Award, David Effron Conducting Fellowship, Bayreuth Festival Scholarship and David Rabin Performance Prize. He has received fellowships from the Aspen Music Festival, Atlantic Music Festival, Cabrillo Festival of Contemporary Music and Castleton Festival.
Mr. Whiteside has worked closely with such conductors as Bertrand de Billy, Fabio Luisi, Lorin Maazel, Jun Märkl, Kurt Masur, Jorma Panula, Leonard Slatkin and Robert Spano. He began his conducting studies with Robin Fountain at Vanderbilt University.
DJ Le Spam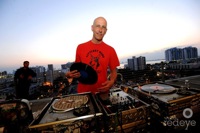 DJ Le Spam, also known as Andrew Yeomanson, was born in Montreal to an English father and Venezuelan mother.  In his youth he moved with his family--to London, Tampa, Bogota, Toronto and finally Miami, which he has called home for the last 12 years.  Mr. Yeomanson's international upbringing certainly contributed to his musical career.  Beneath it all is a talented musician with a love for exploring all types of music and bringing them together in new ways.  He has experienced diverse musical offerings, studied them, and shared them with anyone interested in their history.  His passion for music also led to the evolution of DJ Le Spam.
Mr. Yeomanson began his musical career in 1991 playing with a Haitian political roots group--Lavalas Band--with which he recorded one album.  In 1993 he formed the Spam Allstars and began recording and gigging.  In 1995 he had the opportunity to play guitar with Capitol recording artist Nil Lara and recorded and toured with him for three years.
Upon his return in 1998 Mr. Yeomanson began working with a pirate radio station that broadcast "beach radio" shows.  The programs included half-hour improvised sets by the Spam Allstars using samples and live instruments in the studio.  These performances segued nicely to the release of the Spam Allstars' first CD, Pork Scratchings, in 1999.
The momentum had started, and with a grant from Miami Light Project, the Spam Allstars participated in the Here & Now festival.  There were residencies at Snowhite's hip hop open-mike night faatland, Brandt's Break and weekly webcasts on eyeqradio.com.
By 2000 it was time to release the Spam Allstars' follow-up CD, Pigs in Space.  Simultaneously DJ Le Spam & the Spam Allstars began a residency at Lola Bar, and DJ Le Spam also had a residency at Pop Life.  The audience was growing.  They received a second grant from Miami Light Project for the 2000 Here & Now festival.  DJ Le Spam worked with Brazilian choreographer Giovanni Luquini on the soundtrack for Flagrante Delicto, performed at the Colony Theater.  It was also time to start thinking about expanding to other cities, and the Spam Allstars held a summer residency at Galapagos in Brooklyn.
In 2001 some local promoters approached DJ Le Spam to start a club night in Little Havana.  They launched the party as Fuacata at Hoy Como Ayer on Calle Ocho (8th Street) in the heart of Little Havana.  It became one of the most talked-about club nights in Miami, attracting a diverse crowd of Latins, Anglos, hip hop kids, artists, young and old.  All were brought together by the music and dancing that moved them.
The Spam Allstars have appeared on Good Morning America, Mun2's The Roof, CBS This Morning, NPR's All Things Considered, CBS-4's Making of the Latin Grammys, NBC-6's Trendtrackers, and a variety of regional and international radio programs.
Other accomplishments for the Spam Allstars include developing music for the MIAMI HEAT; its selection as an ASCAP "emerging artist"; the Spam Allstars' Ochimini feature on MTV's Advance Warning Compilation: Volume 5 Miami Edition; its feature in the NALAC/Galan Productions series Visiones: Latino Art & Culture on PBS; DJ Le Spam's feature in Adidas' Bedroom Rockers book; and DJ Le Spam's music for Giovanni Luquini's Performance Troupe's A Poem: the battle between fear and desire.
Over the years the band has welcomed several guests to its stage, including inspirational moments with percussionist Sammy Figueroa, Larry Harlow of Fania Allstars, John Medeski of Medeski Martin and Wood, Clarence Reed (also known as Blowfly), Page McConnell of Phish, the late Wildman Steve, various members of AntiBalas, Pee Wee Ellis of the JB Horns, Daddy Yankee, Jose Conde, Brimstone 127, Mr. Haka, Cabas and many other talented musicians.
Sam Hyken, composer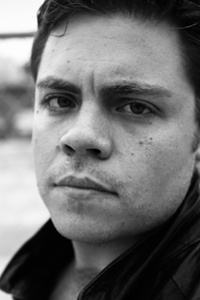 Sam Hyken has had a rich and diverse musical career, which has spanned the globe. Currently residing in Miami, Florida, he is in constant demand as a performer, producer and composer. Along with Jacomo Bairos, he is Co-Founder and Artistic Director of Nu Deco Ensemble, Miami's Genre-Bending Orchestra. He also serves as CEO of the organization.
As a composer, Mr. Hyken's music has been commissioned by several symphony orchestras, such as the New World Symphony, National Symphony, Kansas City Symphony, Louisiana Philharmonic, Charlotte Symphony, Asheville Symphony and Miami Symphony. Other ensembles who have performed his work include the San Francisco Symphony, St. Louis Symphony, Dallas Symphony, Houston Symphony, San Diego Symphony, Detroit Symphony, Toronto Symphony, Jacksonville Symphony, Florida Orchestra, Charleston Symphony, Milwaukee Symphony, Amarillo Symphony, Phoenix Symphony and Orquesta Sinfónica Simón Bolivar of Venezuela. From 2011-15,  he was Composer-in-Residence with the Miami Symphony.
As a musical arranger and director, Mr. Hyken has been contracted by various artists, producers and ensembles to adapt and write new music, including Talib Kweli, Ben Folds, Pitbull, Bilal, Kishi Bashi, Monsieur Perine, Dirty Vegas, Magda Giannikou, Danay Suarez, Steven A. Clark, Brika, Tiara Thomas, Rico Love, Raquel Sofia, Leroy Sanchez, Jim Jonsin, Spam Allstars, Res, Afrobeta,Carmen Lundy, Jessie Murphy (of the Brazilian Girls), Glen Matlock (of the Sex Pistols) and the eclectic group ProjectTrio. He has also been commissioned by the Kansas City-based group Quixotic Fusion to write and arrange music for their debut performance of Symphonic Quixotic. Mr. Hyken has served as music director for The White Party 2014, events for Ferrari and FIFA, Art Basel at the W Hotel, New Years Eve at the Setai Hotel, as well many events of the Friends of the New World Symphony. He was also musical director and arranger for the John S. and James L. Knight Foundation's 1000th Random Act of Culture, featuring over 200 performers of multiple genres and mediums. 
Mr. Hyken has been engaged as a trumpet soloist and orchestral musician since 1999. In 2004 he was appointed Associate Principal Trumpet of the Singapore Symphony, a position that he held for two years. From 2006-09, he was a member of the New World Symphony under the direction of Michael Tilson Thomas. He was a member of the UBS Verbier Festival Orchestra and the UBS Verbier Chamber Orchestra for five years touring and performing with such esteemed conductors as James Levine, Loren Maazel, Valerie Gergiev, Kurt Masur, Yuri Temirakanov, Christoph Donyani and Charles Dutoit. Mr. Hyken has also worked and performed with many Grammy Award-winning Artists including Yo-Yo Ma, Bobby McFerrin, Chick Corea, Belle and Sebastian, Arturo Sandoval, Jose Feliciano and Jose Carreras. He has also performed with ensembles such as the San Francisco Symphony, Canadian Brass, American Brass Quintet and the London Symphony Orchestra Brass. 
Mr. Hyken has been a conductor, teacher, performer, music arranger and scriptwriter for the Miami Music Project, which is a musical organization focusing on using music to promote social change. He has been on faculty at the Frost School of Music at the University of Miami where he taught Pop Music Composition, Virtual Orchestration and Ear Training. He holds a bachelor's degree from The Juilliard School, a post-graduate diploma with distinction from the Royal Academy of Music in London and a master's degree in Media Writing and Production from the University of Miami.