Events & Tickets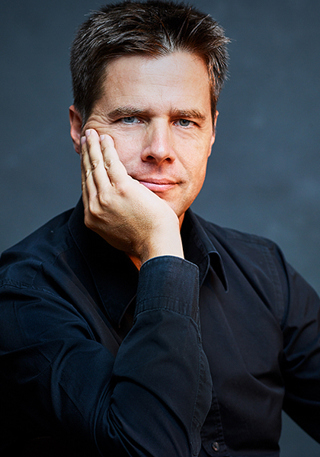 Haydn, Schubert, Elgar & Schoenberg
New World Center
Saturday, January 22, 2022 at 7:30 PM
Sunday, January 23, 2022 at 2:00 PM
Program
From Luxembourg to Miami Beach, Christoph König takes the podium in a special concert of chamber orchestra gems by Edward Elgar, Arnold Schoenberg and Franz Joseph Haydn. Schoenberg's bewitching Transfigured Night will have Fellows performing side-by-side with the New York Philharmonic's string principals (Frank Huang, Qianqian Li, Cynthia Phelps and Carter Brey) in a special appearance. George Li—who, at 20, won the silver medal at the 2015 International Tchaikovsky Competition—will join Fellows for Franz Schubert's beloved "Trout" Quintet. 
The January 22 performance will no longer be a WALLCAST® concert in SoundScape Park. 
This concert is part of the Saturday Evening One and Sunday Symphony series. Secure a season of world-renowned artists—including mezzo-soprano Sasha Cooke, People of Earth and NWS alumni Christian Reif and Teddy Abrams—performing an exciting range of orchestral music in one of the world's most extraordinary and intimate venues for experiencing classical music—the New World Center. Subscriptions for the Saturday One series (4 concerts) begin at $132. Subscriptions to the 5-concert Sunday Symphony series begin at $140. Click to explore the full subscriptions! 
COMPOSE YOUR OWN SUBSCRIPTION PACKAGE! 
Choose this plus two more concerts to customize your own subscription. It's the ultimate flexibility with all the subscriber benefits, including free exchanges when plans change! Call the NWS Box Office at 305.673.3331 to create your own series today. 
SUBSCRIBERS ENJOY THE BEST OF NWS! 
As an NWS Subscriber, you receive amazing benefits to enjoy throughout the season, including the best seats for the lowest prices and access to our incredibly talented Fellows. Click here to learn more! 
Program
Edward Elgar
(1857-1934)
Approx. Duration: 12 minutes

Serenade in E minor for String Orchestra, Op. 20 (1888-1892)

Allegro piacevole
Larghetto
Allegretto
Franz Schubert
(1797-1828)
Approx. Duration: 22 minutes

Quintet in A major for Piano and Strings, D. 667, "Trout" (1819)

I. Allegro vivace
IV. Theme and Variations
V. Finale
George Li, piano
Christina Choi, violin; Mario Rivera, viola
Amy Sunyoung Lee, cello; Daniel Carson, bass
Arnold Schoenberg
(1874-1951)
Approx. Duration: 30 minutes

Transfigured Night, Op. 4 (1899; 1943 string orchestra version)

Featuring the New York Philharmonic String Quartet:
Frank Huang, Concertmaster
Qianqian Li, Principal Second Violin
Cynthia Phelps, Principal Viola
Carter Brey, Principal Cello
Franz Joseph Haydn
(1732-1809)
Approx. Duration: 25 minutes

Symphony No. 59 in A major, Hob.I:59, "Fire" (1768)

Presto
Andante o più tosto allegretto
Minuet
Allegro assai
Edward Elgar
Serenade in E minor for String Orchestra, Op. 20 (1888-1892)

Approximate duration: 12 minutes
For 200 years following Henry Purcell's death in 1695, the most significant music created in England was the work of foreigners, including Handel, J.C. Bach and Haydn. The man who broke England's dry spell was an unlikely candidate—the son of a piano tuner, Catholic in a Protestant country and untrained in music except for some violin lessons as a teenager. Edward Elgar gained international recognition with his intriguing Enigma Variations in 1899, and he helped forge a distinctly British sound in the waning years of the Romantic era.
That signature score that made Elgar famous in his 40s was built off of the hard work of his journeyman years, including a period when he supported his family by teaching and conducting in Malvern, a sleepy spa town. It was there that Elgar composed his Serenade for Strings in E minor in 1892, incorporating some material from an earlier work he had abandoned. The Serenade title evoked those quintessential pieces of night music that Mozart wrote to entertain his Austrian patrons, and the genre retained its emphasis on breezy pleasure even as it morphed from glorified background music for outdoor parties to a staple of the 19th-century concert hall with sterling examples by Dvořák and Tchaikovsky. Given his career profile at the time, Elgar had to settle for a modest debut for his Serenade when he conducted a private reading by his students in the Worcester Ladies' Orchestral Class. It only reached the British public for the first time in 1899, Elgar's breakout year.
A nimble rhythmic figure ushers in the dance-like first movement, set in a flowing meter that maintains its thrumming pulse under a series of elegant melodies. After a central Larghetto movement featuring one of Elgar's most tender melodies, the finale rounds out this slim Serenade with more dancing music, including a closing reference to the first movement's bouncing rhythm.
Franz Schubert
Quintet in A major for Piano and Strings, D. 667, "Trout" (1819)

Approximate duration: 22 minutes
When Franz Schubert turned 20 in 1817, he had not yet seen his music published, mentioned in a newspaper or performed publicly a single time, even though he had already composed some 300 songs (half of his lifetime output) and a large body of orchestral and chamber music. That year he wrote one of his most memorable songs, "The Trout," which transports the listener to a babbling brook from the very first notes of the piano accompaniment. In a later stanza, minor-key music and thicker textures capture the muddied waters and the spectator's "raging blood" at seeing the fish hooked. With its earworm of a melody and an uncanny sense of drama for such a simple little tale, "The Trout" has always been a favorite within Schubert's incomparable songbook.
Schubert had occasion to revisit "The Trout" in 1819. While traveling in upper Austria that summer, he met Sylvester Paumgartner, a friend-of-a-friend and an amateur cellist, who asked for a new quintet. Paumgartner specified the instrumentation of violin, viola, cello, double bass and piano, a format favored by Hummel and other composers before Schubert. (The more familiar quintet of two violins, viola, cello and piano caught on later, starting with Schumann.) Paumgartner specifically requested a theme and variations movement based on "The Trout," a testament to the song's instant appeal.
The "Trout" Quintet offers many pleasures beyond its signature movement. The opening Allegro vivace plays with a rising arpeggio gesture that interjects and comments around the singing themes, setting up the same kind of active discourse between melody and accompaniment found in so many of Schubert's songs. (The rising arpeggios also foreshadow the "Trout" music still to come.)
The fourth movement jumps straight into the "Trout" theme, outlined by the strings in a simple Andantino treatment. The piano's sparkling octaves and trills add an element of kinetic motion, and the variations continue to intensify the rhythmic and harmonic elements at play. The variation closest in character to the original song comes last, with the telltale rippling patterns shared between the piano and the strings. Related gestures continue to arise in the enigmatic finale, unifying this very grand quintet around ideas that began with one little fish.
Arnold Schoenberg
Transfigured Night, Op. 4 (1899; 1943 string orchestra version)

Approximate duration: 30 minutes
Before Arnold Schoenberg became the teacher and trendsetter at the center of the "Second Viennese School" of composers who explored the wilds of atonality, he was a self-taught amateur steeped in the luxurious Romanticism of Liszt and Strauss. The closest he came to having a composition teacher was through his friendship with Alexander von Zemlinsky, and it was during their vacation together in 1899 that Transfigured Night emerged from three swift weeks of work.
Schoenberg's great innovation in Transfigured Night was to apply the idea of program music, as found in the tone poems of Liszt and Strauss, to a chamber ensemble. Schoenberg's original scoring for two violins, two violas and two cellos matched a format pioneered by Brahms, in whose hands the string sextet became a vehicle for pure chamber music with a Classical orientation. Instead of the usual abstract movements, Schoenberg created one continuous score in five sections, following the shape of the poem Verklärte Nacht (Transfigured Night) by Richard Dehmel, about a forlorn couple that, while walking on a moonlit night, works through the revelation that her pregnancy resulted from an affair.  
The musical storytelling relies on the skillful manipulation of tonal harmony over the course of one long journey from minor to major. Supported by a nervous drone, the first section sets the course by plodding down the minor scale in lopsided, dotted rhythms. This stepping pattern becomes a familiar point of reference, returning in different forms to remind us of the couple and their fateful walk together.
The second section, beginning with an unexpected major chord, correlates to the second stanza of the poem, in which the woman "confesses that she is bearing the child of another man." The music becomes agitated, smeared with rising chromatics, until the third section intervenes with music of a simpler and more somber character, linked to the section of the poem in which "she staggers onward."
The third section ends on a minor chord, setting up the crucial moment: With a decisive pivot to a major chord, a cello melody gives voice to the man's wish that his companion should "not burden her soul with thoughts of guilt." A lustrous violin solo brightens the night, just as "the moon's sheen enwraps the universe."
The final section forms a tranquil coda in D major, basking in love's warmth that "will transfigure the little stranger." The stepping theme returns with new optimism, and shimmering arpeggios offer a parting view of "wondrous moonlight."
Franz Joseph Haydn
Symphony No. 59 in A major, Hob.I:59, "Fire" (1768)

Approximate duration: 25 minutes
Franz Joseph Haydn trained at a prestigious choir school in Vienna until his voice broke at 17. He spent the next 12 years teaching kids and later working for a count of modest means, until at 29 he landed the job that set him on the course to become the most famous composer in the world. In 1761 he joined the fabulously wealthy Esterházy family as their Vice-Kapellmeister, followed by a promotion five years later to Kapellmeister. Initially he was responsible for producing two concerts each week with the court's private orchestra, and in later years his duties grew to include writing and producing operas. He spent months on end cloistered at the family's remote summer palace, providing entertainment for the insatiable Prince Nikolaus Esterházy, a pressure-cooker environment in which, as Haydn later wrote, "I was forced to become original."
One new direction Haydn explored in the late 1760s and early 1770s was the Sturm und Drang ("Storm and Stress") aesthetic that was also cropping up in the theater, literature and artwork of the time. This tendency toward heightened emotion and drama tends to be associated with Haydn's music in minor keys, but the same extremes of expression fueled major-key symphonies as well, including the Symphony known by the nickname "Fire," composed around 1768.
The Symphony No. 59 is fiery indeed, especially in the unusually speedy Presto first movement punctuated by shuddering bow strokes from the violins and forte blasts from the horns. The slow movement's key setting of A-minor brings an unexpected chill to the atmosphere, and the Minuet reinforces the dichotomy of major and minor keys. The finale, heralded by horns and oboes, bristles with the manic energy of a hunt.
-- © 2022 Aaron Grad
Aaron Grad is a composer and writer based in Seattle. In addition to providing program notes for the New World Symphony, Orpheus Chamber Orchestra, Baltimore Symphony Orchestra and others, he is also the artistic director of Many Messiahs, a project that reframes George Frideric Handel's masterpiece as a collective call for justice.
FOR YOUR SAFETY 
As of September 18, 2021, these are the guidelines that all guests at New World Symphony concerts must follow. These guidelines will apply to all members of your party before they are allowed to enter the New World Center and to any users of the tickets purchased by you.  Click here for additional information.
COVID REQUIREMENTS: 
We request that all guests are fully vaccinated against COVID-19 (at least two weeks after final dose) and provide proof of vaccination; i.e. original vaccination card, copy of vaccination card, or picture of vaccination card. Name on vaccination card must match name on ID. 

In lieu of proof of vaccination, we require proof of a negative COVID-19 diagnostic test result within 72-hours (including for unvaccinated children under 12 years of age). Name on test result must match name on ID. Results from self-test kits and test-at-home kits will not be accepted.

All guests may undergo a temperature screening upon entry into the building. 

Masks are required inside New World Center at all times, regardless of vaccination status. 
DAY OF EVENT 
Please arrive early for check-in process. 

Please bring your ID and proof of vaccination or negative test result. As noted above, the full name on your ID must match the name on your vaccination card or COVID test result. 

Please remember to bring a mask. 
By attending our events, you voluntarily accept responsibility for all risks related to exposure to COVID-19.
Christoph König, conductor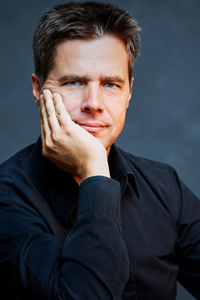 Christoph König has been Principal Conductor and Music Director of the Solistes Européens Luxembourg since 2010. Celebrated for his clarity, precision and elegant approach, he is in high demand as a guest conductor all over the world. Since his debut in the U.S. in 2010, he has conducted many symphony orchestras such as Pittsburgh, Indianapolis, New Jersey, Houston, Oregon and Toronto, as well as the Los Angeles Philharmonic.
Mr. König's past and future highlights include appearances with the Rochester Philharmonic, City of Birmingham Symphony, Staatskapelle Dresden, Orchestre de Paris, Netherlands Philharmonic, Wiener Concert-Verein, Bournemouth Symphony, Warsaw Philharmonic Orchestra, Danish National Symphony, Royal Philharmonic Orchestra, BBC National Orchestra of Wales, Mozarteum Orchestra Salzburg, Beethoven Orchestra Bonn, Dresden Philharmonic, Stuttgart Philharmonic, New Zealand Symphony and BBC Scottish Symphony Orchestra, whom he led on a highly successful tour of China in 2008.
From 2009 to 2014, Mr. König was Principal Conductor of the Orquestra Sinfónica do Porto Casa da Música, touring with them extensively in Europe and Brazil. From 2003 to 2006 he served as Principal Conductor of Malmö Symphony Orchestra, as well as Principal Guest Conductor of l'Orquesta Filarmonica de Gran Canaria.
Mr. König has been affiliated with many of the leading opera houses of the world such as Zurich Opera, Deutsche Oper Berlin, Bonn Oper, Semper Oper Dresden, Staatsoper Stuttgart and Teatro Real in Madrid.
Mr. König's Beethoven Complete recording of 2020 is the highlight of his collaboration with the British label RUBICON. Previous recordings with the label include creative combinations like Dvořák/Copland/Ives, Schubert/Berio and Méhul/Beethoven. His projects with NAXOS include music by the French composer Louise Farrenc and Luxemburg composers. More of his discography includes the Melcer piano concertos with the BBC Scottish Symphony Orchestra (Hyperion), and Beethoven symphonies with Malmö Symphony Orchestra (DB Productions). His recording of the Brahms Piano Concerto with BBC Scottish Symphony Orchestra was featured in the BBC Music magazine September 2009 issue.
Mr. König was born in Dresden where he sang in the famous Kreuzchoir. He studied conducting, piano and singing at the Musikhochschule Dresden and furthered his studies in master classes with Sergiu Celibidache and Sir Colin Davis, whose assistant he later became with the Sächsische Staatskapelle at Semper Oper Dresden.
George Li, piano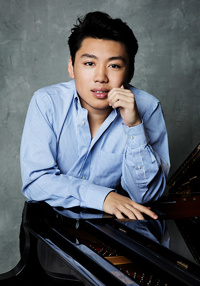 Praised by The Washington Post for combining "staggering technical prowess, a sense of command and depth of expression," pianist George Li possesses an effortless grace, poised authority and brilliant virtuosity far beyond his years. Since winning the Silver Medal at the 2015 International Tchaikovsky Competition, Mr. Li has rapidly established a major international reputation and performs regularly with some of the world's leading orchestras and conductors, such as Dudamel, Gaffigan, Gergiev, Gimeno, Honeck, Orozco-Estrada, Petrenko, Robertson, Slatkin, Temirkanov, Tilson Thomas, Long Yu and Xian Zhang.
Highlights of Mr. Li's 2021-22 season include orchestral engagements with the Nashville, San Diego, New World, North Carolina, Pacific and Valencia symphonies; the National Philharmonic Orchestra of Russia; as well as recitals in Chicago, Seattle, Ft. Worth, Atlanta and Stuttgart.
Mr. Li's recent concerto highlights include performances with the Los Angeles, New York, London, Rotterdam, Oslo, St. Petersburg and Buffalo philharmonics; the San Francisco, Tokyo, Frankfurt Radio, Sydney, Montreal and Baltimore symphonies; as well as the Philharmonia, DSO Berlin and Orchestra National de Lyon. His eight-concert tour of Germany with the Moscow Philharmonic Orchestra included performances at the Berlin Philharmonie, Philharmonie am Gasteig Munich and Stuttgart Liederhalle. He frequently appears with Valery Gergiev and the Mariinsky Orchestra, including performances at the Paris Philharmonie, Luxembourg Philharmonie, New York's Brooklyn Academy of Music, Graffenegg Festival and in various venues throughout Russia.
In recital, Mr. Li performs at venues including Carnegie Hall, Davies Hall in San Francisco, the Mariinsky Theatre, Elbphilharmonie, Munich's Gasteig, the Louvre, Seoul Arts Center, Tokyo's Asahi Hall and Musashino Hall, NCPA Beijing, Shanghai Poly Theater and Amici della Musica Firenze, as well as appearances at major festivals including the Edinburgh International Festival, Verbier Festival, Ravinia Festival, Festival de Pâques in Aix-en-Provence Festival and Montreux Festival. An active chamber musician, Mr. Li has performed alongside Benjamin Beilman, Noah Bendix-Balgley, James Ehnes, Daniel Hope, Sheku Kanneh-Mason and Kian Soltani.
Mr. Li is an exclusive Warner Classics recording artist, with his debut recital album released in October 2017 which was recorded live from the Mariinsky. His second recording for the label features Liszt solo works and Tchaikovsky's Piano Concerto No. 1, which was recorded live with Vasily Petrenko and the London Philharmonic, and was released in October 2019.
Mr. Li gave his first public performance at Boston's Steinway Hall at the age of 10, and in 2011 performed for President Obama at the White House in an evening honoring Chancellor Angela Merkel. Among Mr. Li's many prizes, he was the recipient of the 2016 Avery Fisher Career Grant, a recipient of the 2012 Gilmore Young Artist Award and the First Prize winner of the 2010 Young Concert Artists International Auditions. He is currently pursuing an Artist Diploma at the New England Conservatory, continuing to work with Wha Kyung Byun. When not playing piano, Mr. Li is an avid reader and photographer, as well as a sports fanatic.