Events & Tickets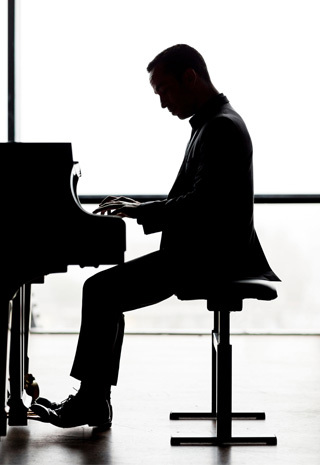 Chamber Music
RUSSIAN GEMS
New World Center
Trade the familiar force of Russian symphonies for the delicate expressions of its chamber music. Russia's golden boy Stravinsky strays from his familiar powerhouses like The Rite of Spring and The Firebird, offering instead transparent, neo-Classical miniatures. Though frequently likened to Shostakovich in style, Alfred Schnittke pays homage to Stravinsky in his haunting string quartet, as Ludwig Thuille's graceful Sextet is a yearning, romantic jewel for piano and winds. Earning him Russia's highly coveted Stalin Prize, Shostakovich's dramatic Quintet pays tribute to his own musical heroes through a hodge-podge of styles and a surprising use of restraint in the playful finale. 
Program
Igor Stravinsky
(1882-1971)
Approx. Duration: 8 minutes

Eight Instrumental Miniatures for 15 Players (1962)

Andantino
Vivace
Lento
Allegretto
Moderato: Alla breve
Tempo di marcia
Larghetto
Tempo di tango
Allison Emerick, Masha Popova, flute
Adéle-Marie Buis, Kristin Kall, oboe
Zach Manzi, Miles Jaques, clarinet
Brenton Foster, Darren Hicks, bassoon
Priscilla Rinehart, horn
Cynthia Burton, Alexander Lee, violin
Esther Nahm, Madeline Sharp, viola
Hilary Glen, Jacob Hanegan, cello
Ludwig Thuille
(1861-1907)
Approx. Duration: 28 minutes

Sextet in B-flat major for Piano and Winds, Op. 6 (1888)

Allegro moderato                                                      
Larghetto
Gavotte: Andante, quasi Allegretto
Finale: Molto vivace
Aya Yamamoto, piano
Masha Popova, flute; Max Blair, oboe
Zach Manzi, clarinet; Sean Maree, bassoon
Priscilla Rinehart, horn
Alfred Schnittke
(1934-1998)
Approx. Duration: 5 minutes

Canon in Memory of Igor Stravinsky for String Quartet (1971)

Maya Cohon, Christen Greer, violin
Andrew Francois, viola
Meredith Bates, cello
Dmitri Shostakovich
(1906-1975)
Approx. Duration: 30 minutes

Quintet in G minor for Piano and Strings, Op. 57 (1940)

Prelude: Lento—Poco più mosso—Lento
Fugue: Adagio
Scherzo: Allegretto
Intermezzo: Lento—Appassionato
Finale: Allegretto
Inon Barnatan, piano
Michael McCarthy, Lauren Densinger, violin
Jesse Yukimura, viola
Ashton Lim, cello
Igor Stravinsky
Eight Instrumental Miniatures for 15 Players (1962)

Approximate duration: 8 minutes
Stravinsky composed Les cinq doigts (The Five Fingers) for his young children in 1921. The eight short movements for piano allowed a novice performer to leave the right hand mostly stationary over a single set of five notes—which still gave Stravinsky ample material to sound like himself, crafting incisive rhythms and fractured melodies representative of his emerging "neoclassical" style. 
Stravinsky resurrected the little piano score in 1962, creating the arrangement he titled Eight Instrumental Miniatures for a 15-member ensemble. The orchestration went beyond mere note distribution, to include what Stravinsky described as "rhythmic rewriting, phrase regrouping, canonic elaboration [and] new modulation." Stravinsky conducted the premiere in Toronto several weeks before his 80th birthday, in what proved to be the last debut he directed himself. 
Additional Resources 
Recording of Eight Instrumental Miniatures on YouTube 
Excerpts of Stravinsky's own recording with the CBC Symphony Orchestra 
History of Stravinsky's American years, including picture of the composer in Hollywood in 1962
Ludwig Thuille
Sextet in B-flat major for Piano and Winds, Op. 6 (1888)

Approximate duration: 28 minutes
The Austrian composer Ludwig Thuille has long been overshadowed by his boyhood chum and pen pal, Richard Strauss. Thuille was orphaned at 11—around the time he first met Strauss, three years his junior—but a musical patron in Innsbruck eventually adopted Thuille and arranged for him to receive a first-rate education. Letters that he received in those years from Strauss attest to their shared affection for the Viennese masters (namely Haydn, Beethoven, Schubert and especially Mozart), as well as a disdain for Wagner. 
In 1879 Thuille enrolled at the Royal Bavarian Music School in Munich, where Richard's father, Franz Strauss, taught horn. For both Thuille and Richard Strauss, the path out of their early musical conservatism was paved by an older friend in Munich, the composer and violinist Alexander Ritter, who sold them on the virtues of Wagner's operas and Liszt's tone poems. Thuille composed an opera that made it as far as New York and became an influential teacher at his alma mater in Munich, but after his death at the age of 45 his music faded into obscurity. 
The one composition by Thuille that has remained relatively popular is the Sextet he completed in 1888 for piano, flute, oboe, clarinet, bassoon and horn. That exact combination of instruments was uncommon at the time, but there were earlier quintets for piano and winds (without flute) by Mozart and Beethoven that served as appealing models. There are also hints of Brahms in the Sextet's Allegro moderato first movement, with its rhythmic pattern of even eighth-notes in the melodies rubbing against a flowing accompaniment of triplets. The horn takes the first melodic phrase of the opening movement, and it holds the spotlight even longer at the start of the noble Larghetto. (Strauss' affection for the horn, passed down from his father, seems to have rubbed off on the close family friend as well.) 
The third movement, a Gavotte, dips into an even older musical wellspring, recalling the dance suites of Bach and other Baroque composers. The high point of this light-stepping interlude is the sparkling section in the middle the strikes up a double-time tempo in the parallel major key. 
In the lively closing movement, music that harks back to the hunt-inspired finales of Haydn and Mozart takes on a modern edge, with dissonances woven into the fabric of the main theme. 
Near the end, mysterious harmonies wander into Wagner-Liszt-Strauss territory to introduce a surprising new color. 
Additional Resources 
PDF score from the IMSLP Petrucci Music Library 
Information on the Sextet from its publisher, Edition Silvertrust 
Information on Thuille's life and his friendship with Strauss from the American Symphony Orchestra
Alfred Schnittke
Canon in Memory of Igor Stravinsky for String Quartet (1971)

Approximate duration: 5 minutes
The Russian composer Alfred Schnittke received his earliest musical training in Vienna, while his father served there as a translator. Shortly after his graduation from the Moscow Conservatory in 1958, he made waves with the oratorio Nagasaki, which received sharp criticism from the government-backed Union of Composers. Like Shostakovich, an early target of the Union, Schnittke proved resilient in the face of such castigation and he managed to sustain a career by scoring state-sponsored films, lecturing and teaching at his alma mater. Through a string of major concert works, he developed a "polystylistic" sound that merged elements of serialism, chance, pastiche, Romanticism, church music, bawdy songs and a host of other components. His music spread to the West through champions such as Gidon Kremer, but just as Gorbachev-era reforms loosened Soviet travel restrictions, Schnittke suffered the first of a series of debilitating strokes. He continued to compose, developing a darker, more introspective style, and moved to Hamburg, where he spent his final eight years. 
When Igor Stravinsky died in 1971, Schnittke was among the many composers who paid tribute in music. The specific impetus for his score was an ambitious undertaking organized by David Drew, the editor of the contemporary music journal Tempo. Using two memorial works composed by Stravinsky himself as models—the Double Canon and Epitaphium—Drew asked the world's leading composers to contribute canons and epitaphs that used the instruments found in those Stravinsky scores (or a subset). Schnittke's Canon in Memoriam Igor Stravinsky for string quartet appeared in a supplement to Tempo alongside works by Luciano Berio, Michael Tippett and others; a second supplement followed with offerings from such luminaries as Aaron Copland, Elliott Carter, Darius Milhaud and Pierre Boulez. (A version of that Boulez work, …explosante-fixe…, appeared on a New World Symphony program last month.) 
The musical technique of canon involves having voices follow upon each other playing the same music, either at the same pitch or separated by a fixed interval; a simple round such as "Row, Row, Row your Boat" is one familiar example. In Schnittke's canon, the spaces between the entrances are compressed to the point that the overall effect is more like an echo chamber than formal counterpoint, giving the music a spectral, fading quality in line with its memorial origins. 
Additional Resources 
Background on the memorial commissions organized by Tempo 
Excerpt from Schnittke's manuscript 
Guide to Schnittke's music from The Guardian
Dmitri Shostakovich
Quintet in G minor for Piano and Strings, Op. 57 (1940)

Approximate duration: 30 minutes
Shostakovich's life was upended in 1936, when the newspaper Pravda—the mouthpiece for the Communist Party of the Soviet Union—published a scathing review titled "Muddle instead of Music," taking issue with Shostakovich's opera Lady Macbeth of the Mtsensk District. After that public shaming, including the warning that his "game of clever ingenuity…may end very badly," Shostakovich proceeded with understandable caution, shelving several major works before composing his Fifth Symphony in a burst of activity in 1937. The premiere of that symphony was an unlikely triumph and it bought Shostakovich a bit of breathing room with the authorities during a period of relative calm before the Nazi invasion in 1941. 
After Shostakovich introduced his String Quartet No. 1 in 1938 with the Leningrad-based Glazunov Quartet, the rival Beethoven Quartet learned the piece and gave the Moscow premiere. That performance launched one of the great collaborations between composer and chamber ensemble: Shostakovich went on to compose a total of 15 string quartets, and the Beethoven Quartet introduced all but the last. Their first joint project was the Piano Quintet in G minor, which Shostakovich composed in 1940 and performed with the group. (Shostakovich's other great chamber work for piano and strings, the Piano Trio No. 2 from 1944, was likewise debuted by the composer along with Beethoven members.) 
The Piano Quintet won the Stalin Prize in 1941—along with a huge financial award of 100,000 rubles for Shostakovich—confirming that the authorities were satisfied with Shostakovich's course correction. In crafting music that was weighty and serious and yet totally transparent and rational, Shostakovich drew particular inspiration from J.S. Bach. The Quintet opens with a linked pair of movements identified as a Prelude and a Fugue, a quintessential Bach construction. (Shostakovich later wrote a set of 24 Preludes and Fugues for solo piano, a modern answer to Bach's The Well-Tempered Clavier.) The Quintet's Prelude delays the entrance of the strings, allowing the piano to establish the linear contours of the themes; the Fugue then reverses the scheme, entrusting the initial counterpoint to the muted quartet. 
After such profound and austere music in the Fugue, the central Scherzo clears the air with the type of rambunctious, dancing humor that Shostakovich mastered early in his career, long before his run-ins with Stalin. 
The Intermezzo fourth movement unfolds as an aria with walking bass, another Bach staple; out of the last dying chord, the piano launches the light and graceful finale, transporting the key center to the optimistic realm of G major. 
Additional Resources 
Blog post on the Piano Quintet 
Recording of the Piano Quintet from 1949, by Shostakovich and the Beethoven Quintet 
Collection of articles and links about Shostakovich
-- Copyright © 2016 Aaron Grad 
Aaron Grad is a composer, guitarist and writer based in Seattle. Besides providing program notes for the New World Symphony, he has been the Orpheus Chamber Orchestra's program annotator since 2005 and also contributes notes to the Saint Paul Chamber Orchestra and Seattle Symphony.
Audio clips by Naxos of America, Inc.
Inon Barnatan, piano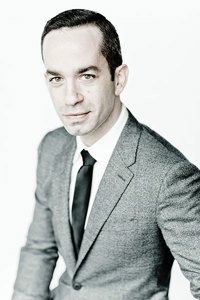 "One of the most admired pianists of his generation" (The New York Times), Inon Barnatan is celebrated for his poetic sensibility, musical intelligence and consummate artistry. He inaugurated his tenure as Music Director of California's La Jolla Music Society SummerFest in 2019.
Mr. Barnatan is a regular soloist with many of the world's foremost orchestras and conductors. He recently served for three seasons as the inaugural Artist-in-Association of the New York Philharmonic and recreated Beethoven's legendary 1808 concert with the Cincinnati Symphony.
The recipient of an Avery Fisher Career Grant and Lincoln Center's Martin E. Segal Award, Mr. Barnatan is also a sought-after recitalist and chamber musician. He recently made his solo recital debut at Carnegie's Zankel Hall and reunited with frequent cello partner Alisa Weilerstein. Passionate about contemporary music, he has commissioned and performed works by many living composers, premiering pieces by Thomas Adès, Sebastian Currier, Avner Dorman, Alan Fletcher, Joseph Hallman, Alasdair Nicolson, Andrew Norman and Matthias Pintscher.
This season Mr. Barnatan released Beethoven's complete piano concertos, recorded with Alan Gilbert and Academy of St Martin in the Fields on Pentatone. Mr. Barnatan's acclaimed discography also includes Rachmaninov & Chopin: Cello Sonatas, recorded with Weilerstein for Decca Classics, and Darknesse Visible, named one of the The New York Times's "Best of 2012."
For more information, visit www.inonbarnatan.com.
Musicians of the New World Symphony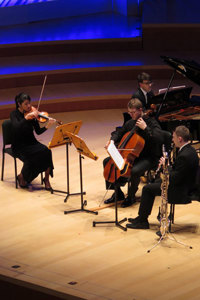 A laboratory for the way music is taught, presented and experienced, the New World Symphony consists of 87 young musicians who are granted fellowships lasting up to three years. The fellowship program offers in-depth exposure to traditional and modern repertoire, professional development training and personalized experiences working with leading guest conductors, soloists and visiting faculty. 
NWS Fellows take advantage of the innovative performance facilities and state-of-the art practice and ensemble rooms of the Frank Gehry-designed New World Center, the campus of the New World Symphony and home of the Knight New Media Center.
In the hopes of joining NWS, nearly 1,000 recent music school and conservatory graduates compete for available fellowships each year. The Fellows are selected for this highly competitive, prestigious opportunity based on their musical achievement and promise, as well as their passion for the future of classical music.