Events & Tickets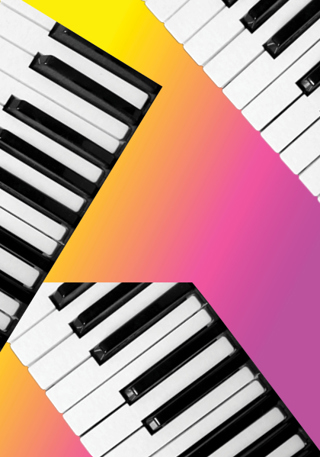 Orchestra Concert
Scheherazade and Gershwin
New World Center, Michael Tilson Thomas Performance Hall
Friday, December 10, 2021 at 7:30 PM
Saturday, December 11, 2021 at 7:30 PM
Program
As a conductor, trailblazer and educator, Marin Alsop is a formidable force in classical music. She makes her anticipated return to NWS with an evocative program featuring famed jazz pianist Aaron Diehl. Experience the American premiere of a new edition of George Gershwin's Concerto in F—a perfect fusion of classical, popular and jazz styles. Arabian Nights' famed storyteller Scheherazade spins fables to survive. Nikolai Rimsky-Korsakov pays homage to the princess in this intoxicating symphonic epic, featuring a treasure trove of imaginative scenes, like Sinbad on the high seas. Anna Clyne's Masquerade embodies the celebratory spirit of 18th-century garden concerts.
DEC. 11: PRE-CONCERT CHAT
Saturday's performance includes a free pre-concert chat with Fellows in the Truist (formerly SunTrust) Pavilion. This chat is exclusive for Dec.11 ticketholders. Doors open at 6:25 PM. There will not be a pre-concert chat on Friday, December 10.  

Audiences will receive synchronized program information right to their phones during the second half of the concert. Information will be streamed in both English and Spanish. 
This concert is part of the Friday Evening and Saturday Evening Two series. Come be inspired at the New World Center! With either of these series, you'll enjoy blockbuster artists like MTT, Marin Alsop, Aaron Diehl, Christian Tetzlaff, Gil Shaham and orchestral master works like Rimsky-Korsakov's Scheherazade, Beethoven's Third Symphony and Mahler's Fifth Symphony. Subscriptions for the Friday series (3 concerts) begin at $90. Subscriptions to the Saturday Evening Two series (4 concerts) begin at $132. Click to explore the full subscriptions! 
COMPOSE YOUR OWN SUBSCRIPTION PACKAGE! 
Choose this plus two more concerts to customize your own subscription. It's the ultimate flexibility with all the subscriber benefits, including free exchanges when plans change! Call the NWS Box Office at 305.673.3331 to create your own series today. 
SUBSCRIBERS ENJOY THE BEST OF NWS! 
As an NWS Subscriber, you receive amazing benefits to enjoy throughout the season, including the best seats for the lowest prices and access to our incredibly talented Fellows. Click here to learn more! 
Program
Anna Clyne
(b. 1980)
Approx. Duration: 8 minutes

George Gershwin
(1898-1937)
Edited by Timothy D. Freeze
Approx. Duration: 30 minutes

Concerto in F major for Piano and Orchestra  (1925, U.S. premiere of new edition )

Allegro  
Adagio – Andante con moto 
Allegro agitato 
Nikolai Rimsky-Korsakov
(1844-1908 )
Approx. Duration: 47 minutes

Scheherazade, Op. 35 (1888 )

The Sea and Sinbad's Ship
The Kalendar Prince
The Young Prince and The Young Princess
Festival at Baghdad – The Sea – The Ship Breaks against a Cliff
   Surmounted by a Bronze Horseman
Anna Clyne
Masquerade

 

 

(2013)

Approximate duration: 8 minutes
The London-born, American-based composer Anna Clyne rocketed into the international limelight in 2009, when the Chicago Symphony Orchestra named her as one of two composers-in-residence. Within her extensive catalog of orchestral, chamber and electroacoustic music, Clyne has proved especially adept at writing new music that reaches into the past, including this orchestral score commissioned for the Last Night of the Proms, the annual highlight of London's summer concert series.
The composer provided the following note:
Masquerade draws inspiration from the original mid-18th century promenade concerts held in London's pleasure gardens. As is true today, these concerts were a place where people from all walks of life mingled to enjoy a wide array of music. Other forms of entertainment ranged from the sedate to the salacious with acrobatics, exotic street entertainers, dancers, fireworks and masquerades. I am fascinated by the historic and sociological courtship between music and dance. Combined with costumes, masked guises and elaborate settings, masquerades created an exciting, yet controlled, sense of occasion and celebration. It is this that I wish to evoke in Masquerade.
The work derives its material from two melodies. For the main theme, I imagined a chorus welcoming the audience and inviting them into their imaginary world. The second theme, "Juice of Barley," is an old English country dance melody and drinking song, which first appeared in John Playford's 1695 edition of The English Dancing Master.
It is an honor to compose music for the Last Night of the Proms and I dedicate Masquerade to the Prommers.
               – Anna Clyne


George Gershwin
Concerto in

 

F

 

major

 

for Piano and Orchestra
 

(1925, U.S. premiere of new edition )


Approximate duration: 30 minutes

George Gershwin, just 25 and already at the top of the songwriting industry, made his first real splash in the world of "serious" music with Rhapsody in Blue. Among the spectators at Gershwin's debut performance with Paul Whiteman's dance band was Walter Damrosch, the conductor of the New York Symphony Orchestra, who was so impressed that he immediately invited Gershwin to compose a true concerto to perform with the orchestra. Gershwin himself understood that Rhapsody in Blue was insufficient to establish his classical credentials; he wrote, "Many persons had thought that the Rhapsody was only a happy accident. Well, I wanted to show that there was plenty more where that had come from. I made up my mind to do a piece of 'absolute' music. The Rhapsody, as its title implied, was a blues impression. The Concerto would be unrelated to any program."

Gershwin worked on his Piano Concerto in F from July to November of 1925, and he debuted the score that December. The Concerto's gestation was much more arduous than that of Rhapsody in Blue (which took less than a month to draft), not least because Gershwin endeavored to teach himself the art of orchestration, rather than hiring an arranger as he had for the previous score.

The Concerto in F successfully masks any discomfort its composer may have had with venturing so deep into territory staked out by the likes of Mozart and Beethoven. The opening tutti section, with its juxtaposition of bombastic timpani and syncopated dance rhythms reminiscent of "The Charleston," establishes the duality that runs throughout the score. The piano arrives with a cadenza that teases out a slow and sultry response.

The middle movement calls out a trumpet to present the lazy melody, colored with characteristic "blue" notes and backed up by a chorus of clarinets. The piano makes its entrance on a sassy melody decorated with "crunched" notes, propelled forward by strummed chords from the strings that mimic a jazz guitar or banjo.

The brisk finale plays up the virtuosic gesture of repeated notes on the piano. Echoes of earlier music bring the work full circle, until a final barrage from the timpani sets up the swelling cadence.

For most of its performance history, orchestras have had to play the Concerto in F from scores and parts full of errors and fixes, but a new effort by the Gershwin estate and the University of Michigan is developing critical edition publications for this and all other works by George and Ira Gershwin. This performance features the new authoritative score edited by Timothy D. Freeze.


Nikolai Rimsky-Korsakov
Scheherazade

, Op. 35

(1888 )

Approximate duration: 47 minutes
Nikolai Rimsky-Korsakov was a naval officer with some childhood training in piano and composition when he was introduced in 1861 to Mily Balakirev, a Russian composer and critic at the start of an influential career. Balakirev dreamed of articulating an authentic Russian sound in concert music, and the young and talented semi-pro composers he gathered around him grew into the clique known as "The Russian Five," including the civil servant Modest Mussorgsky and the chemist Alexander Borodin.
During a three-year naval voyage, Rimsky-Korsakov took Balakirev's advice to study Berlioz' treatise on orchestration along with any scores he could find at ports of call (which included London, New York and Rio de Janeiro). On the strengths of his early orchestral scores, Rimsky-Korsakov earned a faculty position at the Saint Petersburg Conservatory in 1871, and from his start as an untrained outsider he grew to become an influential teacher and trendsetter in Russia and beyond, revered above all for his kaleidoscopic sense of orchestral color.
Following Borodin's death in 1887, Rimsky-Korsakov completed and orchestrated his colleague's unfinished opera Prince Igor, a tale of a hero defending Russia from Turkic invaders. The opera inspired Rimsky-Korsakov to embrace foreign inspiration in his own music, and he soon developed a suite based on One Thousand and One Nights (otherwise known as Arabian Nights). In a program note from the premiere performance in 1888, Rimsky-Korsakov offered this synopsis of the story within which the tales unfold:
The Sultan Schariar, convinced that all women are false and faithless, vowed to put to death each of his wives after the first nuptial night. But the Sultana Scheherazade saved her life by entertaining her lord with fascinating tales, told seriatim, for a thousand and one nights. The Sultan, consumed with curiosity, postponed from day to day the execution of his wife, and finally repudiated his bloody vow entirely.
Rimsky-Korsakov designed the work as a four-movement symphonic suite, originally giving the movements the generic titles of Prelude, Ballade, Adagio and Finale, with the intention of evoking "numerous and varied fairy-tale wonders" without being too literal in the storytelling, as he explained in his memoirs. Fellow composer Anatoly Liadov suggested more descriptive titles, and Rimsky-Korsakov adopted them at first, only to change his mind later and remove them from the score. These more vivid headers still tend to appear in programs and recordings.
The most explicit tone painting in Scheherazade outlines the frame story, with menacing brass figures at the start evoking the Sultan, countered by a captivating violin melody representing Scheherazade herself—played today by third-year Violin Fellow Michael Turkell. These motives return throughout the score, punctuating the queen's storytelling and providing concertmasters the world over with some of their finest moments in the spotlight.
The sea figures prominently in two of the movements by this former sailor, rocking gently in the first movement and crashing violently in the finale. The second movement, The Kalendar Prince, has a tone of magic and mysticism befitting the fantastical story of a nobleman disguised as a wandering beggar. The third movement is a romantic interlude that serves as a slow movement within the four-part scheme, part of what makes this massive score not just a marvel of orchestral storytelling but also a fully integrated symphony in all but name.
– © 2021 Aaron Grad
Aaron Grad is a composer, guitarist and writer based in Seattle. Besides providing program notes for the New World Symphony, he has been the Orpheus Chamber Orchestra's program annotator since 2005 and also contributes notes to the Saint Paul Chamber Orchestra and Seattle Symphony.
FOR YOUR SAFETY 
As of September 18, 2021, these are the guidelines that all guests at New World Symphony concerts must follow. These guidelines will apply to all members of your party before they are allowed to enter the New World Center and to any users of the tickets purchased by you.  Click here for additional information.
COVID REQUIREMENTS: 
We request that all guests are fully vaccinated against COVID-19 (at least two weeks after final dose) and provide proof of vaccination; i.e. original vaccination card, copy of vaccination card, or picture of vaccination card. Name on vaccination card must match name on ID. 

In lieu of proof of vaccination, we require proof of a negative COVID-19 diagnostic test result within 72-hours (including for unvaccinated children under 12 years of age). Name on test result must match name on ID. Results from self-test kits and test-at-home kits will not be accepted.

All guests may undergo a temperature screening upon entry into the building. 

Masks are required inside New World Center at all times, regardless of vaccination status. 
DAY OF EVENT 
Please arrive early for check-in process. 

Please bring your ID and proof of vaccination or negative test result. As noted above, the full name on your ID must match the name on your vaccination card or COVID test result. 

Please remember to bring a mask. 
By attending our events, you voluntarily accept responsibility for all risks related to exposure to COVID-19.
Marin Alsop, conductor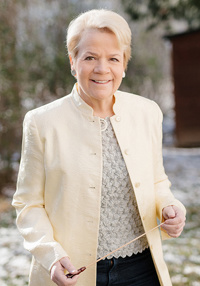 A conductor of vision and distinction, Marin Alsop represents a powerful and inspiring voice. Convinced that music has the power to change lives, she is internationally recognized for her innovative approach to programming and audience development, her deep commitment to education and her advocacy for music's importance in the world.
Ms. Alsop currently serves as Chief Conductor of the ORF Vienna Radio Symphony Orchestra, the first Music Director of the University of Maryland's National Orchestral Institute + Festival (NOI+F), and the first Chief Conductor and Curator of Chicago's Ravinia Festival, where she curates and conducts the Chicago Symphony Orchestra's summer residencies. She is also Conductor of Honour of Brazil's São Paulo Symphony Orchestra (OSESP) and will later this year assume the title of Music Director Laureate and OrchKids Founder of the Baltimore Symphony Orchestra, after an outstanding 14-year tenure as its Music Director. As well as enjoying longstanding relationships with the London Philharmonic and London Symphony Orchestras, she regularly guest conducts such major international ensembles as the Orchestra of the Age of Enlightenment, the Orchestre de Paris and the Cleveland, La Scala, Leipzig Gewandhaus, Philadelphia and Royal Concertgebouw Orchestras. An ardent champion of new composition, she was Music Director of California's Cabrillo Festival of Contemporary Music for 25 years. Last year, in collaboration with YouTube, Google Arts & Culture and a host of the world's leading arts organizations, she spearheaded the #GlobalOdeToJoy, a crowd-sourced video project to celebrate Beethoven's 250th anniversary and amplify his Ninth Symphony's call for tolerance, unity and joy.
The first and only conductor to receive a MacArthur Fellowship, Ms. Alsop has also been honored with the World Economic Forum's Crystal Award and numerous honorary doctorates. Recognized with multiple Gramophone Awards, her extensive discography includes recordings for Decca, Harmonia Mundi, Naxos and Sony Classical. To promote and nurture the careers of her fellow female conductors, in 2002 she founded the Taki Concordia Conducting Fellowship, which was recently renamed in her honor as the Taki Alsop Conducting Fellowship.
Aaron Diehl, piano and jazz trio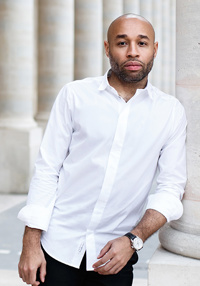 Pianist and composer Aaron Diehl mystifies listeners with his layered artistry. At once temporal and ethereal, his expression transforms the piano into an orchestral vessel in the spirit of beloved predecessors Ahmad Jamal, Erroll Garner and Jelly Roll Morton. Following three critically-acclaimed leader albums on Mack Avenue Records — and live appearances at historic venues from Jazz at Lincoln Center and The Village Vanguard to New York Philharmonic and the Philharmonie de Paris — the American Pianist Association's 2011 Cole Porter fellow now focuses his attention on what it means to be present within himself. His forthcoming solo record promises an expansion of that exploration in a setting at once unbound and intimate.
Mr. Diehl conjures three-dimensional expansion of melody, counterpoint and movement through time. Rather than choose one sound or another, he invites listeners into the chambered whole of his artistry. Born in Columbus, Ohio, he traveled to New York in 2003, following his success as a finalist in JALC's Essentially Ellington competition and a subsequent European tour with Wynton Marsalis. His love affair with rub and tension prompted a years-long immersion in distinctive repertoire from Monk and Ravel to Gershwin and William Grant Still. Among other towering figures, Still in particular inspires Mr. Diehl's ongoing curation of Black American composers in his own performance programming, unveiled this past fall at 92nd St. Y.
Mr. Diehl has enjoyed artistic associations with Wynton Marsalis, Benny Golson, Jimmy Heath, Buster Williams, Branford Marsalis, Wycliffe Gordon, Philip Glass and multi-Grammy Award-winning artist Cecile McLorin Salvant. He recently appeared with the New York Philharmonic and The Cleveland Orchestra as featured soloist.
Mr. Diehl holds a bachelor of music degree in jazz studies from The Juilliard School. A licensed pilot, when he's not at the studio or on the road, he's likely in the air. Follow both his earthbound and aerial exploits via Instagram at @aaronjdiehl.
Aaron Diehl Trio includes David Wong, bass and Quincy Davis, drums.
Chad Goodman, conductor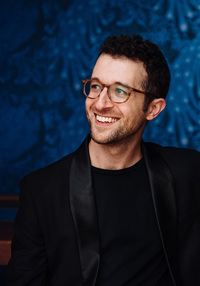 With a flair for inventive programming and a bold presence on stage and in the community, Chad Goodman has been praised for "bringing innovation to classical music" (Forbes).
As the Conducting Fellow of the New World Symphony, Mr. Goodman conducts on subscription, education, family and holiday programs. His program, "SPARK: How Composers Find Inspiration," blended captivating light design and videography with engaging audience participation to explore how a composition is created and brought to life by an orchestra.
Since 2018 Mr. Goodman has served as an Assistant Conductor to the San Francisco Symphony, assisting Esa-Pekka Salonen, Manfred Honeck, Daniel Harding, Pablo Heras-Casado, Simone Young and James Gaffigan among others.
Mr. Goodman's 2022-23 Season will include debut appearances with the Elgin Symphony, Baton Rouge Symphony, Greensboro Symphony and San Francisco Chamber Orchestra.
As Founder and Artistic Director of Elevate Ensemble, Mr. Goodman's ambitious vision for concert programming resulted in the pairing of music from Bay Area composers with underappreciated gems of the 20th and 21st centuries. Under his leadership, Elevate Ensemble established a Composer-in-Residence program and commissioned fifteen works from Bay Area composers. Elevate collaborated with photographers, videographers, poets and culinary artists, bringing new music and vibrant multi-genre experiences to unique venues such as yoga studios, historic Victorian homes and art studio warehouses.
Mr. Goodman has previously served as Conducting Fellow of Festival Napa Valley, Music Director of the Contra Costa Chamber Orchestra, Conducting Fellow of the Atlantic Music Festival, and a rehearsal and cover conductor for the San Francisco Ballet.
In addition to his performing career, he teaches young musicians the business and entrepreneurial skills needed to successfully navigate the world as a working musician in his workshop "You Earned a Music Degree. Now What?"
Mr. Goodman holds a bachelor of music degree from the Eastman School of Music and a master of music degree from San Francisco State University. His mentors include Michael Tilson Thomas, Alasdair Neale, Cyrus Ginwala and Martin Seggelke.