Events & Tickets
Orchestra Concert
SEASON FINALE: MTT AND YUJA WANG
New World Center, Michael Tilson Thomas Performance Hall
Friday, April 26 at 7:30 PM
Saturday, April 27 at 8:00 PM
Program
Relish in the last glimpse of this season's Fellows alongside MTT and superstar pianist Yuja Wang. Fall head first into the impassioned romance and wondrous opium-fueled dreams of Hector Berlioz's legendary Symphonie fantastique. From its whirlwind waltzes to demonic hallucinations, hear why MTT calls this unabashed melodrama an "epic orchestral sonic spectacular!" Witness the world premiere of a new work by Bang on a Can co-founder Julia Wolfe before Yuja offers a stunning performance of Sergei Prokofiev's wildly virtuosic Fifth Concerto. This will be a formidable finale to an epic season!
This weekend's concerts precede the New World Symphony's presentation of this program by Carnegie Hall on May 1. The New World Symphony would like to recognize the following donors for their support: 
Bruce and Suzie Kovner / The Kovner Foundation, The Wilhelmina Harrell Fund, Bruce and Martha Clinton / The Clinton Family Fund, Susan and David Edelstein, Mr. and Mrs. Louis K. Meisel, Melanie and David Niemiec, Stuart Subotnick, Mr. and Mrs. Jeffrey Akin, Alan and Jayusia Bernstein, The Andrea & Charles Bronfman Philanthropies, Dr. Matthew Budd and Ms. Rosalind E. Gorin, Jim and Jean Crystal, Peter and Sue Gottsegen, The Hite Foundation, Jorge and Amanda Mejia, Jerry and Adrianne Cohen, Betty and Joseph Z. Fleming, Susan and John Freund, Saul and Jane Gross, The Jeffrey Solomon Fund of the Jewish Community Foundation, Janet Shein, Koniver Stern Group, Mr. and Mrs. Robert Hertzberg, David J. Phillips and Denis J. Jacobs, and Coregami.
Fountain of Youth was co-commissioned by the New World Symphony with support from the John S. and James L. Knight Foundation.
Program
Julia Wolfe
(b. 1958)
Approx. Duration: 20 minutes

Fountain of Youth (2019; world premiere of NWS co-commission)

Sergei Prokofiev
(1891-1953)
Approx. Duration: 23 minutes

Concerto No. 5 in G minor for Piano and Orchestra, Op. 55 (1931-32)

Allegro con brio
Moderato ben accentuato
Toccata: Allegro con fuoco (più presto che la prima volta)
Larghetto
Vivo
Hector Berlioz
(1803-1869)
Approx. Duration: 49 minutes

Symphonie fantastique, Op. 14 (1830)

Reveries – Passions
A Ball: Waltz
Scene In the Country
March to the Scaffold
Dream of a Witches' Sabbath
Julia Wolfe
Fountain of Youth (2019; world premiere of NWS co-commission)

Approximate duration: 20 minutes
Julia Wolfe moved to New York after completing her graduate studies at the Yale School of Music in 1986. With no readymade niche for her genre-bending music, she created a new scene by co-founding the Bang on a Can collective with two other Yale alumni, David Lang and Michael Gordon. Whether writing for their in-house electric ensemble (the Bang on a Can All-Stars) or for major orchestras including the New York Philharmonic, Wolfe has preserved her iconoclastic ethos even as she has reached the highest echelons of musical achievement, including a Pulitzer Prize in 2015 and a MacArthur "Genius Grant." She has become known for serious works on topics like exploitative labor practices, but for this commission from the New World Symphony, she and Michael Tilson Thomas decided instead to focus on "serious fun." In her new work, Fountain of Youth, Wolfe pays tribute to "this incredible orchestra of young people" and Michael Tilson Thomas, "who is forever young," while also recalling Florida's legendary wellspring sought by Ponce de León in the 16th century.
"Many have searched for the Fountain of Youth. If we found it, what would it sound like?"
                -- Julia Wolfe
Sergei Prokofiev
Concerto No. 5 in G minor for Piano and Orchestra, Op. 55

(1931-32)


Approximate duration: 23 minutes

Prokofiev was already a skilled composer by the time he enrolled at the Saint Petersburg Conservatory at the age of 13, thanks in large part to his wealthy family having hired the composer Reinhold Glière as a live-in music tutor. When Prokofiev finished his studies a decade later, he could point to the two piano concertos he had premiered himself as early highlights on his growing résumé as a pianist-composer.

After fleeing Russia in the wake of the Bolshevik Revolution, Prokofiev hoped to establish a career in the mold of Rachmaninoff, who made an excellent living performing his own concertos with orchestras in the United States and beyond. But Prokofiev failed to win over American audiences, even when he wrote a Third Piano Concerto in 1921 specifically for a U.S. tour.

Next he tried restarting in Europe, but again he was out of step with current tastes. He wrote his Fourth Piano Concerto for left hand only, as commissioned by the wealthy Austrian pianist Paul Wittgenstein, who had lost his right hand in World War I; upon receiving Prokofiev's score in 1931, Wittgenstein replied, "Thank you for the Concerto, but I do not understand a single note in it and I will not play it." (Prokofiev never got around to rearranging it for two hands as he had intended, and it was not performed during his lifetime.) Prokofiev wrote one last piano concerto and performed it with the Berlin Philharmonic in 1932, but it was already becoming clear that the only place where he would find the appreciation and compensation he deserved was back in the Soviet Union.

The Piano Concerto No. 5 speaks to the crossroads that Prokofiev faced in his final European years. This unruly Concerto combines five short movements, far enough from the classical mold that Prokofiev planned to title it simply Music for Piano and Orchestra until a colleague talked him out of it. The opening movement forgoes any introductory pleasantries, as if the pianist simply begins playing on a whim and the orchestra must scramble to catch up. It's a style that plays to the fashions of the day, with music as incisive as Stravinsky and as nonchalant as Ravel.

Two fast movements show opposing sides of Prokofiev's physicality. The first is a clean and dashing march, a style aligned with Prokofiev's long history of music for dance and theater.

The fiery Toccata counters with a menacing and percussive sprint pierced by the piano's jackhammering chords.

In the Larghetto, the center of gravity is a passionate climax in the middle, offsetting the hushed outer sections.

Instead of simply rounding out the Concerto with a jovial finale, the closing Vivo veers into a mysterious fantasy that almost fades into oblivion, until an accelerating coda marches it back from the brink.

 
Hector Berlioz
Symphonie fantastique
, Op. 14

(1830)


Approximate duration: 49 minutes

Hector Berlioz was an unlikely musical revolutionary who only began dabbling in composition and teaching himself harmony out of a book at the age of 12. His father, a physician, disapproved of these musical pursuits, so the young Berlioz never took lessons or mastered an instrument. At 18 he moved to Paris to study medicine, and he waited another five years before finally enrolling at the Paris Conservatory in 1826.

A pivotal moment in Berlioz' development can be traced to one night in 1827, when he first experienced Shakespeare through a production of Hamlet. In future years, Berlioz would write a number of works on Shakespearean themes, but the immediate impact was more personal: He left the theater smitten with Harriet Smithson, the Irish actress who played Ophelia.

Berlioz' infatuation with Smithson blossomed and then soured by 1830, at which point personal suffering became creative fodder. Expanding from the model of Beethoven's Symphony No. 6, with its "pastoral" plot points, Berlioz concocted a symphony built around a dramatic tale of failed romance. This work's official title was An Episode in the Life of an Artist, with the subtitle of Symphonie fantastique, or "Fantastical Symphony."

The explicit links Berlioz made between symphonic structures and a narrative story marked the birth of a new genre, the program symphony, which would become a cornerstone of the Romantic repertoire. To support this programmatic format, Berlioz stretched the symphonic notions of form (using five movements instead of the typical four), thematic unity (one idée fixe appears throughout) and instrumentation (incorporating recent inventions such as valve trumpets and ophicleides, and doubling the harp and timpani).

Berlioz' own program note describes the Symphony's narrative in detail. He introduces "a young musician of morbid disposition and powerful imagination"—a plain surrogate for Berlioz—who "poisons himself with opium in an attack of despairing passion." In the ensuing opium dream, "the beloved herself appears to him as a melody … an obsessive idea that he keeps hearing wherever he goes."

The first movement, titled Reveries – Passions, "recalls the sickness of the soul, the flux of passion, the unaccountable joys and sorrows he experienced before he saw his beloved; then the volcanic love she suddenly inspired in him, his delirious raptures, his jealous fury, his persistent tenderness, his religious consolations." The beloved's idée fixe enters about five minutes into the form, stated by violins and flute, and it sparks a flight of passion.

Next the artist attends A Ball, and Berlioz sets the scene with a flowing waltz.

In Scene in the Country, the artist "broods on his loneliness," contemplating "two shepherds" represented by English horn and oboe.

The ending darkens with the "distant sound of thunder" provided by the timpani, an echo of the storm in Beethoven's "Pastoral" Symphony.

The fantastical nature of the Symphony emerges in the March to the Scaffold, in which the artist "dreams that he has killed his beloved, that he is condemned, led to the scaffold and is witnessing his own execution."

At the end, a whiff of the beloved's idée fixe from the clarinet is silenced by the startling crash of the guillotine, followed by mocking peals of major triads.

The macabre final chapter is the Dream of a Witches' Sabbath, featuring "a hideous gathering of shades, sorcerers and monsters of every kind who have come together for [the artist's] funeral." The Symphony depicts "strange sounds, groans, [and] outbursts of laughter" with diabolical orchestral effects.

The blaring quotation of the Dies Irae ("Day of Wrath") plainchant from Catholic liturgy adds to the terror of this wild scene.

-- Copyright © 2019 Aaron Grad

Aaron Grad is a composer, guitarist and writer based in Seattle. Besides providing program notes for the New World Symphony, he has been the Orpheus Chamber Orchestra's program annotator since 2005 and also contributes notes to the Saint Paul Chamber Orchestra and Seattle Symphony.
Michael Tilson Thomas, conductor
Michael Tilson Thomas is Co-Founder and Artistic Director Laureate of the New World Symphony, America's Orchestral Academy; Music Director Laureate of the San Francisco Symphony; and Conductor Laureate of the London Symphony Orchestra. In addition to these posts, he maintains an active presence guest conducting with the major orchestras of Europe and the United States.
Born in Los Angeles, Mr. Tilson Thomas is the third generation of his family to follow an artistic career. His grandparents, Boris and Bessie Thomashefsky, were founding members of the Yiddish Theater in America. His father, Ted Thomas, was a producer in the Mercury Theater Company in New York before moving to Los Angeles where he worked in films and television. His mother, Roberta Thomas, was the head of research for Columbia Pictures.
Mr. Tilson Thomas began his formal studies at the University of Southern California, where he studied piano with John Crown, and conducting and composition with Ingolf Dahl. At age 19 he was named Music Director of the Young Musicians Foundation Debut Orchestra. During this same period, he was the pianist and conductor in master classes of Gregor Piatigorsky and Jascha Heifetz and worked with Stravinsky, Boulez, Stockhausen and Copland on premieres of their compositions at Los Angeles' Monday Evening Concerts.
In 1969, after winning the Koussevitzky Prize at Tanglewood, he was appointed Assistant Conductor of the Boston Symphony Orchestra. That year he also made his New York debut with the Boston Symphony and gained international recognition after replacing Music Director William Steinberg in mid-concert. He was later appointed Principal Guest Conductor of the Boston Symphony Orchestra where he remained until 1974. He was Music Director of the Buffalo Philharmonic from 1971 to 1979 and a Principal Guest Conductor of the Los Angeles Philharmonic from 1981 to 1985. His guest conducting includes appearances with the major orchestras of Europe and the United States.
Mr. Tilson Thomas is a two-time Carnegie Hall Perspectives artist, curating and conducting series at the hall from 2003 to 2005 and from 2018 to 2019. In the most recent series, he led Carnegie Hall's National Youth Orchestra of the United States of America both at the hall and on tour in Asia, opened the Carnegie Hall season over two evenings with the San Francisco Symphony, conducted two programs with the Vienna Philharmonic and finished with a pair of concerts leading the New World Symphony.
A winner of eleven Grammy Awards, Mr. Tilson Thomas appears on more than 120 recordings. His discography includes The Mahler Project, a collection of the composer's complete symphonies and works for voice and orchestra performed with the San Francisco Symphony, in addition to pioneering recordings of music by Charles Ives, Carl Ruggles, Steve Reich, John Cage, Ingolf Dahl, Morton Feldman, George Gershwin, John McLaughlin and Elvis Costello. His recordings span repertoire from Bach and Beethoven to Debussy and Stravinsky, and from Sarah Vaughan to Metallica.
His television work includes a series with the London Symphony Orchestra for BBC Television, broadcasts of the New York Philharmonic Young People's Concerts from 1971 to 1977 and numerous productions on PBS's Great Performances. With the San Francisco Symphony, he created a multi-tiered media project, Keeping Score, which includes a television series, web sites, and radio programs. He received a Peabody Award for his SFS Media radio series The MTT Files.
Mr. Tilson Thomas's compositions are published by G. Schirmer. In 1991, he and the New World Symphony were presented in a series of benefit concerts for UNICEF in the United States, featuring Audrey Hepburn as narrator of his work From the Diary of Anne Frank, which was commissioned by UNICEF. This piece has since been translated and performed in many languages worldwide. In August 1995, he led the Pacific Music Festival Orchestra in the premiere of his composition Shówa/Shoáh, commemorating the 50th anniversary of the bombing of Hiroshima. His vocal music includes settings of poetry by Walt Whitman and Emily Dickinson, which were premiered by Thomas Hampson and Renée Fleming, respectively. In 2016, Yuja Wang premiered his piano piece You Come Here Often?.
Mr. Tilson Thomas' song cycle Four Preludes on Playthings of the Wind, a setting of Carl Sandburg's poem, was premiered in 2016 by the New World Symphony, with Measha Brueggergosman as soloist. In 2019 the piece was recorded for Medici.tv at the New World Center and given its New York premiere as part of Mr. Tilson Thomas's second Carnegie Hall Perspectives series. His first Perspectives series also featured performances of his own compositions, including Island Music for four marimbas and percussion; Notturno for solo flute and strings, featuring soloist Paula Robison; and new settings of poems by Rainer Maria Rilke. In 2020, he led the San Francisco Symphony in the world premiere of his six-part song cycle Meditations on Rilke, and he subsequently conducted the work at the Cleveland Orchestra. Additional compositions include Street Song for brass instruments; Agnegram, an overture for orchestra; and Urban Legend, a concerto for contrabassoon that was premiered by the San Francisco Symphony. In June 2020, SFS Media released an album of works composed by Mr. Tilson Thomas, featuring live concert recordings of From the Diary of Anne Frank, narrated by mezzo-soprano Isabel Leonard, and Meditations on Rilke, sung by mezzo-soprano Sasha Cooke and bass-baritone Ryan McKinny.
Mr. Tilson Thomas is an Officier de l'Ordre des Arts et des Lettres of France, is a member of the American Academy of Arts and Sciences, was Musical America's Musician of the Year and Conductor of the Year, was Gramophone magazine's Artist of the Year and has been profiled on CBS's 60 Minutes and ABC's Nightline. He has been awarded the National Medal of Arts, has been inducted into the California Hall of Fame and the American Academy of Arts and Letters, and was a 2019 recipient of the Kennedy Center Honors.
Yuja Wang, piano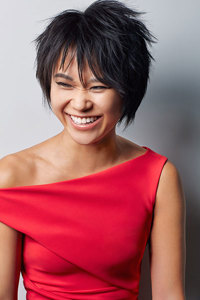 Critical superlatives and audience ovations have continuously followed Yuja Wang's dazzling career. The Beijing-born pianist, celebrated for her charismatic artistry and captivating stage presence, is set to achieve new heights during the 2018-19 season, which features recitals, concert series, as well as season residencies and extensive tours with some of the world's most venerated ensembles and conductors. She began the summer of 2018 with a performance of Beethoven's Piano Concerto No. 1 at the Tanglewood Music Festival with the Boston Symphony under the baton of Andris Nelsons, followed by a tour with the Berlin Philharmonic and Kirill Petrenko featuring Prokofiev's Piano Concerto No. 3. Later engagements included an extensive recital tour in South America, as well as several concerts with the Munich Philharmonic and Valery Gergiev throughout Asia.
Ms. Wang is featured as an Artist-in-Residence at three of the world's premiere venues: New York's Carnegie Hall with a season-long "Perspectives" series, the Wiener Konzerthaus with a "Portrait" series and also at the Luxembourg Philharmonie. Engagement highlights include concerts with the Vienna Philharmonic at Versailles, as well as the Summer Night Concert at the Schönbrunn Palace with Gustavo Dudamel. She also embarks on tours with the City of Birmingham Symphony and Mirga Gražinytė-Tyla. Other notable appearances include concerts in Istanbul, Toronto, Los Angeles, Chicago and Kotor.
Spring of 2019 sees Ms. Wang embark on a tour of Los Angeles, Seoul and Tokyo with the Los Angeles Philharmonic to give the first-ever performances of John Adams' newest piano concerto, as well as reuniting with cellist and frequent collaborator Gautier Capuçon for a vast U.S. chamber tour.
Ms. Wang was born into a musical family in Beijing. After childhood piano studies in China, she received advanced training in Canada and at Philadelphia's Curtis Institute of Music under Gary Graffman. Her international breakthrough came in 2007 when she replaced Martha Argerich as soloist with the Boston Symphony. Two years later, she signed an exclusive contract with Deutsche Grammophon and has since established her place among the world's leading artists, with a succession of critically acclaimed performances and recordings.
Ms. Wang was named Musical America's Artist of the Year in 2017.