Events & Tickets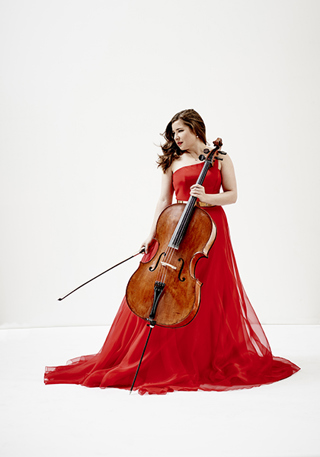 Orchestra Concert
SEASON FINALE WITH MTT: BEETHOVEN'S EROICA
New World Center
Saturday, May 6 at 8:00 PM
Sunday, May 7 at 2:00 PM
Program
Relish in the last glimpse of this season's Fellows alongside MTT in this formidable finale to an epic season. Originally an interlude for his opera A Village Romeo and Juliet, Frederick Delius' The Walk to the Paradise Garden stands alone as a soaring work of art, perfectly portraying the young lover's enchantment and hinting at their fateful demise. Alisa Weilerstein, one of today's brightest stars, makes her much anticipated return for Benjamin Britten's rich and restless Cello Symphony. Ludwig van Beethoven's Third Symphony, a triumphant homage to heroism, has been hailed as "the greatest single step made in the history of music." This tour de force is an exhilarating cap on this monumental 29th season.
May 6 Pre-Concert Chat: Join NWS Fellows on Saturday, May 6 for a free Pre-Concert Chat! These half-hour chats begin one hour prior to the performance in the New World Center's SunTrust Pavilion and are accessible only to members of the WALLCAST® Concert Club and concert ticket holders. There will not be a pre-concert chat on Sunday, May 7. 
Want to learn more about Eroica? CLICK HERE to explore Keeping Score, an interactive resource developed by MTT with the San Francisco Symphony and the Ira F. Brilliant Center for Beethoven Studies | San Jose State University. 
This concert is sponsored in part by Ximena Caminos and Alan Faena, David Edelstein of Tristar Capital, Susan D. Kronick and Edward Manno Shumsky, and Liliya "Rose" Mukhamadyarova and William Strong.
Program
Frederick Delius
(1862-1934)
Approx. Duration: 8 minutes

The Walk to Paradise Garden (1906)

Benjamin Britten
(1913-1976)
Approx. Duration: 34 minutes

Symphony for Cello and Orchestra, Op. 68 (1963)

Allegro maestoso
Presto inquieto
Adagio
Passacaglia: Andante allegro
Ludwig van Beethoven
(1770-1827)
Approx. Duration: 50 minutes

Symphony No. 3 in E-flat major, Op. 55, "Eroica" (1804)

Allegro con brio
Marcia funebre: Adagio assai
Scherzo: Allegro vivace
Finale: Allegro molto
Frederick Delius
The Walk to Paradise Garden (1906)

Approximate duration: 8 minutes
The music of Frederick Delius deserves more attention than it gets today, but this distinctly multinational composer is hard to shoehorn into any one of the national "schools" that dominated his prime years. His German-born parents had taken British citizenship by the time their son Fritz was born (he later Anglicized his name to Frederick), so by matter of birth Delius belongs among that class of late Romantic composers who revived British music, including Elgar, Vaughan Williams and Holst. As per his father's wishes, Delius apprenticed at various wool outlets around Europe, but he did not take to the family business; instead he embarked on a plan to grow oranges on a plantation near Jacksonville, Florida, where African-American musical traditions made a lasting impact on the aspiring composer.
Delius finally won his father's blessing to study music in Leipzig, Germany, where he befriended the budding Norwegian star Edvard Grieg, leading to pivotal performances of Delius' early music in Norway. Delius settled next in Paris, where he associated with Fauré and Ravel, and then after marrying a German artist he moved to the French village where he spent most of his remaining decades.
Delius completed his fourth opera, A Village Romeo and Juliet, in 1901, but it did not reach the stage until 1907. While preparing for the premiere in Berlin, Delius realized that he needed to allow more time for a change of scenery, so he added the orchestral interlude known as The Walk to the Paradise Garden. In this opera based on a novella by the Swiss writer Gottfried Keller, the "Paradise Garden" is actually a country inn and a young couple is walking there to get away from their feuding families.
The sweet sounds that begin this interlude, including prominent solo lines for English horn and oboe, capture the pastoral atmosphere and the tender feelings between the star-crossed lovers.
Other passages emphasize the immensity of the moment, as the pair careens toward their fate of drowning together—the only way they can see to escape their family strife.
Additional Resources
Website of the Delius Society
Photo montage of the site of Delius' former Florida plantation
Video of the complete opera, A Village Romeo and Juliet
Benjamin Britten
Symphony for Cello and Orchestra, Op. 68 (1963)

Approximate duration: 34 minutes
The enduring friendship between Benjamin Britten and Mstislav Rostropovich began in 1960, when the Russian cellist came to London to perform the British premiere of Shostakovich's First Cello Concerto, with the composer in attendance. When Shostakovich introduced Britten and Rostropovich after the concert, the adventurous cellist immediately asked for a new piece (apparently this was his routine with all composers) and Britten soon obliged with the Sonata for Cello and Piano. Rostropovich came and performed it at Britten's Aldeburgh Festival in 1961, the first of many such visits; Britten went on to write three suites for solo cello, introduced by Rostropovich at festival appearances in 1964, 1967 and 1971. It didn't even matter that they could not speak each other's native languages; they both knew just enough German to conduct their friendship in a bastardized idiom they dubbed "Aldeburgh Deutsch."
The most substantial product of this collaboration was born on Rostropovich's home turf. Rostropovich had asked for a concerto in 1962, but as Britten worked on it the dimensions stretched beyond a typical concerto form. After considering the title of Sinfonia concertante, Britten landed on the label of Symphony for Cello and Orchestra. He completed it shortly after a visit to Moscow in 1963, and he returned the next spring to conduct Rostropovich and the Moscow Philharmonic in the world premiere.
Even with the label of symphony, this composition make clear from the outset that it is a feature vehicle for the cello, which enters with forceful chords over a rumble of the orchestra's deepest voices: double bassoon, tuba, bass drum, gong and basses. 
An aspect that distinguishes this work from a typical concerto, though, is how often the cello functions as a secondary or accompanying part, even when it is executing music of incredible virtuosity.
The very quick scherzo that comes next is another feature more typical of a symphony. With its brittle phrases and dark sense of humor, this double-edged divertissement is a testament to Shostakovich's influence on Britten.
The Adagio third movement allows the most space for Britten's expressive lyricism, a quality honed through 20 years focused primarily on operas. One extended passage assigns the cello to play delicate melodies in the very highest part of its range over glassy flutters from the strings, while a solo horn works through its own contrasting theme—one of those classic Britten moments that is serene and beautiful and yet strangely disquieting.
An extended solo cadenza caps the slow movement and links directly to the finale.
In structuring the closing movement as a Passacaglia (a Baroque technique featuring continuous variations over an underlying theme) and incorporating bright trumpet solos and other antique touches, Britten confirmed his deep ties to Henry Purcell, who stood alone as England's one great homegrown opera composer until Britten made his mark 250 years later.
Additional Resources


Online score from Boosey & Hawkes (free login required)
British obituary of Rostropovich, with details on his friendship with Britten
Article on Russia's 2013 festival in honor of the Britten centennial, and the issues it raised around homosexuality
Article on the Cello Symphony's Moscow premiere and the recent discovery of lost video footage of Britten and Rostropovich
Article by Alisa Weilerstein on Bach: "It Demands Everything of You"
Ludwig van Beethoven
Symphony No. 3 in E-flat major, Op. 55, "Eroica" (1804)

Approximate duration: 50 minutes
Suppose Beethoven had died at the age of 31: He would have left behind two symphonies, three piano concertos and ample proof that he was a true heir to the Classical style of Haydn and Mozart. At just that age, Beethoven bordered on suicidal, as we know from the "Heiligenstadt Testament," dated October 6, 1802. At the moment that the curse of encroaching deafness might have silenced him forever, Beethoven instead entered a legendary spurt of productivity and creative growth. Musicologists have classified these years, 1803 to 1812, as his "middle period." The first great example of this new approach—and the work that could be considered the starting point of the entire Romantic era in music—was Beethoven's Third Symphony. 
What we now know as the "Eroica" Symphony (Italian for "Heroic") began under the title "Bonaparte." Beethoven had been contemplating a work inspired by Napoleon for several years by the time he took up the symphony, and he held the revolutionary hero in high regard as of 1803. Beethoven's adulation turned to disgust in 1804, when he learned that Napoleon had declared himself Emperor. According to Beethoven's student Ferdinand Ries, who delivered the disturbing news, "Beethoven went to the table, seized the top of the [symphony's] title-page, tore it in half and threw it on the floor." When Beethoven prepared the symphony for publication in 1806, he titled it "Sinfonia eroica, composed to celebrate the memory of a great man." The "great man" may have still referenced Napoleon, but some have speculated that the title actually meant to honor Prince Louis Ferdinand of Prussia, who died in 1806 fighting against Napoleon's army. Ferdinand was a friend of Prince Joseph Franz von Lobkowitz, Beethoven's patron and the symphony's dedicatee. 
The "Eroica" Symphony did not impress the Viennese public at its debut on April 7, 1805. First the audience had to grapple with the length, an unprecedented 50 minutes. (Haydn's "London" Symphonies, by comparison, averaged about 30 minutes each.) To further complicate matters, the marathon first movement offered no real singing melodies to latch onto, just short motives and patterns that circulated and developed in novel ways. Such concision and unity became hallmarks of Beethoven's middle-period works, as in the start of the Fifth Symphony, in which just four notes establish the argument for the entire opening movement. 
The defining motive of the "Eroica" Symphony's first movement is a rocking cello strain that trails into foreign harmonies after four measures. 
As the development section closes, a French horn makes a surprise entrance with a recapitulation of that same theme a few measures ahead of schedule—an effect so unexpected that even Beethoven's student Ries, upon hearing the symphony for the first time, suspected the horn player of having lost count of the measures. 
The symphony's second movement, labeled a funeral march, sinks into a prolonged state of despair that might induce misery if not for its undeniable grace and beauty. 
A major-key interlude, providing respite, incorporates an arpeggiated accompaniment that recalls the gentle sway of the first movement. 
After returning to the minor key, the appearance of fugal counterpoint reinforces the profound, ceremonial atmosphere of the funeral march. 
Out of this grief comes a giddy Scherzo, a symphonic construct that Beethoven popularized as an alternative to Haydn's slower, tamer minuets. 
A contrasting trio section features the three horns in vigorous hunting calls. 
The finale, built as a theme and variations, incorporates material from the ballet The Creatures of Prometheus that Beethoven had also used in an earlier set of piano variations. A short but fiery introduction gives way to an unusual presentation of the theme, reduced to its bare skeleton. 
This treatment makes perfect sense in terms of the symphony's overall thrust, since the real heroism of the "Eroica" Symphony, one could argue, is its uncompromising quest to distill each musical gesture down to its essential core. In this way, Beethoven opened a new chapter in the history of the symphony, in which audiences, seeking more than entertainment, could expect to be stretched and challenged on physical, emotional and even spiritual levels.
 
Additional Resources 
PDF score from the IMSLP Petrucci Music Library 
Interactive guide to the symphony from Keeping Score, created by Michael Tilson Thomas with the San Francisco Symphony 
MTT's Discovering Beethoven concert with the LSO 
Listening guide from The Guardian
-- Copyright © 2017 Aaron Grad
Aaron Grad is a composer, guitarist and writer based in Seattle. Besides providing program notes for the New World Symphony, he has been the Orpheus Chamber Orchestra's program annotator since 2005 and also contributes notes to the Saint Paul Chamber Orchestra and Seattle Symphony.
Audio clips provided by Naxos of America, Inc. 
Michael Tilson Thomas, conductor
Michael Tilson Thomas is Co-Founder and Artistic Director of the New World Symphony, America's Orchestral Academy; Music Director of the San Francisco Symphony; and Conductor Laureate of the London Symphony Orchestra. In addition to these posts, he maintains an active presence guest conducting with the major orchestras of Europe and the United States.
Born in Los Angeles, Mr. Tilson Thomas is the third generation of his family to follow an artistic career. His grandparents, Boris and Bessie Thomashefsky, were founding members of the Yiddish Theater in America. His father, Ted Thomas, was a producer in the Mercury Theater Company in New York before moving to Los Angeles where he worked in films and television. His mother, Roberta Thomas, was the head of research for Columbia Pictures.
Mr. Tilson Thomas began his formal studies at the University of Southern California where he studied piano with John Crown and conducting and composition with Ingolf Dahl. At age 19 he was named Music Director of the Young Musicians Foundation Debut Orchestra. He worked with Stravinsky, Boulez, Stockhausen and Copland on premieres of their compositions at Los Angeles' Monday Evening Concerts. During this same period he was the pianist and conductor for Gregor Piatigorsky and Jascha Heifetz.
In 1969, after winning the Koussevitzky Prize at Tanglewood, he was appointed Assistant Conductor of the Boston Symphony Orchestra. That year he also made his New York debut with the Boston Symphony and gained international recognition after replacing Music Director William Steinberg in mid-concert. He was later appointed Principal Guest Conductor of the Boston Symphony Orchestra where he remained until 1974. He was Music Director of the Buffalo Philharmonic from 1971 to 1979 and a Principal Guest Conductor of the Los Angeles Philharmonic from 1981 to 1985. His guest conducting includes appearances with the major orchestras of Europe and the United States.
His recorded repertoire of more than 120 discs includes works by composers such as Bach, Beethoven, Mahler, Prokofiev and Stravinsky as well as his pioneering work with the music of Charles Ives, Carl Ruggles, Steve Reich, John Cage, Ingolf Dahl, Morton Feldman, George Gershwin, John McLaughlin and Elvis Costello. He also recorded the complete orchestral works of Gustav Mahler with the San Francisco Symphony.
Mr. Tilson Thomas' television work includes a series with the London Symphony Orchestra for BBC Television, the television broadcasts of the New York Philharmonic Young People's Concerts from 1971 to 1977 and numerous productions on PBS' Great Performances. Mr. Tilson Thomas and the San Francisco Symphony produced a multi-tiered media project, Keeping Score, which includes a television series, web sites, radio programs and programs in schools.
In 1990 Mr. Tilson Thomas and the New World Symphony were presented in a series of benefit concerts for UNICEF in the United States, featuring Audrey Hepburn as narrator of From the Diary of Anne Frank, composed by Mr. Tilson Thomas and commissioned by UNICEF. This piece has since been translated and performed in many languages worldwide. In August 1995 he led the Pacific Music Festival Orchestra in the premiere of his composition Showa/Shoah, commemorating the 50th anniversary of the bombing of Hiroshima. Thomas Hampson premiered his settings of poetry by Walt Whitman, Renée Fleming premiered his settings of the poetry of Emily Dickinson and the San Francisco Symphony premiered his concerto for contrabassoon entitled Urban Legend. As a Carnegie Hall Perspectives Artist from 2003 to 2005, he had an evening devoted to his own compositions which included Island Music for four marimbas and percussion, Notturno for solo flute and strings and a new setting of poems by Rainer Maria Rilke. Other compositions include Street Song for brass instruments and Agnegram, an overture for orchestra.
Among his many honors and awards, Mr. Tilson Thomas is a Chevalier dans l'ordre des Arts et des Lettres of France, was Musical America's Musician of the Year and Conductor of the Year, Gramophone Magazine's Artist of the Year and has been profiled on CBS's 60 Minutes and ABC's Nightline. He has won 11 Grammy Awards for his recordings. In 2008 he received the Peabody Award for his radio series for SFS Media, The MTT Files. In 2010 President Obama awarded him the National Medal of Arts, the highest award given to artists by the United States Government.
Alisa Weilerstein, cello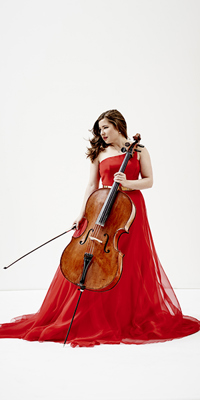 "A young cellist whose emotionally resonant performances of both traditional and contemporary music have earned her international recognition, Weilerstein is a consummate performer, combining technical precision with impassioned musicianship," stated the MacArthur Foundation, when awarding American cellist Alisa Weilerstein a 2011 MacArthur Fellowship. 
Ms. Weilerstein's 2016-17 season includes, for the first time in her career, performances of Bach's complete suites for unaccompanied cello at Caramoor, in Washington, D.C. and in London. In January she embarked on a nine-city U.S. tour with longtime recital partner Inon Barnatan and clarinetist Anthony McGill, including a concert in New York's Alice Tully Hall and performances of a Joseph Hallman premiere composed for this trio. She tours Europe with Mr. Barnatan later in the spring, with stops in Salzburg and at London's Wigmore Hall. Her busy international concert schedule this season features performances around the globe: she performs Britten's Cello Symphony with the New World Symphony; Shostakovich's First Cello Concerto with the Lausanne Chamber Orchestra, the Netherlands Philharmonic and the National Symphony in both Washington, D.C. and Moscow; Prokofiev's Sinfonia concertante with the Royal Stockholm Philharmonic and the Dallas Symphony; Schumann with the San Francisco Symphony and at Carnegie Hall in the company of the Orpheus Chamber Orchestra, with which she then tours the same program to Italy and Spain; Elgar with the Staatskapelle Weimar; Walton with Amsterdam's Residentie Orkest; and Dvořák with the Minnesota Orchestra, Sydney Symphony and Tokyo Symphony on a three-stop tour of Japan, where she will also play four solo recitals. She also performs Henri Dutilleux's Tout un monde lointain… with Lisbon's Gulbenkian Orchestra and gives the world premiere of Matthias Pintscher's Second Cello Concerto, un despertar (an awakening), with the Boston Symphony, which co-commissioned the piece for her. 
As an exclusive Decca Classics recording artist, Ms. Weilerstein releases her fifth album in September, playing Shostakovich's two cello concertos with the Bavarian Radio Symphony under Pablo Heras-Casado, in performances recorded live last season. Her discography also includes Dvořák's Cello Concerto; Solo, her compilation of unaccompanied 20th-century cello music; and Elgar and Elliott Carter's cello concertos with Daniel Barenboim and the Staatskapelle Berlin, which was named BBC Music's 2013 Recording of the Year 2013. 
Ms. Weilerstein's career milestones include an emotionally tumultuous account of Elgar's Concerto with the Berlin Philharmonic and Barenboim in Oxford, England, and a performance at the White House for President and Mrs. Obama. An ardent champion of new music, she has worked on multiple projects with Osvaldo Golijov and Mr. Pintscher and premiered works by Lera Auerbach and Joseph Hallman. She appears at major music festivals worldwide, and regularly collaborates with Venezuela's Simón Bolívar Symphony Orchestra and the El Sistema education program. 
Ms. Weilerstein, whose honors include Lincoln Center's 2008 Martin E. Segal prize and the 2006 Leonard Bernstein Award, is a graduate of the Cleveland Institute of Music and Columbia University. Diagnosed with type-one diabetes, she is a Celebrity Advocate for the Juvenile Diabetes Research Foundation.
Dean Whiteside, conductor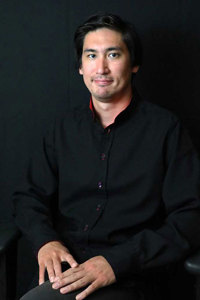 Dean Whiteside was born in New York City and trained in Vienna at the University of Music and Performing Arts. He is in his third season as the New World Symphony's Conducting Fellow, where he leads a variety of performances and serves as assistant to Artistic Director Michael Tilson Thomas. Mr. Whiteside is founder and director of the Nashville Sinfonietta, hailed by The Tennessean as "a virtuoso band." He opened the Blair School of Music's 2013-14 season directing a multimedia realization of Haydn's Seven Last Words of Our Savior on the Cross called "innovative" by The Tennessean and "deeply meditative and satisfyingly original" by ArtsNash. 
Mr. Whiteside's European debut came in 2011 after winning the Jorma Panula Blue Danube Masterclass and Competition. He has conducted orchestras such as the Boston Symphony, Danish National Symphony, Jacksonville Symphony, Juilliard Orchestra, Opéra Orchestre National Montpellier, Orlando Philharmonic, Polish Baltic Philharmonic, Sibiu Philharmonic, Tonhalle Orchestra Zurich, Tokyo Philharmonic, Wiener Kammerorchester and Zagreb Philharmonic, as well as the Vanderbilt Orchestra on a five-city tour of China. He has served as Cover Conductor to the Dallas Symphony and San Francisco Symphony.
Mr. Whiteside is the winner of the American Prize in Conducting and received second prize and the Zagreb Philharmonic Orchestra Award at the Sixth International Competition of Young Conductors Lovro von Matačić. Other awards include the 2017 Mahler Conducting Fellowship, Bruno Walter Memorial Foundation Conducting Scholarship, Croatian Composers' Society Award, David Effron Conducting Fellowship, Bayreuth Festival Scholarship and David Rabin Performance Prize. He has received fellowships from the Aspen Music Festival, Atlantic Music Festival, Cabrillo Festival of Contemporary Music and Castleton Festival.
Mr. Whiteside has worked closely with such conductors as Bertrand de Billy, Fabio Luisi, Lorin Maazel, Jun Märkl, Kurt Masur, Jorma Panula, Leonard Slatkin and Robert Spano. He began his conducting studies with Robin Fountain at Vanderbilt University.