Events & Tickets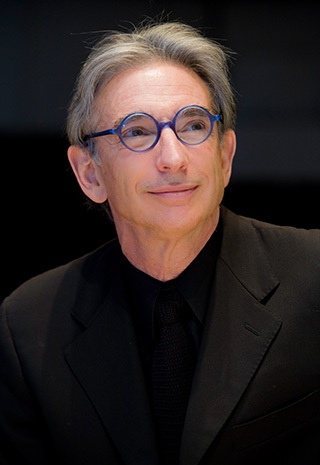 Orchestra Concert,WALLCAST® Concert
SEASON FINALE WITH MTT: BERLIOZ AND SIBELIUS
New World Center
Saturday, May 7 at 8:00 PM
Sunday, May 8 at 2:00 PM
Program
Relish in the last glimpse of this season's Fellows alongside MTT, who together join acclaimed violist Roberto Díaz, for Berlioz' part-symphony, part- concerto Harold in Italy. Based on Lord Byron's Childe Harold, each movement offers a snapshot of his Italian adventures through wandering chromaticism, lilting melodies and a weighty dirge that represents the trudging of pilgrims. Sibelius likened his Sixth Symphony to a "wild romp," but instead offers a tranquil refuge of serene sound that builds to a sacred finale. His sweeping one-movement Seventh Symphony hints at 16th-century Palestrina—a bright light in this formidable finale to an epic season. 
**The Saturday, May 7 performance will be presented as a WALLCAST™ concert, presented by Citi®, in SoundScape Park.**
Program
Jean Sibelius
(1862-1957)
Approx. Duration: 27 minutes

Symphony No. 6 in D minor, Op. 104 (1923)

Allegro molto moderato
Allegretto moderato
Poco vivace
Allegro molto
Jean Sibelius
(1865-1957)
Approx. Duration: 22 minutes

Symphony No. 7 in C major, Op. 105 (1924)

Hector Berlioz
(1803-1869)
Approx. Duration: 42 minutes

Harold in Italy, Op. 16 (1834)

Harold in the Mountains. Scenes of Melancholy, Happiness and Joy
March of the Pilgrims Singing the Evening Prayer
Serenade of an Abruzzi Mountain-Dweller to his Mistress
Orgy of the Brigands: Memories of Scenes Past
Jean Sibelius
Symphony No. 6 in D minor, Op. 104 (1923)

Approximate duration: 27 minutes
The early symphonies of Jean Sibelius expressed the fervor of a young man fighting for recognition for his country and a place for his own voice on the international stage. Starting with the Third Symphony, Sibelius shifted toward a pure and refined orchestral sound, infusing the elegance of Mozart and Haydn into an incisive, modern language. Even through the dark years of a cancer scare and the devastation of World War I, Sibelius wrote honest, uncompromising music that encapsulated life's joys and struggles in abstract forms. In his final symphonies, Sibelius defied the cynicism of the war-torn era. His sound became even more transparent and rarified, as guileless as the snow that blanketed his isolated country estate in Finland. 
Material that Sibelius drafted during the difficult gestation of his Symphony No. 5 in 1914-15 ended up shaping both the Sixth and Seventh Symphonies, composed in 1923 and 1924, respectively. He also redirected themes into the Sixth Symphony that had been meant for a project he considered in 1920, a tone poem based on a Finnish moon goddess. When he crafted the Seventh Symphony in one continuous movement, it was an obvious and radical departure from traditional symphonic structure, but even the Sixth Symphony, with its four movements, abandoned expected conventions and moved closer to the evocative, freeform genre of the orchestral tone poem. 
A contemporary critic noted the reserved demeanor of the Sixth Symphony, especially in comparison to its predecessor. Writing after the 1923 premiere in Helsinki, he wrote, "The Sixth Symphony is more delicate, smaller in scale and gentler. The Fifth is an exuberant jubilee, the Sixth is pure idyll." Sibelius himself characterized the Sixth Symphony as "pure spring water," differentiating it from the more inebriating indulgences of the early 1920s being composed by the likes of Arnold Schoenberg or Richard Strauss. 
Unfortunately, Sibelius' own intake in those years was far from "pure spring water." Perhaps his most notorious disgrace related to his long pattern of heavy drinking occurred in 1923, when he was on a conducting tour with the Sixth Symphony and other works. In Gothenburg, Sweden, he was found drunk in a restaurant before the concert and was whisked onto the podium just in time. Thinking he was at a rehearsal, he stopped the orchestra midstream shortly after the concert began. "Everything was chaos in my ears," his wife later confessed. "I was in a state of mortal terror." 
That personal turmoil is nowhere evident in the Sixth Symphony, particularly not in the resonant phrases from the strings that begin the work. The Symphony's key is listed as D minor, but this opening passage actually uses the pitches of the Dorian mode, a sound from older church music. Within the first main section, only a handful of notes stray from the purity of that mode. 
The second movement has a rather quick tempo marking for a slow movement, Allegretto moderato, but apparently Sibelius envisioned it at a slower pace and only marked it up to counteract the tendency in those days for maestros to conduct "quite lethargically." The movement again spends long stretches in un-doctored modes, exploring stepwise melodies of different lengths and rates. 
The short third movement serves the function of a scherzo, using a lively rhythmic gait like that of a galloping horse and harmonies and melodies that once again explore stepwise themes and modal constructions. 
The recurring modes and motives that shape this Symphony reach their fullest expression in the finale, which begins with a passage of church harmonies and hymn-like phrases. 
The ending returns to that material and then settles on a response that is even more veiled and soft-spoken as it retakes the home key. 
Additional Resources 
Information on the Sixth Symphony from the official Sibelius site
Biography of Sibelius during the period he composed the Sixth Symphony 
Listening guide from The Guardian 
Translated excerpts from Sibelius' private diaries
Jean Sibelius
Symphony No. 7 in C major, Op. 105 (1924)

Approximate duration: 22 minutes
The single-movement Symphony No. 7 that Sibelius composed in 1924 (under the original title Fantasia sinfonica) turned out to be his last. He added one more orchestral score in 1926, the bleak tone poem Tapiola, and he started an Eighth Symphony but destroyed the incomplete sketches, choosing to live out his final decades in silence. 
The Seventh Symphony forms an arc that begins in an Adagio tempo, where it also ends some 22 minutes later. The opening passage climbs up a scale and then winds through slowly morphing harmonies, waiting more than a minute before its first fleeting arrival on the tonic chord of C major. 
One of the most glorious moments comes when this Adagio music blooms for a noble trombone solo. 
A seamless transition leads into a faster, scherzo-like section that begins with dry staccato articulations and chatter back and forth between the winds and strings. 
Leaving that faster tempo, a scale climbs step-by-step (echoing the symphony's first phrases) over churning strings until we arrive back at the Adagio tempo and a restatement of the trombone theme. 
Another variant of that melody leads into the concluding passage. The tonal yearning that has built up throughout the symphony withholds release until the very last moment, when the strings make one last heroic rise of a half-step to settle the final chord. 
Additional Resources 
History and program note from the official Sibelius site 
Audio program on the Seventh Symphony from the BBC 
Music notation software named for the composer 
-- Copyright © 2016 Aaron Grad 
Aaron Grad is a composer, guitarist and writer based in Seattle. Besides providing program notes for the New World Symphony, he has been the Orpheus Chamber Orchestra's program annotator since 2005 and also contributes notes to the Saint Paul Chamber Orchestra and Seattle Symphony.
Audio clips provided by Naxos of America, Inc.
Hector Berlioz
Harold in Italy, Op. 16 (1834)

Approximate duration: 42 minutes
Berlioz received his primary education at home from his father, an eminent physician who expected his son to join him in the medical profession. As a teenager, Berlioz took flute and guitar lessons and taught himself the rudiments of composition and music theory, but he obliged his father by enrolling in medical school. Four years later, though, disgusted by "dirty hospital orderlies, dreadful dissecting-room attendants, hideous corpses, the screams of patients [and] the groans and rattling breath of the dying," he abandoned medicine and took up music. 
Berlioz eventually enrolled at the Paris Conservatory, where he developed a reputation as an outsider and iconoclast—a position confirmed by the shocking Symphonie fantastique from 1830, which led to his expulsion. That same year, he won the Prix de Rome with a cantata that demonstrated more restraint and rule-following than his previous entries, and in 1831 he left Paris, reluctantly, to commence the Italian residency granted to prizewinners. He lived in Rome for more than a year, although he ventured out as often as he could; he later wrote, "Rome is the most stupid and prosaic city I know: it is no place for anyone with head or heart."
Although the Rome of his day held little interest for Berlioz, a romanticized notion of Italy, especially as expressed through literature, became an ongoing font of inspiration, as found in his "dramatic symphony" modeled after Romeo and Juliet (set in Verona) and in the opera Benvenuto Cellini, which depicted an artist of the Italian Renaissance. His first work in that vein was Harold in Italy, composed in 1834 and based loosely on the narrative poem Childe Harold's Pilgrimage by Lord Byron. 
The impetus to compose Harold in Italy came from the superstar violinist Niccolò Paganini, who wanted to showcase his Stradivarius viola. Instead of a viola concerto, Berlioz constructed Harold in Italy as a four-movement symphony featuring the viola as a musical protagonist. Paganini was not happy about the viola's limited role and the long stretches of silence in the solo part and he opted not to play it. Still, he was so impressed when he first heard it several years later that he gave Berlioz a sizable check to fund future projects. 
Berlioz titled the first movement, "Harold in the Mountains. Scenes of Melancholy, Happiness and Joy." There is indeed a melancholic mood in the first three minutes or so, during an orchestral introduction, but the atmosphere turns more serene with the entrance of the viola, accompanied by harp, playing the first instance of a melody that recurs throughout the symphony to signify Harold. 
For the second movement, "March of the Pilgrims Singing the Evening Prayer," the viola appears as an outside observer, rehashing a version of the same unifying melody (in its own slower pace) as the pilgrims shuffle past. 
The pattern repeats in the third movement, "Serenade of an Abruzzi Mountain-Dweller to his Mistress." The rustic love scene set in central Italy is well underway by the time Harold arrives with another statement of the identifying theme. 
Like a musical slide show (or travel blog), the finale starts by recapping high points of the journeys undertaken in the preceding movements. The scene then moves to an "Orgy of Brigands," using wild, dramatic music to depict the debauchery of a band of outlaws. 
The viola makes one last meek appearance at the end, supported by other string soloists from offstage, until the fracas resumes. 
Additional Resources 
PDF score from the IMSLP Petrucci Music Library 
History of Paganini's viola and its sibling Stradivarius instruments 
Chronology of Berlioz' visits to Italy
Michael Tilson Thomas, co-host
Michael Tilson Thomas is Co-Founder and Artistic Director of the New World Symphony, America's Orchestral Academy; Music Director Laureate of the San Francisco Symphony; and Conductor Laureate of the London Symphony Orchestra. In addition to these posts, he maintains an active presence guest conducting with the major orchestras of Europe and the United States.
Born in Los Angeles, Mr. Tilson Thomas is the third generation of his family to follow an artistic career. His grandparents, Boris and Bessie Thomashefsky, were founding members of the Yiddish Theater in America. His father, Ted Thomas, was a producer in the Mercury Theater Company in New York before moving to Los Angeles where he worked in films and television. His mother, Roberta Thomas, was the head of research for Columbia Pictures.
Mr. Tilson Thomas began his formal studies at the University of Southern California, where he studied piano with John Crown, and conducting and composition with Ingolf Dahl. At age 19 he was named Music Director of the Young Musicians Foundation Debut Orchestra. During this same period, he was the pianist and conductor in master classes of Gregor Piatigorsky and Jascha Heifetz and worked with Stravinsky, Boulez, Stockhausen and Copland on premieres of their compositions at Los Angeles' Monday Evening Concerts.
In 1969, after winning the Koussevitzky Prize at Tanglewood, he was appointed Assistant Conductor of the Boston Symphony Orchestra. That year he also made his New York debut with the Boston Symphony and gained international recognition after replacing Music Director William Steinberg in mid-concert. He was later appointed Principal Guest Conductor of the Boston Symphony Orchestra where he remained until 1974. He was Music Director of the Buffalo Philharmonic from 1971 to 1979 and a Principal Guest Conductor of the Los Angeles Philharmonic from 1981 to 1985. His guest conducting includes appearances with the major orchestras of Europe and the United States.
Mr. Tilson Thomas is a two-time Carnegie Hall Perspectives artist, curating and conducting series at the hall from 2003 to 2005 and from 2018 to 2019. In the most recent series, he led Carnegie Hall's National Youth Orchestra of the United States of America both at the hall and on tour in Asia, opened the Carnegie Hall season over two evenings with the San Francisco Symphony, conducted two programs with the Vienna Philharmonic and finished with a pair of concerts leading the New World Symphony.
A winner of eleven Grammy Awards, Mr. Tilson Thomas appears on more than 120 recordings. His discography includes The Mahler Project, a collection of the composer's complete symphonies and works for voice and orchestra performed with the San Francisco Symphony, in addition to pioneering recordings of music by Charles Ives, Carl Ruggles, Steve Reich, John Cage, Ingolf Dahl, Morton Feldman, George Gershwin, John McLaughlin and Elvis Costello. His recordings span repertoire from Bach and Beethoven to Debussy and Stravinsky, and from Sarah Vaughan to Metallica.
His television work includes a series with the London Symphony Orchestra for BBC Television, broadcasts of the New York Philharmonic Young People's Concerts from 1971 to 1977 and numerous productions on PBS's Great Performances. With the San Francisco Symphony, he created a multi-tiered media project, Keeping Score, which includes a television series, web sites, and radio programs. He received a Peabody Award for his SFS Media radio series The MTT Files.
Mr. Tilson Thomas's compositions are published by G. Schirmer. In 1991, he and the New World Symphony were presented in a series of benefit concerts for UNICEF in the United States, featuring Audrey Hepburn as narrator of his work From the Diary of Anne Frank, which was commissioned by UNICEF. This piece has since been translated and performed in many languages worldwide. In August 1995, he led the Pacific Music Festival Orchestra in the premiere of his composition Shówa/Shoáh, commemorating the 50th anniversary of the bombing of Hiroshima. His vocal music includes settings of poetry by Walt Whitman and Emily Dickinson, which were premiered by Thomas Hampson and Renée Fleming, respectively. In 2016, Yuja Wang premiered his piano piece You Come Here Often?.
Mr. Tilson Thomas' song cycle Four Preludes on Playthings of the Wind, a setting of Carl Sandburg's poem, was premiered in 2016 by the New World Symphony, with Measha Brueggergosman as soloist. In 2019 the piece was recorded for Medici.tv at the New World Center and given its New York premiere as part of Mr. Tilson Thomas's second Carnegie Hall Perspectives series. His first Perspectives series also featured performances of his own compositions, including Island Music for four marimbas and percussion; Notturno for solo flute and strings, featuring soloist Paula Robison; and new settings of poems by Rainer Maria Rilke. In 2020, he led the San Francisco Symphony in the world premiere of his six-part song cycle Meditations on Rilke, and he subsequently conducted the work at the Cleveland Orchestra. Additional compositions include Street Song for brass instruments; Agnegram, an overture for orchestra; and Urban Legend, a concerto for contrabassoon that was premiered by the San Francisco Symphony. In June 2020, SFS Media released an album of works composed by Mr. Tilson Thomas, featuring live concert recordings of From the Diary of Anne Frank, narrated by mezzo-soprano Isabel Leonard, and Meditations on Rilke, sung by mezzo-soprano Sasha Cooke and bass-baritone Ryan McKinny.
Mr. Tilson Thomas is an Officier de l'Ordre des Arts et des Lettres of France, is a member of the American Academy of Arts and Sciences, was Musical America's Musician of the Year and Conductor of the Year, was Gramophone magazine's Artist of the Year and has been profiled on CBS's 60 Minutes and ABC's Nightline. He has been awarded the National Medal of Arts, has been inducted into the California Hall of Fame and the American Academy of Arts and Letters, and was a 2019 recipient of the Kennedy Center Honors.
Roberto Díaz, viola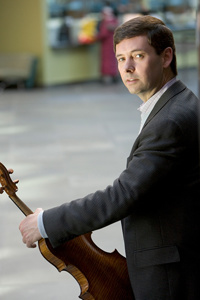 A violist of international reputation, Roberto Díaz is president and chief executive officer of the Curtis Institute of Music, following in the footsteps of renowned soloist/directors such as Josef Hofmann, Efrem Zimbalist and Rudolf Serkin. As a teacher of viola at Curtis and former principal viola of The Philadelphia Orchestra, Mr. Díaz has already had a significant impact on American musical life and continues to do so in his dual roles as performer and educator. 
As a soloist, Mr. Díaz collaborates with leading conductors of our time on stages throughout North and South America, Europe and Asia. He has also worked directly with important 20th- and 21st-century composers, including Krzysztof Penderecki, whose Viola Concerto he has performed numerous times with the composer on the podium and whose Double Concerto he premiered in the United States during the 2013-14 season; and Edison Denisov, who invited Mr. Díaz to Moscow to work on and perform his Viola Concerto. Ricardo Lorenz and Roberto Sierra have written concertos for Mr. Díaz and he premiered a concerto by Jennifer Higdon in 2015. 
As a frequent recitalist, Mr. Díaz enjoys collaborating with young pianists, bringing a fresh approach to the repertoire and providing invaluable opportunities to artists at the beginning of their careers. In addition to performing with major string quartets and pianists in chamber music series and festivals worldwide, Mr. Díaz has toured Europe, Asia and the Americas a member of the Díaz Trio with violinist Andrés Cárdenes and cellist Andrés Díaz. The Díaz Trio has recorded for the Artek and Dorian labels. 
Mr. Díaz' recordings on the Naxos label with pianist Robert Koenig include the complete works for viola and piano by Henri Vieuxtemps and a Grammy-nominated disc of viola transcriptions by William Primrose. Also on Naxos are the Brahms sonatas with Jeremy Denk and Jonathan Leshnoff's Double Concerto with violinist Charles Wetherbee and the Iris Chamber Orchestra led by Michael Stern. On the New World Records label is a live recording of Mr. Díaz' performance of Jacob Druckman's Viola Concerto with Wolfgang Sawallisch and The Philadelphia Orchestra. Upcoming releases include the Walton Viola Concerto with the New Haven Symphony and William Boughton (Nimbus) and the Viola Concerto by Peter Lieberson with the Odense Symphony Orchestra and Scott Yoo (Bridge Records). 
Since founding Curtis On Tour six seasons ago, Mr. Díaz has taken the hugely successful program to North and South America, Europe and Asia, performing chamber music side-by-side with Curtis students and other faculty and alumni of the school. In addition to Curtis On Tour, his tenure as president of Curtis has seen the construction of a significant new building which doubled the size of the school's campus, the introduction of classical guitar and string quartet programs, the launch of Curtis Summerfest which is open to the public and the debut of an online stage called Curtis Performs. In the fall of 2013 Curtis became the first classical music conservatory to offer free online classes through Coursera. Also under Mr. Díaz' leadership, the school has developed lasting collaborations with other music and arts institutions in Philadelphia and throughout the world and has established the Community Artists Program (CAP) to develop the entrepreneurial and advocacy skills of young musicians. 
Mr. Díaz received an honorary doctorate from Bowdoin College and was awarded an honorary membership by the national board of the American Viola Society. In the fall of 2013 Mr. Díaz became a member of the prestigious American Philosophical Society founded by Benjamin Franklin. As a member of The Philadelphia Orchestra, he was selected by Music Director Christoph Eschenbach to receive the C. Hartman Kuhn Award, given annually to "the member of The Philadelphia Orchestra who has shown ability and enterprise of such character as to enhance the standards and the reputation of The Philadelphia Orchestra." Mr. Díaz received a bachelor's degree from the New England Conservatory of Music, where he studied with Burton Fine, and a diploma from the Curtis Institute of Music, where his teacher was his predecessor at The Philadelphia Orchestra, Joseph de Pasquale. Mr. Díaz also has a degree in industrial design. 
In addition to his decade-long tenure as principal viola of The Philadelphia Orchestra, where he performed the entire standard viola concerto repertoire with the orchestra and gave a number of Philadelphia Orchestra premieres, Mr. Díaz was also principal viola of the National Symphony under Mstislav Rostropovich, a member of the Boston Symphony under Seiji Ozawa and a member of the Minnesota Orchestra under Sir Neville Marriner. Mr. Díaz plays the ex-Primrose Amati viola.