Events & Tickets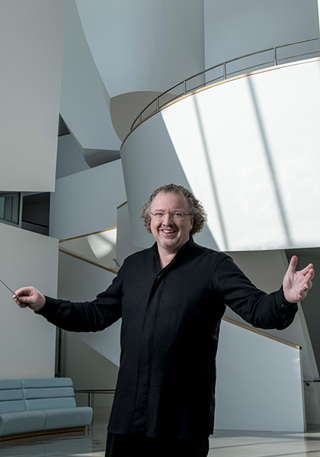 Orchestra Concert
Season Opener: Denève conducts Debussy and Britten
New World Center, Michael Tilson Thomas Performance Hall
Saturday, September 16, 2023 at 7:30 PM
Program
Artistic Director Stéphane Denève opens NWS's 36th season with musical postcards from around the world. Inspired by Miami Beach's blue skies and waters, Denève transports us to the shores of Spain, France, Africa, England and the U.S. The epic performance culminates in Claude Debussy's symphonic seascape La mer paired with mesmerizing video art curated by Denève himself. Don't miss this season opening extravaganza as fresh faces converge with returning favorites to bring you the "new" New World Symphony.
Pay what you wish for this concert's tickets. Whether it's $10 or $500, your purchase will support NWS's Fellows, the next generation of orchestral leaders.
A sensory-friendly room will be available at the performance.
Tickets no longer available online.
Program
Adolphus Hailstork
(b. 1941)
Approx. Duration: 9 minutes

An American Port of Call (1984)

Jacques Ibert
(1890-1962)
Approx. Duration: 16 minutes

Escales (Ports of Call) (1922)

Calme (Rome – Palermo)
Modére très rythmé (Tunis – Nefta)
Animé (Valencia)
Benjamin Britten
(1913-1976)
Approx. Duration: 16 minutes

Four Sea Interludes from Peter Grimes, Op. 33a (1944-45)

Dawn: Lento e tranquillo
Sunday Morning: Allegro spiritoso
Moonlight: Andante comodo e rubato
Storm: Presto con fuoco
Claude Debussy
(1862-1918)
Approx. Duration: 23 minutes

La mer (The sea), L. 109  (1903-05; revised 1909)

From Dawn to Noon on the Sea
Play of the Waves
Dialogue of Wind and Sea
Clyde Scott, projection design
Cory Sprinkles, lighting design
Adolphus Hailstork
An American Port of Call (1984)

Approximate duration: 9 minutes
Adolphus Hailstork, now in his 80s, is finally enjoying the recognition he has long deserved for the half-century's worth of exceptionally attractive compositions in his catalog. For much of that time, he was teaching at colleges in Virginia, first at Norfolk State University and then Old Dominion University, where he still holds a post as Professor of Music and Eminent Scholar.
Living and working in Norfolk, Hailstork was immersed in a city defined by the surrounding tidewaters at the mouth of the Chesapeake Bay. With an enormous naval base, several international ports and a thriving cruise terminal, Norfolk was and is the epitome of An American Port of Call, as Hailstork titled the thrilling concert overture he composed in 1984 for the Richmond Symphony. With a musical language descended from Stravinsky's earthy Russian ballets and Bernstein's sharp-elbowed take on Americana, Hailstork captures, as he defined it in a program note, "the strident (and occasionally tender and even mysterious) energy of a busy American port city."
Jacques Ibert
Escales 
(

Ports of Call

)

(1922)


Approximate duration: 16 minutes

Jacques Ibert studied at the Paris Conservatory in the years before World War I, in a cohort that also included Honegger and Milhaud, two future members of the group of young French upstarts that a critic dubbed "les Six." Ibert was away from Paris in 1920 when "les Six" were anointed, having won the prestigious Rome Prize on his first try in 1919, but his breezy style and willingness to buck conventions were well aligned with that trendsetting clique.

One of Ibert's breakout pieces was Escales (Ports of Call), inspired by the Mediterranean cruise he and his new bride took as their honeymoon before they settled in Rome for his residency. One requirement of the Rome Prize was sending back work samples, and this orchestral triptych, drafted between 1920 and 1922, served that purpose. In the first movement, Rome – Palermo, "the sounds of a tarantella occasionally appear against the heavy swells of the sea," Ibert wrote, referring to an energetic Italian folk dance. The middle movement depicts the port of Tunis as well as an inland city in Tunisia, Nefta, where Ibert heard a melody that inspired the sinuous oboe theme. The finale, Valencia, uses castanets and folk-like tunes to pay homage to that vibrant Spanish port.
Benjamin Britten
Four Sea Interludes from 

Peter Grimes, Op. 33a (1944-45)


Approximate duration: 16 minutes

In 1945 a major London theater celebrated its reopening after World War II with the debut of Peter Grimes, the first full-length opera by the 31-year-old Benjamin Britten. Fleshing out the story of a misanthropic fisherman whose two apprentices died under mysterious circumstances, Britten and his collaborators framed Peter Grimes as a searing portrait of an outsider who is pigeonholed and persecuted by an intolerant society. The opera's immediate success catapulted Britten onto the world stage, and it marked the first time since Henry Purcell's death 250 years earlier that a British composer had made a profound and lasting contribution to the operatic repertoire.

Before Peter Grimes even reached the stage, Britten extracted a set of orchestral excerpts he titled Four Sea Interludes. The first selection, Dawn, separates the opera's prologue from its first act. Peter Grimes has just been cleared of any wrongdoing in the accidental death of his first apprentice, and the ominous tone hints that there is more trouble to come. The second selection, Sunday Morning, serves to introduce Act II, when the townspeople filter into church, a setting reinforced by the tolling bells. Moonlight prepares Act III, when Grimes has returned from sea—without the new apprentice who embarked with him. The section labeled Storm underscores a raging tempest in Act I.
Claude Debussy
La mer 
(

The sea

), L. 109 

(1903-05; revised 1909)


Approximate duration: 23 minutes
ABOUT THE MUSIC
Claude Debussy had a typical start for a French composer, attending the Paris Conservatory and dabbling in the modern sounds of Richard Wagner, but his outlook expanded dramatically in the 1890s, setting him on a course to reshape the sound of concert music. Influenced by what he heard at the 1889 World's Fair in Paris (especially gamelan ensembles from Indonesia), and drawing on friendships with poets and painters, Debussy filtered his emerging ideas into a new musical language, one in which sounds were celebrated purely for their sensory appeal.
Those qualities are on display in the three "symphonic sketches" that Debussy fashioned into La mer (The sea) between 1903 and 1905. The opening movement, From Dawn to Noon on the Sea, suggests a sense of awakening, and it reaches a gloriously sunny state by the end, suffused by rich brass and percussion. Play of the Waves, with its whole-tone melodies and puckish character, recalls the mischief and mystery of Prelude to the Afternoon of a Faun, Debussy's breakout piece from a decade earlier. Dialogue of the Wind and Sea uses vertiginous themes and surging orchestral effects to evoke the full power of the sea churned by a brisk wind.
– © 2023 Aaron Grad


ABOUT THE VISUALS
The visuals for Debussy's La mer are inspired by the following excerpt of a poem titled Correspondences from the collection Fleur du Mal (Flowers of Evil) by French poet Charles Baudelaire: 
Like prolonged echoes mingling in the distance
In a deep and tenebrous unity,
Vast as the dark of night and as the light of day,
Perfumes, sounds, and colors correspond. 
Our vision is to find that "deep and tenebrous unity" between sight and sound, where the music is paramount, and the visual elements contribute subtly and meaningfully to enhance the listening experience. Several different paintings of the ocean, including The Great Wave off Kanagawa, by Hokusai (1831), which was an inspiration for Debussy, will inform the basic visual language and varying levels of abstraction will suggest movement and delicate tension. 
The poetry collection Fleur du Mal was published in 1857, and Correspondences reflects Baudelaire's fascination with the interconnectedness between the physical and metaphysical realms. It also explores ideas of synesthesia and the correspondence between the senses and emotion, the human soul and the natural world.
              – Stéphane Denève and Clyde Scott 
 Aaron Grad is a composer and writer based in Seattle. In addition to providing program notes for the New World Symphony, Orpheus Chamber Orchestra, Baltimore Symphony Orchestra and others, he is also the artistic director of Many Messiahs, a project that reframes George Frideric Handel's masterpiece as a collective call for justice.
Program
Adolphus Hailstork
(b. 1941)
Duración aproximada: 9 minutos
An American Port of Call (1984)
Jacques Ibert
(1890-1962)
Duración aproximada: 16 minutos
Escales (Puertos de Escala) (1922)
Calme (Rome – Palermo)
Modére très rythmé (Tunis – Nefta)
Animé (Valencia)
Benjamin Britten
(1913-1976)
Duración aproximada: 16 minutos
Cuatro Interludios Marinos de Peter Grimes, Op. 33a (1944-45)
Amanecer: Lento e tranquillo                                 
Mañana de Domingo: Allegro spiritoso
Tormenta: Presto con fuoco
Claude Debussy
(1862-1918)
Duración aproximada: 23 minutos
La mer (El mar), L. 109  (1903-05; revised 1909)
From Dawn to Noon on the Sea
Play of the Waves
Dialogue of Wind and Sea
Clyde Scott, diseño de proyección
Cory Sprinkles, diseño de luces
Por favor asegúrense de silenciar sus teléfonos celulares. No se permiten fotografías con flash.
Adolphus Hailstork
An American Port of Call
 

(1984)


Duración aproximada: 9 minutos

Adolphus Hailstork, ya un octogenario, finalmente disfruta del reconocimiento que mereció durante mucho tiempo gracias al medio siglo de excepcionales composiciones que tiene en su catálogo. Durante gran parte de ese tiempo, fue profesor de universidades en Virginia, primero de Norfolk State University y luego de Old Dominion University, donde todavía ocupa el puesto de Profesor de Música y Académico Eminente.

Al vivir y trabajar en Norfolk, Hailstork se encontraba inmerso en una ciudad definida por las mareas alrededor de la Bahía de Chesapeake. Con una enorme base naval, varios puertos internacionales y una concurrida terminal de cruceros, Norfolk fue y sigue siendo el epítome de An American Port of Call (Un Puerto de Escala Americano), como tituló su apasionante obertura de concierto, la cual compuso en 1984 para la Richmond Symphony. Con un lenguaje musical que heredó de los ballets rusos de Stravinsky y la analítica interpretación de Bernstein de la música americana, Hailstork capturó, como lo define en algunas notas al programa, "la estridente (y ocasionalmente tierna y hasta misteriosa) energía de una agitada ciudad portuaria de Estados Unidos".
Jacques Ibert
Escales (Puertos de Escala
)

 

(1922)


Duración aproximada: 16 minutos

Jacques Ibert estudió en el Conservatorio de París en los años precedentes a la Primera Guerra Mundial, en una generación que también incluyó a Honegger y Milhaud, dos futuros miembros de un grupo de jóvenes músicos franceses que un crítico denominó como el grupo de "los seis"(les Six). Ibert estuvo fuera de París en 1920 cuando "les Six" fueron bautizados, habiendo ganado el prestigioso Premio Roma en su primer intento en 1919,  pero su estilo despreocupado y su voluntad para desafiar convenciones se alineaban con los de este grupo vanguardista.

Una de las primeras obras exitosas de Ibert fue Escales (Puertos de Escala), inspirada por el crucero en el Mediterráneo donde pasó su luna de miel antes de asentarse en Roma con su nueva esposa para su residencia musical. Un requerimiento del Premio Roma era enviar muestras de obras, y este tríptico orquestal, esbozado entre 1920 y 1922, cumplió ese propósito. En el primer movimiento, Rome – Palermo, " los sonidos de una tarantela se escuchaban ocasionalmente contra las fuertes olas del mar," escribió Ibert, refiriéndose a una energética danza folclórica italiana. El segundo movimiento describe el puerto de Túnez, así como una ciudad del interior del país, Nefta, donde Ibert oyó una melodía que le inspiró el sinuoso tema del oboe. El finale, Valencia, usa castañuelas y melodías folclóricas que rinden homenaje a ese vibrante puerto español.
Benjamin Britten
Cuatro Interludios Marinos de Peter Grimes, Op. 33a (1944-45)

Duración aproximada: 16 minutos
En 1945, un importante teatro de Londres celebraba su reapertura después de la Segunda Guerra Mundial con el debut de Peter Grimes, la primera ópera de larga duración del compositor de 31 años, Benjamin Britten. Con la historia de un pescador misántropo cuyos dos aprendices mueren bajo misteriosas circunstancias, Britten y sus colaboradores enmarcaron a Peter Grimes como un retrato mordaz de un extraño, el cual es encasillado y perseguido por una sociedad intolerante. El éxito inmediato de la ópera catapultó a Britten a los escenarios mundiales, y marcó la primera vez desde la muerte de Henry Purcell 250 años atrás, que un compositor inglés hizo una contribución profunda y duradera al repertorio operático.
Antes de que Peter Grimes llegara a los escenarios, Britten seleccionó un conjunto de extractos orquestales que tituló Cuatro Interludios Marinos. La primera selección, Amanecer, separa el prólogo de la ópera del primer acto. Peter Grimes acaba de salir exento de culpa en la muerte accidental de su primer aprendiz, y la sonoridad amenazante insinúa que se avecinan más problemas. La segunda selección, Mañana de Domingo, sirve para introducir el segundo acto, cuando la gente del pueblo se introducen en la iglesia, un escenario recreado por el sonido de las campanas. A la luz de la luna prepara el tercer acto, cuando Grimes ha regresado del mar – sin el nuevo aprendiz que embarcó con él.  La sección llamada Tormenta representa una furiosa tempestad del primer acto.
Claude Debussy
La mer 
(

El mar

), L. 109 

 

(1903-05; revised 1909)


Duración aproximada: 23 minutos

 
SOBRE LA MÚSICA
Claude Debussy tuvo un comienzo típico de un compositor francés, estudiando en el Conservatorio de París y aventurándose en los sonidos modernos de Richard Wagner, pero su perspectiva se amplió dramáticamente en los 1890, posicionándolo para transformar la sonoridad de la música de concierto. Influenciado por lo que escuchó en la Feria Mundial de París de 1889 (especialmente los conjuntos de gamelán de Indonesia), e inspirado por su amistad con poetas y pintores, Debussy convirtió sus ideas innovadoras en un nuevo lenguaje musical, en el que los sonidos eran celebrados solamente por su efecto sensorial.
Estas cualidades se ponen de manifiesto en los tres "bocetos sinfónicos" que Debussy transformó en La mer (El mar) entre 1903 y 1905. El primer movimiento, From Dawn to Noon on the Sea (Desde el amanecer al mediodía en el mar), sugiere una sensación de despertar, y alcanza un estado glorioso y brillante al final, rodeado de ricos metales y percusión. Play of the Waves (El juego de las olas), con sus melodías de tonos enteros y su carácter malicioso, nos recuerda la sagacidad y el misterio de Preludio a la Siesta de un Fauno, la pieza que hizo famoso a Debussy una década atrás. Dialogue of the Wind and Sea (Diálogo del viento y el mar) utiliza temas vertiginosos y efectos orquestales que evocan el gran poder del mar sacudido por un fuerte viento.
– © 2023 Aaron Grad


SOBRE LO VISUAL
Los efectos visuales de La mer de Debussy están inspirados en el siguiente extracto de un poema titulado Correspondences de la colección Fleur du Mal (Las flores del mal) del poeta francés Charles Baudelaire: 
Como largos ecos que de lejos se confunden
en una profunda y tenebrosa unidad,
Vasta como la noche y como la claridad,
se corresponden perfumes, sonidos y colores.
Nuestra visión es encontrar esa "profunda y tenebrosa unidad" entre lo visual y lo sonoro, donde la música es primordial, y los elementos visuales contribuyen sutil y significativamente para mejorar la experiencia auditiva. Varias pinturas diferentes del océano, incluyendo La Gran Ola de Kanagawa, de Hokusai (1831), la cual sirvió de inspiración para Debussy, mostrarán el lenguaje visual básico y los distintos niveles de abstracción sugerirán movimiento y delicada tensión.
La colección poética Fleur du Mal fue publicada en 1857, y Correspondences refleja la fascinación de Baudelaire con la interconexión entre lo físico y lo metafísico. También explora ideas de sinestesia y la correspondencia entre los sentidos y la emoción, el alma humana y el mundo natural.
        – Stéphane Denève y Clyde Scott   
Aaron Grad es un compositor y escritor que reside en Seattle. Además de escribir las notas al programa para la New World Symphony, Orpheus Chamber Orchestra, Baltimore Symphony Orchestra, entre otras, también se desempeña como director artístico  de Many Messiahs, un proyecto que reenmarca la obra maestra de George Frideric Handel como un llamado colectivo a la justicia.
Stéphane Denève, conductor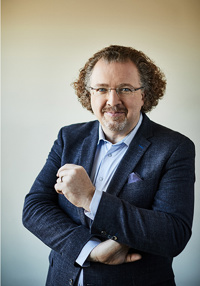 Stéphane Denève is Artistic Director of the New World Symphony, Music Director of the St. Louis Symphony Orchestra and will also be Principal Guest Conductor of the Netherlands Radio Philharmonic from 2023. He recently concluded terms as Principal Guest Conductor of The Philadelphia Orchestra and Chief Conductor of the Brussels Philharmonic, and previously served as Chief Conductor of Stuttgart Radio Symphony Orchestra (SWR) and Music Director of the Royal Scottish National Orchestra.
Recognized internationally for the exceptional quality of his performances and programming, Stéphane Denève regularly appears at major concert venues with the world's greatest orchestras and soloists. He has a special affinity for the music of his native France and is a passionate advocate for music of the 21st century.
Stéphane Denève's recent and upcoming engagements include appearances with the Royal Concertgebouw Orchestra, NHK Symphony Orchestra, Orchestra Sinfonica dell'Accademia Nazionale di Santa Cecilia, Bavarian Radio Symphony Orchestra, Royal Stockholm Philharmonic Orchestra (with whom he conducted the 2020 Nobel Prize concert), Orchestre National de France, Czech Philharmonic, NDR Elbphilharmonie Orchestra, Vienna Symphony, DSO Berlin, Orchestre Philharmonique de Radio France, and Rotterdam Philharmonic.
In North America, Stéphane Denève made his Carnegie Hall debut with the Boston Symphony Orchestra, with whom he has appeared several times both in Boston and at Tanglewood, and he regularly conducts the New York Philharmonic, The Philadelphia Orchestra, The Cleveland Orchestra, Los Angeles Philharmonic, San Francisco Symphony, New World Symphony and Toronto Symphony. In 2022 Denève was the conductor for John Williams' official 90th Birthday Gala with NSO Washington; he is also a popular guest at many of the U.S. summer music festivals, including the Hollywood Bowl, Bravo! Vail, Saratoga Performing Arts Center, Blossom Music Festival, Festival Napa Valley, Grand Teton Music Festival and Music Academy of the West.
Stéphane Denève frequently performs with many of the world's leading solo artists, including Leif Ove Andsnes, Emanuel Ax, Joshua Bell, Nicola Benedetti, Yefim Bronfman, Renaud and Gautier Capuçon, James Ehnes, Kirill Gerstein, Hélène Grimaud, Augustin Hadelich, Hilary Hahn, Sheku Kanneh-Mason, Leonidas Kavakos, Lang Lang, Olivier Latry, Paul Lewis, Nikolai Lugansky, Yo-Yo Ma, Anne-Sophie Mutter, Kelly O'Connor, Víkingur Ólafsson, Stéphanie d'Oustrac, Gil Shaham, Akiko Suwanai, Nikolaj Szeps-Znaider, Jean-Yves Thibaudet, and Frank Peter Zimmermann.  He also treasures the memory of Nicholas Angelich and Lars Vogt, two exceptional artists with whom he enjoyed a close musical friendship over many years.
In the field of opera, Stéphane Denève led a new production of Pelléas et Mélisande with the Royal Concertgebouw Orchestra and Netherlands Opera at the 2019 Holland Festival. Elsewhere, he has led productions at the Royal Opera House Covent Garden, Opéra National de Paris, Glyndebourne Festival, Teatro alla Scala, Deutsche Oper Berlin, Saito Kinen Festival, Gran Teatro del Liceu, La Monnaie and Deutsche Oper am Rhein.
As a recording artist, Stéphane Denève has won critical acclaim for his recordings of the works of Poulenc, Debussy, Ravel, Roussel, Franck and Connesson. He is a triple winner of the Diapason d'Or of the Year, has been shortlisted for Gramophone's Artist of the Year Award, and has won the prize for symphonic music at the International Classical Music Awards. His most recent releases include a live recording of Honegger's Jeanne d'arc au bûcher with the Royal Concertgebouw Orchestra, and two discs of the works of Guillaume Connesson with the Brussels Philharmonic (the first of which was awarded the Diapason d'Or de l'année, Caecilia Award, and Classica Magazine's CHOC of the Year). A box-set of his complete Ravel recordings with Stuttgart Radio Symphony Orchestra was released in 2022 by Hänssler Classic.
A graduate and prize-winner of the Paris Conservatoire, Stéphane Denève worked closely in his early career with Sir Georg Solti, Georges Prêtre and Seiji Ozawa. A gifted communicator and educator, he is committed to inspiring the next generation of musicians and listeners and has worked regularly with young people in programs such as those of the New World Symphony, Tanglewood Music Center, Colburn School, European Union Youth Orchestra and Music Academy of the West.
Molly Turner, conductor
Molly Turner is a Chinese-born conductor and composer. Recently, she has conducted the Orchestre de Paris, Gstaad Festival Orchestra, Theater Orchester Biel Solothurn, Juilliard Orchestra, Dallas Opera Orchestra, Primrose International Viola Competition, Colburn Orchestra and Eastern Festival Orchestra. Highlights of the 2022-23 season included a debut with San Francisco Symphony's SoundBox Series, a Concert Scolaire with Orchestre de Paris, conducting the premiere of her own new orchestra work with the Tacoma Youth Symphony, Colburn Chamber Music Society with David Rejano and Cosi! Men Are Like That with opera company White Snake Projects. She has served as assistant conductor for the Berliner Philharmoniker, Orchestre de Paris, San Francisco Symphony, Utah Symphony, San Diego Symphony, National Polish Radio Symphony, Juilliard Orchestra and Colburn Orchestra. In 2019 she was the youngest conductor invited for residency at the Dallas Opera's Hart Institute for Women Conductors. She has assisted Esa-Pekka Salonen, David Robertson, Stéphane Denève, Yaniv Dinur, Rafael Payare, Nicholas McGegan and Jeffrey Milarsky.
Ms. Turner is a devoted advocate for contemporary and modern music. She has collaborated with many living composers including Paul Novak, Max Vinetz, Lauren Vandervelden, Corey Chang, Sujin Kang, Webster Gadbois and Sofia Ouyang and has a strong affinity for the music of Stravinsky, Bartók and Lutosławski. She is a member of the Colburn Contemporary Ensemble and has conducted works by Lou Harrison, Timo Andres and Nina Young with them. As part of Juilliard's ChoreoComp, Ms. Turner premiered four different dance pieces created by current student composers and choreographers and at Rice, she conducted and composed for Hear&Now: New Music.
 Pursuing projects outside of the traditional concert hall is a core part of Ms. Turner's artistic identity. In 2021 she performed an open improvisation set on violin alongside Pablo O'Connell, Kebra-Seyoun Charles and Ryan Jung in an Alice Tully Hall window performance. While she was a Teaching Artist Fellow at Juilliard, she was involved in creating an improvisatory work that used K-8 student "found sound" recordings as source material. From 2017-19 was the artistic director for New Art / New Music at the Moody Center for the Arts. There she worked with composers and visual artists to curate a concert of new works that were site-specific to current exhibitions at the Moody Center. In 2017 she played viola in a multimedia performance art project alongside Angelbet Metoyer creating art live, Saul Williams reciting poetry and other musicians openly improvising.  In 2015 she co-wrote a graphic score with Sarah Grace-Graves for sculptor Katie Grinnan's Astrology Orchestra written for the Turrell Skypsace.
In her own music, Ms. Turner is interested in the balance between strictly dictated elements and more aleatoric notation. Her relationship to the standard repertoire is often integrated in subtle ways beneath the foreground of the music. A violinist and violist herself, she finds string instruments endlessly fascinating. Improvisation is a core part of her writing process and she often starts her work as voice memos or graphic scores. In 2018 her string quartet, The Shapes of Stories, was read by the Arditti Quartet. Her work has been heard in Benaroya Hall, Duncan Recital Hall, the Moody Center for the Arts and has been privately recorded.  
She completed her master's degree in orchestral conducting at The Juilliard School studying with David Robertson and received a bachelor in music composition cum laude from Rice University. She recently was pursuing an artist diploma at the Colburn Conservatory of Music in Los Angeles, where she studied under the guidance of Esa-Pekka Salonen in the Negaunee Conducting Program as a Salonen Fellow. She has studied composition with Kurt Stallmann, Arthur Gottschalk, Karim Al-Zand and Richard Lavenda. She has attended the Gstaad Festival Conducting Academy where she worked with Johannes Schlaefli, Jaap van Zweden and Baldur Brönnimann and the Eastern Music Festival, where she worked with Gerard Schwarz. In her free time, she enjoys biking, playing Ultimate Frisbee and reading.