Events & Tickets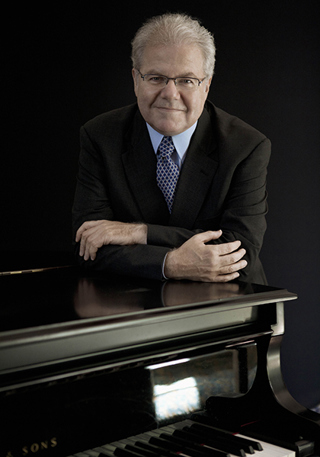 Orchestra Concert
SEASON OPENER WITH MTT AND EMANUEL AX
New World Center
Saturday, October 15 at 7:30 PM
Sunday, October 16 at 2:00 PM
Program
Kick off NWS' 29th anniversary year with this blockbuster program led by MTT. Johannes Brahms' masterful reworking of Haydn's regal Saint Anthony's Chorale highlights his signature Romantic harmonies and lush symphonic colors. World-renowned pianist Emanuel Ax returns for two extraordinary concertos. The drama found in Wolfgang Amadeus Mozart's Piano Concerto is fit for the stage, foreshadowing his operatic masterpieces to come, and continues with Arnold Schoenberg's own Piano Concerto, with its demanding precision and rhythmic force. Join in on the hijinks of classical music's most beloved troublemaker, Till Eulenspiegel, in Richard Strauss' dazzling iconic tone poem.
Program
Johannes Brahms
(1833-1897)
Approx. Duration: 19 minutes

Variations on a Theme by Haydn, Op. 56a (1873)

Chorale St. Antoni: Andante
Variation I: Poco più animato
Variation II: Più vivace
Variation III: Con moto
Variation IV: Andante con moto
Variation V: Vivace
Variation VI: Vivace
Variation VII: Grazioso
Variation VIII: Presto non troppo
Finale: Andante
Wolfgang Amadeus Mozart
(1756-1791)
Approx. Duration: 20 minutes

Concerto No. 14 in E-flat major for Piano and Orchestra, K. 449 (1784)

Allegro vivace
Andantino
Allegro ma non troppo
Arnold Schoenberg
(1874-1951)
Approx. Duration: 20 minutes

Concerto for Piano and Orchestra, Op. 42 (1942)

Andante
Molto allegro
Adagio
Giocoso: Moderato
Richard Strauss
(1864-1949)
Approx. Duration: 16 minutes

Till Eulenspiegel's Merry Pranks, Op. 28 (1895)

Johannes Brahms
Variations on a Theme by Haydn, Op. 56a (1873)

Approximate duration: 19 minutes
Brahms struggled mightily to find his orchestral voice. As he neared the age of 40, he claimed, "I shall never write a symphony! You can't have any idea what it's like always to hear such a giant marching behind you!" The giant in question was Beethoven, and his symphonies (as well as his string quartets) intimidated Brahms to the point of paralysis. The solution that finally unlocked Brahms' orchestral genius was to avoid the symphonic tradition altogether; instead he crafted an unprecedented set of orchestral variations.
Despite the work's title, Joseph Haydn most likely did not compose the underlying theme. It came to Brahms by way of an unpublished divertimento score, discovered in 1870 by a Viennese music librarian who was preparing a Haydn biography. Brahms wrote out a copy of the movement headed "St. Anthony Chorale," scored for eight wind instruments, and he returned to it in the summer of 1873.
The most distinctive aspect of the anonymous St. Anthony Chorale is its asymmetrical phrasing, with five-measure sections at the opening (instead of the expected four-measure units) and a closing phrase that stretches out the tonal resolution. Brahms' initial treatment of the theme preserves the source material's wind band sonority, adding only cellos and basses to warm the low register.
Eight short variations follow, filled with playful and inventive orchestral colors. The grandest statement is reserved for an extended finale, constructed as a Passacaglia—a Baroque tradition of short, continuous variations over a repeating bass line. Echoing the theme's quirky phrasing, the underlying cycle (itself a variant of the original theme) repeats every five measures.
A coda restates the theme in full orchestral regalia, enlivened by rapid, swooping scales and the shimmer of a triangle.

Additional Resources
PDF score from the IMSLP Petrucci Music Library
Video of the two-piano version that Brahms completed first
Wolfgang Amadeus Mozart
Concerto No. 14 in E-flat major for Piano and Orchestra, K. 449 (1784)

Approximate duration: 20 minutes
Fed up with his hometown of Salzburg and unable to find a suitable long-term job, the 25-year-old Mozart moved to Vienna in 1781, where he soon established himself as the top keyboard virtuoso. He began the Piano Concerto in E-flat major as early as 1782, but he set it aside and only finished it on February 9, 1784. In his log of compositions, he noted that the score was intended for Barbara Ployer, a teenaged piano student for whom he wrote two (or maybe three) of his concertos. She lived in Vienna with her uncle, an agent for the Salzburg court, and she introduced the concerto at his house that March.
Surprises abound in this concerto, beginning in the orchestral tutti, which veers to a turbulent C-minor passage after some 20 seconds, making for a dramatic approach to a more docile secondary theme.
The most slippery music comes in the development section, which elaborates on the trills introduced in the initial theme. After operatic exchanges between the piano and the orchestra in stark octaves, the transition back to the recapitulation sneaks up on the home key through a sly chromatic passage.
On its surface, the Andantino middle movement seems to deliver a succession of sweet and uncomplicated tunes, but once again the harmonic ground shifts stealthily beneath the listener's feet. When the strings bring back the main theme, for instance, they have migrated to the foreign territory of A-flat major, setting up an elegant return journey to the proper key of B-flat that unfolds over the next minute-and-a-half. 
Not long after Mozart had arrived in Vienna, a supportive older patron drew him deep into the neglected art of fugue as practiced earlier in the century by Bach and Handel. The crisp counterpoint of this concerto finale is a sign of Mozart's respect for that lineage.

Additional Resources
PDF score from the IMSLP Petrucci Music Library
Interview with pianist and scholar Robert Levin about this concerto
Detailed article on how Baron Gottfried van Swieten introduced Mozart to Bach and Handel fugues
Arnold Schoenberg
Concerto for Piano and Orchestra, Op. 42 (1942)

Approximate duration: 20 minutes
After the Nazis took over Germany in 1933, a purge of Jewish faculty members cost Schoenberg his teaching position in Berlin. He immigrated to the United States and spent his first year teaching in Boston and New York, but the cold northeast winter exacerbated his health problems, so he moved to Hollywood in 1934.
Starting in 1936, a teaching position at UCLA provided stable income, and the influx of other expatriates offered a semblance of community, but American music organizations demonstrated scant interest in commissioning or programming music by the European legend in their midst. When Schoenberg started composing his Piano Concerto during the summer of 1942, it was intended for his former composition student Oscar Levant, who was well on his way to becoming a famous Hollywood pianist and radio/television personality. Levant ended up withdrawing over a contract dispute, and it was only thanks to another former student-turned-lawyer that Schoenberg managed to eke out a $1,000 commission for a work that occupied him for six months. Another Schoenberg loyalist and fellow Austrian in exile, pianist Eduard Steuermann, introduced the Concerto in 1944 on a program broadcast nationally from Radio City Music Hall, with Leopold Stokowski leading the NBC Symphony Orchestra.
Schoenberg composed the Piano Concerto using his influential 12-tone method, in which precisely ordered rows of all 12 chromatic notes provide an organizing framework, rather than tonal harmony. As rigid as it may sound, Schoenberg was actually quite flexible in how he applied his own rules, and his sensitive musicality trumped doctrine. The Piano Concerto has an especially personal touch, tracing an autobiographical journey that Schoenberg laid out with annotations (in English) in his manuscript.
The first section begins with a meandering waltz, evoking his past in Vienna and Berlin. It bears the heading: Life was so easy.
The menacing second section, with hints of militarized march rhythms in a Molto allegro tempo, comes with the description: Suddenly hatred broke out.
The slow and dark third section corresponds to the point when: A grave situation was created.
Finally, music labeled Giocoso (playful) demonstrates the reality for Schoenberg in the New World: But life goes on.

Additional Resources
Recording and program note from the Arnold Schoenberg Center
Interview with pianist Mitsuko Uchida about the Piano Concerto
Richard Strauss
Till Eulenspiegel's Merry Pranks, Op. 28 (1895)

Approximate duration: 16 minutes
Up to the point when Richard Strauss accepted his first professional post at the age of 21, his musical personality reflected the influence of his father, Franz Strauss, the greatest horn player of the era and a staunch traditionalist devoted to Haydn, Mozart and Beethoven. Franz also ran an amateur orchestra that would read through young Richard's scores, an extraordinary resource for a budding orchestral composer and conductor.
A whole new world opened up for Strauss when he began working as the conducting assistant to Hans von Bülow at the Meiningen Court Orchestra in 1885. Guided by his new friend Alexander Ritter, a violinist in the orchestra (and nephew-in-law of Wagner), Strauss devoured the music of Wagner and Liszt. Ritter encouraged Strauss to write "symphonic poems," to use Liszt's term, and Strauss ended up writing four such works between 1886 and 1889.
After a hiatus, Strauss returned in 1894 to the genre that he preferred to call Tondichtung, or "tone poem." His next subject was Till Eulenspiegel, a trickster character from German folklore. Strauss had tried adapting Till's colorful antics into an opera, but the scenario was a little thin for a full-fledged theatrical work, so he redirected his ideas into a concert work "after the old rogue's tale, set in rondo form," as he defined it in the subtitle.
Strauss did not follow a strict program outline when he composed Till Eulenspiegel's Merry Pranks, nor did his formal design particularly match the conventions of a Classical rondo. The most explicit character is Till himself, represented by a jocular horn theme.
Another recurring motive, introduced by the clarinet, suggests Till's peals of laughter.
Later, Strauss offered some vignettes from the Till Eulenspiegel folklore as plot points in the music, including Till riding through the market and tipping over the carts, Till flirting with the ladies and Till impersonating a priest. He characterized the episode following the drum roll as Till's trial and execution at the gallows, a scene not traditionally part of the prankster's mythology, but dramatically effective nonetheless.

Additional Resources
PDF score from the IMSLP Petrucci Music Library
History of the Till Eulenspiegel folklore
Recorded excerpts compiled by the International Horn Society, comparing how horn players have approached the famous passages on various recordings
-- Copyright © 2016 Aaron Grad 
Aaron Grad is a composer, guitarist and writer based in Seattle. Besides providing program notes for the New World Symphony, he has been the Orpheus Chamber Orchestra's program annotator since 2005 and also contributes notes to the Saint Paul Chamber Orchestra and Seattle Symphony.
Audio clips provided by Naxos of America, Inc. 
Michael Tilson Thomas, conductor
Michael Tilson Thomas is Co-Founder and Artistic Director of the New World Symphony, America's Orchestral Academy; Music Director of the San Francisco Symphony; and Conductor Laureate of the London Symphony Orchestra. In addition to these posts, he maintains an active presence guest conducting with the major orchestras of Europe and the United States.
Born in Los Angeles, Mr. Tilson Thomas is the third generation of his family to follow an artistic career. His grandparents, Boris and Bessie Thomashefsky, were founding members of the Yiddish Theater in America. His father, Ted Thomas, was a producer in the Mercury Theater Company in New York before moving to Los Angeles where he worked in films and television. His mother, Roberta Thomas, was the head of research for Columbia Pictures.
Mr. Tilson Thomas began his formal studies at the University of Southern California where he studied piano with John Crown and conducting and composition with Ingolf Dahl. At age 19 he was named Music Director of the Young Musicians Foundation Debut Orchestra. He worked with Stravinsky, Boulez, Stockhausen and Copland on premieres of their compositions at Los Angeles' Monday Evening Concerts. During this same period he was the pianist and conductor for Gregor Piatigorsky and Jascha Heifetz.
In 1969, after winning the Koussevitzky Prize at Tanglewood, he was appointed Assistant Conductor of the Boston Symphony Orchestra. That year he also made his New York debut with the Boston Symphony and gained international recognition after replacing Music Director William Steinberg in mid-concert. He was later appointed Principal Guest Conductor of the Boston Symphony Orchestra where he remained until 1974. He was Music Director of the Buffalo Philharmonic from 1971 to 1979 and a Principal Guest Conductor of the Los Angeles Philharmonic from 1981 to 1985. His guest conducting includes appearances with the major orchestras of Europe and the United States.
His recorded repertoire of more than 120 discs includes works by composers such as Bach, Beethoven, Mahler, Prokofiev and Stravinsky as well as his pioneering work with the music of Charles Ives, Carl Ruggles, Steve Reich, John Cage, Ingolf Dahl, Morton Feldman, George Gershwin, John McLaughlin and Elvis Costello. He also recorded the complete orchestral works of Gustav Mahler with the San Francisco Symphony.
Mr. Tilson Thomas' television work includes a series with the London Symphony Orchestra for BBC Television, the television broadcasts of the New York Philharmonic Young People's Concerts from 1971 to 1977 and numerous productions on PBS' Great Performances. Mr. Tilson Thomas and the San Francisco Symphony produced a multi-tiered media project, Keeping Score, which includes a television series, web sites, radio programs and programs in schools.
In 1990 Mr. Tilson Thomas and the New World Symphony were presented in a series of benefit concerts for UNICEF in the United States, featuring Audrey Hepburn as narrator of From the Diary of Anne Frank, composed by Mr. Tilson Thomas and commissioned by UNICEF. This piece has since been translated and performed in many languages worldwide. In August 1995 he led the Pacific Music Festival Orchestra in the premiere of his composition Showa/Shoah, commemorating the 50th anniversary of the bombing of Hiroshima. Thomas Hampson premiered his settings of poetry by Walt Whitman, Renée Fleming premiered his settings of the poetry of Emily Dickinson and the San Francisco Symphony premiered his concerto for contrabassoon entitled Urban Legend. As a Carnegie Hall Perspectives Artist from 2003 to 2005, he had an evening devoted to his own compositions which included Island Music for four marimbas and percussion, Notturno for solo flute and strings and a new setting of poems by Rainer Maria Rilke. Other compositions include Street Song for brass instruments and Agnegram, an overture for orchestra.
Among his many honors and awards, Mr. Tilson Thomas is a Chevalier dans l'ordre des Arts et des Lettres of France, was Musical America's Musician of the Year and Conductor of the Year, Gramophone Magazine's Artist of the Year and has been profiled on CBS's 60 Minutes and ABC's Nightline. He has won 11 Grammy Awards for his recordings. In 2008 he received the Peabody Award for his radio series for SFS Media, The MTT Files. In 2010 President Obama awarded him the National Medal of Arts, the highest award given to artists by the United States Government.
Emanuel Ax, piano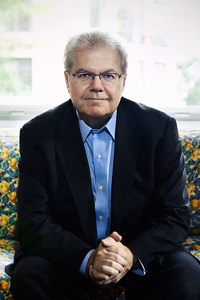 Born in modern day Lvov, Poland, Emanuel Ax moved to Winnipeg, Canada, with his family when he was a young boy. His studies at The Juilliard School were supported by the sponsorship of the Epstein Scholarship Program of the Boys Clubs of America, and he subsequently won the Young Concert Artists Award. Additionally, he attended Columbia University, where he majored in French. Mr. Ax made his New York debut in the Young Concert Artists Series, and captured public attention in 1974 when he won the first Arthur Rubinstein International Piano Competition in Tel Aviv. In 1975 he won the Michaels Award of Young Concert Artists followed four years later by the coveted Avery Fisher Prize. 
Always a committed exponent of contemporary composers, with works written for him by John Adams, Christopher Rouse, Krzysztof Penderecki, Bright Sheng and Melinda Wagner already in his repertoire, the 2016-17 season will feature two newly commissioned works. With the New York Philharmonic conducted by Alan Gilbert, January will bring the world premiere of HK Gruber's Piano Concerto, followed in March by the European premiere with the Berlin Philharmonic and Sir Simon Rattle. In recitals throughout the season his program will include works by Schubert and Chopin partnered with Impromptus (2015-16) by Samuel Adams, commissioned by Music Accord and inspired by Schubert. His ongoing relationship with the Boston Symphony will include visits with it to Carnegie Hall, Montreal and Toronto; and with The Cleveland Orchestra Mr. Ax will appear as the featured artist for its gala opening concert of the season. As a regular visitor he will return to the orchestras of Chicago, Los Angeles, San Francisco, Cincinnati, Toronto, Seattle, Milwaukee and Detroit. 
A Sony Classical exclusive recording artist since 1987, Mr. Ax's recent releases include Mendelssohn Trios with Yo-Yo Ma and Itzhak Perlman, Strauss' Enoch Arden narrated by Patrick Stewart and discs of two-piano music by Brahms and Rachmaninoff with Yefim Bronfman. In 2015 Deutche Grammophon released a duo recording with Mr. Perlman of sonatas by Fauré and Strauss, which the two artists presented on tour during the 2015-16 season. Mr. Ax has received Grammy Awards for the second and third volumes of his cycle of Haydn's piano sonatas. He has also made a series of Grammy Award-winning recordings with cellist Yo-Yo Ma of the Beethoven and Brahms sonatas for cello and piano. His other recordings include the concertos of Liszt and Schoenberg, three solo Brahms albums, an album of tangos by Ástor Piazzolla and the premiere recording of John Adams' Century Rolls with The Cleveland Orchestra for Nonesuch. In the 2004-05 season Mr. Ax also contributed to an International Emmy Award-winning BBC documentary commemorating the Holocaust that aired on the 60th anniversary of the liberation of Auschwitz. In 2013 Mr. Ax's recording Variations received the Echo Klassik Award for Solo Recording of the Year (19th-century music/Piano). 
A frequent and committed partner for chamber music, he has worked regularly with such artists as Young Uck Kim, Cho-Liang Lin, Mr. Ma, Edgar Meyer, Peter Serkin, Jaime Laredo and the late Isaac Stern. 
Mr. Ax resides in New York City with his wife, pianist Yoko Nozaki. They have two children together, Joseph and Sarah. He is a Fellow of the American Academy of Arts and Sciences and holds honorary doctorates of music from Yale and Columbia universities. For more information about Mr. Ax's career, please visit www.EmanuelAx.com.