Events & Tickets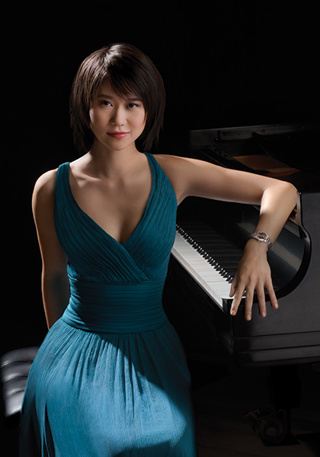 Orchestra Concert
SEASON OPENER WITH MTT AND YUJA WANG
New World Center
Saturday, October 14 at 7:30 PM
Sunday, October 15 at 2:00 PM
Program
Let the celebration begin! MTT opens NWS's 30th Anniversary Season with a blockbuster program of Russian masterworks starring piano virtuoso Yuja Wang. One of the world's greatest talents and Musical America's 2017 Artist of the Year, Wang takes on two musical giants with her trademark panache. Sergei Rachmaninoff's Fourth Concerto is a worldly kaleidoscope of styles—from New York jazz to Parisian impressionism—while Sergei Prokofiev's Fifth Concerto is a wildly virtuosic showstopper. Drama and romance leap from Prokofiev's vivid portrayal of Shakespeare's classic and Nikolai Rimsky-Korsakov's Capriccio espanol brings the fiery rhythms of flamenco to the orchestra stage.
This concert is sponsored in part by Micky and Madeleine Arison Family Foundation and William Strong.
CITI PRE-CONCERT CHAT FOR SATURDAY, OCTOBER 14: Join NWS Fellows Darren Hicks, Rachel Sandman and Stephen Kehner for a free Pre-Concert Chat in SoundScape Park! These half-hour chats begin one hour prior to the performance. There will not be a pre-concert chat on Sunday, October 15. 
Program
Nikolai Rimsky-Korsakov
(1844-1908)
Approx. Duration: 15 minutes

Cappriccio espagnol, Op. 34 (1887)

Alborada
Variations
Alborada
Scene and Gypsy Song
Asturian Fandango
Sergei Rachmaninoff
(1873-1943)
Approx. Duration: 24 minutes

Concerto No. 4 in G minor for Piano and Orchestra, Op. 40 (1926; revised 1941)

Allegro vivace
Largo
Allegro vivace
Sergei Prokofiev
(1891-1953)
Approx. Duration: 22 minutes

Concerto No. 5 in G minor for Piano and Orchestra, Op. 55 (1931-32)

Allegro con brio
Moderato ben accentuato
Toccata: Allegro con fuoco (più presto che la prima volta)
Larghetto
Vivo
Sergei Prokofiev
(1891-1953)
Approx. Duration: 26 minutes

Suite from Romeo and Juliet, Op. 64 (1938)

Introduction to Act I
Romeo
The Young Juliet
Dance of the Knights
Balcony Scene
The Duel
Romeo Avenges Mercutio
The Death of Tybalt
Nikolai Rimsky-Korsakov
Cappriccio espagnol, Op. 34 (1887)

Approximate duration: 15 minutes
Nikolai Rimsky-Korsakov rose to prominence among the group of nationalist composers known as the "Russian Five." In the wake of a successful fantasy for violin and orchestra on Russian themes, he turned to Spain for inspiration in Capriccio espagnol. Between that work and his next published opus, the Arabian-themed Scheherezade, Rimsky-Korsakov established a model for sparkling, evocative orchestration that is still the envy of composers to this day. 
Capriccio espagnol begins with festive wake-up call in the form of an Alborada, the morning equivalent of an evening serenade. 
In the Variations movement that follows, the horns present a sweet and peaceful theme over a steady accompaniment. 
The variations offer a master class in orchestration, reframing the same slow-moving theme in a dazzling array of symphonic colors. 
A slightly modified repeat of the Alborada, transposed to a different key, bookends the Variations movement. 
The most demonstrably "Spanish" music of Capriccio espagnol comes in the dramatic fourth movement labeled Scene and Gypsy Song. Solo cadenzas capture the free-flowing spirit of the cante jondo, or "deep song," an emotionally charged style of flamenco singing. 
The final movement takes up a Spanish folk dance style, the Fandango. The Gaelic tone of the music is well suited to the remote northern region of Asturias, which was settled by the Celts (who brought a form of bagpipes) and never conquered by the Moors. 
The castanets (and bouncing bow strokes from the strings that imitate the same percussive effect) provide a signature Spanish color. 
 
Additional Resources
PDF score from the IMSLP Petrucci Music Library
Classic orchestration textbook by Rimsky-Korsakov
Online orchestration course developed from the Rimsky-Korsakov textbook
Sergei Rachmaninoff
Concerto No. 4 in G minor for Piano and Orchestra, Op. 40 (1926; revised 1941)

Approximate duration: 24 minutes
Sergei Rachmaninoff established a solid reputation as a composer and conductor in the early years of the 20th century, but it was his virtuosity at the piano that elevated him to international stardom. When the Russian Revolution forced him into exile at the end of 1917, he embraced the lucrative but exhausting business of touring as a virtuoso pianist around the United States and Europe, relegating his composing to the rare breaks in his performing schedule.
The centerpieces of Rachmaninoff's repertoire were the three piano concertos he had composed in Russia, including a revision of the early First Concerto he undertook in 1917. When he carved out a sabbatical from touring in 1925, he used the time in New York and Dresden to fulfill his long-held desire to add a Fourth Concerto, a work he introduced with the Philadelphia Orchestra and Leopold Stokowski in 1927.
In a letter to fellow composer (and dedicatee) Nikolai Medtner, Rachmaninoff expressed misgivings about the Concerto's length, and his concerns were only amplified by poor reviews, like one from a New York critic declaring the work "long-winded, tiresome, unimportant, in places tawdry." Rachmaninoff made cuts that shaved about 10 percent of its length before publishing the score in 1928; still unsatisfied, he trimmed another 10 percent in 1941, creating the authoritative version that he once again presented with the Philadelphia Orchestra, now led by Eugene Ormandy. It was the final compositional project and premiere performance for the 68-year-old Rachmaninoff, who died less than two years later.
The Fourth Piano Concerto stands with one foot in the nostalgic, Romantic past, and the other in the forward-looking climate of 1920s experimentation. The first theme from the piano, presented in grand chords, combines swashbuckling virtuosity with free-ranging harmonies voiced in a stuttering orchestral accompaniment.
Rachmaninoff often seems most at ease when writing in a lyrical vein, and the opening movement's contrasting theme is no exception, with its liquid textures that recall his old classmate Scriabin infused with hints of jazz and Broadway sentimentality.
Seventh-chords and other jazz staples also arise in the central Largo, another sign of Rachmaninoff's attentiveness to the music he encountered in New York.
With its mercurial, minor-key charms, the finale bears a family resemblance to Rachmaninoff's other late masterpiece for piano and orchestra, the Rhapsody on a Theme of Paganini from 1934.
The Dies Irae plainchant makes a subtle appearance during a wistful passage. It rounds out Rachmaninoff's lifelong obsession with the motive that arises in all three of his symphonies, Isle of the Dead, Rhapsody on a Theme of Paganini and his last completed work before this revised concerto, the Symphonic Dances.
Additional Resources
Online score from publisher Boosey and Hawkes (requires free login)
Article on Rachmaninoff's revisions by pianist Scott Davie
Recording of Rachmaninoff playing the Fourth Piano Concerto in 1941
Sergei Prokofiev
Concerto No. 5 in G minor for Piano and Orchestra, Op. 55 (1931-32)

Approximate duration: 22 minutes
Prokofiev was already an adroit composer by the time he enrolled at the Saint Petersburg Conservatory at the age of 13, thanks in large part to his well-off family having hired the composer Reinhold Glière as a live-in music tutor. When Prokofiev finished his studies a decade later, he could point to the two piano concertos he had premiered himself as early highlights on his growing résumé as a pianist and composer.
After fleeing Russia in the wake of the Bolshevik Revolution, Prokofiev hoped to establish a career in the mold of Rachmaninoff, who made an excellent living performing his own concertos with orchestras in the United States and beyond. But Prokofiev failed to win over American audiences, even when he wrote a Third Piano Concerto in 1921 specifically for a U.S. tour.
Next he tried restarting in Europe, but again he was out of step with current tastes. He wrote his Fourth Piano Concerto for left hand only, as commissioned by the wealthy Austrian pianist Paul Wittgenstein, who lost his right hand in World War I; upon receiving Prokofiev's score in 1931, Wittgenstein replied, "Thank you for the Concerto, but I do not understand a single note in it and I will not play it." (Prokofiev never got around to rearranging it for two hands as he had intended, and it was not performed during his lifetime.) Prokofiev wrote one last concerto and performed it with the Berlin Philharmonic in 1932, but already the momentum of his career was clear: The only place where he would find the appreciation and compensation he deserved was back in the Soviet Union.
The Piano Concerto No. 5 speaks to the crossroads that Prokofiev faced in his final European years. This unruly Concerto combines five short movements, far enough from the classical mold that Prokofiev planned to title it simply Music for Piano and Orchestra until a colleague talked him out of it. The opening movement forgoes any introductory pleasantries, as if the pianist simply begins playing on a whim and the orchestra must scramble to catch up. It's a style that plays to the fashions of the day: music as incisive as Stravinsky and as nonchalant as Ravel.
Two fast movements show opposing sides of Prokofiev's wit. The first is a clean and dashing march, a style aligned with Prokofiev's long history of flirtatious music for dance and theater, while the fiery Toccata employs a darker, more menacing humor, its mood and musical material echoing the "European" aspects of the first movement.   
The Larghetto is devastatingly beautiful, framing its tranquil outer sections against the heated central climax. Instead of simply rounding out the Concerto with a jovial finale, the closing Vivo veers into a mysterious fantasy that almost fades into oblivion, until an accelerating coda marches it back from the brink.
Additional Resources
Video of Sviatoslav Richter's landmark recording with scrolling score
The Many Faces of Prokofiev as seen through his piano concertos, by pianist Barbara Nissman
Sergei Prokofiev
Suite from Romeo and Juliet, Op. 64 (1938)

Approximate duration: 26 minutes
Sergei Prokofiev was one of many artists who fled Russia amid the tumult of the 1917 Revolution, but he was the only major figure who repatriated in the Soviet Union. During his time in exile, first in the United States and later in France, Prokofiev found himself increasingly at odds with the musical elites who championed spiky, dissonant modernism. He found an audience more willing to embrace his self-proclaimed "new simplicity" when he embarked on a concert tour of the Soviet Union in 1927, and state-sponsored commissions for film scores and other major projects drew him ever closer to his homeland.
In 1934, Prokofiev negotiated a prestigious commission to create his first full-length ballet for the Kirov Theater in Leningrad (formerly and now once again the Mariinsky Theatre in Saint Petersburg). He worked with the theater's director to create a scenario based on Shakespeare's Romeo and Juliet, but a shakeup in the theater leadership—an early warning sign of Stalin's "Great Purge"—led the Kirov to drop the ballet. Prokofiev forged ahead and drafted the score in 1935, and he convinced the Bolshoi Theater in Moscow to take over the production, but once again politics and artistic squabbles derailed Romeo and Juliet.
It took until 1940 for a revised version of Romeo and Juliet to reach the stage, including musical changes made by the director over Prokofiev's objections. During the delay, Prokofiev created several orchestral suites that have become the most common versions of Romeo and Juliet heard in the concert hall. This performance instead features excerpts selected by Michael Tilson Thomas from the first two acts of the full score, preserving their sequence in the dramatic arc of the ballet.
The Introduction to Act I sets the scene at dawn as the city of Verona awakens, until Romeo enters to the sound of bright-eyed plucking. Jumping to the next scene, The Young Juliet prepares for a ball at her family's house and muses in the mirror. During the ball, the Capulet men present The Dance of the Knights with its brittle, menacing main theme. Prokofiev's take on the Balcony Scene actually transpires later in the ballroom, with Juliet returning for a lost flower, at which point Romeo emerges from behind a column.
In The Duel from Act II, Tybalt (a Capulet) fights and kills Mercutio (a Montague). In the aftermath, Romeo Decides to Avenge Mercutio, leading to The Death of Tybalt, a sequence featuring some of the ballet's most spry and ferocious music.
Additional Resources
Synopsis from American Ballet Theatre
Video of the complete Romeo and Juliet from Moscow's Bolshoi Ballet
Thoughts on patriarchy in The Dance of the Knights, from The New York Times dance critic Alistair Macaulay

-- Copyright © 2017 Aaron Grad
Aaron Grad is a composer, guitarist and writer based in Seattle. Besides providing program notes for the New World Symphony, he has been the Orpheus Chamber Orchestra's program annotator since 2005 and also contributes notes to the Saint Paul Chamber Orchestra and Seattle Symphony.
Audio clips provided by Naxos of America, Inc. 
Michael Tilson Thomas, conductor
Michael Tilson Thomas is Co-Founder and Artistic Director of the New World Symphony, America's Orchestral Academy; Music Director Laureate of the San Francisco Symphony; and Conductor Laureate of the London Symphony Orchestra. In addition to these posts, he maintains an active presence guest conducting with the major orchestras of Europe and the United States.
Born in Los Angeles, Mr. Tilson Thomas is the third generation of his family to follow an artistic career. His grandparents, Boris and Bessie Thomashefsky, were founding members of the Yiddish Theater in America. His father, Ted Thomas, was a producer in the Mercury Theater Company in New York before moving to Los Angeles where he worked in films and television. His mother, Roberta Thomas, was the head of research for Columbia Pictures.
Mr. Tilson Thomas began his formal studies at the University of Southern California, where he studied piano with John Crown, and conducting and composition with Ingolf Dahl. At age 19 he was named Music Director of the Young Musicians Foundation Debut Orchestra. During this same period, he was the pianist and conductor in master classes of Gregor Piatigorsky and Jascha Heifetz and worked with Stravinsky, Boulez, Stockhausen and Copland on premieres of their compositions at Los Angeles' Monday Evening Concerts.
In 1969, after winning the Koussevitzky Prize at Tanglewood, he was appointed Assistant Conductor of the Boston Symphony Orchestra. That year he also made his New York debut with the Boston Symphony and gained international recognition after replacing Music Director William Steinberg in mid-concert. He was later appointed Principal Guest Conductor of the Boston Symphony Orchestra where he remained until 1974. He was Music Director of the Buffalo Philharmonic from 1971 to 1979 and a Principal Guest Conductor of the Los Angeles Philharmonic from 1981 to 1985. His guest conducting includes appearances with the major orchestras of Europe and the United States.
Mr. Tilson Thomas is a two-time Carnegie Hall Perspectives artist, curating and conducting series at the hall from 2003 to 2005 and from 2018 to 2019. In the most recent series, he led Carnegie Hall's National Youth Orchestra of the United States of America both at the hall and on tour in Asia, opened the Carnegie Hall season over two evenings with the San Francisco Symphony, conducted two programs with the Vienna Philharmonic and finished with a pair of concerts leading the New World Symphony.
A winner of eleven Grammy Awards, Mr. Tilson Thomas appears on more than 120 recordings. His discography includes The Mahler Project, a collection of the composer's complete symphonies and works for voice and orchestra performed with the San Francisco Symphony, in addition to pioneering recordings of music by Charles Ives, Carl Ruggles, Steve Reich, John Cage, Ingolf Dahl, Morton Feldman, George Gershwin, John McLaughlin and Elvis Costello. His recordings span repertoire from Bach and Beethoven to Debussy and Stravinsky, and from Sarah Vaughan to Metallica.
His television work includes a series with the London Symphony Orchestra for BBC Television, broadcasts of the New York Philharmonic Young People's Concerts from 1971 to 1977 and numerous productions on PBS's Great Performances. With the San Francisco Symphony, he created a multi-tiered media project, Keeping Score, which includes a television series, web sites, and radio programs. He received a Peabody Award for his SFS Media radio series The MTT Files.
Mr. Tilson Thomas's compositions are published by G. Schirmer. In 1991, he and the New World Symphony were presented in a series of benefit concerts for UNICEF in the United States, featuring Audrey Hepburn as narrator of his work From the Diary of Anne Frank, which was commissioned by UNICEF. This piece has since been translated and performed in many languages worldwide. In August 1995, he led the Pacific Music Festival Orchestra in the premiere of his composition Shówa/Shoáh, commemorating the 50th anniversary of the bombing of Hiroshima. His vocal music includes settings of poetry by Walt Whitman and Emily Dickinson, which were premiered by Thomas Hampson and Renée Fleming, respectively. In 2016, Yuja Wang premiered his piano piece You Come Here Often?.
Mr. Tilson Thomas' song cycle Four Preludes on Playthings of the Wind, a setting of Carl Sandburg's poem, was premiered in 2016 by the New World Symphony, with Measha Brueggergosman as soloist. In 2019 the piece was recorded for Medici.tv at the New World Center and given its New York premiere as part of Mr. Tilson Thomas's second Carnegie Hall Perspectives series. His first Perspectives series also featured performances of his own compositions, including Island Music for four marimbas and percussion; Notturno for solo flute and strings, featuring soloist Paula Robison; and new settings of poems by Rainer Maria Rilke. In 2020, he led the San Francisco Symphony in the world premiere of his six-part song cycle Meditations on Rilke, and he subsequently conducted the work at the Cleveland Orchestra. Additional compositions include Street Song for brass instruments; Agnegram, an overture for orchestra; and Urban Legend, a concerto for contrabassoon that was premiered by the San Francisco Symphony. In June 2020, SFS Media released an album of works composed by Mr. Tilson Thomas, featuring live concert recordings of From the Diary of Anne Frank, narrated by mezzo-soprano Isabel Leonard, and Meditations on Rilke, sung by mezzo-soprano Sasha Cooke and bass-baritone Ryan McKinny.
Mr. Tilson Thomas is an Officier de l'Ordre des Arts et des Lettres of France, is a member of the American Academy of Arts and Sciences, was Musical America's Musician of the Year and Conductor of the Year, was Gramophone magazine's Artist of the Year and has been profiled on CBS's 60 Minutes and ABC's Nightline. He has been awarded the National Medal of Arts, has been inducted into the California Hall of Fame and the American Academy of Arts and Letters, and was a 2019 recipient of the Kennedy Center Honors.
Yuja Wang, piano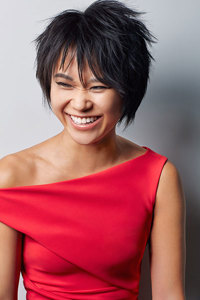 Critical superlatives and audience ovations have continuously followed Yuja Wang's dazzling career. The Beijing-born pianist, celebrated for her charismatic artistry and captivating stage presence, is set to achieve new heights during the 2018-19 season, which features recitals, concert series, as well as season residencies and extensive tours with some of the world's most venerated ensembles and conductors. She began the summer of 2018 with a performance of Beethoven's Piano Concerto No. 1 at the Tanglewood Music Festival with the Boston Symphony under the baton of Andris Nelsons, followed by a tour with the Berlin Philharmonic and Kirill Petrenko featuring Prokofiev's Piano Concerto No. 3. Later engagements included an extensive recital tour in South America, as well as several concerts with the Munich Philharmonic and Valery Gergiev throughout Asia.
Ms. Wang is featured as an Artist-in-Residence at three of the world's premiere venues: New York's Carnegie Hall with a season-long "Perspectives" series, the Wiener Konzerthaus with a "Portrait" series and also at the Luxembourg Philharmonie. Engagement highlights include concerts with the Vienna Philharmonic at Versailles, as well as the Summer Night Concert at the Schönbrunn Palace with Gustavo Dudamel. She also embarks on tours with the City of Birmingham Symphony and Mirga Gražinytė-Tyla. Other notable appearances include concerts in Istanbul, Toronto, Los Angeles, Chicago and Kotor.
Spring of 2019 sees Ms. Wang embark on a tour of Los Angeles, Seoul and Tokyo with the Los Angeles Philharmonic to give the first-ever performances of John Adams' newest piano concerto, as well as reuniting with cellist and frequent collaborator Gautier Capuçon for a vast U.S. chamber tour.
Ms. Wang was born into a musical family in Beijing. After childhood piano studies in China, she received advanced training in Canada and at Philadelphia's Curtis Institute of Music under Gary Graffman. Her international breakthrough came in 2007 when she replaced Martha Argerich as soloist with the Boston Symphony. Two years later, she signed an exclusive contract with Deutsche Grammophon and has since established her place among the world's leading artists, with a succession of critically acclaimed performances and recordings.
Ms. Wang was named Musical America's Artist of the Year in 2017.