Events & Tickets
Orchestra Concert,WALLCAST® Concert
SEASON OPENER WITH MTT: THE RUSSIAN MUSICAL SOUL
New World Center, Michael Tilson Thomas Performance Hall
Saturday, October 10 at 7:30 PM**
Sunday, October 11 at 2:00 PM
**The Saturday, October 10 performance will be presented as a WALLCAST™ concert in Miami Beach SoundScape.**
Program
Join MTT in kicking off the New World Symphony's extraordinary 28th academic season with the drama and power you've come to expect from the Russian masters. The Dmitri Pokrovsky Ensemble, lauded for its expertise of Russian village music, lends voice to Stravinsky's one-act chamber opera, The Fox, before bringing Russian vows to life in The Wedding. Famed for his warhorse symphonies, Tchaikovsky displays his hallmark style right from the start in his First Symphony. The atmospheric "Winter Dreams" shimmers with Russian folk influences throughout its crisp, ceremonial splendor. There's no better way to start the season!
**The Saturday, October 10 performance will be presented as a WALLCAST™ concert in Miami Beach SoundScape.**
Program
Igor Stravinsky
(1882-1971)
Approx. Duration: 17 minutes

Dmitri Pokrovsky Ensemble
Igor Stravinsky
(1882-1971)
Approx. Duration: 23 minutes

The Wedding (1913-23; 1923 version)

Dmitri Pokrovsky Ensemble
Pyotr Ilyich Tchaikovsky
(1840-1893)
Approx. Duration: 43 minutes

Symphony No 1 in G minor, Op. 13, "Winter Dreams" (1866; revised 1874)

Allegro tranquillo
Adagio cantabile ma non tanto
Scherzo: Allegro scherzando giocoso
Finale: Andante lugubre—Allegro moderato—Allegro maestoso
Igor Stravinsky
The Fox (1916)

Approximate duration: 17 minutes
Igor Stravinsky, a late-blooming composer who was barely recognized in his home country, burst onto the world stage when the Ballets Russes introduced The Firebird in Paris in 1910. Following up with Pétrouchka in 1911 and The Rite of Spring in 1913, Stravinsky confirmed his place at the vanguard of modern music. He was already plotting his next major ballet for Diaghilev's troupe, inspired by Russian wedding traditions, when the outbreak of World War I in 1914 threw Europe into disarray. Stravinsky's hasty visit that summer to his Ukrainian estate proved to be the last time he ever set foot on his native soil.
Once Stravinsky settled into an exile's life in Switzerland in 1915, he accepted a commission for a small new work from the distinguished arts patron Princess Edmond de Polignac—or, to use her maiden name, Winaretta Singer of Yonkers, New York, heir to her family's sewing machine fortune. The princess hosted a regular salon in her Paris mansion, and her hope was that Stravinsky would provide something that could be performed in that intimate setting. Stravinsky obliged with a compact rendering of a folk tale as transcribed by Alexander Afanasyev, the great Russian folklorist, in which a devious fox fools a gullible rooster (twice, in fact) only to get his comeuppance when the rooster's rescuers, a cat and a goat, kill the rascal. Stravinsky devised his own plan for the staging, but the salon performance never transpired, and it was not until 1922 that Renard (The Fox) reached the public in a Ballets Russes production.
Completed during a hiatus on the ballet that would become The Wedding, Stravinsky's Renard is likewise grounded in Russia's folk traditions. The emphasis on winds, brass and percussion in the small ensemble creates a sound right out of a country fair, and the use of a cimbalom—a type of hammered dulcimer—reinforces the folk-like nature of the music. (The cimbalom itself is not native to Russia, but Stravinsky was so taken with the instrument when he discovered it in Switzerland that he bought one for himself and incorporated it into both The Fox and the original version of The Wedding.)
Besides the orchestration, the other notable aspect of The Fox is its use of the four male singers. Instead of assigning them to specific roles, Stravinsky embedded the voices within the orchestra to comment on the staged dancing and miming from an outside perspective, more like a Greek chorus than an operatic cast. At the beginning, for example, after a rowdy march ushers the players onto the stage, all four singers (as well as a horn) can be heard mimicking the rooster's repeated pecking.
The fox's music is smooth and seductive by contrast, with a faint air of religiosity: his first ruse is to dress as a priest, convincing the rooster to confess to his philandering!
Additional Resources
PDF score (first edition) from the IMSLP Petrucci Music Library
Online score (corrected, with critical commentary) from Chester Music
Liner notes by conductor and Stravinsky disciple Robert Craft
Scholarly article about the Russian roots of The Fox
Sketches by scene and costume designer Mikhail Larianov from the 1922 premiere
Igor Stravinsky
The Wedding (1913-23; 1923 version)

Approximate duration: 23 minutes
No composition taxed Stravinsky more than Les Noces (The Wedding), his ritualized depiction of Russian nuptials. The process began in 1913, the year of The Rite of Spring, when Stravinsky heard and transcribed a traditional song that would become the only borrowed material in his folk-oriented score. The next year he started crafting his own libretto, poring through scholarly writings and folk anthologies in search of fragments he could incorporate into a close-up, granular view of an authentic Russian wedding. "As a collection of clichés and quotations of typical wedding sayings," Stravinsky later explained, "it might be compared to one of those scenes in [James Joyce's] Ulysses in which the reader seems to be overhearing scraps of conversation without the connecting thread of discourse."
Stravinsky had the essential musical material of The Wedding notated in a condensed score by 1915, but finding the right instrumental setting proved to be the far greater challenge. It seems that he considered writing for an orchestra even larger than the massive forces of The Rite of Spring, and sketches exist for various other trial instrumentations, but his working model from 1915 to 1917 was to use a smaller group that focused on individual sounds. The ensemble included 13 woodwinds and 14 brass, balanced by just eight string soloists and modest percussion. The most characteristic colors came from the group of plucked and hammered stringed instruments: harp, piano, harpsichord and especially cimbalom (the hammered dulcimer from Eastern Europe that became an object of obsession for Stravinsky in 1915.)
The Wedding was essentially complete in that small orchestra format by the end of 1917, but ongoing war and contract squabbles with Diaghilev ruled out a premiere. Still unsatisfied, Stravinsky worked on yet another orchestration in 1918-19, this time stripping away all the orchestral strings, winds and brass. He added a second cimbalom and a harmonium, as well as a pianola (otherwise known as a player piano, played not by a human but by a pre-punched paper roll), but it became apparent that the challenges of coordinating the mechanical instrument with the live ensemble were unworkable. After various delays, the Ballets Russes finally slated The Wedding for a premiere in its 1923 season. Before its debut, Stravinsky scrapped the orchestration yet again, and rewrote it one last time for a bare-bones ensemble of four pianos and percussion.
The text of The Wedding is distributed among singers who function as extensions of the instrumental ensemble; as in The Fox, there is no direct equivalency between the solo voices and the onstage characters. Even though the words cascade past at a rate that makes them barely intelligible at times, the very pulse of The Wedding is the spoken cadence of the Russian text, dictating the rhythmic patterns and emphasis. In fact, the dancers of the Ballets Russes noted that they kept their timing in the ever-shifting score by memorizing and singing along with the words instead of counting beats.
The first scene of The Wedding occurs in the bride's chamber, with the bride weeping (as was expected, by tradition) while her mother and the bridesmaids tend to her.
The second tableau then cuts to the parallel scene of the groom's preparations, an environment less fraught with worry and more coursing with rowdy anticipation. In the brief third section, the bride emerges from her house, eliciting mournful tropes from the mother-of-the-bride. The final scene is the actual wedding feast, ending with the couple's arrival at their marriage chamber and the contented tolling of bells.
Additional Resources
PDF score (first edition of 1923 version) from the IMSLP Petrucci Music Library
Online score of 1923 version (corrected, with extensive critical commentary) from Chester Music
Liner notes for a recording of both the 1917 and 1923 versions
Liner notes by conductor and Stravinsky disciple Robert Craft from recording of 1923 version
Article on choreographer Bronislava Nijinska and a recreation of her staging at Juilliard
Website documenting the 2009 premiere of Stravinsky's version of Les Noces with player piano from 1919.
Sketch by scene and costume designer Natalia Goncharova from the 1923 Ballets Russes production.
Pyotr Ilyich Tchaikovsky
Symphony No 1 in G minor, Op. 13, "Winter Dreams"

(1866; revised 1874)


Approximate duration: 43 minutes

"My nerves are extremely fraught again," Tchaikovsky confessed to his younger brother Anatoly in the spring of 1866, not long after he moved to Moscow to help open the new Moscow Conservatory, and just months after his own graduation from the Saint Petersburg Conservatory. Amid the launch of his teaching career, Tchaikovsky also began work on his First Symphony that March, and he found himself "unable to shake off the thought that I might soon die without even managing to complete the symphony." As another brother, Modest Tchaikovsky, later recalled, "No other work cost him such effort and suffering," with the Symphony's slow progress triggering insomnia and ultimately "dreadful hallucinations, which were so frightening that they resulted in a feeling of complete numbness in all his extremities."

Completing the Symphony did not end Tchaikovsky's ordeal. He brought it to his former teachers in Saint Petersburg, Anton Rubinstein and Nikolai Zaremba, in the hopes that they would schedule a performance, but they deemed only the middle movements fit for public airing. It was not until 1868 that Tchaikovsky heard a complete performance of the work. Further revisions in 1874, including an entirely new second subject in the first movement, brought the Symphony No. 1 to its final form.

Tchaikovsky gave his Symphony the subtitle of "Winter Dreams." He did not specify a program for the work, but he did add descriptive headings for the first two movements: Dreams of a Winter Journey and Land of Gloom, Land of Mist. The Symphony opens with a frosty melody shared by the flute and bassoon, presented in naked octaves over a tremulous backdrop of violins.

Developing such a theme within the confines of formal structure was never Tchaikovsky's most natural gift, but this opening exposition shows the budding symphonist slicing and manipulating his motives in true Beethovenian fashion, all the while displaying his own unique talents for vivid scene-painting and expressive orchestration.

Tchaikovsky noted that the slow movement received the warmest response from the audience at the 1868 premiere. This Land of Gloom, Land of Mist emerges from the dark hues of muted strings, but transcendent woodwind themes (starting at 1:44) and more hopeful music in a slightly faster tempo (3:02) balance the mood.

The Scherzo, adapted from an earlier piano sonata, is an elfin specimen in C minor that owes a debt to the scherzos of Mendelssohn. The contrasting middle section, though, is pure Tchaikovsky; it is a sweet waltz that descends like a dream within a dream.

The finale reconciles the preceding movements by cleverly juxtaposing multiple strains. The Andante lugubre introduction resembles the sparse, rhapsodic entrance of the Symphony, while an opposing theme derived from a Russian folksong is more grounded. The music modulates to the major key and accelerates to an Allegro maestoso tempo, reworking the folk theme and passing it through several fugal treatments. The minor-key music of the slow introduction makes an unexpected return, and a sunny climax in G major ultimately burns away the heavy chill of winter.

 

Additional Resources

PDF score from the IMSLP Petrucci Music Library

Detailed history of the Symphony from the Tchaikovsky Research project

Scholarly forum discussion on Tchaikovsky's mental health

Article printed in 2002 in The New York Times Magazine, discussing Tchaikovsky's complicated standing among modern composers and scholars.

 

-- Copyright © 2015 Aaron Grad

Aaron Grad is a composer, guitarist and writer based in Seattle. Besides providing program notes for the New World Symphony, he has been the Orpheus Chamber Orchestra's program annotator since 2005 and also contributes notes to the Saint Paul Chamber Orchestra and Seattle Symphony.

Audio clips courtesy of Naxos of America, Inc.
Michael Tilson Thomas, conductor
Michael Tilson Thomas is Co-Founder and Artistic Director Laureate of the New World Symphony, America's Orchestral Academy; Music Director Laureate of the San Francisco Symphony; and Conductor Laureate of the London Symphony Orchestra. In addition to these posts, he maintains an active presence guest conducting with the major orchestras of Europe and the United States.
Born in Los Angeles, Mr. Tilson Thomas is the third generation of his family to follow an artistic career. His grandparents, Boris and Bessie Thomashefsky, were founding members of the Yiddish Theater in America. His father, Ted Thomas, was a producer in the Mercury Theater Company in New York before moving to Los Angeles where he worked in films and television. His mother, Roberta Thomas, was the head of research for Columbia Pictures.
Mr. Tilson Thomas began his formal studies at the University of Southern California, where he studied piano with John Crown, and conducting and composition with Ingolf Dahl. At age 19 he was named Music Director of the Young Musicians Foundation Debut Orchestra. During this same period, he was the pianist and conductor in master classes of Gregor Piatigorsky and Jascha Heifetz and worked with Stravinsky, Boulez, Stockhausen and Copland on premieres of their compositions at Los Angeles' Monday Evening Concerts.
In 1969, after winning the Koussevitzky Prize at Tanglewood, he was appointed Assistant Conductor of the Boston Symphony Orchestra. That year he also made his New York debut with the Boston Symphony and gained international recognition after replacing Music Director William Steinberg in mid-concert. He was later appointed Principal Guest Conductor of the Boston Symphony Orchestra where he remained until 1974. He was Music Director of the Buffalo Philharmonic from 1971 to 1979 and a Principal Guest Conductor of the Los Angeles Philharmonic from 1981 to 1985. His guest conducting includes appearances with the major orchestras of Europe and the United States.
Mr. Tilson Thomas is a two-time Carnegie Hall Perspectives artist, curating and conducting series at the hall from 2003 to 2005 and from 2018 to 2019. In the most recent series, he led Carnegie Hall's National Youth Orchestra of the United States of America both at the hall and on tour in Asia, opened the Carnegie Hall season over two evenings with the San Francisco Symphony, conducted two programs with the Vienna Philharmonic and finished with a pair of concerts leading the New World Symphony.
A winner of eleven Grammy Awards, Mr. Tilson Thomas appears on more than 120 recordings. His discography includes The Mahler Project, a collection of the composer's complete symphonies and works for voice and orchestra performed with the San Francisco Symphony, in addition to pioneering recordings of music by Charles Ives, Carl Ruggles, Steve Reich, John Cage, Ingolf Dahl, Morton Feldman, George Gershwin, John McLaughlin and Elvis Costello. His recordings span repertoire from Bach and Beethoven to Debussy and Stravinsky, and from Sarah Vaughan to Metallica.
His television work includes a series with the London Symphony Orchestra for BBC Television, broadcasts of the New York Philharmonic Young People's Concerts from 1971 to 1977 and numerous productions on PBS's Great Performances. With the San Francisco Symphony, he created a multi-tiered media project, Keeping Score, which includes a television series, web sites, and radio programs. He received a Peabody Award for his SFS Media radio series The MTT Files.
Mr. Tilson Thomas's compositions are published by G. Schirmer. In 1991, he and the New World Symphony were presented in a series of benefit concerts for UNICEF in the United States, featuring Audrey Hepburn as narrator of his work From the Diary of Anne Frank, which was commissioned by UNICEF. This piece has since been translated and performed in many languages worldwide. In August 1995, he led the Pacific Music Festival Orchestra in the premiere of his composition Shówa/Shoáh, commemorating the 50th anniversary of the bombing of Hiroshima. His vocal music includes settings of poetry by Walt Whitman and Emily Dickinson, which were premiered by Thomas Hampson and Renée Fleming, respectively. In 2016, Yuja Wang premiered his piano piece You Come Here Often?.
Mr. Tilson Thomas' song cycle Four Preludes on Playthings of the Wind, a setting of Carl Sandburg's poem, was premiered in 2016 by the New World Symphony, with Measha Brueggergosman as soloist. In 2019 the piece was recorded for Medici.tv at the New World Center and given its New York premiere as part of Mr. Tilson Thomas's second Carnegie Hall Perspectives series. His first Perspectives series also featured performances of his own compositions, including Island Music for four marimbas and percussion; Notturno for solo flute and strings, featuring soloist Paula Robison; and new settings of poems by Rainer Maria Rilke. In 2020, he led the San Francisco Symphony in the world premiere of his six-part song cycle Meditations on Rilke, and he subsequently conducted the work at the Cleveland Orchestra. Additional compositions include Street Song for brass instruments; Agnegram, an overture for orchestra; and Urban Legend, a concerto for contrabassoon that was premiered by the San Francisco Symphony. In June 2020, SFS Media released an album of works composed by Mr. Tilson Thomas, featuring live concert recordings of From the Diary of Anne Frank, narrated by mezzo-soprano Isabel Leonard, and Meditations on Rilke, sung by mezzo-soprano Sasha Cooke and bass-baritone Ryan McKinny.
Mr. Tilson Thomas is an Officier de l'Ordre des Arts et des Lettres of France, is a member of the American Academy of Arts and Sciences, was Musical America's Musician of the Year and Conductor of the Year, was Gramophone magazine's Artist of the Year and has been profiled on CBS's 60 Minutes and ABC's Nightline. He has been awarded the National Medal of Arts, has been inducted into the California Hall of Fame and the American Academy of Arts and Letters, and was a 2019 recipient of the Kennedy Center Honors.
Dmitri Pokrovsky Ensemble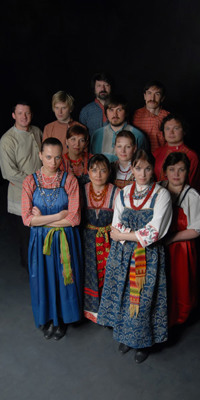 The Dmitri Pokrovsky Ensemble was founded in 1973 by folklorist and conductor Dmitri Pokrovsky (1944-1996) as a living laboratory for the study of Russian folk traditions. Pokrovsky's goal was to preserve and transmit to a new generation of performers and audiences the vitality that he found in authentic village music. From their base in Moscow, the members of the Pokrovsky Ensemble travelled the length and breadth of rural Russia, documenting and learning to perform the traditions they encountered. The Ensemble's repertory has grown to encompass more than 1,000 items, among them village songs, dances and pagan rituals, medieval Russian village music, religious folk music, and works by classical and contemporary Russian composers. Following Pokrovsky's untimely death, his Ensemble has continued his work. The Ensemble's broad artistic interests have led to collaborations with a range of contemporary composers, theatrical directors and filmmakers, all with the aim of forging innovative links between Russian folk traditions and contemporary musical culture. 
In addition to frequent concert tours in Russia and the successor nations of the USSR, the Pokrovsky Ensemble has visited  several foreign countries (U.S., Canada, Australia, Austria, Finland, Germany, Great Britain, Israel, Italy, Japan, The Netherlands, Switzerland, Belgium), where it has performed in some of the world's most prestigious concert venues (Carnegie Hall, Walt Disney Hall, Brooklyn Academy of Music, Tanglewood, Sydney Opera House, London Barbican, among others) both as a solo act and in collaboration with leading orchestras and conductors (Vienna Philharmonic, Los Angeles Philharmonic, Berlin Philharmonic, Birmingham Symphony Orchestra and others). 
The Ensemble's recordings include Faces of Russia (Trikont, USA), Wild Field (Real World, U.K.), Earthbeat (Living Music, USA), Igor Stravinsky's Les Noces (Nonesuch, USA), Night in Galicia ( CCn'C Records, Germany), Voices of Frozen Land (Nbelive, The Netherlands), as well as these published in Russian: Mother Russia (FivePro), Kursky Songs, Vivat Russia and Nor close to town nor far.