Events & Tickets
Orchestra Concert
SEASON OPENER WITH MTT
New World Center
Saturday, October 20 at 7:30 PM
Sunday, October 21 at 2:00 PM
Program
Join MTT in kicking off the New World Symphony's extraordinary 31st academic year with Latin Grammy Award-winning Venezuelan pianist Gabriela Montero. Wolfgang Amadeus Mozart ushered in a new phase of ingenuity with his Piano Concerto No. 14, perfectly captured by Montero's dazzling genius. Roll call! All Fellows get a chance to shine in a performance of Benjamin Britten's famous Young Person's Guide to the Orchestra. Johannes Brahms, a true Romantic, has always been able to make hearts yearn with his rich harmonic language and beautiful melodies. Experience the ultimate longing when NWS performs his magnum opus, the Fourth Symphony.
COMPOSE YOUR OWN SUBSCRIPTION PACKAGE!
Choose this plus two more concerts to customize your own subscription. It's the ultimate flexibility with all the subscriber benefits, including free exchanges when plans change! Click here or call the NWS Box Office at 305.673.3331 to create your own series today.
Program
Benjamin Britten
(1913-1976)
Approx. Duration: 18 minutes

The Young Person's Guide to the Orchestra (1945)

Wolfgang Amadeus Mozart
(1756-1791)
Approx. Duration: 21 minutes

Concerto No. 14 in E-flat major for Piano and Orchestra, K. 449 (1784)

Allegro vivace
Andantino
Allegro ma non troppo
Johannes Brahms
(1833-1897)
Approx. Duration: 40 minutes

Symphony No. 4 in E minor, Op. 98 (1884-85)

Allego non troppo
Andante moderato
Allegro giocoso
Allegro energico e passionato
Benjamin Britten
The Young Person's Guide to the Orchestra (1945)

Approximate duration: 18 minutes
Benjamin Britten had a precocious start in music, studying piano and viola and composing hundreds of works by the time he was a teenager. After graduating from the Royal Conservatory of Music in 1932, he began to make professional inroads in England, and a long visit the United States during World War II helped him clarify his musical and personal outlook. His traveling companion, the tenor Peter Pears, became his lifelong romantic partner and also a peerless interpreter; with Pears singing the title role of Peter Grimes in 1945, Britten's debut opera placed the 31-year-old composer at the forefront of British music. 
After the success of Peter Grimes, the British Ministry of Education commissioned Britten to write an orchestral work to be used in an educational video. It was fitting that he borrowed source material from Henry Purcell (1659-1695), the most significant composer of English theater music before Britten. Extracting a theme from the incidental music for the play Abdelazer, composed exactly 250 years earlier, Britten developed a set of variations to feature subsets of the orchestra, culminating in a final fugue. The resulting work, The Young Person's Guide to the Orchestra, has earned a rightful reputation as one of the most beloved gateways into classical music, in a rare class with Prokofiev's Peter and the Wolf and Saint-Saëns' Carnival of the Animals.
Purcell's theme first appears in a regal setting for full orchestra.
To demonstrate the main divisions of the orchestra, the theme repeats in settings for the woodwind, string and brass sections, and even in a novel rendition by the percussion group, before one last orchestral statement.
The first variation features flutes and piccolo, accompanied by gossamer violin tremolos and bright glints of harp and triangle.
The variations proceed through the woodwind section, adjusting the pace and mood in line with each instrument's essential character: For the oboes it's a heartbreaking Lento, for the clarinets a jaunty game of slurs, and for the bassoons a sarcastic march.
Introducing the strings from high to low, the violins first strut over brass accompaniment in the style of a polacca, a festive folk dance in the Polish style; the violas counter with a more relaxed variant marked "sweet and comfortable."
The cellos play a rhapsodic and alluring melody, and then comes a turn for the basses, described in the optional narration as "the grandfathers of the string family, with heavy, grumbling voices."
The harp rounds out the string family with a demonstration of its fanciful chords, arpeggios and long glissandi that sweep across the strings.
A mysterious interlude featuring horns gives the first taste of the brass, followed by a spry march for trumpets and a noble variation showcasing the trombones and tuba.
The percussion variation makes a point of separating out the individual instruments, even the sharp snap of the whip (actually two long boards clapped together).
The finale weaves all these instruments back into the fabric of the orchestra through a dizzying fugue that ends with a climactic, multilayered restatement of Purcell's theme.
Wolfgang Amadeus Mozart
Concerto No. 14 in E-flat major for Piano and Orchestra, K. 449 (1784)

Approximate duration: 21 minutes
Fed up with his hometown of Salzburg and unable to find a suitable long-term job, the 25-year-old Mozart moved to Vienna in 1781. He was soon married with a growing family to feed, and he kept up a breakneck schedule of freelance gigs that included teaching keyboard lessons, pursuing opera commissions, selling scores for publication, cultivating private patrons and producing subscription concerts where he debuted his new piano concertos and other works that exploited his talents as a performer.
He may have started the Piano Concerto in E-flat major (K. 449) as early as 1782 with the intention of playing it on one of his self-produced concerts, but he set it aside and only finished the score in February of 1784. In his log of compositions, he noted that it was intended for Barbara Ployer, a teenaged piano student for whom he wrote two (or maybe three) of his concertos. She lived in Vienna with her uncle, an agent for the Salzburg court, and he funded this private commission and staged the debut concert in his own house the month after the score was finished.
Surprises abound in this Concerto, beginning in the orchestral tutti, which veers to a turbulent C-minor passage after some 20 seconds, making for a dramatic approach to the pastoral sweetness of the second theme.
The most slippery music comes in the development section, which elaborates on the trilling gesture introduced in the Concerto's first phrase. After a series of bold declarations from the piano, answered each time by stark orchestral octaves, the soloist makes a cunning ascent through wandering harmonies to arrive suddenly back at the home key for the all-important recapitulation.
On its surface, the central Andantino movement seems to deliver a succession of docile and uncomplicated tunes, but once again the harmonic ground shifts stealthily beneath the listener's feet. When the strings bring back the main theme, for instance, they have migrated to the foreign territory of A-flat major, setting up an elegant return journey to the proper key of B-flat that unfolds over the next minute-and-a-half. 
Not long after Mozart had arrived in Vienna, a supportive older patron drew him deep into the neglected art of fugue as practiced earlier in the century by Bach and Handel. The crisp counterpoint of this Concerto finale is an enduring sign of Mozart's respect for that learned tradition, starting with a passage that gives the second violins a prominent counter-line against the bouncy melody played by the first violins.
The same quality fuels an approach to the piano part that often gives equal weight to the right and left hands, rather than splitting them into a hierarchy of melody and accompaniment.
Johannes Brahms
Symphony No. 4 in E minor, Op. 98 (1884-85)

Approximate duration: 40 minutes
Brahms, already a very successful composer in his late 30s, lamented to a friend, "I shall never write a symphony! You can't have any idea what it's like always to hear such a giant marching behind you!" The giant in question was Beethoven, and his legacy haunted Brahms, especially in the signature genres of symphonies and string quartets. Brahms was 40 by the time he released a quartet, and 43 before his Symphony No. 1 reached the public, after 14 years of effort. Having cleared that hurdle, orchestral music finally began to flow freely, with three more symphonies, three concertos and two overtures coming in the decade that followed.
Brahms began his fourth and final symphony in 1884, and he conducted its premiere the next year with the court orchestra in Meiningen, a group directed by his close friend and champion Hans von Bülow. The Fourth Symphony, in particular its first movement, demonstrates just how well Brahms integrated the Classical style of Beethoven, Mozart and Haydn. The main theme is a marvel of balance and efficiency, saying so much with simple pairs of notes, first falling and then rising.
The mystical air of the slow movement comes in part from Brahms' use of an even older musical idea, the Phrygian mode developed in pre-tonal church music. The movement is technically situated in the key of E major, but the archaic harmonies and the use of chords borrowed from the minor mode maintain the pathos and tension of the Symphony's overall trajectory in E minor.
The rousing third movement in C major provides welcome relief from the heavy emotions of the two earlier movements, with piccolo and triangle brought in to add extra sparkle in the treble register.
For the finale, Brahms introduced another historical detail by adopting the Baroque-era form of short, continuous variations known as a passacaglia. The theme that serves as the basis for the passacaglia comes from a cantata by Bach, underscoring Brahms' reverence for his forebears. 
-- Copyright © 2018 Aaron Grad
Aaron Grad is a composer, guitarist and writer based in Seattle. Besides providing program notes for the New World Symphony, he has been the Orpheus Chamber Orchestra's program annotator since 2005 and also contributes notes to the Saint Paul Chamber Orchestra and Seattle Symphony.
Michael Tilson Thomas, conductor
Michael Tilson Thomas is Co-Founder and Artistic Director of the New World Symphony, America's Orchestral Academy; Music Director of the San Francisco Symphony; and Conductor Laureate of the London Symphony Orchestra. In addition to these posts, he maintains an active presence guest conducting with the major orchestras of Europe and the United States.
Born in Los Angeles, Mr. Tilson Thomas is the third generation of his family to follow an artistic career. His grandparents, Boris and Bessie Thomashefsky, were founding members of the Yiddish Theater in America. His father, Ted Thomas, was a producer in the Mercury Theater Company in New York before moving to Los Angeles where he worked in films and television. His mother, Roberta Thomas, was the head of research for Columbia Pictures.
Mr. Tilson Thomas began his formal studies at the University of Southern California where he studied piano with John Crown and conducting and composition with Ingolf Dahl. At age 19 he was named Music Director of the Young Musicians Foundation Debut Orchestra. He worked with Stravinsky, Boulez, Stockhausen and Copland on premieres of their compositions at Los Angeles' Monday Evening Concerts. During this same period he was the pianist and conductor for Gregor Piatigorsky and Jascha Heifetz.
In 1969, after winning the Koussevitzky Prize at Tanglewood, he was appointed Assistant Conductor of the Boston Symphony Orchestra. That year he also made his New York debut with the Boston Symphony and gained international recognition after replacing Music Director William Steinberg in mid-concert. He was later appointed Principal Guest Conductor of the Boston Symphony Orchestra where he remained until 1974. He was Music Director of the Buffalo Philharmonic from 1971 to 1979 and a Principal Guest Conductor of the Los Angeles Philharmonic from 1981 to 1985. His guest conducting includes appearances with the major orchestras of Europe and the United States.
His recorded repertoire of more than 120 discs includes works by composers such as Bach, Beethoven, Mahler, Prokofiev and Stravinsky as well as his pioneering work with the music of Charles Ives, Carl Ruggles, Steve Reich, John Cage, Ingolf Dahl, Morton Feldman, George Gershwin, John McLaughlin and Elvis Costello. He also recorded the complete orchestral works of Gustav Mahler with the San Francisco Symphony.
Mr. Tilson Thomas' television work includes a series with the London Symphony Orchestra for BBC Television, the television broadcasts of the New York Philharmonic Young People's Concerts from 1971 to 1977 and numerous productions on PBS' Great Performances. Mr. Tilson Thomas and the San Francisco Symphony produced a multi-tiered media project, Keeping Score, which includes a television series, web sites, radio programs and programs in schools.
In 1990 Mr. Tilson Thomas and the New World Symphony were presented in a series of benefit concerts for UNICEF in the United States, featuring Audrey Hepburn as narrator of From the Diary of Anne Frank, composed by Mr. Tilson Thomas and commissioned by UNICEF. This piece has since been translated and performed in many languages worldwide. In August 1995 he led the Pacific Music Festival Orchestra in the premiere of his composition Showa/Shoah, commemorating the 50th anniversary of the bombing of Hiroshima. Thomas Hampson premiered his settings of poetry by Walt Whitman, Renée Fleming premiered his settings of the poetry of Emily Dickinson and the San Francisco Symphony premiered his concerto for contrabassoon entitled Urban Legend. As a Carnegie Hall Perspectives Artist from 2003 to 2005, he had an evening devoted to his own compositions which included Island Music for four marimbas and percussion, Notturno for solo flute and strings and a new setting of poems by Rainer Maria Rilke. Other compositions include Street Song for brass instruments and Agnegram, an overture for orchestra.
Among his many honors and awards, Mr. Tilson Thomas is a Chevalier dans l'ordre des Arts et des Lettres of France, was Musical America's Musician of the Year and Conductor of the Year, Gramophone Magazine's Artist of the Year and has been profiled on CBS's 60 Minutes and ABC's Nightline. He has won 11 Grammy Awards for his recordings. In 2008 he received the Peabody Award for his radio series for SFS Media, The MTT Files. In 2010 President Obama awarded him the National Medal of Arts, the highest award given to artists by the United States Government.
Gabriela Montero, piano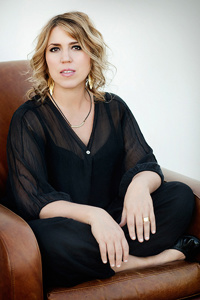 Gabriela Montero's visionary interpretations and unique improvisational gifts have garnered her critical acclaim and a devoted following on the world stage. Anthony Tommasini remarked in The New York Times that her "playing had everything: crackling rhythmic brio, subtle shadings, steely power…soulful lyricism…unsentimental expressivity."
A graduate and Fellow of the Royal Academy of Music in London, Ms. Montero has performed with many of the world's leading orchestras to date, including the Royal Liverpool, Rotterdam and Oslo philharmonic orchestras; Gewandhausorchester Leipzig, NDR Sinfonieorchester Hamburg, Zürcher Kammerorchester, Academy of St Martin in the Fields and Australian Chamber Orchestra; the Pittsburgh, Houston, Toronto, City of Birmingham, Barcelona, Lucerne and Sydney symphony orchestras; The Cleveland Orchestra, National Arts Centre Orchestra of Canada and orchestra of the Komische Oper Berlin.
Ms. Montero is an award-winning and bestselling recording artist. Her most recent album, released in 2015 on the Orchid Classics label, features Rachmaninov's Piano Concerto No. 2 and her first orchestral composition, Ex Patria, and won Ms. Montero her first Latin Grammy Award for Best Classical Album (Mejor Álbum de Música Clásica). Previous recordings include Bach and Beyond, which held the top spot on the Billboard Classical Charts for several months and garnered her two Echo Klassik Awards: the 2006 Keyboard Instrumentalist of the Year and 2007 Award for Classical without Borders. In 2008 she also received a Grammy Award nomination for her album Baroque, and in 2010 released Solatino, a recording inspired by her Venezuelan homeland and devoted to works by Latin American composers.
Ms. Montero made her formal debut as a composer with Ex Patria, a tone poem designed to illustrate and protest Venezuela's descent into lawlessness, corruption and violence. The piece was premiered in 2011 by the Academy of St Martin in the Fields. Her first full-length composition, Piano Concerto No. 1, "Latin", was first performed at the Leipzig Gewandhaus with the MDR Sinfonieorchester and conductor Kristjan Järvi. She gave subsequent performances of the work at the Klavier-Festival Ruhr and on tour with the Orquesta Sinfónica Nacional de Mexico and Carlos Miguel Prieto.
A committed advocate for human rights, whose voice regularly reaches beyond the concert hall, Ms. Montero was named an Honorary Consul by Amnesty International in 2015, and recognized with Outstanding Work in the Field of Human Rights by the Human Rights Foundation for her ongoing commitment to human rights advocacy in Venezuela. She was invited to participate in the 2013 Women of the World Festival at London's Southbank Centre and has spoken and performed twice at the World Economic Forum in Davos. She was also awarded the 2012 Rockefeller Award for her contribution to the arts and was a featured performer at Barack Obama's 2008 Presidential Inauguration.
Born in Venezuela, Ms. Montero gave her first public performance at the age of five. At age eight she made her concerto debut in her hometown of Caracas, which led to a scholarship from the government to study privately in the U.S. and then at the Royal Academy of Music London with Hamish Milne. She currently resides in Barcelona with her husband and two daughters.