Events & Tickets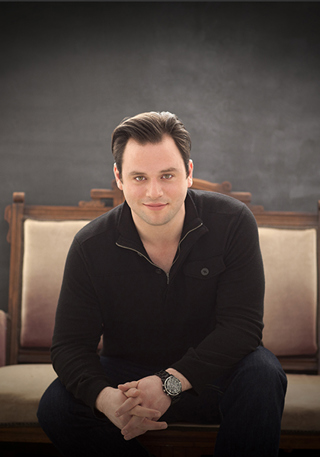 Chamber Music
SERENADE
New World Center, Michael Tilson Thomas Performance Hall
Enjoy the final chamber music concert of the season led by celebrated violinist Roberto González-Monjas. Equal parts virtuosic and amusing, Ludwig van Beethoven's piano trio is a clever spin on a song from Wenzel Müller's operetta The Sisters from Prague. Benjamin Britten explores the night—both its stillness and its shadows—in his ethereal Serenade featuring Metropolitan Opera tenor Paul Appleby and poetry by Alfred Lord Tennyson, William Blake, John Keats and more. At just 19, George Enescu masterfully composed one of the greatest string octets, blooming with late-Romantic harmonies, traces of folk music and a thrilling waltz finale.
Join select NWS Fellows at 1:00 PM for a special Pre-Concert Chat about the afternoon's program. For ticketholders only.
Program
Ludwig van Beethoven
(1770-1827)
Approx. Duration: 20 minutes

Variations on "Ich bin der Schneider Kakadu," Op. 121a (c. 1800; revised c. 1816)

Dean Zhang, piano
Benjamin Carson, violin
Hilary Glen, cello
Benjamin Britten
(1913-1976)
Approx. Duration: 26 minutes

Serenade for Tenor, Horn and Strings, Op. 31 (1943)

Prologue
Pastoral
Nocturne
Elegy
Dirge
Hymn
Sonnet
Epilogue
Paul Appleby, tenor; Josh Cote, horn
Roberto González-Monjas, Zubaida Azezi,
Alex Gonzalez, Jennise Hwang, 
Peiming Lin, Jessica Ryou, violin I   
Maya Cohon, Christen Greer, Gregory Cardi, Nathaniel Wolkstein, Jo Hyung Shin,
Sodam Lim, violin II
Jane Mitchell, Jesse Yukimura,
Hannah Nicholas, Caroline Gilbert,
Helen Hess, viola
Meredith Bates, Ian Greenberg,
Jacob Hanegan, Alan Ohkubo, cello
Jonathan Reed, Andrea Beyer, bass
Georges Enescu
(1881-1955)
Approx. Duration: 39 minutes

Octet in C major for Strings, Op. 7 (1900)

Very moderate
Very fiery
Slowly
Rhythmical waltz movement
Roberto González-Monjas, violin I
George Millsap, violin II
Jennifer Hsieh, violin III
Michael McCarthy, violin IV
Jarrett Threadgill, viola I
Andrew François, viola II
Michael Frigo, cello I
Alexa Ciciretti, cello II
Ludwig van Beethoven
Variations on "Ich bin der Schneider Kakadu," Op. 121a (c. 1800; revised c. 1816)

Approximate duration: 20 minutes
For a composer in Beethoven's day, writing a set of variations on a popular tune was the equivalent of recording a cover song, ensuring some instant familiarity and marketability. Beethoven did plenty of this early in his career, like when he borrowed Mozart's "Là ci darem la mano" from Don Giovanni for a set of woodwind variations from 1795. We don't know exactly when Beethoven crafted his Variations on "Ich bin der Schneider Kakadu", but it was likely to have been around 1800. He adapted the melody from a popular Singspiel, a type of comedy performed in German with a mix of spoken dialogue and songs, akin to today's Broadway musicals. The composer Wenzel Müller had debuted The Sisters from Prague in 1794, introducing Viennese audiences to the silly but memorable song that begins, "Ich bin der Schneider Kakadu" ("I am the tailor, Cockatoo").
Beethoven wrote out the earliest surviving manuscript of his "Kakadu" Variations for piano trio around 1816 (not long after a revival of Müller's show in Vienna), at which point he presumably updated and revised his original version. He arranged for the score to be published in 1824, indicating that he still stood by this tongue-in-cheek effort produced decades earlier.
The trio of piano, violin and cello prefaces the theme with a long introduction in G-minor of the utmost seriousness.
After much suspense, the piano finally unveils the "Kakadu" tune in dry, pecking chords.
Beethoven being Beethoven, he finds the most sublime possibilities within this trifle of a melody, especially in the slow, minor-key setting of the ninth variation.
The tenth and final variation turns into a glorious fugue that leads to a grand coda.
Additional Resources
PDF score from the IMSLP Petrucci Music Library
Another early example of Beethoven variations on a popular opera excerpt
Benjamin Britten
Serenade for Tenor, Horn and Strings, Op. 31 (1943)

Approximate duration: 26 minutes
Benjamin Britten left England in 1939, evading the specter of war, some troubling romantic attachments and an uncertain musical future. He passed through Canada, visited briefly with Aaron Copland and then spent three years around New York, first on Long Island and later in Brooklyn Heights, in a house he shared with the poet W. H. Auden. Britten's traveling companion was the tenor Peter Pears, and in those years their relationship blossomed into a lifelong romance and one of the most fruitful musical exchanges of the century.
Upon returning home in 1942, Britten was spared the jail time he might have faced as a conscientious objector, but he did lose a few months of productivity after he contracted measles. While he recuperated in a small riverside village in Suffolk, he created his first major work designed to feature Pears' voice, the Serenade for Tenor, Horn and Strings.
Britten's title of Serenade recalls the type of amiable music Mozart produced so effectively to entertain his patrons during evening gatherings. Before the songs begin, the Prelude for unaccompanied horn establishes a spacious and timeless atmosphere. The unusual intonation is the result of the horn playing only natural overtones, a technique that predated the valves used on modern horns. Britten wrote this part expressly for Dennis Brain, a 22-year-old virtuoso who revitalized the horn as a solo instrument.
The texts of the Serenade's six songs also delve into the past, from an anonymous 15th-century dirge to a nostalgic "Nocturne" by the 19th-century poet Alfred, Lord Tennyson. The Tennyson text, with its exhortations of "Blow, bugle, blow" and its descriptions of "echoes flying," gave Britten an opening to engage the tenor and horn in some overt word painting.
Much of the Serenade dwells in darkness, including the songs labeled "Elegy" and "Dirge." The heading of "Hymn" might seem to suggest more somber, church-like music, but the text is actually Ben Jonson's Hymn to Diana, the Roman goddess of the hunt, and the horn bounds about in lively phrases that recall the instrument's role in hunting parties.
A setting of a gloomy sonnet by John Keats rounds out the cycle of songs. Finally, the horn repeats its earlier solo as an Epilogue, but this time it plays from offstage, adding even more dimension to this work's sense of time and space.
Additional Resources
Online score from Boosey & Hawkes (free login required)
Comparative review of recordings of the Serenade, including two featuring Pears
Information on Peter Grimes, Britten's first opera, which followed soon after the Serenade and also featured the voice of Peter Pears
Georges Enescu
Octet in C major for Strings, Op. 7 (1900)

Approximate duration: 39 minutes
George Enescu was a child prodigy who began playing violin at age four and composing at age five. At seven, he left his native Romania for a conservatory in Vienna, and at 14 he enrolled at the Paris Conservatory, where he studied with Massenet and Fauré. Enescu had already graduated and was still only 18 when he composed the Octet for Strings, which he dedicated to his counterpoint instructor, André Gédalge. Enescu finished the score in 1900, but it took another five years to secure a publisher, and the premiere was delayed until an all-Enescu recital in Paris in 1909.
Enescu's Octet is laid out in an ambitious structure of symphonic dimensions. The four main sections correspond to the typical four movements of a symphony, and yet they also link together to form one composite movement stretching to some 40 minutes. The combined forces of the two string quartets, rather than functioning as individual voices, tend to gather into orchestral masses of sound. (Enescu even specified that it could be played by a string orchestra, as long as the more song-like melodies were still entrusted to soloists.) The opening melody, voiced in octaves over a cello drone, establishes the broad dimensions and Romanian flavor of the Octet.
Even the range of the ensemble extends beyond the usual limits, when the second cello part needs to temporarily retune the lowest string down a half-step to support a muted restatement of the opening theme.
The second section, labeled Très fougueux ("Very fiery"), fills the function of a scherzo. A theme that enters after about 45 seconds proves the cyclical nature of the Octet; it is another variant of the very first theme, this time working through the ensemble in fugal counterpoint.
The third main section, marked Lentement ("Slowly"), begins with the muted strings presenting a new take on the unifying motive. The telltale fragment is a rise and fall the distance of a third, set to a dotted rhythm.
A quivering transitional passage, again based on the central theme, links from the slow third section to the fast conclusion, which emerges stealthily into the steady three-beat pulse of a waltz.
By this point, it is no surprise that the all-important theme will return, but how and where it might arise keeps the ear on alert. In one contrapuntal passage of heavily accented bow strokes, for instance, the motto theme counters with broad slurs.
Additional Resources
PDF score from the IMSLP Petrucci Music Library
Website of the International Enescu Society
Recording of Enescu playing solo Bach on the violin
-- Copyright © 2017 Aaron Grad
Aaron Grad is a composer, guitarist and writer based in Seattle. Besides providing program notes for the New World Symphony, he has been the Orpheus Chamber Orchestra's program annotator since 2005 and also contributes notes to the Saint Paul Chamber Orchestra and Seattle Symphony.
Audio clips provided by Naxos of America, Inc. 
Roberto González-Monjas, violin/leader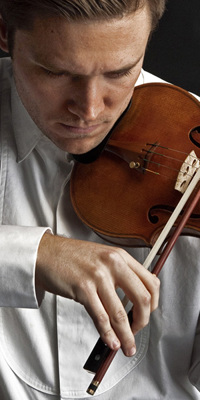 Praised for his versatility and engagement in a broad span of projects and musical areas, Roberto González-Monjas has quickly become a sought-after musician with an exciting career. He is the Concertmaster of the Orchestra dell'Accademia Nazionale di Santa Cecilia in Rome and the Musikkollegium Winterthur, as well as a professor at the Guildhall School of Music & Drama in London and Artistic Director of Iberacademy, the Iberamerican Philharmonic Academy.  
Mr. González-Monjas' busy schedule includes regular activity conducting and directing orchestras such as Orchestre de l'Opéra National de Bordeaux Aquitaine, Verbier Festival Chamber Orchestra, Orquesta Sinfónica de Castilla y León, New World Symphony and Medellín Philharmonic Orchestra. In the 2017-18 season he will direct the Musikkollegium Winterthur in an Asian tour with Andreas Ottensamer, as well as the Iberacademy Orchestra in its European tour with Rolando Villazón, including concerts in Lucerne and the Mozarteum Stiftung in Salzburg. 
Mr. González-Monjas is fortunate to make music with extraordinary artists such as Ian Bostridge, Yuja Wang, Ana Chumachenco, Thomas Quasthoff, Alexander Lonquich, Andreas Ottensamer, Daniil Trifonov, András Schiff, Fazil Say, Barnabás Kelemen, Katalin Kokas and Kit Armstrong. His close collaboration with composer Richard Dubugnon has resulted in a new Violin Concerto, which Mr. González-Monjas will premiere in May 2018. 
Mr. González-Monjas' variety of styles and interests is also displayed in his recording debuts: his CD with Serenades by Mozart and Othmar Schoeck, directing and playing as a soloist with the Musikkollegium Winterthur has been released by Claves Records; his contribution as a soloist in Bach's Brandenburg Concertos with the Berlin Baroque Soloists and Reinhard Goebel will be released by Sony Classical. 
Mr. González-Monjas is a regular guest at the Verbier Festival, collaborates with the Mozarteum Stiftung in Salzburg, Philharmonia Orchestra, Berlin Radio Symphony Orchestra, Berliner Barock Solisten, Camerata Salzburg, Les Musiciens du Louvre, and he is the Artist in Residence of the Castilla y León Symphony Orchestra in Valladolid, his hometown in Spain.  
Mr. González-Monjas has been deeply influenced by musical contact with Serguei Fatkulin, Igor Ozim, David Takeno, Reinhard Goebel, Ana Chumachenco, Leonidas Kavakos, Christian Tetzlaff, Gabor Takacs-Nagy, Charles Dutoit, Rainer Schmidt, András Schiff and Ferenc Rados. 
Mr. González-Monjas plays a violin built by Giuseppe Guarneri 'filius Andreae' in 1710, thanks to the generosity of five Winterthur families and the Rychenberg Stiftung.
Paul Appleby, tenor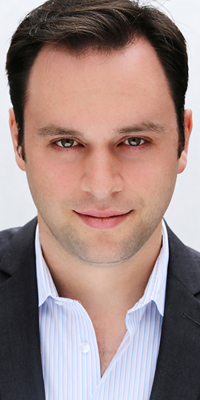 Admired for his interpretive depth, vocal strength and range of expressivity, rising star tenor Paul Appleby is one of the sought-after voices of his generation. A versatile artist, he is equally in demand on the world's leading concert, recital and opera stages.
Following a summer season that featured Mr. Appleby at Glyndebourne in the title role of a new production by Laurent Pelly of Béatrice et Bénédict, the tenor's 2016-17 opera diary includes Metropolitan Opera performances of Don Giovanni, a debut at the Dutch National Opera in The Abduction from the Seraglio and a debut at the Festival d'Aix-en-Provence in a new production of The Rake's Progress conducted by Daniel Harding and directed by Simon McBurney. A robust concert calendar brings the artist together with David Zinman and the Bamberger Symphoniker for Elgar's The Dream of Gerontius, and with Jeffrey Kahane and the Los Angeles Chamber Orchestra for Beethoven's Ninth Symphony.
Last season Mr. Appleby sang The Abduction from the Seraglio at the Metropolitan Opera conducted by James Levine and made debuts at Glyndebourne in a new production by Barrie Kosky of Handel's Saul conducted by Ivor Bolton, and at the San Francisco Opera in The Magic Flute led by Lawrence Foster. Concert performances featured collaborations with Manfred Honeck and the Pittsburgh Symphony, Gustavo Dudamel and the Los Angeles Philharmonic and Jane Glover on the podium of the New York Philharmonic.
Profoundly committed to the art of song, Mr. Appleby made his Wigmore Hall recital debut last season accompanied by Malcolm Martineau and toured North America with pianist Ken Noda under the auspices of Carnegie Hall, Boston's Celebrity Series, Friends of Chamber Music of Miami and the University of Notre Dame. With Steven Blier and the New York Festival of Song, he surveyed the exquisite lyricism of Franz Schubert and The Beatles.
Recent highlights also include Metropolitan Opera performances as Tom Rakewell in The Rake's Progress conducted by James Levine and the lead role of Brian in the North American premiere of Nico Muhly's Two Boys conducted by David Robertson. Company debuts have included the Santa Fe Opera in Offenbach's The Grand Duchess of Gerolstein, the Canadian Opera Company in Così fan tutte and Washington National Opera in Mozart's The Magic Flute.
Mr. Appleby's discography includes projects for Delos, Virgin Classics, Opus Arte, EMI's Juilliard Sessions and Nonesuch. Nico Muhly's opera, Two Boys, released by Nonesuch was recorded live by the Metropolitan Opera and a DVD of Glyndebourne's acclaimed presentation of Handel's Saul was released commercially by Opus Arte. Delos released Dear Theo; the first album dedicated solely to works by American composer Ben Moore. It features Mr. Appleby's performance of the song cycle from which the album takes its name accompanied by Brian Zeger, as well as the bonus track, Mr. Moore's widely performed setting of W.B. Yeats poem, "The Lake Isle of Innisfree."
Mr. Appleby is a graduate of the Metropolitan Opera's Lindemann Young Artist Development Program and received the 2012 Leonore Annenberg Fellowship in the Performing and Visual Arts. Other awards include the 2012 Top Prize by the Gerda Lissner Foundation, 2012 Martin E. Segal Award from Lincoln Center, 2011 Richard Tucker Career Grant and George London Foundation Award and National Winner of the 2009 Metropolitan Opera National Council Auditions.
A recipient of an artist diploma in opera studies at The Juilliard School, Mr. Appleby has also received a master's degree from Juilliard and a bachelor's degree in English literature and music from the University of Notre Dame.
Josh Cote, horn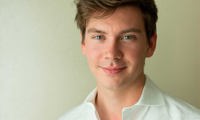 Josh Cote, a native of rural Illinois, is a second-year Horn Fellow at the New World Symphony. He is consistently exploring music performance and the broader entertainment industry in hopes of forging a brighter future for classical music. An accomplished horn player, he has performed with the Los Angeles Philharmonic, Saint Paul Chamber Orchestra and Dallas Symphony under renowned conductors such as Michael Tilson Thomas, Gustavo Dudamel, Sir Neville Marriner and Peter Oundjian. Outside of classical music, Mr. Cote learned how music is produced and placed into movies and television from some of Los Angeles' best music supervisors at Cutting Edge Group and Warner Music Group. Having explored different aspects of the music and entertainment industry, he has become passionate about the power and necessity of experiential branding in classical music's path forward.
Mr. Cote's education has taken him across the globe. He began his music studies at Southern Methodist University in Dallas studying with Greg Hustis, and spent a winter in Oslo, Norway studying with Frøydis Wekre before moving to Los Angeles, where he studied at the Colburn School with Andrew Bain, Principal Horn of the Los Angeles Philharmonic and Guest Principal Horn of the Berlin Philharmonic. Mr. Cote has designed logos and image assets for music licensing companies and maintains a side hustle producing graphic content for a wedding invitation firm. Although music is his calling, he loves graphic design, squash and mountain climbing.
Musicians of the New World Symphony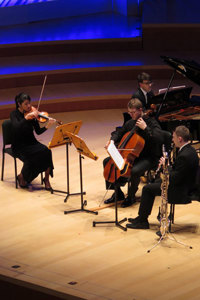 A laboratory for the way music is taught, presented and experienced, the New World Symphony consists of 87 young musicians who are granted fellowships lasting up to three years. The fellowship program offers in-depth exposure to traditional and modern repertoire, professional development training and personalized experiences working with leading guest conductors, soloists and visiting faculty. 
NWS Fellows take advantage of the innovative performance facilities and state-of-the art practice and ensemble rooms of the Frank Gehry-designed New World Center, the campus of the New World Symphony and home of the Knight New Media Center.
In the hopes of joining NWS, nearly 1,000 recent music school and conservatory graduates compete for available fellowships each year. The Fellows are selected for this highly competitive, prestigious opportunity based on their musical achievement and promise, as well as their passion for the future of classical music.