Events & Tickets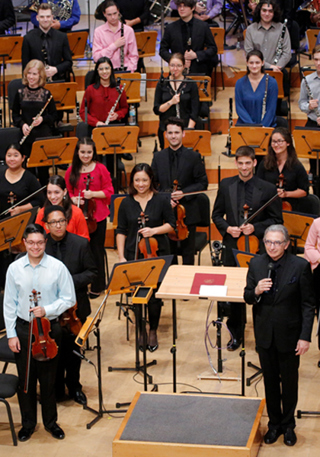 Special Event
SIDE-BY-SIDE CONCERT
New World Center
Saturday, April 13 at 8:00 PM
Program
The Side-by-Side Concert is an extraordinary opportunity for young instrumentalists (grades 7-12) to perform alongside the New World Symphony Fellows. The students share the New World Center's stage and develop musical relationships with the Fellows as they rehearse and perform music of the highest caliber. The students have been selected through auditions from different schools and organizations, including students from Medellín, Colombia.
A limited number of tickets will be available to the public in order to accommodate the students, their families and support networks. Contact the Box Office at 305.673.3331 for more information.
This concert is sponsored in part by the Robert and Jane Toll Foundation, The Cowles Charitable Trust, and The Guston Foundation.
PLEASE NOTE: The WALLCAST® Concert transmission of this performance is cancelled. Click here to watch this event live on Facebook or MUSAIC.
Tickets no longer available online.
Program
William Schuman
(1910-1992)

George Washington Bridge for Concert Band (1950)

Samuel Barber
(1910-1981)

Adagio for Strings (1936-38)

Wolfgang Amadeus Mozart
(1756-1791)

Concerto in B-flat major for Bassoon and Orchestra, K. 191  (1774)

Pyotr Ilyich Tchaikovsky
(1840-1893)

Symphony No. 2 in C minor, Op. 17, "Little Russian" (1872; revised 1879-80)

Andante sostenuto – Allegro vivo
Andantino marziale quasi Moderato
Scherzo: Allegro molto vivace
Finale: Moderato assai – Allegro vivo
Michael Tilson Thomas, conductor
Michael Tilson Thomas is Co-Founder and Artistic Director of the New World Symphony, America's Orchestral Academy; Music Director of the San Francisco Symphony; and Conductor Laureate of the London Symphony Orchestra. In addition to these posts, he maintains an active presence guest conducting with the major orchestras of Europe and the United States.
Born in Los Angeles, Mr. Tilson Thomas is the third generation of his family to follow an artistic career. His grandparents, Boris and Bessie Thomashefsky, were founding members of the Yiddish Theater in America. His father, Ted Thomas, was a producer in the Mercury Theater Company in New York before moving to Los Angeles where he worked in films and television. His mother, Roberta Thomas, was the head of research for Columbia Pictures.
Mr. Tilson Thomas began his formal studies at the University of Southern California where he studied piano with John Crown and conducting and composition with Ingolf Dahl. At age 19 he was named Music Director of the Young Musicians Foundation Debut Orchestra. He worked with Stravinsky, Boulez, Stockhausen and Copland on premieres of their compositions at Los Angeles' Monday Evening Concerts. During this same period he was the pianist and conductor for Gregor Piatigorsky and Jascha Heifetz.
In 1969, after winning the Koussevitzky Prize at Tanglewood, he was appointed Assistant Conductor of the Boston Symphony Orchestra. That year he also made his New York debut with the Boston Symphony and gained international recognition after replacing Music Director William Steinberg in mid-concert. He was later appointed Principal Guest Conductor of the Boston Symphony Orchestra where he remained until 1974. He was Music Director of the Buffalo Philharmonic from 1971 to 1979 and a Principal Guest Conductor of the Los Angeles Philharmonic from 1981 to 1985. His guest conducting includes appearances with the major orchestras of Europe and the United States.
His recorded repertoire of more than 120 discs includes works by composers such as Bach, Beethoven, Mahler, Prokofiev and Stravinsky as well as his pioneering work with the music of Charles Ives, Carl Ruggles, Steve Reich, John Cage, Ingolf Dahl, Morton Feldman, George Gershwin, John McLaughlin and Elvis Costello. He also recorded the complete orchestral works of Gustav Mahler with the San Francisco Symphony.
Mr. Tilson Thomas' television work includes a series with the London Symphony Orchestra for BBC Television, the television broadcasts of the New York Philharmonic Young People's Concerts from 1971 to 1977 and numerous productions on PBS' Great Performances. Mr. Tilson Thomas and the San Francisco Symphony produced a multi-tiered media project, Keeping Score, which includes a television series, web sites, radio programs and programs in schools.
In 1990 Mr. Tilson Thomas and the New World Symphony were presented in a series of benefit concerts for UNICEF in the United States, featuring Audrey Hepburn as narrator of From the Diary of Anne Frank, composed by Mr. Tilson Thomas and commissioned by UNICEF. This piece has since been translated and performed in many languages worldwide. In August 1995 he led the Pacific Music Festival Orchestra in the premiere of his composition Showa/Shoah, commemorating the 50th anniversary of the bombing of Hiroshima. Thomas Hampson premiered his settings of poetry by Walt Whitman, Renée Fleming premiered his settings of the poetry of Emily Dickinson and the San Francisco Symphony premiered his concerto for contrabassoon entitled Urban Legend. As a Carnegie Hall Perspectives Artist from 2003 to 2005, he had an evening devoted to his own compositions which included Island Music for four marimbas and percussion, Notturno for solo flute and strings and a new setting of poems by Rainer Maria Rilke. Other compositions include Street Song for brass instruments and Agnegram, an overture for orchestra.
Among his many honors and awards, Mr. Tilson Thomas is a Chevalier dans l'ordre des Arts et des Lettres of France, was Musical America's Musician of the Year and Conductor of the Year, Gramophone Magazine's Artist of the Year and has been profiled on CBS's 60 Minutes and ABC's Nightline. He has won 11 Grammy Awards for his recordings. In 2008 he received the Peabody Award for his radio series for SFS Media, The MTT Files. In 2010 President Obama awarded him the National Medal of Arts, the highest award given to artists by the United States Government.
Julian Gonzalez, bassoon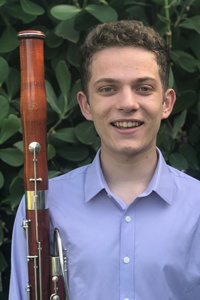 Julian Gonzalez is an 18-year-old bassoonist and saxophonist who was born and raised in Miami. He began playing alto saxophone in second grade and started playing bassoon two years later in his elementary school's band. Currently, he is a senior at New World School of the Arts, where he participates in its orchestra, wind ensemble and jazz band. He has studied with Dr. Carlos Felipe Viña since 2016 and plans to pursue a career as an orchestral bassoonist.
Mr. Gonzalez has been selected for Florida All-State Bands/Orchestra for six consecutive years. In 2017 he was selected as a winner of the New World School of the Arts' Annual Concerto Competition. Later in 2017 he was selected for Carnegie Hall's NYO2 summer orchestral training program, which was led by Giancarlo Guerrero. In 2018 Mr. Gonzalez played jazz bassoon and saxophone as a member of the Thelonious Monk Institute of Jazz Peer-to-Peer Sextet and was awarded the Fennell Scholarship by the Interlochen Arts Academy. He was selected for the 2018 National Youth Orchestra of the United States of America led by Michael Tilson Thomas, which toured Asia. Also that year, he was awarded second place in the 2018 New World Symphony Side-By-Side Concerto Competition. In 2019 Mr. Gonzalez was named a YoungArts Merit Award Winner in jazz tenor saxophone and was again selected for the National Youth Orchestra, this time to tour Europe under the baton of Sir Antonio Pappano and beside mezzo-soprano Joyce DiDonato.
Mr. Gonzalez lives 40 minutes south of the New World Center in Palmetto Bay with his parents, Adolfo and Cristina, brother Diego and dog Chloe. Apart from music, he enjoys learning about computer technology and exploring audio technology and producing. His favorite sports are soccer and ultimate.
Dean Whiteside, conductor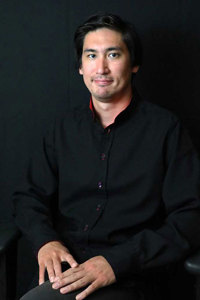 Dean Whiteside was born in New York City and trained in Vienna at the University of Music and Performing Arts. He is in his third season as the New World Symphony's Conducting Fellow, where he leads a variety of performances and serves as assistant to Artistic Director Michael Tilson Thomas. Mr. Whiteside is founder and director of the Nashville Sinfonietta, hailed by The Tennessean as "a virtuoso band." He opened the Blair School of Music's 2013-14 season directing a multimedia realization of Haydn's Seven Last Words of Our Savior on the Cross called "innovative" by The Tennessean and "deeply meditative and satisfyingly original" by ArtsNash. 
Mr. Whiteside's European debut came in 2011 after winning the Jorma Panula Blue Danube Masterclass and Competition. He has conducted orchestras such as the Boston Symphony, Danish National Symphony, Jacksonville Symphony, Juilliard Orchestra, Opéra Orchestre National Montpellier, Orlando Philharmonic, Polish Baltic Philharmonic, Sibiu Philharmonic, Tonhalle Orchestra Zurich, Tokyo Philharmonic, Wiener Kammerorchester and Zagreb Philharmonic, as well as the Vanderbilt Orchestra on a five-city tour of China. He has served as Cover Conductor to the Dallas Symphony and San Francisco Symphony.
Mr. Whiteside is the winner of the American Prize in Conducting and received second prize and the Zagreb Philharmonic Orchestra Award at the Sixth International Competition of Young Conductors Lovro von Matačić. Other awards include the 2017 Mahler Conducting Fellowship, Bruno Walter Memorial Foundation Conducting Scholarship, Croatian Composers' Society Award, David Effron Conducting Fellowship, Bayreuth Festival Scholarship and David Rabin Performance Prize. He has received fellowships from the Aspen Music Festival, Atlantic Music Festival, Cabrillo Festival of Contemporary Music and Castleton Festival.
Mr. Whiteside has worked closely with such conductors as Bertrand de Billy, Fabio Luisi, Lorin Maazel, Jun Märkl, Kurt Masur, Jorma Panula, Leonard Slatkin and Robert Spano. He began his conducting studies with Robin Fountain at Vanderbilt University.
2019 Side-by-Side Musicians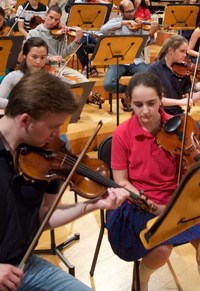 The students performing in the 2019 Side-by-Side Concert represent the following schools and programs: Alexander W. Dreyfoos School of the Arts, American Heritage School, Arvida Middle School, Carnegie Hall's NYO, Coral Reef Senior High, Coral Springs High School, Dillard Center for the Arts, Homeschool, Iberacademy, J.P. Taravella High School, Marjory Stoneman Douglas High School, Martin County High School, Miami Arts Charter School, Miami Northwestern Senior High, Nashville Symphony's Accelerando Program, New World School of the Arts, Norfolk Christian Schools, North Broward Preparatory School, Pine View School, Pompano Beach High School, Ransom Everglades, South Miami Middle Community School and The King's Academy.
VIOLIN
Isabela Diaz
Gabriel Esperòn
Ashley Gomez
Laura Gonzalez
Ava Gunter
Brooke Gunter
Sophia Molina
Valentina Paolucci
Biana Pinchuk
Angela Ramirez
Sahana Shravan
Andrés Julián Rojas Sol
Eliza Willett
VIOLA
Robert Fornos
Jack Kessler
Laura Liu
Emily Martinez-Perez
Adam Savage
Sophia Torres
CELLO
Jonathan Entenza
Jack Gallahan
Brandon Gunter
Anthony De Pena
BASS
Andrés Gaviria Correa
Alexander Gay
Shane Savage
FLUTE
Rebekah Laflin 
Charlotte Strohl
Marion Warfel 
OBOE
Michał Cieślik
Elizabeth Perez-Hickman   
Manuel Sebastián Muñoz Loaiza 
CLARINET
Angelo Ciriello
*Jason Gluck
*Jake Heller
Cameron Leonardi
BASSOON
Joseph Chiet
Julian Gonzalez
SAXOPHONE
*Deylon Camacho
*Justin Gilleard
*Jordan Ahmedi
*Fernanda Sazo
HORN
Lina Patricia Gómez Córdoba
Robert Csete
Harrison Lam
Isaac Sepulveda
*Shane Starman
TRUMPET
Troy Archer
*Sonya Carrillo   
Forrest Johnston
Raul Orellana
TROMBONE
Angelo Coelho
Luis Cortez
Jorge Mario Herrera Zapata
EUPHONIUM
*Roel Arazo
*Jarnoris Cornelius
TUBA
*Justin Franklin
Justin Gruber
PERCUSSION/TIMPANI
Christian Bartholomew
Griffin Miller
* Musicians performing George Washington Bridge