Events & Tickets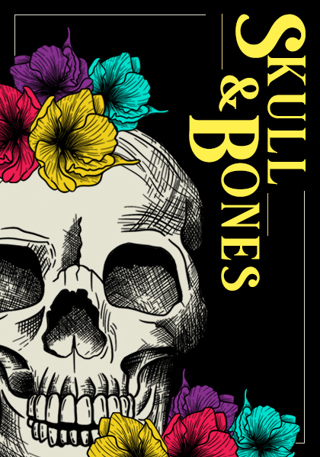 Special Event
SKULL & BONES: LATE NIGHT AT THE NEW WORLD SYMPHONY
New World Center
Friday, November 1 at 9:00 PM
From classical music's own Dr. Frankenstein—who previously mashed Brahms with Radiohead, Tchaikovsky with Drake, Beethoven with Coldplay and Bartók with Björk—comes a dark and twisted Late Night at the New World Symphony. Visionary artist Steve Hackman blurs the lines of classical and pop music with this new program devoted to all things Halloween. Conjure your friends for this hybrid concert featuring dancing, DJ sets, dynamic lighting and videos, and signature potions to be enjoyed with the music. 
AFTER PARTY DETAILS
This is one night you won't want to end! So, keep the party going at the National Hotel (1677 Collins Ave). Skull and Bones ticketholders will enjoy free admission and a welcome prosecco, and $10 signature Skull and Bones cocktails from 11:00 PM to 2:00 AM. The historic art deco property will be transformed into the National Haunted Hotel complete with Día de los Muertos theme, providing all of the ghostly vibes and fun spirits (the liquid kind!) you'll need!
Costumes encouraged! No functional props or weapons, including metal swords, will be permitted. Attendees must pass security screenings to enter.
Knight Foundation and New World Symphony: Reimagining Classical Music in the Digital Age
Program

SET ONE:
Gustav Holst: Part of a wave of British composers in the early 20th century who put England back on the musical map; also an amateur astrologist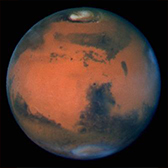 Mars, The Bringer of War from The Planets:
The war drums beat for the blood-red planet, named after Rome's most merciless god.
George Crumb: American composer; wrote some of the most fantastical chamber music of the '60s and '70s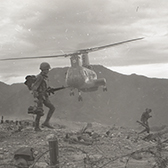 Threnody I: Night of the Electric Insects from Black Angels:
Amplification heightens every terrifying sound from the string quartet; an anguished reaction to the Vietnam War
Mason Bates: Young(ish) American composer; known for writing and performing laptop parts in his orchestral music; Grammy Award-winner for Steve Jobs opera; moonlights as DJ Masonic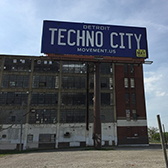 Warehouse Medicine from The B-Sides:
EDM meets the orchestra; inspired by Detroit's abandoned warehouses, where techno was born
Dmitri Shostakovich: Soviet composer; tormented by state control of artists; obsessed with four notes that formed his music signature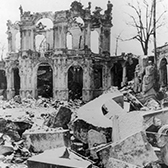 Mvt. II (Allegro molto) from Chamber Symphony, Op. 110a:
Arranged by Rudolf Barshai
Composed in bombed-out Dresden; self portrait in a state of mortal terror
Paul Dukas: French composer and journalist; this 1897 tone poem made him a one-hit wonder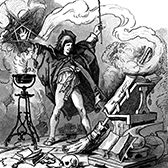 The Sorcerer's Apprentice:
Story by Goethe, immortalized by Fantasia; a novice loses control of magical forces
SET TWO:
Domenico Scarlatti: Baroque keyboard wizard; Italian who entertained royalty in Spain and Portugal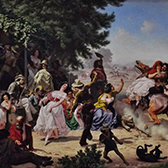 Fandango:
A steamy couple's dance from Spain; one rhythmic pattern, two chords, infinite ways to show off
Modest Mussorgsky: Semi-pro Russian Romantic; more intuitive than cerebral; drank himself to death at 41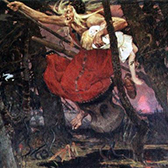 The Hut on Fowl's Legs (Baba Yaga) from Pictures at an Exhibition:
Based on a folk tale; a witch flies around in a mortar, grinding up human bones and eating them.
Michael Daugherty: American composer; known for combining American cultural references with vivid orchestral colors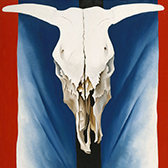 Bone from Ghost Ranch:
Named for Georgia O'Keeffe's remote New Mexico ranch, a place littered with bleached animal bones that ended up in her paintings
Camille Saint-Saëns: French piano and organ virtuoso; composer of major operas, symphonies, and concertos; rolling over in his grave now that he is known mainly for Carnival of the Animals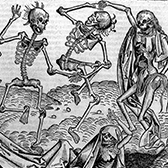 Danse macabre:
Death himself (played by a detuned violin) brings skeletons to life for a Halloween dance party
Krzysztof Penderecki: Polish composer; broke through with Threnody (to the Victims of Hiroshima) from 1960, using 52 string players to express apocalyptic angst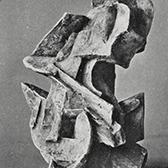 Mvt. VII (Scherzo) from Suite for Solo Cello:
Dark and obsessive humor from Poland's living legend, riffing on a genre perfected by Bach
© 2019 Aaron Grad
Aaron Grad is a composer, guitarist and writer based in Seattle. Besides providing program notes for the New World Symphony, he has been the Orpheus Chamber Orchestra's program annotator since 2005 and also contributes notes to the Saint Paul Chamber Orchestra and Seattle Symphony.
Steve Hackman, conductor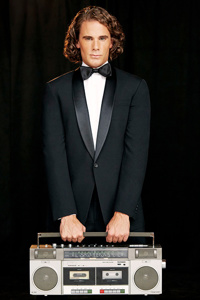 A musical visionary of incomparable gifts, Steve Hackman is a daring voice leading the charge among a new generation of classical musicians intent on redefining the genre. Equally adept in classical and popular forms, his breadth of musical fluency and technique is uncanny- he is at once a composer, conductor, producer, DJ, arranger, songwriter, singer, pianist, and even rapper. He uses those wide-ranging abilities to create ingenious hybrid compositions that blur the lines between high and pop art and challenge our very definitions thereof. 
Hackman's unique style of musical metamorphosis sees modern musical techniques applied to the classical repertoire and vice versa. The result is evocative hybrid works that are both derivative yet wholly original. He synthesizes Brahms and Radiohead, Bartók and Björk, and Tchaikovsky and Drake into epic orchestral tone-poems; re-imagines Stravinsky and Shostakovich into original orchestral-electronic concept albums; samples Verdi and Debussy and interpolates them into hip-hop tracks; writes songs with hidden melodies of Beethoven embedded.
His performances of these pieces have surprised and thrilled diverse sellout audiences across the country, including with the orchestras of Seattle, Pittsburgh, the Boston Pops, Nashville, Oregon, Indianapolis, Grand Rapids, Columbus, Charlotte, Florida, Alabama, and the Colorado Music Festival. 
In May of 2018 Hackman's dream of assembling an orchestra of like-minded, creative virtuosos became a reality with the debut concert of STEREO HIDEOUT: BROOKLYN at the Kings Theatre. Of the evening's main piece Brahms V. Radiohead, Grammy.com wrote, 'Hackman re-composed and compiled something so creative and special yet so natural and real'. Stereo Hideout is a hand-picked ensemble of the creme de la creme of young classical musicians in New York City, many of whom are multi-genre composers, arrangers, songwriters, and musical disruptors themselves. Their concerts will continue to feature Hackman's hybrid and original works, guest artists, as well as showcase projects of the orchestra members.
Upcoming engagements for Hackman include debuts with the Colorado Symphony and Calgary Philharmonic, as well as returns to Seattle, Oregon, Nashville, Indianapolis and others. In October he will debut his newest creation, West Side X West Side, an orchestral/hip-hop synthesis of Bernstein's West Side Story and the music of West Coast rappers Dr. Dre, Snoop Dogg, Tupac, Ice Cube, Warren G, Kendrick Lamar, and more.
On January 25, 2018, Hackman premiered his choral treatment of Bob Dylan, a fifteen-song, 70-minute anthology entitledThe Times They Are A-Changin', with the Mendelssohn Choir of Pittsburgh. The piece was commissioned by six American choirs. In March 2018 he performed Brahms V. Radiohead in Lakeland and Fort Myers, Florida, and Tchaikovsky V. Drake with the Nashville Symphony. He began January 2018 with Brahms V. Radiohead at the Oregon Symphony, and later in the month released the new STEREO HIDEOUT album The Gates Unknown, which features a full orchestra of musicians from Hackman's alma mater Curtis Institute of Music, as well as Louisville-based artist and rapper 1200.
In June 2017, Hackman made his debut with the Boston Pops, conducting four concerts of a programm titled, "Beatles & Beyond." He returned to the Pittsburgh Symphony for a concert later in June, and premiered his latest mashup with the Colorado Music Festival in July, titled Mashupalooza––a trip through an imaginary music festival where both classical and popular artists perform together.
From 2015-17, Hackman served as creative director and conductor of FUSE@PSO, a genre-defying series at the Pittsburgh Symphony that has introduced the symphony and its repertoire to thousands of new listeners. The series has received accolades from the Pittsburgh Post Gazette, Tribune-Review, Pittsburg Quarterly  magazine, Whirl magazine, Table magazine, Next Pittsburgh and Made in PGH. On March 8, 2017, KDKA-TV's Pittsburgh Today Live led with the story "Pittsburgh Symphony's FUSE Series getting rave reviews." On March 22, 2017, Hackman led the Pittsburgh Symphony in a sold out concert of his Tchaikovsky V. Drake. Hackman's work as an artistic innovator was recently recognized by an invitation to speak at the TedX Conference.
From 2013 to 2015, Hackman was music director of the "Mash-Up" series at the Colorado Music Festival. From 2009 to 2013, Hackman served as co-creative director of the Happy Hour at the Symphony Series with the Indianapolis Symphony, where, along with co-artistic directors Time For Three, he pioneered a new type of concert experience by producing, arranging/composing and conducting compelling presentations that blended classical with pop. Hackman served as the music director of Time for Three from 2011-2012, and has collaborated closely with the group for nearly a decade, producing two of their albums and penning over fifty arrangements, orchestrations and compositions.
In 2014 Hackman released the debut STEREO HIDEOUT album The Radio Nouveau along with several music videos. The album was mixed in London by Gareth Jones (Grizzly Bear, Depeche Mode) and mastered in Brooklyn by Joe Lambert (Animal Collective, Dirty Projectors). The follow-up album Down with the Classics (a mixtape introduction to classical music), was co-produced by Grammy-nominated producer Good Guy Dez (Big Sean, Will.I.am, Juicy J, Meek Mill, Kid Cudi, King Los, Puff Daddy), and features 13 songs, all of which sample a different classical composer and layer melodies and raps over top.
Successful as a composer and arranger, Hackman's work includes pieces for ensembles and artists as diverse as the string trio Time for Three, violinist Joshua Bell, and choral ensembles Chanticleer and The Tallis Scholars. His orchestrations for artists like Time for Three, The Five Browns, Michael Cavanaugh, My Brightest Diamond, Arlo Guthrie, Aoife O'Donovan and Joshua Radin have been performed by nearly all the major orchestras in America. Hackman is a frequent contributor to From the Top. 
Hackman was a four-year member, producer and musical director of the a capella group The Other Guys at the University of Illinois, a group that under his direction placed runner-up in the International Competition of Collegiate Acapella at Avery Fisher Hall. He is a prolific songwriter, having written hundreds of songs and releasing several albums of original music. His song "The Pendulum Song" was chosen among tens of thousands as a finalist in the John Lennon Songwriting Competition, and he has also received honorable mention in the Billboard songwriting competition. In season seven of American Idol, Hackman was one of 164 contestants chosen from more than 150,000 to attend Hollywood Week. He finished in the top 64.
Hackman studied counterpoint, composition and improvisation under his mentor Dr. Ford Lallerstedt at the Curtis Institute of Music in Philadelphia. He received an advance diploma in conducting at Curtis under Otto-Werner Mueller and studied subsequently with David Zinman at the American Academy of Conducting at Aspen. He received further training in orchestration from the prolific Broadway orchestrator and composer William Brohn (Miss Saigon, Wicked, Ragtime and countless others). His undergraduate degree is in piano performance from the University of Illinois at Urbana-Champaign, where he studied with Gustavo Romero. He served as the assistant conductor of the Reading Symphony for two seasons, where he led subscription, family, education and New Year's Eve programs.
Hackman is active on social media under the handle @stevehackmanmusic, and many of the pieces referred to here can be watched in their entirety on YouTube via the @stereohideout channel.