Events & Tickets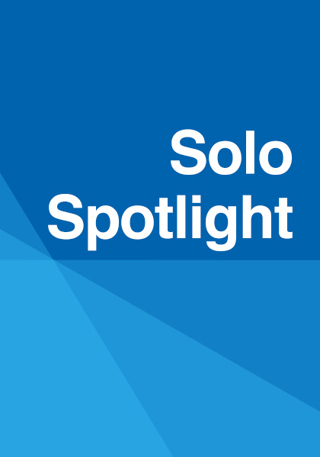 Free
Solo Spotlight: Creative Dialogues
New World Center, Truist Pavilion
HOW TO WATCH ON APR. 18:
NEW WORLD SYMPHONY   

Enjoy an evening of commissioned premieres for solo piano, featuring the fresh artistic voices of young composers Paul Novak, Ben Morris, Yu-Tung Cheng, Max Vinetz, Clare Glackin and Jessica Mays. Includes discussion on what goes into the process of creating new music. Presented in the intimate Truist Pavilion (formerly SunTrust), Solo Spotlights feature one or two Fellows in recital programs they design.
Performances part of the Solo Spotlight series are NWS BLUE projects. Fellow-driven projects are sponsored in part by the Maxine and Stuart Frankel Foundation and NWS's Fund for New Ventures.
Tickets no longer available online.
Program
Benjamin Morris
(b. 1993)

Secaucus Junction (2020; world premiere)

A Bee in the Hollow for Solo Piano and Film (2020)

Operation Underground: Conquest (2020; world premiere)

Spring Water (2022; world premiere)

portrait in four parts (2020)

I. strewn across a surface
II. rain
III. tumble
four dialogues in black and white (2019)

II. jagged, playful
III. animated, grooving
dances and prayers in isolation (2020)

II. prayer no. 1 for solo piano "flow"
At the New World Center—home of the New World Symphony (NWS), the health and safety of staff, Fellows, visitors and vendors are of paramount importance. NWS continues to closely monitor the latest developments regarding COVID-19 and is committed to following recommendations from health authorities and to proactively implement measures to help maintain a safe workplace. 
Due to significantly reduced COVID-19 community transmission rates, the New World Symphony has made the following updates to its safety protocols:  
As of March 21, 2022, masks are no longer required at the New World Center. NWS encourages guests to continue to wear masks as an added precaution. Guests are also no longer required to provide a negative COVID-19 test or proof of vaccination for entry to the New World Center.  
These protocols are for all New World Symphony events at the New World Center. Third-party clients may choose to implement other protocols. Please check each event page for more information. By attending events at the New World Center, you voluntarily accept responsibility for all risks related to exposure to COVID-19. 
Wesley Ducote, piano
Wesley Ducote is a third-year Piano Fellow at the New World Symphony. He has led a versatile musical career pursuing a diverse set of interests.
As a collaborator, Mr. Ducote has been featured with many of today's brightest stars including composer/vocalist Kate Soper, Emmy Award-winning composer and Vietnamese folk musician Van Anh Vo, flutists Leone Buyse and Carol Wincenc, soprano Ana Maria Martinez, and many others. He has served as principal keyboardist with the Shepherd School Symphony and Houston Grand Opera Orchestra. As a chamber musician he has been a featured artist with MUSIQA and the Nantucket Rossini Club, and in 2017 was selected by the Shepherd School of Music to perform with the Gyldfeldt quartet from Leipzig. Mr. Ducote has even worked as a keyboardist/composer in his own jazz-fusion sextet Steve Cox's Beard.
An enthusiastic performer of new and contemporary music, Mr. Ducote has premiered over 40 new works and worked with faculty at institutions in China, South Korea, Canada and all over the United States. His new music experience includes works for solo piano, chamber ensembles, orchestra and even a piano concerto written for him. He is currently working on an upcoming commissioning project of new solo piano music.
Mr. Ducote is an Artist Fellow with the Louis Moreau Institute and was a Young Artist Fellow with Da Camera of Houston, Resident Piano Fellow with the Cortona Sessions for New Music, and a fellow with CPI at the Composer's Conference, SICPP, Encore Chamber Music, Round Top Festival Institute and Aspen Music Festival. Mr. Ducote holds graduate and undergraduate degrees in music from Rice University, where he studied with Brian Connelly, as well as an undergraduate degree in mathematics.