Events & Tickets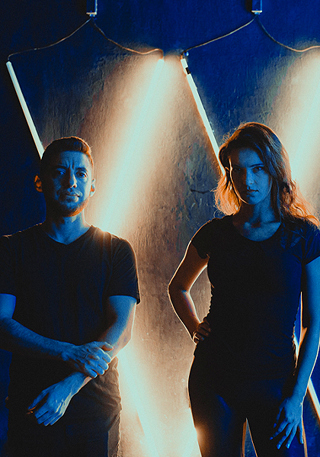 Free
Solo Spotlight: New Works for Percussion and Piano featuring Pathos Trio
New World Center, Truist Pavilion
Monday, March 14, 2022 at 7:00 PM
Program
OTHER WAYS TO WATCH ON MAR. 14:

Enjoy a program of new works by young composers that combines aesthetics of both the classical and contemporary genres with dark, dense sounds. Hear raw, edgy and powerful soundscapes in the music of Alyssa Weinberg, Alison Yun-Fei Jiang, Alan Hankers, Finola Merivale, Gene Koshinski and Evan Chapman, performed by members of the Pathos Trio, including NWS Percussion Fellow Marcelina Suchocka and From the Top alumna Dasha Bukhartseva on piano. Presented in the intimate Truist Pavilion (formerly SunTrust), Solo Spotlights feature one or two Fellows in recital programs they design.
Performances part of the Solo Spotlight series are NWS BLUE projects. Fellow-driven projects are sponsored in part by the Maxine and Stuart Frankel Foundation and NWS's Fund for New Ventures.
NWS BLUE Project Team:
Marcelina Suchocka, Joe Desotelle, Matthew Kibort
Program
Alison Yun-Fei Jiang
(b. 1992)

Alyssa Weinberg
(b. 1988)

Finola Merivale
(b. 1987)

Distance Between Places (2019)

Evan Chapman
Fiction of Light (2020)
"Learning that color is a fiction of light is one of the primary shocks of growing up: that this hitherto deeply physical thing is just a reflection, and that nothing can keep its color under the cover of darkness, are monstrous things to understand, even for my adult mind." -Magic Hour by Tacita Dean (2007)
As both a visual and a musical artist, my compositions have always been equally influenced by my experiences with light and color in the physical world as they are by other works of music. Throughout the compositional process of this piece, I was inspired by Tacita Dean's thoughts on the colors of magic hour and our physical relationship to those colors, and became increasingly interested in finding ways to similarly manipulate the color palettes of an acoustic ensemble. The techniques I eventually settled on for the Pathos Trio entailed supplementing acoustic elements with subtle electronic ones, while leaving an aura of mystery for the listener as to how those electronic elements were being produced by not sending them directly into a traditional PA system but instead into the players' instruments and handheld communication devices. This, I hope, creates a sonic world that is colorful in a way that feels as though it is full of reflections, and in which "detail is secondary and focus is lost."
                - Evan Chapman
About the Composer
Raved by The New York Times for his multi-media work, Evan Chapman is a composer, percussionist and filmmaker based in Philadelphia. Co-founder of multi-award-winning media group Four/Ten Media alongside Kevin Eikenberg, and founding member of Philadelphia-based bad Square Peg Round Hole, his recordings, compositions and performances can be seen on major outlets like I Care If You Listen, Vic Firth and NPR.
Mr. Chapman is an active performer, most notably as drummer in the instrumental percussion work/electronic trio Square Peg Round Hole (dubbed a "creative adventure" by Bob Boilen of NPR). The group has been direct support for headlining bands like The Bad Plus, Dawn of Midi and Kneebody.
Alison Yun-Fei Jiang
Prayer Variations (2020)
Inspired by visits to cathedral spaces, Prayer Variations is a theme and variations based on a simple, prayer-like melody. Over time, the original prayer melody is varied and transformed. Music unfolds into a sonic experience in motion, journeying through an imaginary, sonorous and vertical spatial entity.
                - Alison Yun-Fei Jiang
About the Composer
Canadian composer Alison Yun-Fei Jiang explores the intersections of genres and cultures by drawing inspirations and influences from an array of sources such as East Asian aesthetics, Chinese opera, Canadian natural landscapes, Buddhism, film music, popular music and literature, creating musical narratives and experiences in a lyrical, dynamic, and storytelling nature.
Ms. Jiang is a Carrefour Composer-In-Residence with the National Arts Centre Orchestra of Canada (2020-22). She has collaborated with ensembles such as Esprit Orchestra, Toronto Symphony, National Youth Orchestra of Canada, Civic Orchestra of Chicago, JACK Quartet, Kaleidoscope Chamber Orchestra, Imani Winds and Molinari Quartet. Her music has been broadcast on CBC Radio 2 and featured in the Royal Conservatory of Music 21C Festival, as well as the University of Toronto New Music Festival.
Awards and recognitions come from ASCAP, SOCAN Foundation, Graham Sommer Competition for Young Composers, American Prize and International Alliance for Women in Music.
Gene Koshinski
Song and Dance (2009)
American composer Gene Koshinski's Dance of the Drums, is the second movement of a larger piece called Song and Dance. This fast-paced work is performed through a single shared set-up utilizing concert toms, claves, a conch and other assorted concert percussion instruments. This movement is in stark contrast to its counterpart first movement, where this movement features very primal drumming. Interlocking groove-oriented patterns permeate the movement while a conch shell is used as a single-pitch melodic instrument.
        - Gene Koshinski
About the Composer
"Jaw-dropping virtuosity and a flair for the unexpected" (PBS) is why Gene Koshinski has delighted audiences worldwide with his dynamic performances and creative programming. Best known for his extraordinary versatility as a solo, chamber, symphonic, jazz, pop and world music artist/composer, Mr. Koshinski is proud to serve as Professor of Percussion at the University of Delaware. He has performed in Argentina, Austria, Belgium, Brazil, China, France, Germany, Japan, Jordan, Slovenia, the U.K., Canada and throughout the United States. He has given over 120 guest performances/lectures at some of the most prestigious institutions in the world including the Royal College of Music, The Juilliard School, Conservatoire de Lyon, Shenyang Conservatory, Beijing Conservatory, National Music Conservatory in Amman and University of Rio de Janeiro.
Alyssa Weinberg
Table Talk (2016)
Table Talk was commissioned by Arx Duo in 2016 with the goal of exploring the concept of percussion "four-hands." Taking the idea of piano four-hand music and applying it to a shared percussion set-up, I was inspired to make one more parallel to a technique common to modern piano repertoire, that of "preparing" the instrument. Composed at the Avaloch Farm Music Institute, this piece for prepared vibraphone evolved as an attempt to stretch the idea of what a vibraphone could sound like, from exploiting the subtle timbral shifts of a single note to masking its identity completely through the combinations of other items placed on top of it.
                - Alyssa Weinberg 
About the Composer
Composer Alyssa Weinberg is best-known for crafting visceral, communicative scores, which have been lauded for their "frenetic yet cohesive musical language" (icareifyoulisten) and "heavyweight emotional dimensions" (bachtrack). She finds collaboration deeply inspiring, and her music pulls concepts from her work with writers, dancers and visual artists.
Ms. Weinberg's music has been commissioned and performed by some of the most accomplished artists and ensembles around the world, including eighth blackbird, Sō Percussion, yMusic and Aizuri Quartet, as well as the Minnesota Orchestra, San Diego Symphony, Louisville Orchestra and New Jersey Symphony.
Finola Merivale
falling flames (2013)
falling flames comes from the phrase "burning the candle at both ends," as it was written during an incredibly stressful and busy period. The concept of time was therefore occupying my thoughts and became an important subject in the piece. As the piece gradually falls through the various registers, the energy changes from fast-paced semiquaver repetitions to slower passages with more space, allowing the music to resonate. This corresponds to an idea of somebody losing steam and running out of energy. However, as the music reaches its lowest register it becomes much more peaceful, as the end of this particularly busy time is in sight for me. Yet in this hectic world, circumstances can cause any peace to come to a sudden end and throughout the piece, the performer has the freedom to jump backwards to a previous passage, jolting the listener back into an earlier frenzy. Like many of my pieces, the performers' autonomy is an important element as they also choose how often each measure is repeated. Length and instrumentation are open.
falling flames was composed for the Irish Composers' Collective's Concert Series. It is dedicated to Alex Petcu.
                - Finola Merivale 
About the Composer
Finola Merivale is an Irish composer of acoustic and electro-acoustic music, living in New York. She is a DMA candidate in Composition at Columbia University, where she is studying with George Lewis, Georg Friedrich Haas and Zosha Di Castri. Her music has been performed internationally and featured at festivals such as Huddersfield, Bang on a Can Summer Music Festival and Contemporary Music Festival of Buenos Aires. Her works have been played by International Contemporary Ensemble, Talea Ensemble, Crash Ensemble, and musicians of the Chicago and St. Louis symphonies, among others.
Ms. Merivale was recently named the winner of the National Concert Hall and Sounding the Feminists' Music Recording Award in Ireland – a grant that will fund the release of her debut album. She is currently working on Out of the Ordinary – the world's first community opera in virtual reality – commissioned by Irish National Opera. It won the 2021 Fedora Digital Prize. In 2020 she was a winner of the inaugural National Sawdust New Works Commission Competition and was awarded a four-month residency at the Centre Culturel Irlandais in Paris. She has recently been commissioned by Rebekah Heller and the West Cork Chamber Music Festival.
Alan Hankers
Distance Between Places (2019)
Distance Between Places was inspired by the relationship between the soundscape of a particular place and memory. Much of the work consists of individual musical streams that are independent in terms of rhythm, timbre and expressive shape, but still, allow for an overall blending that results in a unified sonic picture. Similar to the amalgamation of independent sounds that one might associate with a busy city, these layers are too complex for us to recollect precisely, but we can bring to mind an abstraction of what we remember.
As the work unfolds, various layers emerge to the foreground to form distinct rhythmical sections that symbolize our remembering and reordering. In this way, the title of the work refers to the sounds of somewhere as it exists, and how our memory of that place changes over time.
                - Alan Hankers
About the Composer
Described as "atmospheric and striking" by Outburn Magazine, Alan Hankers has been praised as a keyboardist by Metal Hammer (U.K.) and Prog Magazine. His compositions have been performed throughout the United States, Europe and Asia at venues such as Lincoln Center, New World Center, Koger Center for the Performing Arts and Musikhusset Aarhus. He was the 2017-18 Composer-in-Residence for the Danish music ensemble, ENSEMBLE EDGE, and has been a visiting fellow at prestigious festivals and residencies. Upcoming projects include a residency at the Great Lakes Music Festival and several commissions, including a concerto for Ensemble Edge and Pathos Trio to be performed in Denmark in 2022.
Mr. Hankers's music specifically for film and television has garnered international acclaim, and is actively sought after for international advertising campaigns by Lincoln Automotive, Amazon, David Yurman and others. His score for the short film Color Blind was awarded the Roger Taylor Best Score at the Idyllwild International Film Festival.
As a pianist and keyboardist, Mr. Hnkers regularly appears on recordings and has toured alongside bands such as Intervals, Plini, Scar Symmetry and others. He is one of the founding members of the American metal band JIA and chamber music ensemble Pathos Trio.
FOR YOUR SAFETY 
As of September 18, 2021, these are the guidelines that all guests at New World Symphony concerts must follow. These guidelines will apply to all members of your party before they are allowed to enter the New World Center and to any users of the tickets purchased by you.  Click here for additional information.
COVID REQUIREMENTS: 
We request that all guests are fully vaccinated against COVID-19 (at least two weeks after final dose) and provide proof of vaccination; i.e. original vaccination card, copy of vaccination card, or picture of vaccination card. Name on vaccination card must match name on ID. 

In lieu of proof of vaccination, we require proof of a negative COVID-19 diagnostic test result within 72-hours (including for unvaccinated children under 12 years of age). Name on test result must match name on ID. Results from self-test kits and test-at-home kits will not be accepted.




Masks are required inside New World Center at all times, regardless of vaccination status. 
DAY OF EVENT 
Please arrive early for check-in process. 

Please bring your ID and proof of vaccination or negative test result. As noted above, the full name on your ID must match the name on your vaccination card or COVID test result. 

Please remember to bring a mask. 
By attending our events, you voluntarily accept responsibility for all risks related to exposure to COVID-19.
Marcelina Suchocka, Percussion Fellow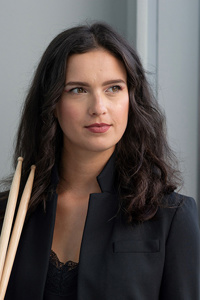 Born in Bialystok, Poland, Marcelina Suchocka is a third-year Percussion Fellow at the New World Symphony. She has performed as an extra/substitute percussionist with the Chicago Symphony, Kansas City Symphony, Utah Symphony and Hudson Valley Philharmonic. She was also an Associate Percussionist with the Civic Orchestra of Chicago.
Most recently Ms. Suchocka has spent summers as a fellow at the Tanglewood Music Center in Lenox, Massachusetts and the Pacific Music Festival in Sapporo, Japan. She was also a fellow at the Music Academy of the West, National Repertory Orchestra and Spoleto Festival. She has been the recipient of many awards including first prize in the Chicago Symphony Orchestra's Young Artist Concerto Competition, Jack Kent Cooke Young Artist Award and Polish National Alliance's Young Artist Award.
Ms. Suchocka has performed as soloist with the Chicago Symphony and at Carnegie Hall as a winner of the NPR's YouTube Big Break competition. She is one of the founding members of Excelsis, an all-female percussion quartet based in New York City. She has also performed as percussionist with the Mark Morris Dance Group as a fellow at Tanglewood, where she collaborated with the great dancer and choreographer, Mark Morris.
Ms. Suchocka is a graduate of the Manhattan School of Music for both her bachelor's and master's degrees. She studied with Christopher Lamb, Duncan Patton, She e Wu, Kyle Zerna, Patsy Dash and Douglas Waddell. Outside of percussion, she enjoys going to art museums and going to heavy metal music concerts.
Pathos Trio
"Elevated themselves into those elite ranks alongside Yarn/Wire, Tigue, Sō Percussion, Iktus and Ensemble Et Al", as described by the New York Music Daily, Pathos Trio (percussionists Marcelina Suchocka, Felix Reyes and pianist/composer Alan Hankers) is committed to engaging classical/contemporary music, while also aiming to bring adventurous music to audiences through collaborations with young, living new music composers.
Their current project, When Dark Sounds And Classical Music Collide, the ensemble's first album, comprises a collection of newly commissioned works written by composers Alison Yun-Fei Jiang, Evan Chapman, Alyssa Weinberg, Alan Hankers and Finola Merivale. This album is set to release on March 18, 2022 through New Focus Recordings and is graciously supported in part by New Music USA, Foundation for Contemporary Arts, Artist Relief and with the help of funds allocated from Pathos Trio's 2021 Ensemble Forward grant given by Chamber Music America, made possible with generous support from the New York Community Trust.
Joining Marcelina and Felix in this performance is pianist Dasha Bukhartseva. 
Dasha Bukhartseva, piano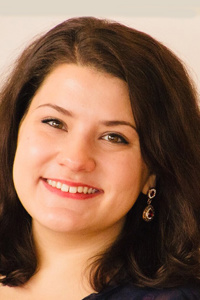 Recognized for her musicality and unique repertoire, Ukrainian pianist Dasha Bukhartseva has won top prizes in over 30 international piano competitions and performs to great acclaim as a soloist and chamber musician across North America and Europe. Throughout her formative years, she received numerous awards for her musical abilities and achievements, including The Culture Ministry of Ukraine Award "For Outstanding Achievements in Music" and a rank of "Woman of the Year" for "Excellence in the Performing Arts."
Ms. Bukhartseva is a recipient of the Jack Kent Cooke Young Artist Award and a prizewinner of the International French Competition in Paris and Brussels, International Piano Competitions in Memory of Vladimir Horowitz and Sviatoslav Richter. She had the privilege of performing at Carnegie Hall, Lincoln Center, Merkin Hall, National Opera and Philharmonic of Ukraine, Bowdoin and Aspen music festivals among others. Her performances have been featured on WQXR, Ukrainian and Belgian National Radios, as well as a three-time appearance on National Public Radio's show From the Top.
Ms. Bukhartseva received a doctor of musical arts degree from Stony Brook University, master of music degree in piano performance and pedagogy from the University of Miami Frost School of Music and bachelor of music degree from Peabody Conservatory. She had a privilege to work privately and in master class settings with such eminent musicians as Yong Hi Moon, Tina Dahl, Gilbert Kalish, Richard Goode, Yoheved Kaplinsky and members of the New York Philharmonic, as well as the Emerson and Takacs string quartets.
Ms. Bukhartseva is a Vice President of The Performing Arts Consortium—an organization that supports the professional development of emerging, young classical music artists. Her main musical vision is to expose the audience to unfamiliar music from different nations, making an emphasis on folk music with the intention of alleviating divisions and prejudices between people through the beauty of universal unspoken language.