Events & Tickets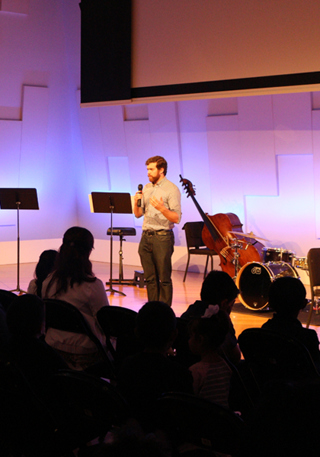 Free
Solo Spotlight: Fellow Favorites
New World Center, Truist Pavilion
Monday, November 14, 2022 at 7:00 PM
Program
Presented in the intimate Truist Pavilion, this special Solo Spotlights features Fellows performing their favorite works. From Ravel's fiery Tzigane and Bach played on a Baroque viola to Rodgers and Hammerstein's "Some Enchanted Evening," there's something for everyone as Fellows share the music that's near and dear to them. 
Performances part of the Solo Spotlight series are NWS BLUE projects. Fellow-driven projects are sponsored in part by the Maxine and Stuart Frankel Foundation and NWS's Fund for New Ventures.
Tickets no longer available online.
Program
Johann Sebastian Bach
(1685-1750)

Suite No. 2 in D minor, BWV 1008 (1717-23)

Seth Van Embden, Baroque viola
Brendon Sill, bassoon
Noah Sonderling, piano
Maurice Ravel
(1875-1937)

Yu-Chia Hsu, violin
Noah Sonderling, piano
Three Ghost Rags for Solo Piano (1970-71)

Returning Souls: Four Short Pieces on Three Formosan Amis Legends for Solo Violin (2011)

Introduction: Sun – The Glowing Maiden
Legend I: The Great Flood – The Descending Shaman
Legend II: Head Hunting – The Ascending Stars
Legend III: The Glowing Maiden – Returning Souls
Darius Milhaud
(1892-1974)

Sonata for Two Violins and Piano, Op. 15 (1914)

I. Lively
III. Very Bright
Ye Jin Min, Dominique Bégin, violin
Noah Sonderling, piano
Ayrton Pisco, violin
India Hooi, piano
Richard Rodgers
(1902-1979)
Arranged by India Hooi
Lyrics by Oscar Hammerstein II

"Some Enchanted Evening" from South Pacific (1949)

India Hooi, piano and vocals
Musicians of the New World Symphony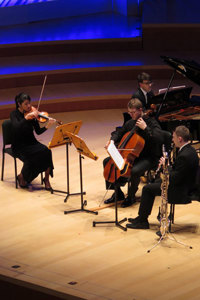 A laboratory for the way music is taught, presented and experienced, the New World Symphony consists of 87 young musicians who are granted fellowships lasting up to three years. The fellowship program offers in-depth exposure to traditional and modern repertoire, professional development training and personalized experiences working with leading guest conductors, soloists and visiting faculty. 
NWS Fellows take advantage of the innovative performance facilities and state-of-the art practice and ensemble rooms of the Frank Gehry-designed New World Center, the campus of the New World Symphony and home of the Knight New Media Center.
In the hopes of joining NWS, nearly 1,000 recent music school and conservatory graduates compete for available fellowships each year. The Fellows are selected for this highly competitive, prestigious opportunity based on their musical achievement and promise, as well as their passion for the future of classical music.