Events & Tickets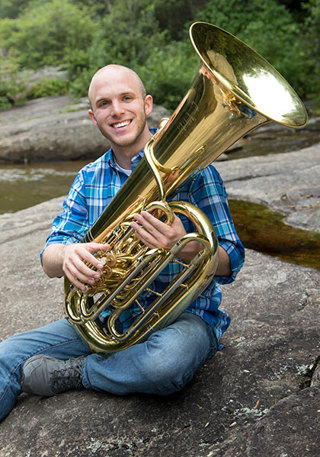 Free
SOLO SPOTLIGHT: YOUNG AT HEART! NEW MUSIC FOR TUBA
New World Center, SunTrust Pavilion
Monday, March 4 at 7:00 PM
All of us have had unique experiences in our lives, but there are common threads for everyone: the innocence, mystery, and discovery that comes with childhood, adolescence, and young adulthood. The works on this program, presented by Tuba Fellow Evan Zegiel, reflect and comment on these ideas.
Tickets no longer available online.
Program
Evan Zegiel                Sonata for Tuba and Piano (world premiere)
(b. 1994)                         Allegro
                                       Andante
                                       Vivace                                                          
John Hadden              A Simple Serenade     
(b. 1993)                            
                                    Mary Grace Ellerbee, piano
Quinn Mason             On Life for Tuba and String Quartet (world premiere of commission)
(b. 1996)                    
                                    Zachary Ragent, Michael Turkell violin
                                    Stephanie Block, viola; Chava Appiah, cello
                        I N T E R M I S S I O N
Marc LeMay                Trust Fall for Tuba and Percussion (world premiere of commission)
(b. 1982)                      
Barbara York              Moral Dilemmas for Tuba and Percussion (world premiere of commission)
(b. 1949)                         Fear
                                       Self-interest/Greed
                                       Laws/Rules
                                       Compassion
                                       Denial
                                       Outrage
                         
                                    Anthony DeMartinis, percussion
Evan Zegiel, tuba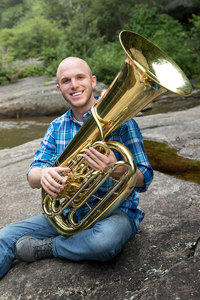 Evan Zegiel is a first-year Tuba Fellow at the New World Symphony. His previous orchestral experience includes summers performing at Brevard Music Center and at Chautauqua Institution. 
Mr. Zegiel is an active musical competitor. He was a winner of the 2018 Jan and Beattie Wood Concerto Competition (Brevard Music Center). He also won the 2018 Marquette Symphony Orchestra Young Artist Concerto Competition and will present the orchestral premiere of Nelson T. Gast's Under Mountains of Ocean with the MSO. He performed at the U.S. Army Band's 35th Annual Tuba-Euphonium Workshop in February 2018. He also won first place in the Tuba Artist Division of the Leonard Falcone International Euphonium-Tuba Festival competitions in 2017, four years after winning first place in the Tuba Student division of the Falcone competitions. He also won second prize in the 2016 International Tuba-Euphonium Conference's "Arnold Jacobs Mock Orchestral Audition" competition. Mr. Zegiel was a featured soloist with the U.S. Air Force Band in February of 2012, after winning the Colonel George S. Howard Young Artist Competition as a senior in high school. 
Mr. Zegiel is co-founder of the tuba-percussion duo BrassTaps, which commissions and performs new works regularly. In 2017 he performed alongside the New York Philharmonic Principal Brass Quintet. He also performs frequently for varied religious services requiring brass ensembles. 
Mr. Zegiel is an active composer. His Sonata for Tuba and Piano was published by Cimarron Music Press in 2017, and his bass trombone solo Bone to Pick was published by CMP in the summer of 2018. His self-published works may be found on his website. 
Mr. Zegiel holds a master's degree in performance and chamber music, a bachelor's degree in performance and a minor in writing from the University of Michigan. His primary teachers include Fritz Kaenzig, Toby Hanks, Aubrey Foard and Dan Satterwhite.