Events & Tickets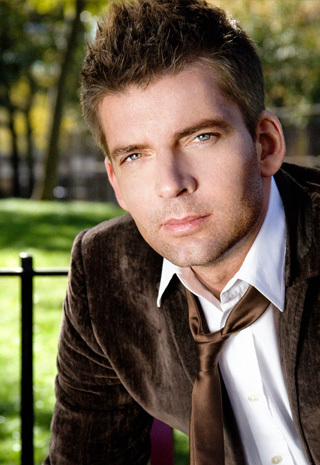 Orchestra Concert
SOUNDS OF THE TIMES: A MODERNIST EXPLOSION
New World Center
Saturday, February 13 at 7:30 PM
Program
Composer, conductor and music director of Paris' Ensemble intercontemporain, Matthias Pintscher skirts the cutting edge with his own expressive Five Pieces for Orchestra, a tribute to the Second Viennese School.  Pierre Boulez' tribute to Stravinsky pairs natural acoustics against manipulated electronics in a shimmering wash of sound. Pintscher is joined by Ensemble Intercontemporain colleague Jérôme Comte for a spellbinding Concerto by Unsuk Chin, a South Korean native who moved to Germany to study with György Ligeti. Her innovative masterpiece for clarinet expertly swings from dreamlike to brash, from Asian folk tunes to jazz at a moment's notice. 
Program
Pierre Boulez
(1925-2016)
Approx. Duration: 36 minutes

…explosante-fixe… for Flute with Live Electronics, Two Flutes and Ensemble   (1971-93)

Memoriale
Transitoire V
Transitoire VII
Ms. Popova
Kelly Zimba, Allison Emerick, flute
Unsuk Chin
(b. 1961)
Approx. Duration: 25 minutes

Mirage—Fanfare—Ornament
Hymnos
Improvisation on a groove
Matthias Pintscher
(b. 1971)
Approx. Duration: 25 minutes

Five Pieces for Orchestra (1997)

Openly, breathing
With violent and precipitous force
Flexible tempo
Sequence: Muffled, gloomy
Suspended and very surreal, as if from a distance
Pierre Boulez
…explosante-fixe… for Flute with Live Electronics, Two Flutes and Ensemble   (1971-93)

Approximate duration: 36 minutes
For the past 60 years, Pierre Boulez has been a lightning rod in the world of contemporary music. As a child, he displayed equal gifts in music and mathematics, but he sealed his direction when he enrolled at the Paris Conservatory in 1942 instead of the École Polytechnique. With the encouragement of Olivier Messiaen, his harmony teacher, Boulez adopted the serial method of composition developed several decades earlier in Vienna by Arnold Schoenberg and his pupils, including Anton Webern, whom Boulez revered above all modern composers. His compositions, whether for acoustic instruments, electronics, or both in combination, have consistently stretched the boundaries of technique and technology, shaping the work of the many composers in his orbit. He has also made a lasting impact as a conductor of contemporary music as well as established repertoire, even serving for a time as music director of the New York Philharmonic. 
One hallmark of Boulez' work as a composer is his ongoing renewal of earlier music. The kernel of …explosante-fixe… dates back to 1971, when Boulez was invited to contribute to a memorial project to honor Igor Stravinsky. The initial incarnation of the work was an open-ended plan that could be realized any number of ways, which Boulez fleshed out in several different versions for chamber ensemble (with and without electronics) between 1972 and 1974. Then the offshoots began to propagate: the same material appeared in Rituel: In Memoriam Bruno Maderna (1974-75); the original flute part then spawned Mémoriale (1985), a tribute to a recently deceased flutist; later the violin part grew into Anthèmes (1991); finally Boulez delivered an updated version of …explosante-fixe… (1991-93), using cutting edge technology that had been unavailable for his first drafts. 
The central sound of …explosante-fixe… is the flute. One solo flutes plays into a microphone, and its music triggers electronic responses that Boulez devised at IRCAM, the research institute he founded in Paris. In addition, two more flutes within the orchestra shadow the soloist, blurring the sonic boundaries between soloist, ensemble and electronics. 
The title—which translates as "exploding-fixed"—comes from a text by the Surrealist writer André Breton. There is indeed a surreal and fantastical aspect to Boulez' extended composition, especially when real and phantom flute sounds compete for the ear's attention, but the underlying architecture imposes a deeper sense of order and fixity. The structure begins with the most chaotic permutation, labeled Transitoire VII. (In the original plan, there were to be seven increasingly complex "transitory" sections.) An interstitial passage of electronics connects to the second main section, Transitoire VII, which gives extra prominence to solo violins. Another electronic interlude leads into the concluding section titled Originel, the shortest and simplest portion of the work and the one most closely related to the initial inspiration. The piece ends on a trembling E-flat—which German musicians spell as "Es"—a remnant of Boulez' memorial tribute to Stravinsky. 
Additional Resources 
Video of complete performance by Ensemble InterContemporain 
Video excerpt from the Berlin Philharmonic Digital Concert Hall, conducted by Boulez
Unsuk Chin
Clarinet Concerto (2014)

Approximate duration: 25 minutes
Unsuk Chin began her musical education in her native South Korea, where a middle school music teacher encouraged her to take up composing. Chin was drawn to the European modernists of the post-war era, and her special fascination with the music of Ligeti led her to write to him in Germany. He agreed to take her on as a student, and their lessons in Hamburg from 1985 to 1988 had an enormous impact on Chin's development. She settled in Berlin (where she continues to live) and made her first international splash with Acrostic-Wordplay (1991-93) for soprano and ensemble. Chin's place among the world's leading composers was confirmed in 2004, when she received the prestigious Grawemeyer Award for her Violin Concerto. 
Chin composed her Clarinet Concerto in 2014 for an international consortium of orchestras, including the Gothenburg Symphony Orchestra (which gave the world premiere performance in Sweden) and the New York Philharmonic. The score is dedicated to the Finnish clarinetist Kari Kriikku, who appeared in the initial performances and whose particular talents shaped the solo part. 
A defining feature of Chin's Clarinet Concerto is the heavy use of multiphonics, when the soloist produces several pitches simultaneously, as heard in the opening phrases of the first movement, titled Mirage—Fanfare–Ornament. Glissandos that creep between pitches and impossibly long, quivering phrases that require circular breathing further contribute to the music's otherworldly character. 
The middle movement, titled Hymnos (Latin for "hymns"), begins with the clarinetist alone, using multiphonics to provide its own accompaniment on a hymn-like theme. At the end, the four clarinetists of the orchestra take over the hymn theme, while the soloist swells and recedes on trilling multiphonics. 
Among the many inventive percussion sounds in the Concerto's colorful orchestration, the most memorable might be the two fishing lines heard whirring at the start of the final movement, Improvisation on a groove. The clarinet's darting phrases coalesce into a rhythmic dance with jazzy undertones, and as the title promises, the soloist is let loose in certain passages to improvise sounds based on notated multiphonics.   
Additional Resources 
Recording of New York Philharmonic premiere of Clarinet Concerto 
Spoken introduction to the Clarinet Concerto by conductor Kent Nagano 
Online score from publisher Boosey & Hawkes (free membership required)
Matthias Pintscher
Five Pieces for Orchestra (1997)

Approximate duration: 25 minutes
The German composer and conductor Matthias Pintscher has established himself as a formidable musical presence on both sides of the Atlantic. One of his earliest champions was Hans Werner Henze, who invited the then 19-year-old Pintscher to his festival in Montepulciano, Italy. Pintscher has become renowned for his lucid and dramatic symphonic writing, leading to frequent performances of his works by top conductors and orchestras around the world. 
The Salzburg Festival in Austria, with the support of American philanthropist Betty Freeman, commissioned Pintscher to compose the Five Pieces for Orchestra in 1997, and Kent Nagano conducted the Philharmonia Orchestra in the premiere at that summer's festival. The five brief movements demonstrate Pintscher's sensitive ear for orchestral color, starting with a selection marked Apertamente, respirando ("Openly, breathing") that offsets drawn-out textures with explosive punctuations. The second movement, Con vigore violento e precipitoso ("With violent and precipitous force") is full of dense outbursts, the gaps filled in by desperate, scrambling gestures. The third piece sets out in a slow and flexible tempo, building outward from the sparkling flecks of harps, piano, celesta and percussion to create a halting and unpredictable sonic atmosphere. 
The fourth segment is by far the shortest and it barely exceeds a whisper, as suggested by the tempo qualifiers, "Sordo, lugubre." (The former is Italian for "deaf" or "mute," the latter "gloomy" or "lugubrious.") The vivid sound painting continues in the final movement, which begins with music that is "suspended and very surreal," delivered "as if from a distance." Menacing passages disturb the dreamy calm, and even as the ending descends into silence it remains tense and unsettled.
Additional Resources 
Recording of Five Pieces for Orchestra posted to YouTube 
Introduction to Pintscher's music from The Guardian 
Video portrait of Pintscher from Ensemble InterContemporain (in French with subtitles) 
-- Copyright © 2016 Aaron Grad 
Aaron Grad is a composer, guitarist and writer based in Seattle. Besides providing program notes for the New World Symphony, he has been the Orpheus Chamber Orchestra's program annotator since 2005 and also contributes notes to the Saint Paul Chamber Orchestra and Seattle Symphony.
Matthias Pintscher, conductor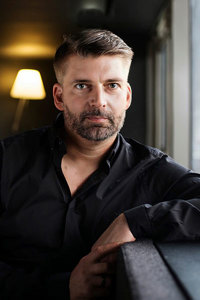 Matthias Pintscher is the Music Director of the Ensemble intercontemporain. Beginning in 2016-17 he will assume the role of Principal Conductor of the Lucerne Festival Academy. He continues his partnerships with the BBC Scottish Symphony Orchestra as its Artist-in-Association and with the Danish National Symphony Orchestra as Artist-in-Residence. Equally accomplished as conductor and composer, Mr. Pintscher has created significant works for the world's leading orchestras and regularly conducts throughout Europe, the U.S. and Australia. 
Highlights of the 2015-16 season include conducting debuts with the Berlin Philharmonic, Toronto Symphony, Los Angeles Chamber Orchestra and Prague Philharmonia; a U.S. tour with the Ensemble intercontemporain; and the premiere of his new Cello Concerto by the Danish National Symphony and Alisa Weilerstein. Last season Mr. Pintscher made debuts with the Los Angeles Philharmonic, National Symphony Orchestra and Symphonieorchester des Bayerischen Rundfunks. 
Mr. Pintscher's music is championed by some of today's finest performing artists, orchestras and conductors. His works have been performed by such orchestras as the Chicago Symphony, The Cleveland Orchestra, the New York Philharmonic, The Philadelphia Orchestra, the Berlin Philharmonic, the London Symphony Orchestra and the Orchestre de Paris. His works are published exclusively by Bärenreiter, and recordings of his compositions can be found on the Kairos, EMI, Teldec, Wergo and Winter & Winter labels. 
Mr. Pintscher also works regularly with leading contemporary music ensembles such as the Scharoun Ensemble, Klangforum Wien, Ensemble Modern and Avanti (Helsinki). He has curated the music segment of the Impuls Romantik Festival in Frankfurt since 2011 and in September 2014 joined the composition faculty at The Juilliard School.
Masha Popova, flute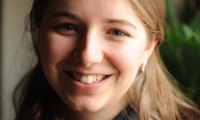 Masha Popova joined the New World Symphony as a Flute Fellow in fall 2014. Prior to joining NWS, she held the position of Principal Flute with the Des Moines Symphony Orchestra, as well as playing second flute/piccolo in the Sarasota Opera Orchestra. 
Ms. Popova made her solo debut with The Philadelphia Orchestra in the 2009-10 season after winning the Albert M. Greenfield concerto competition. In addition, she is a top prize winner of the 2011 Young Texas Artist Competition and of the 2013 Midland Odessa Symphony National Young Artist Competition. In most recent summers, she has attended the Tanglewood Music Center, Pacific Music Festival (Japan), Colorado College Summer Music Festival, National Repertory Orchestra and Spoleto Music Festival U.S.A. 
Ms. Popova received her bachelor of music degree from the Curtis Institute of Music, where she studied with Jeffrey Khaner. She received her master of music at Rice University's Shepherd School of Music, where she studied with Leone Buyse.
Jérôme Comte, clarinet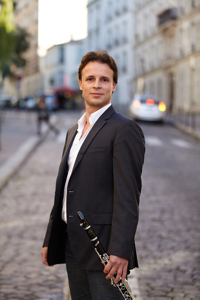 After studies from Geneva to Paris under the supervision of eminent professors such as Thomas Friedli, Pascal Morgues and Michel Arrignon, clarinetist Jérôme Comte gained professional recognition in international competitions in Paris, Prague and Munich, and became a laureate of both the Meyer Foundation for cultural and artistic development and Banque Populaire's corporate foundation. In 2003 he also became the first recipient of the famous Charles Cros Academy sponsorship program. 
Mr. Comte then began a worldwide career as a chamber music player, and internationally renowned orchestras invited him to perform with them, such as the London Symphony Orchestra, the Mahler Chamber Orchestra and the Ensemble intercontemporain, of which he became a member in 2005 at the age of 25. 
At the age of 26 Mr. Comte played Yan Maresz' Eclipse for solo clarinet and ensemble at the Festival d'Aix en Provence under the direction of Pierre Boulez. 
In 2009 he again worked with Mr. Boulez, this time performing Elliott Carter's Concerto in a tour of the greatest European venues. In 2010 he was entrusted with the delicate rendition of Pierre Boulez' Dialogue de l'ombre double at the Louvre's Auditorium, a piece that he has continued to perform and recently recorded to celebrate the composer's 90th birthday. 
Mr. Comte plays a Buffet Crampon Clarinet Tosca.