Events & Tickets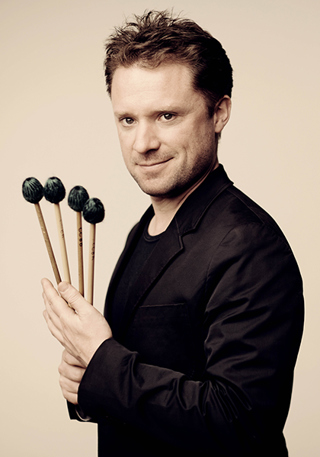 Orchestra Concert
SOUNDS OF THE TIMES: INTO THE OPEN
New World Center
Saturday, December 3 at 7:30 PM
Program
Welcome to New Vienna! Austrian composer and conductor HK Gruber returns to NWS for the U.S. Premiere of one of his own compositions and works by Vienna's other musical mavericks. Hailed as "the world's finest and most daring percussionist," Colin Currie dazzles with a global array of instruments in into the open…, from its meditative start to its frenzied climax. Spend 24 hours in the life of a crazed canine in Bernd Richard Deutsch's Mad Dog, complete with playful romps, cautionary growls and fitful naps. Delve into the "lost world between tradition and renewal" in Kurt Schwertsik's Nachtmusiken, where you will find odes to the Viennese waltz and hints of Janáček and Mahler.
Join select NWS Fellows at 6:30 PM for a special Pre-Concert Chat about the evening's program. For ticketholders only.
Program
H.K. Gruber
(b. 1943)
Approx. Duration: 27 minutes

into the open... for Percussion and Orchestra  (2010; U.S. premiere)

Bernd Richard Deutsch
(b. 1977)
Approx. Duration: 20 minutes

Mad Dog (2011; U.S. premiere)

Kurt Schwertsik
(b. 1935)
Approx. Duration: 23 minutes

Nachtmusiken, Op. 104 (2009)

Janáček has appeared to me in a dream
Wienerlied
...for David Drew
Fast March
Flight
H.K. Gruber
into the open... for Percussion and Orchestra  (2010; U.S. premiere)

Approximate duration: 27 minutes
For all the many talents that Heinz Karl (HK) Gruber puts to use as a serious composer, performer and conductor on the international stage, his most legendary qualities are his wit and whimsy. After singing in the esteemed Vienna Boys' Choir and then attending the Vienna Hochschule für Musik, he established a career as a double bass player. He went on to cofound an experimental theatrical ensemble, and he honed his talents as a singer and actor—or "chansonnier," as he describes himself. As a composer, he learned to channel the sharp irony of 1920s Weimar Germany and the devil-may-care attitude of cabaret, most especially in the 1977 "pan-demonium" that remains his calling card after hundreds of performances worldwide: Frankenstein!!
Humor is just one facet of Gruber's musical palette; other times his sonic explorations work in service of more sobering emotions. The percussion concerto he composed in 2010, into the open…, started with "a curious and slightly uncanny genesis," he explained in an interview. For the opening section, he had already "opted for a slow, meditative processional, as if the soloist is walking through a 'pitch landscape.'" Then partway through the score, he learned that his longtime publisher and champion at Boosey & Hawkes, David Drew, had died. That news "influenced the course of the rest of the piece, but the first section now seems to be a premonition of what the work would become."
In the course of the concerto's single movement, Gruber noted, "A broken melody emerges, building upon the ritual opening and trying to form itself into a half-remembered lament, with successive interruptions." In the ruptures of silence near the end, Gruber "wanted to capture the sense of his spirit going out into open space."
Gruber's approach was to fashion this concerto as "a symphonic piece without a display of wild drumming, concentrating instead on percussion with distinct pitches, either tuned or reinforced by orchestral instruments. The percussion part is shadowed in the orchestra, sometimes anticipated, sometimes prolonged with a pedal note. Together they form unexpected sonorities with bell-like attacks."
Additional Resources
Recording of 2015 premiere at BBC Proms
Online score from publisher Boosey & Hawkes (requires free login)
Short film: HK Gruber on HK Gruber
Bernd Richard Deutsch
Mad Dog (2011; U.S. premiere)

Approximate duration: 20 minutes
There are many parallels between HK Gruber and his younger Austrian colleague Bernd Richard Deutsch: they attended the same elite music school, they both have based their careers in the history-laden city of Vienna and neither is afraid to be irreverent. Deutsch's style is detailed and virtuosic, drawing on the past century of European art music, but there is still a freedom to it, allowing room for indeterminate layers of buzzing activity and swooping pitches. In the 2011 composition Mad Dog, heard here for the first time in the United States, Deutsch uses wood and metal objects to color the piano sounds (a technique developed by the American composer John Cage), and he also makes winking allusions to jazz and popular music, incorporating the burly tone of tenor saxophone and the sizzle of hi-hat cymbals. 
Deutsch began his program note for Mad Dog with an epigraph that quotes the French naturalist Jean-Baptiste Lamarck: "For determining the differences between the species, nature provides us only with meticulous and somewhat childish details." Deutsch went on to summarize this enigmatic composition as "a zoomorphic play: Man likes to humanize the dog. Or is it rather the dog who 'dogisizes' the man?"
The headings of the three movements say much about the arc of Mad Dog: Incalzante (Urgent), Sognando (Dreaming), and Irato (Irate). As Deutsch described the form, "The three movements include a 24-hour cycle, starting with the noon and the afternoon (he pushes, pulls, runs, jumps, sniffs, pants, barks, howls, growls, yaps, drinks) …"
"… throughout the evening and the night (the time of dreams/nightmares and the seemingly irrational, but also the silence) …"
"… until the morning or the forenoon (anger, conflict, but only temporarily, a fixed idea [chaconne] – end = start)."
Additional Resources
Video of world premiere performance in Vienna
Online score from publisher Boosey & Hawkes (requires free login)
Composer snapshot from Boosey & Hawkes
Kurt Schwertsik
Nachtmusiken, Op. 104 (2009)

Approximate duration: 23 minutes
The composer Kurt Schwertsik is another lifelong resident of Vienna, and his musical circle has overlapped with Gruber's since the 1960s. The ensemble they cofounded in 1967 operated under a radical notion at a time of heightened elitism and academic rigor; as Gruber explained in a tribute to his longtime friend, "A new complexity paired with simplicity was supposed to create a common base for experienced and unschooled listeners. This was about communication between composer and listener and about rendering the composer's message tangible and understandable for the listener. At the time Kurt expressed the opinion that the tonal idiom was an old machine, as old as humanity itself. We only had to lubricate it and learn again how to run it."
When the BBC Philharmonic commissioned Schwertsik to write a piece that would appear within a cycle of Mahler symphonies, he landed on the concept of Nachtmusiken, reflecting the twin Nachtmusik (night-music) movements in Mahler's Seventh Symphony. Schwertsik's five movements dwell in memories and nostalgia, beginning with the first section: Janáček has appeared to me in a dream. The brusque, modal gestures at the beginning recall the sound of that earlier Czech master.
The Wienerleid ("Viennese Song") that comes next takes the form of a relaxed waltz, and the use of accordion as a solo instrument adds local color and charm.
The central movement, … for David Drew, memorializes the same British publisher as in Gruber's tribute. It cycles through elegiac music that evokes the Baroque era.
After these gentle night scenes, the quick march of the fourth movement inserts a frantic, militaristic character.
The suite closes with a movement titled Flucht—"flight" in English translation, or "fuga" in Italian—and it does in fact unfold as a fugue.
That idea of "flight" or "fugue" takes on many meanings, as can be seen in Schwertsik's wistful program note:
The night was dark when I was a child: during the war we had to hide from the bombs; after the war electricity was scarce and frequently broke down completely. I loved to move in the darkness! The faint glow behind windows suggested a cozy togetherness of contented people. I was outside; but it was possible to be inside! This childish nostalgia is still with me. For me, even ugly cities acquire a poetic aura when people begin to enlighten their flats and life radiates through windows into the dark. Enigmatically unreachable, but nevertheless familiar, the mundane chores of unknown city dwellers shed light on one's existence. Not only in the loneliness of the woods do the secrets of the night whisper: and metaphysical thoughts prefer to roam in the dark. I love to move through the night: a dreamy vision, a fragmented melody blown away, a drunken discussion and sadness that David Drew—who cared—has left.
Additional Resources
Composer snapshot from Publisher Boosey & Hawkes
Short film: Schwertsik on Schwertsik
Liner notes to recording on Chandos Records
-- Copyright © 2016 Aaron Grad
Aaron Grad is a composer, guitarist and writer based in Seattle. Besides providing program notes for the New World Symphony, he has been the Orpheus Chamber Orchestra's program annotator since 2005 and also contributes notes to the Saint Paul Chamber Orchestra and Seattle Symphony.
Audio clips provided by Naxos of America, Inc.
HK Gruber, conductor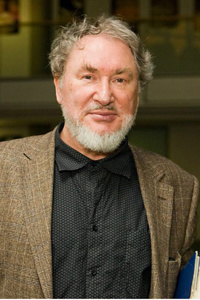 Composer, conductor and chansonnier, HK Gruber was born in Vienna in 1943 and sang with the Vienna Boys' Choir as a child, going on to study at the Vienna Hochschule für Musik. In 1961 he began playing double bass with Ensemble die reihe and from 1969 to 1998 in the Vienna Radio Symphony Orchestra. Mr. Gruber first began performing as a singer/actor with the 'MOB art and tone ART' ensemble, which he cofounded in 1968 with fellow Viennese composers Kurt Schwertsik and Otto Zykan. Composing in his own highly individual style, his music is performed internationally by the world's leading artists and orchestras. Mr. Gruber was awarded Austria's most prestigious cultural prize the 2002 Greater Austria State Prize, and in 2009 was announced as an Honorary Member of the Wiener Konzerthaus, following a great tradition of musicians to also receive this accolade, including Igor Stravinsky, Pierre Boulez, Leonard Bernstein and Claudio Abbado. Mr. Gruber is an Honorary Lifetime Trustee of the Kurt Weill Foundation.
Mr. Gruber's compositions have been written for and performed by the foremost orchestras such as the Vienna Philharmonic, New York Philharmonic, Berlin Philharmonic and at Lucerne Festival, Carnegie Hall and BBC Proms. He is particularly noted for his concertos, including Aerial for trumpeter Håkan Hardenberger, which has received over 60 performances; two for violinist Ernst Kovacic; the Cello Concerto written for Yo-Yo Ma and premiered at Tanglewood in 1989; Busking for trumpet, accordion, banjo and string orchestra, premiered by Hardenberger in 2008; and his percussion concertos Rough Music and into the open..., premiered by Colin Currie in 2015. Orchestral scores include Dancing in the Dark, premiered by the Vienna Philharmonic under Sir Simon Rattle in 2003. Mr. Gruber's recent works include the opera Geschichten aus dem Wiener Wald (Tales from the Vienna Woods) premiered at the Bregenz Festival in 2014 and a major new Piano Concerto for Emanuel Ax, co-commissioned by New York Philharmonic, Berlin Philharmonic, Royal Concertgebouw Orchestra and Royal Stockholm Philharmonic.
An active conductor with many major international orchestras, highlights of Mr. Gruber's conducting career include engagements with the Vienna Philharmonic, Bavarian Radio Symphony, Philharmonia Orchestra, Mahler Chamber Orchestra, Leipzig Gewandhaus Orchestra, Tonhalle-Orchester Zürich, Royal Stockholm Philharmonic, Cleveland Orchestra and Los Angeles Philharmonic. He was also Composer/Conductor with the BBC Philharmonic from 2009-15. Mr. Gruber has performed extensively as chansonnier, most notably in Frankenstein!!, his most popular work which he premiered with Sir Simon Rattle and the Royal Liverpool Philharmonic in 1978, which has received more than 600 performances around the world. He has also performed and recorded as chansonnier in the works of Kurt Weill and Hanns Eisler as well as Schoenberg's Pierrot Lunaire and Maxwell Davies' Eight Songs for a Mad King.
Mr. Gruber was the 2019-20 Composer-in-Residence of the Leipzig Gewandhaus Orchestra, with plans which included the world premiere of a new orchestral work Short Stories from the Vienna Woods, co-commissioned by the Gewandhaus and Boston Symphony Orchestra (both performances postponed). In Spring 2021 he conducted Kurt Weill's Der Silbersee (The Silver Lake) at the Komische Oper and with the Swedish Chamber Orchestra, and Die sieben Todsünden (The Seven Deadly Sins) at the Kurt Weill Festival in Dessau and (alongside his own Zeitfluren) with the SWR Symphony Orchestra in Freiburg.
On recent CD releases Mr. Gruber has conducted music by Brett Dean with the Swedish Chamber Orchestra for BIS and works by Kurt Schwertsik with the BBC Philharmonic for Chandos. He has also recorded several of his own works for both labels.
The works of HK Gruber are published by Boosey & Hawkes.
Colin Currie, percussion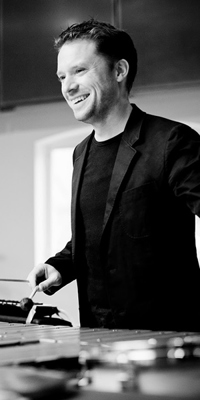 Hailed as "the world's finest and most daring percussionist" (The Spectator), Colin Currie is a solo and chamber artist at the peak of his powers. Championing new music at the highest level, he is the soloist of choice for many of today's foremost composers, and he performs regularly with the world's leading orchestras and conductors. A dynamic and adventurous soloist, Mr. Currie's unrivalled commitment to commissioning and creating new music was recognized in 2015 by the Royal Philharmonic Society, which awarded him the Instrumentalist Award. From his earliest years he forged a pioneering path in creating new music for percussion, winning the Royal Philharmonic Society Young Artist Award in 2000 and receiving a Borletti-Buitoni Trust Award in 2005. 
Mr. Currie has premiered works by composers such as Steve Reich, Elliott Carter, Louis Andriessen, HK Gruber, James MacMillan, Anna Clyne, Einojuhani Rautavaara, Ross Edwards, Jennifer Higdon, Kalevi Aho, Rolf Wallin, Kurt Schwertsik, Simon Holt, Alexander Goehr, Andrew Norman, Dave Maric, Julia Wolfe and Nico Muhly. In the coming seasons he will premiere new works by Mark-Anthony Turnage, Harrison Birtwistle and Andy Akiho. Mr. Currie is Artist in Association at London's Southbank Centre, where he was the focus of a major percussion festival, Metal Wood Skin, in 2014, featuring premieres of works by Steve Reich, Anna Clyne and James MacMillan's Percussion Concerto No. 2 with the Philharmonia Orchestra and Louis Andriessen's Tapdance with the Asko-Schoenberg Ensemble alongside school concerts and percussion workshops. Mr. Currie is also Artist in Residence with the Oregon Symphony. The three season residency includes annual performances with the Symphony, the world premiere of a new percussion concerto by Andy Akiho and extensive education and outreach work. Highlights of the 2016-17 season include the world premiere of Mark-Anthony Turnage's Percussion Concerto with Marin Alsop and the Britten-Pears Orchestra at Royal Festival Hall, and a series of solo recitals in Washington, D.C., Princeton, Boston and Glasgow. 
Mr. Currie also makes his debut with the Pittsburgh Symphony, performing Mr. MacMillan's Veni, Veni, Emmanuel with Manfred Honeck conducting. He ends the season performing both MacMillan percussion concerti in a two-week tour with the New Zealand Symphony, conducted by Mr. MacMillan. Other highlights include performances with the Danish National Symphony, Helsinki Philharmonic, New World Symphony, Rochester Philharmonic, Sinfonia Rotterdam and at the Grand Teton Music Festival. 
Mr. Currie's dynamic ensemble, the Colin Currie Group, was formed in 2006 to celebrate the music of Steve Reich and made its five-star debut at the BBC Proms. Since then, with Reich's personal endorsement, Mr. Currie and his ensemble have taken on the role of ambassadors of Drumming, which they have performed at many venues and festivals internationally. Highlights of the 2016-17 season include its debut performance at Macau International Music Festival with Drumming, a return visit to Tokyo Opera City, Tehillim at Royal Festival Hall and two performances in Hamburg as part of the opening season of the Elbphilharmonie. 
Mr. Currie has recorded many concerto, recital and chamber works including most recently Andrew Norman's Switch with the Utah Symphony/Ivan Fischer, released on Reference Records. His recording of Rautavaara's Incantations with the Helsinki Philharmonic/John Storgårds (Ondine) was released to critical acclaim and won a 2012 Gramophone Award. Previous releases by Mr. Currie include MacMillan's Veni, Veni, Emmanuel with the Netherlands Radio Chamber Philharmonic/James MacMillan on Challenge Classics; Jennifer Higdon's Percussion Concerto with the London Philharmonic/Marin Alsop, which won a 2010 Grammy Award; and a recital disc, Borrowed Time, featuring music by Dave Maric (Onyx). Mr. Currie recently recorded Steve Reich's Quartet with the Colin Currie Group, to be released by Nonesuch Records in coming seasons. His recording of music by Carter will be released on Ondine in 2017, as will his recording of music by Bartók on Hyperion. For more information, please visit www.colincurrie.com. Mr. Currie plays Zildjan cymbals and is a MarimbaOne Artist.